China launches airlines in Cambodia and Nepal, as it progressively shifts the regulatory balance
No country's airlines or governments own shares in more foreign airlines than China. Proposed investments into new airlines in Cambodia and Nepal would bring to 11 the number of foreign airlines known to have equity from a mainland Chinese airline or government. Airlines in Australia, Chile (the incorporated home of LATAM), Germany, Malaysia and the UAE each own or intend to own eight or nine foreign airlines. China's stakes in 11 foreign airlines is not quite the accomplishment the number may suggest. The investments are fragmented, stretching from Japan to Ghana to France, long-haul to low-cost to regional. The investments are typically uncoordinated and offer limited synergies.
Reasons to own airlines are varied but generally conform to a basic principle. For Australia and Malaysia, they own affiliates to expand the footprint of local LCCs Jetstar and AirAsia. Chile and Germany own airlines to increase the regional exposure of their heavyweights, LATAM and Lufthansa – and airberlin. The UAE's stakes seek to increase the global partners for Etihad Airways. China's airlines display more varied reasons, so its acquisitions will continue to grow. Undoubtedly with time more of China's stakes will become significant – and challenge global norms.
HNA Group leads China in making international airline purchases
China's HNA Group, of Hainan Airlines, accounts for five of the 11 foreign stakes mainland Chinese airlines or the government has made. This includes two in Hong Kong, Hong Kong Airlines and HK Express, and be considered separate from mainland China given the different regulatory systems. Including Cathay Pacific (which has a stake from Air China), four of the 11 foreign stakes held by China are in Hong Kong.
This includes China Eastern's stake in proposed start-up Jetstar Hong Kong. Dragonair is excluded as it is 100% owned by Cathay. (Likewise in the table below, Edelweiss is excluded as it is 100% owned by Swiss, which in turn is owned by Germany's Lufthansa.)
China's only foreign airline stake not made by an airline or airline group is Henan Civil Aviation and Investment Company's investment in Cargolux. Henan province is home to Zhengzhou, which is seeking to be an aviation hub, including for cargo.
HNA has invested in another cargo carrier, Turkey's MyCargo (re-branded from ACT). HNA has also invested in Ghana's Africa World Airlines and France's Aigle Azur. Spring Airlines has a JV in Spring Airlines Japan, following the JV strategy of AirAsia, Jetstar and Tigeair (and more recently, Lion Air and VietJet).
Foreign airlines select major countries and/or its airlines directly have a stake in or plan to: Sep-2014
One of China's newest investments is in Cambodia Bayon Airlines, a start-up that plans to be Cambodia's largest. China's Joy Air is investing an undisclosed sum for an undisclosed stake in Bayon Holdings, which wholly-owns Bayon Airlines. Joy Air is a domestic-only carrier based in Xi'an with backing from China Eastern and airframer AVIC. Joy Air operates eight of AVIC's 56-seat MA60 aircraft with a further 33 on order, according to CAPA's Fleet Database.
Bayon Airlines plans to launch with two MA60s and grow the number of this type to 20 within five years. The other 18 MA60s are not on firm order but are merely LoIs. But Bayon will also introduce jet narrowbody aircraft, which it believes will likely be A320s. Bayon plans to have 10 A320s within five years. Bayon expects it total fleet, all MA60s, to number five at the end of 2015. Jet aircraft will enable Bayon to reach larger international markets as well as those beyond the range of the MA60. Bayon expects to serve foreign countries including Vietnam, Laos, Thailand, Japan and South Korea.
Vietnam, Thailand and China are Cambodia's largest source of international seat capacity. Thailand's capacity helps foreign tourists visiting Thailand extend their Southeast Asian trip to Cambodia. Although Thailand is the second-largest source of seat capacity, Thais are only the sixth-largest nationality to visit Cambodia.
Cambodia international seat capacity by country: 8-Sep-2014 to 14-Sep-2014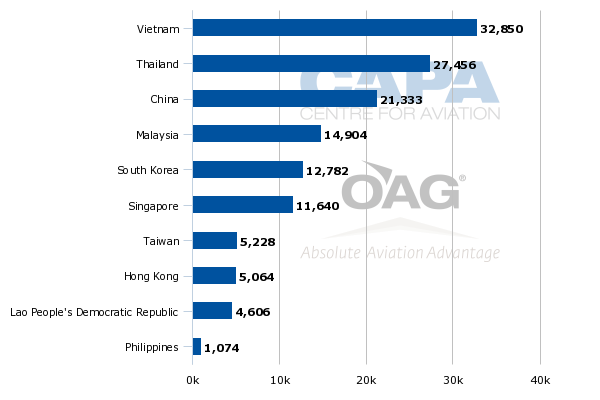 Visitor numbers for Cambodia's top 10 source markets: 5M2014 vs 5M2013
Bayon says it is the second airline licensed for regular domestic flights, after Angkor Air. Bayon expects to launch domestic services from Phnom Penh to Siem Reap and Sihanoukville. Phnom Penh is Cambodia's capital and largest city while Siem Reap is the gateway to large tourist attraction Angkor Wat, and Sihanoukville is a sleepy beach town. Bayon said it would offer a Phnom Penh-Siem Reap shuttle service every 45 minutes, but this may prove too ambitious.
Bayon also plans to have twice daily Phnom Penh-Sihanoukville service, which is feasible in the medium-term, although more immediately Sihanhoukville needs a profile boost.
As CAPA previously wrote of Bayon and the Cambodian market:
Bayon sees an opportunity to fly tourists, particularly Chinese, around Cambodia to a variety of tourist destinations as Siem Reap generally can be visited in about three days.

Domestic flights from Siem Reap to Sihanoukville and Phnom Penh are the most likely routes as these are the only two current domestic routes in Cambodia. But other unserved destinations are also possible at a later stage.

Cambodia Angkor Air is currently the only carrier operating scheduled domestic services in Cambodia and offers about 40 weekly frequencies on the Siem Reap-Phnom Penh route and one daily flight between Siem Reap and Sihanoukville. Cambodia Airports have been keen for some time to attract a second domestic carrier and stimulate demand, particularly to the sleepy beach town of Sihanoukville, which has attracted very limited traffic since opening several years ago.
See related report: Cambodian aviation's surge in airline start-ups as Chinese traffic drives rapid growth
Start-ups in Cambodia have come and gone, and one proposed carrier linked to Philippine Airlines is unlikely to materialise. But Bayon is on firmer ground. The carrier was approved in Jun-2014 and in Jul-2014 submitted its AOC application to Cambodian regulators, who said they expect to grant it by the end of the year.
Cambodia sees in Bayon the opportunity to lift its tourism sector, which is critical to Cambodia's economy, accounting for 16% or USD2.5 billion of GDP in 2013. Cambodia is mainly served by foreign carriers while its domestic market is small, although so too is the country. Cambodia is also benefitting from a downturn in Chinese holidaying in traditional Southeast Asian countries like Thailand and Malaysia.
Cambodia for some time had been looking to increase foreign tourists through Bayon and other proposed scheduled and charter carriers as well as granting access to foreign carriers. It is coincidental that Cambodia's aviation push is occurring as there is downturn elsewhere in Southeast Asia, but Cambodia is hoping to capitalise on current sentiments to boost its profile in the long-term and not just be a short-term alternative to Thailand.
Joy Air, AVIC and by extension the Chinese government, see opportunity to place the MA60 with foreign airlines, and at the same time build diplomatic links through aviation. Southeast Asia is a contested region diplomatically and China is eager to secure a positive influence. The MA60 meanwhile is one of China's so far weak-selling aircraft (along with the ARJ21 and C919), but indigenous aircraft production is a national objective. Japanese airframer Mitsubishi is considering a similar approach for its under-performing MRJ as it considers forming a regional Japanese airline that would fly MRJs.
There are Chinese parties believed to be involved in additional Cambodian start-ups, however details are not known.
MA60s in active service and on order by airline: 06-Sep-2014
The second recent investment from a Chinese carrier is from Tibet Airlines, 31% owned by Air China. Tibet Airlines will hold a 49% share in Himalaya Airlines with the remaining 51% held by HIF Aviation Investment and Yeti World Investment. Himalaya Airlines is a planned relaunch of the airline formerly known as Yeti Airlines International. The former carrier was a joint venture between the Yeti Airlines Group (operators of Yeti Airlines and Tara Air) and Air Arabia.
Himalaya Airlines plans to commence scheduled operations on 28-Oct-2014 from its hub at Kathmandu Tribhuvan Airport to Lhasa, Tibet. The start-up intends to expand to provide services to other destinations in Asia and is reportedly looking to introduce services to New Delhi, India and a number of Chinese cities, including Chongqing. Himalaya Airlines has already received approval to operate to 14 international destinations. The carrier reportedly intends to operate at least three 130-seater Airbus 319-100 series aircraft in its first year. By the second year, the start-up plans to expand to a minimum of five aircraft.
23 foreign airlines operate to Nepal while only two Nepalese carriers – Nepal Airlines and Budhha Air – operate internationally. A chequered history and lack of scale has seen Nepalese carriers sidestepped; 94% of international seats to/from Nepal are operated by foreign carriers. The four largest international airlines serving Nepal are foreign; Nepal Airlines is only the fifth-largest.
Nepal international seat capacity by carrier: 8-Sep-2014 to 14-Sep-2014
South Asia and the Middle East account for two thirds of Nepal's international seat capacity. But Malaysia and China are the source of some of Nepal's five largest international countries.
Nepal international seat capacity by region: 8-Sep-2014 to 14-Sep-2014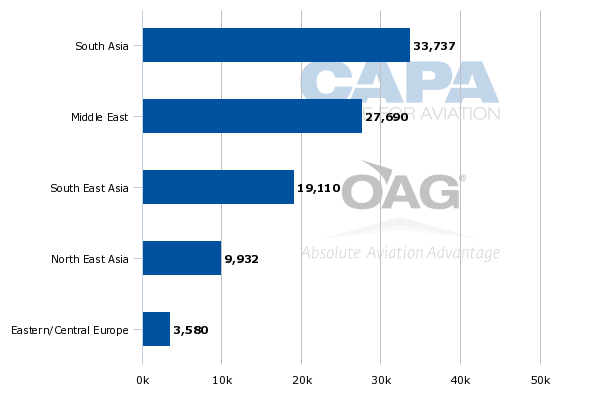 Nepal international seat capacity by country: 8-Sep-2014 to 14-Sep-2014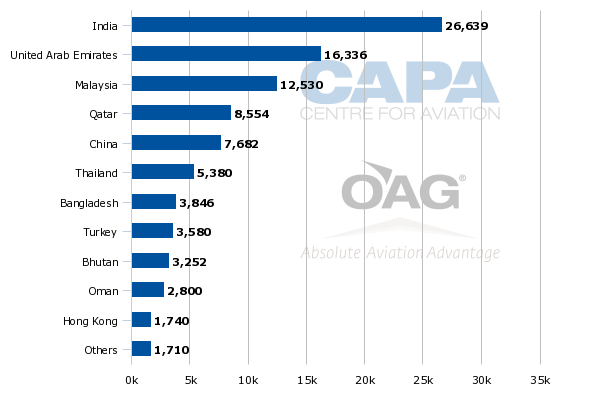 Nepal sees opportunity to have a functional international carrier that can address the nation's lack of presence and also build its profile in Asia. Aviation investors to Nepal are certainly limited. But the objectives for Tibet Airlines, and by extension China, are less obvious - but assumptions can be made. Tibet Airlines' investment will foster diplomatic ties, which would be far more important in Nepal than Cambodia owing to Nepal (unlike Cambodia) sharing a border with China – and more specifically, the sensitive region of Tibet.
China is wary of Tibetan influence over its border in Nepal. India, a challenger to China, is also jostling for influence in Nepal. There are also likely some commercial imperatives, such as Tibet Airlines via Himalaya Airlines being able to access more Nepal-China routes than Tibet Airlines could manage on its own.
China has varied interests in investing in foreign airlines. Investments will grow, as will possible opposition
Although they may not always be perceived as sound, the reasons for many airline investments typically present a relatively clear objective. Where there are multiple investments, the objectives are often consistent.
For example: AirAsia and Jetstar are seeking to expand their footprint where ownership restrictions prohibit. Lufthansa seeks a larger European base while Etihad is seeking global partners to build a network faster and more cheaply than it could do on its own.
There is no single driving force on the Chinese side. There can be commercial, political and strategic reasons ranging from the specific to general. Air China's stake in Cathay allows the former to learn from Asia's network giant. HNA is seeking to gain Paris traffic rights from its stake in France's Aigle Azur, but objectives for its stake in a regional airline in Ghana (Africa World) are less clear.
HNA's Aigle Azur stake and Spring's Japan JV are examples of Chinese reaching abroad to access route rights China's restrictive environment does not make available to them. This contrasts to investments from, for example, Malaysia's AirAsia whose aim is simply to circumvent the restrictions foreign countries – not Malaysia – place on airlines.
See related report: Chinese airlines pioneer new international strategies: JVs to overcome internal limitations
Bayon and Himalaya Airlines are not seeking to avoid traffic restrictions the way Aigle Azur and Spring Japan are, but they are still not traditional airline investments. Bayon seems driven by finding a home for AVIC aircraft, and Himalaya Airlines has political overtones.
Bayon and Himalaya may not have the strongest business case or most appealing markets, but costs and direct risk are low. Indirect risks will be high, as they tend to be at most airlines Chinese have invested in: the strategic benefit risks being a distraction to the time and resources needed. Management bandwidth is already stretched, especially at HNA. Synergies can be low while it is unclear how much international experience, always an objective, Chinese actually gain. Chinese airlines and governments may have cash to spend, but potential return seems low.
Over time, China's influence on global regulatory norms will grow - and it will want change
The current regulatory regime developed largely without China's influence. The bilateral and national aviation structure was very much a fait accompli as China arrived on the international scene. The protections built into the bilateral system have until now served China reasonably well, but as its influence in the world framework increases it is going to want to introduce new directions, ones which suit its interests more effectively than today's regime.
Now is a very different era from the faltering early days of the industry, when the current regime was established. Safety and technical constraints, protection of flag carriers, and a small elite of developed nations defined the way the industry would work. National airline interests prevailed over all other. Core to the regulatory controls are the aged provisions on ownership and control, the very factors which restrict investment in foreign airlines.
Where the priority instead becomes using aviation as an instrument of trade, the perspective necessarily shifts. Flavoured with this influence, Chinese investments are today often being made with heavy regulatory support helping ease possible resistance, which China is sensitive about. But as China seeks a larger role and inevitably turns to larger foreign acquisitions - as it surely will - the actions will become far more influential. In the process they will also become more controversial.
There will also be opportunities to reshape aviation, just as Etihad's investments are doing. For now, the number of Chinese investments and the quality of those investments is variable. The same is true of Etihad's and even Lufthansa's initiatives. The challenge is that as China's opportunity for new directions increases, so too does the potential to stir sensitivities. But there are elements of modern thinking in wanting to engage in cross border ownership that are also attractive to other countries.