Chinese airlines pioneer new international strategies: JVs to overcome internal limitations
Analysis
The use of multiple brands and JVs to overcome the antiquated and economic-limiting bilateral air service regime is well established. Malaysia based-AirAsia for example has an affiliate in Thailand to access local routes Thai regulations would not permit it to fly with a Malaysian licence. The model is common with Southeast Asia's LCCs, and present in Latin America with the Viva LCC group. But Latin America is home to multiple JVs from full-service carriers; Colombia's Avianca has a unit in Brazil, to name but one.
Airlines in the world's second-largest market, China, are also forming overseas joint ventures. LCC Spring Airlines has announced Spring Japan while in Jun-2014 regional French carrier Aigle Azur will commenced Paris-Beijing flights after full-service Hainan Airlines purchased a stake.
But whereas other Asian and Latin American carriers establish JVs to overcome external limitations – the bilateral regime's ownership and control restrictions – Hainan and Spring are establishing JVs to overcome the internal limitation of Chinese regulators limiting access to lucrative international routes. This is a new approach to ownership, and may grow even beside gradual international liberalisation efforts.
Cross-border JVs in Asia and Latin America seek to overcome air traffic restrictions
In Asia it is mainly LCCs
It was early in the 2000s Asia-Pacific LCCs began establishing cross-border joint ventures. Whereas EU's common aviation bloc allows, for example, the Irish-registered Ryanair to fly with full traffic rights between Poland and the UK, no such cross border liberalisation exists in Asia (although efforts are being made towards the ASEAN open skies initiative). However, gains will be gradual with genuine liberalisation some time away.

The objective of Asia's cross border joint ventures was to gain operational efficiencies, together with a first-mover advantage to create the pan-Asian carrier that by "connecting the dots" could offer travel around the region at affordable prices partially through virtue of scale.
Not all jurisdictions are keen to accept this de facto liberalisation; nationalism and protectionism is often still the default position, especially in northeast Asia. Hences some JVs did not get off the ground, like Singapore-based Tigerair's attempt in Korea or Australia's then-Virgin Blue consideration of a Macau unit. AirAsia pulled out of Japan in 2013 while Tigerair is in the process of disposing of its stake in its Filipino unit.
The latest development is the long-haul LCCs also establishing cross border JVs - AirAsia X and Scoot: AirAsia X in Indonesia and Thailand, and Scoot in Thailand ("NokScoot").
Asia-Pacific LCC groups: Mar-2014
See related reports:
While in Latin Americafull service airlines have led the way

In Latin America the cross-border trend is observed mainly with full-service carriers.
LCC penetration in the region remains a fraction of that in Southeast Asia, and the only Latin American LCC with a foreign affiliate is the Viva Group.
Latin American LCC and FSC groups: Mar-2014
| | |
| --- | --- |
| Airline Group | Main Base and Affiliates |
| | |
| LAN | |
| | |
| | |
This approach is most prolific in Asia and Latin America, but should not be taken as definitive.
Africa for one is learning from the global lessons - and often running up against more severe protectionist attitudes in this still heavily underdeveloped airline industry. One newcomer is the fastjet/Fly540 group.
China's international routes are coveted and protected – but winds of change are starting to blow

The overseas JVs and brands being pursued by Hainan Airlines and Spring Airlines (exclusively, for now) permit the same outcome as JVs in other regions, generally the ability to fly a wider range of routes. But the necessity of such ventures is not due to air service agreements but rather China's regulators adopting a much more conservative approach to route approval, determining where its airlines can and cannot fly.
The process is opaque, and can operate at several levels: state-owned carriers may be able to influence where privately-owned carriers can fly, but then one state-owned carrier may be able to influence where another state-owned carrier can fly.
Shanghai-based China Eastern bemoans the fact that Beijing-based Air China (the official flag carrier even though both are state-owned) can fly long-haul routes from Shanghai but China Eastern cannot fly long-haul routes from Beijing. Guangzhou-based China Southern unsuccessfully tried to operate between Beijing and Paris with its A380. A proposal to share the route with Air China was also unsuccessful.
See related report: China Southern's A380 problems may not be solved by possible Air China partnership
Generally, only one Chinese carrier can fly a long-haul international route, a policy that several countries used to adopt when their airlines were growing up in a heavily regulated industry where bilateral access rights were limited.
As noted, exceptions are made for Air China, but these are growing. For example, Air China, China Eastern and Hainan Airlines (Beijing and Haikou based) plan to serve the Shanghai-Toronto route.
One initiative of China's aviation reforms is to eliminate approval for domestic routes in certain smaller markets. Larger domestic areas and international routes should be expected to take longer.
China's Hainan and Spring are going overseas for opportunities not available at home
It is no mere coincidence the two carriers engaging in foreign JVs and acquisitions are privately-owned: Hainan Airlines and Spring Airlines. Some state-owned carriers have looked at international airline acquisition (and Air China made a very specific acquisition of a minority share in Cathay Pacific), but this has broadly been more about synergies and beyond traffic opportunities. It is difficult to see the others being able to replicate Hainan's and Spring's approach - but this may change.

Hainan Airlines and the larger HNA Group started first, arguably – but not definitively – with its stake in Hong Kong Airlines. HKA's network consists primarily of mainland China and Southeast Asian points (plus Taiwan, the Maldives and some secondary Japanese points). That allows the HNA Group to route traffic from mainland China to Southeast Asia via Hong Kong Airlines' hub.
There is local traffic to and from Hong Kong but mainland China-Southeast Asia/Maldives/Taiwan routings with a Hong Kong connection are important.
Ostensibly this allows HNA to reach international markets its home authorities would not allow from a mainland Chinese carrier; foreign carriers in mainland China are less subject to the opaque environment (but still experience it, to be certain). HNA has never said this much about Hong Kong Airlines, but HNA has been clear that it intends its Aigle Azur acquisition to allow it to fly between Paris and Beijing, while Spring has also been clear its Spring Japan unit will enable it to fly more China-Japan routes.
There is some precedent in China's domestic market where carriers have sprawling branch companies and even JVs. But here there are local incentives for having a local carrier; route access is less a factor.
Spring's first affiliate is Spring Japan; more Asian units on the cards
For Spring, its Japanese affiliate also gives access to domestic Japanese flights and the market from Japan to countries other than China. These are worthwhile, but expanded China-Japan access is key.
The carrier's launch plans are so far only domestic routes with international services to come later. Spring has largely been confined to Japanese routes from its Shanghai base, and even then has had some challenges flying to first tier Japanese cities. Spring has stated ambitions to join AirAsia, Jetstar and Tigerair in building a pan-Asian network with additional affiliates; Hong Kong was mooted as a base but has now faded.
HNA in Oct-2012 announced it would take a 48% stake in France's Aigle Azur for an undisclosed sum but reported to be valued at around USD40 million. Aigle Azur is a regional carrier operating international services from multiple French points (but no domestic routes – which might be useful for connections) with 11 A320 family aircraft to destinations mainly around Europe and North Africa.
HNA's interest was made clear with its announcement for Hainan Airlines to lease Aigle Azur A330-200s and for Aigle Azur to operate them between Paris and Beijing in a two-class, 36 business 186 economy configuration.
See related report: HNA, of Hainan Airlines, takes 48% stake of France's Aigle Azur, giving backdoor European access
As Air China already operates between Paris and Beijing, there was no appetite for Hainan to be allowed to fly this lucrative route too. HNA's stake in Aigle Azur occurred as China Southern attempted to fly between Paris and Beijing with its A380, a plan that has had several twists and turns – later proposing to cooperate with Air China on the route – but which ultimately did not eventuate.
HNA had setbacks in the Aigle Azur acquisition and then Paris-Beijing launch, with the main issue understood to be delayed permission from Russia for overflight rights, a frequently contentious issue for many airlines. Aigle Azur is now planning to launch the service on 28-Jun-2014 with three weekly flights on the A330. Unsurprisingly, Hainan Airlines will codeshare on the flight.
Connections will be available across Hainan's network from Beijing, its largest base (despite being named after Hainan province, some 2300km to the south).
Hainan Airlines' top 10 hubs/bases/stations by available domestic seats: 10-Mar-2014 to 16-Mar-2014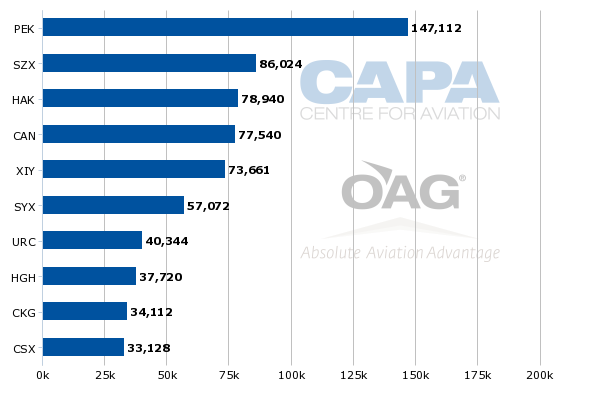 Aigle Azur has conducted large marketing in Paris, but the larger target audience is China's outbound market. Paris is popular for its shopping, culture and historical sites (although not necessarily the same historical sites as most of France's visitors) and as a starting or end point for tours around the Schengen Zone.
Mainland Chinese passport holders can obtain a visa from a Schengen country for travel around the zone. In comparison, a UK visa only grants travel permission in the UK, reducing its competitiveness.
HNA has had past acquisitions and flirtations
HNA has made foreign airline acquisitions, including MyCargo (formerly ACT Airlines), a Turkish cargo carrier. HNA has also taken a stake in Africa World Airlines, a regional carrier based in Ghana and which does not fly outside Africa. Hainan has a flight to Angola's Luanda, but there is no connection to Africa World Airlines.
The immediate synergies are less clear than with Aigle Azur, and do not seem to be about any internal limitation on flights from China. Rather the strategy is opportunistic long-term investments, financially and strategically - although at times it can give the appearance of distraction.
HNA was one contender to operate a domestic airline in Saudi Arabia, an award that ultimately went to Qatar Airways and an investment group from Bahrain (with some advice from Gulf Air). Here too the strategy does not seem to have been about accessing routes it could not fly from China.
HNA was reportedly interested in Zest Airways. Details are few, but there is a possibility this could have been an investment as much as about accessing more China-Philippines routes.
China's regulators are so far permitting this approach
It may seem odd that at times direct acknowledgment of circumventing limitations in China is being approved by China's regulators. China has apparently blessed Spring Japan and Aigle Azur's Beijing route. Indeed, the workings of bureaucracy may be the answer: these foreign carriers are simply foreign carriers and therefore subject to reduced interference.
Alternatively, perhaps the message is that effort is being rewarded, recognising the potential for long term goals to be achieved - and with the risk lying with private companies - where the state-owned carriers may not be seen as appropriate movers.
Outlook: More affiliates are on the way – and also general international acquisitions
It is unfortunately typical for self-interest to pervade aviation, especially when flag carriers are involved.
What is in the interests of a national carrier does not always coincide with the wider national interest. The problem presented to mainly privately-owned carriers in China is not unique, but is distinct due to the impact on a large market. China's carriers have so far responded with a unique solution that could be replicated elsewhere but will more immediately likely grow in China. Spring, for example, has stated its intention to establish more foreign affiliates.
Likewise Hainan frequently mentions its international acquisition strategy, and re-affirmed this despite global environments and changes in China. Acquisitions for purposes other than route access will grow. Carriers have already conducted their analyses, and soon positive findings will produce approvals.
This will be one of many examples of China's changing role in global aviation.
As would be expected with almost any topic in global aviation, there will be some bumps and misjudgments along the way. Equity acquisitions are still an unknown quantity - Singapore Airlines for example seriously misjudged its investment in Virgin Atlantic. But the movement is growing fast, with Etihad surely carving out a remarkable course for the future.

China's airlines, on the brink perhaps of world domination, will occupy a more active role in global aviation. It is one that has greater scope than previously, as major cracks are appearing in the archaic regulatory fabric.
This means opportunities for those who seize them, and challenges for those that do not. Thus far Beijing appears willing quietly to endorse the value of innovation; it may well be a very sensible course to adopt.
There is nothing more certain than that China's airlines will occupy a vastly more prominent role in redirecting global aviation over the next decade. A pragmatic - rather than regulatory-led - national strategy is much more likely to lead to establishment of practical models for the future. Beijing appears to be developing the confidence to allow more chances to be taken and that can only be a good thing for China's industry; and, hopefully for the global industry overall.