Africa's ailing national airlines survive on USD2.5 billion of government subsidy. Not sound policy
Analysis
Africa's unenviable record of government interference in the continent's aviation system is demonstrated by no less than nine carriers currently surviving at the behest of their respective governments through a variety of financial support mechanisms collectively worth about USD2.5 billion.
In most cases this support serves only to distort any prospect of a level playing field, preventing privately owned carriers from competing effectively. Nigeria is even taking this a stage further as state support of private carriers is being undermined by a desire to relaunch a government owned national flag carrier. In other cases, such as Uganda, new state-owned airlines are planned to compete with successful privately owned operators in markets that often lack sufficient demand to support them both. Whatever the motives, and many of them are questionable at best, the outcome is sadly predictable.
In most cases Africa's national carriers suffer at the hands of government mismanagement and interference, key among them is the continent's largest airline, South African Airways (SAA) which is the subject of the biggest turnaround plan currently under way. This could offer a vital precedent if it succeeds - and if it doesn't.
SAA has received government approval to embark on its latest turnaround strategy to arrest the carrier's downward spiral in financial performance. The strategy devised by a new board and led by then acting CEO Nico Bezuidenhout was presented to South Africa's Minister of Public Enterprises, Malusi Gigaba in Apr-2013. After the Cabinet approved the plan, Mr Gigaba presented the strategy to Parliament on 10-Sept-2013.
The turnaround strategy – the ninth to be presented to the government over the years, was a requirement to support a ZAR5 billion (USD494 million) government guarantee which was advanced for a two year period in Oct-2012, back dated to 01-Sep-2012, to allow the carrier to continue accessing financial markets and remain solvent.
While the current plan follows a long history of previous strategies that the government has failed to implement, it is the first to take a holistic approach to reforming the entire business, rather than the piecemeal approach of previous attempts.
The strategy includes four corporate plans over 12 years and focuses on managing the airline's high-cost structure, improving yield, making better use of its assets, optimising operational efficiencies of strategic routes, prioritising fleet renewal and strategic fleet acquisitions to grow revenues and implementing cost-saving measures.
Consolidation of SAA's network will form a critical component of the plan over the next 18 months. The airline will move to minimise its loss-making international network, including exiting certain routes that will most likely reduce operational losses. The carrier will instead focus on its profitable domestic and African regional networks.
Capitalisation requirements to carry out the strategy are still under review in conjunction with the National Treasury. The strategy includes the following aims:
Support the country's development agenda, achieve and maintain commercial sustainability and foster performance excellence;
Create an integrated airline group, SAA Group Holdings, incorporating SAA, Mango and SA Express under a single holding company structure to improve asset utilisation, operational efficiency and capital allocation;
Implement a new network, alliance and fleet strategy to develop SAA as a full-service premium carrier, Mango as a LCC and SA Express as a regional feeder airline. This plan will allow the group to meet current and projected demand, produce capacity through alliances and implement integrated fleet planning;
Develop a 'Whole of State Aviation Framework' to ensure consolidated policy approach to aviation in South Africa to maximise the growth potential of its airlines;
However, the long history of subsidising the national carrier in what is supposed to be a deregulated domestic market has served to destabilise rival operators and is considered to have been a contributing factor in the demise of popular LCC 1time.
Certainly SAA's on-going financial assistance has allowed the carrier to compete unprofitably and competitor Comair's CEO, Erik Venter has pointed to the failure of nine of the 11 private airlines that have tried to compete with SAA since deregulation of the domestic aviation market in 1991 as a clear indication of the impact that the financial support of SAA has had in the market.
Somewhat disconcertingly, the government has reiterated that it is not about to take a hands-off approach to managing the national carrier with Mr Gigaba reportedly stating in Feb-2013 that he will not hesitate to intervene again if management does not deliver on the strategy.
In addition SAA regional subsidiary, SA Express has been negotiating with the government over a ZAR539 million (USD53.4 million) government guarantee to fund its own turnaround plan. The money would cover short term and long term lending facilities, fleet expansion as well as working capital and capital expenditure.
SA Express appears to be making headway in its restructuring efforts under its 20:20 Vision programme, reporting a surprise net profit of ZAR650,000 (USD65,000) for the 2013 financial year, turning around a restated loss of ZAR365.9 million (USD36.7 million) in FY2012 driven by increased revenue and stable operating costs.
SA Express has been charged with developing a strong regional network providing feeder traffic to SAA and improve South Africa's economic ties as part of the government's policy to link African countries and promote intra-Africa trade.
See related reports:
While SAA represents Africa's most extensive turnaround effort, Royal Air Maroc (RAM) at the opposite end of the continent is the most expensive to tax payers in recent years. The flag carrier received a USD193 million bailout in 2011 and has access to a further USD900 million of on-going funding until 2016 as it repositions itself to compete with an influx of LCC competition from Europe, in particular Ryanair, resulting from Morocco's open skies agreement with the EU aimed at boosting tourist arrivals by 1 million annually.
Selection of African airlines receiving state funding
| | | |
| --- | --- | --- |
| Airline | State funding | Purpose of funding |
| Arik Air | NGN85 billion (USD526 million) | Owed to state-backed "bad bank" Asset Management Company of Nigeria (AMCON) |
| Air Namibia | NAD1.6 billion (USD160 million) | Approved in Aug-2011 to meet the carrier's funding requirements until 2013 |
| Air Zimbabwe | USD150 million | Zimbabwe Government took over all debt of Air Zimbabwe Holdings in Jan-2012 |
| Precision Air | Seeking USD32 million | State funding required to meet bank and aircraft loan payments |
| RwandAir | Unspecified additional funding in FY2013 | Rwanda Government increased funding for RwandAir in the national budget |
| Royal Air Maroc | USD1.09 billion | Includes USD193 government bailout in 2011 and USD900 million finance facility until 2016 |
| South African Airways | ZAR5 billion (USD494 million) | Two-year government guarantee effective from 01-Sep-2012 and subject to approval of turn around strategy |
Dividends are beginning to flow from RAM's turnaround with the carrier in May-2013 reporting its best financial performance in its history. An operating profit of MAD718 million (USD87 million) in 2012, turned around an operating loss of MAD499 million (USD60.5 million) in 2011, far exceeding the goals set in the recovery plan agreed with the government in Sep-2011, according to CEO Driss Benhima.
The Moroccan government is continuing its search for a strategic major airline partner for RAM which could include the sale of an equity stake and would provide a network which complemented Royal Air Maroc's routes in West Africa and Western Europe.
But to date there have been few bites. RAM would also need to expand its network to improve coverage of Africa, Asia, Latin America and Russia.
RAM has announced a series of new routes to Europe over the next six months including from Rabat to Marseilles, London and Milan, as well as from Marrakech to Geneva and Milan Malpensa and from Casablanca to Venice and Montpelier. RAM has also moved forward its planned three times weekly Casablanca-Sao Paulo to 09-Dec-2013 from 21-Dec-2013.
See related reports:
Air Namibia is working towards breaking even in 2016
Namibia's state-owned carrier, Air Namibia is slowly progressing towards making a maiden profit having reached the halfway point of a five-year government funded turnaround strategy which hinges on a fleet renewal programme, a rationalised schedule to bring capacity into line with demand and improving revenue management systems.
The carrier has been the recipient of regular government support to remain operational, including NAD1.6 billion (USD160 million) committed for the current turnaround programme which is expected to see the carrier break even by 2016. The bailout, approved in Aug-2011, is reportedly to meet the carrier's funding requirement until 2013. The bulk of the money was apparently used in the first two years, leaving a requirement for just NAD160 million (USD16 million) in 2013.
A previous turn around attempt between 2003 and 2009 cost taxpayers nearly NAD2 billion (USD2 million) and the government has indicated that the "perpetual lifeline extended to Air Namibia" must be severed with a lasting solution.
Air Namibia took delivery of the first of two new A330-200s in Sep-2013 with a second due to arrive in Nov-2013. Both aircraft are on lease from US lessor Intrepid and will replace less efficient A340-300s on its flagship services between Windhoek and Frankfurt on which it is the sole operator.
In addition to direct financial support, the government also acquired two A319s for Air Namibia in Dec-2012 which have been deployed on regional routes, replacing Boeing 737-500s.
Route expansion to China is being contemplated with Namibia's Trade and Industry Minister Calle Schlettwein identifying Tianjin as a possible destination following a visit to China by officials in Sep-2013. This would leverage Namibia's status by the Chinese Government as being a preferred tourist destination. China and Namibia recently signed a bilateral agreement aimed at increasing the number of Chinese tourists visiting Namibia.
Tianjin is located just south of Beijing and is the second largest airport in Northern China, but is not directly linked to any destinations beyond China and Southeast Asia, according to Innovata.
Air Namibia also strengthened its regional position in Jun-2013 with the signing of a codeshare agreement with Kenya Airways under which Kenya Airways placed its code on Air Namibia's flights from Windhoek to Johannesburg and Lusaka. In return, Air Namibia codeshares on Kenya Airways' Lusaka and Johannesburg services to Nairobi.
The agreement is likely to at least keep competition from one of Africa's major airlines at bay, but in the long term Air Namibia will come under pressure from competitors, such as Ethiopian and SAA, which are all pursuing pan-African networks to link the continent to the rest of the world via their respective hubs. Indeed, SA Express has been granted rights to commence direct services to Namibia over the next six months from its increasingly important Durban hub.
See related report: Air Namibia slowly moves to profitability, halfway through a five-year turnaround plan
Air Zimbabwe is rising from the ashes but customer loyalty is yet to be tested
Fellow Southern African carrier Air Zimbabwe is also gradually regaining its feet after it was grounded in Jan-2012 and its government owner moved to take over all USD150 million of debt (and growing) owed by Air Zimbabwe Holdings. The carrier was relaunched as Air Zimbabwe Private Limited operating Harare-Johannesburg and on the main domestic routes between Harare, Bulawayo and Victoria Falls. It has also been given legal protection from creditors until 2015.
Regional network expansion from its Harare hub is planned in Oct-2013 with services to Lusaka, Lilongwe and Durban. Resumption of flights to London Gatwick are slated to resume in Nov-2013, although this appears to be dependent on refurbishment work being completed on the carrier's two 767-200s.
Air Zimbabwe has been faltering for the past decade, accruing a reputation which included on-again, off-again suspension from IATA and its clearing house, fuel companies refusing to re-fuel aircraft until debts were paid and threat of aircraft impoundment in multiple countries that ultimately saw disruptions and finally cancellation of all flights in Jan-2012.
Air Zimbabwe reduced domestic fares by up to 60% in a campaign that ran until the end of Sep-2013 in a bid to regain market share lost during the upheavals in 2011 and 2012 and restore passenger confidence in the carrier by demonstrating it can operate a reliable schedule with its more modern ERJ145 and A320 aircraft.
The pricing initiative had a marked impact on load factors which reached between 80% and 90%, but the challenge now is for Air Zimbabwe to hang on to those passengers, most of whom are unable to afford standard fares. If passengers return to the more affordable bus services the sales campaign will have served to only increase Air Zimbabwe's operating losses and will underline the need for long term government subsidies which may be better employed in other parts of the economy, while removing the current restrictions preventing privately owned carriers from competing on domestic routes.
See related articles:
Nigeria's aviation market looks headed for more turbulence with the planned launch of Nigeria One
Nigeria plans to launch a new national airline, Nigeria One by the end of 2014, despite the government having bailed out the country's two largest private carriers Arik and Aero with a reported NGN120 billion (USD741 million) in the wake of the Global Financial Crisis.
Nigeria One would replace Nigerian Airways which failed in 2003 and would compete directly with Arik and Aero. Arik has built a significant regional network and is beginning to deliver on its long-haul expansion strategy with the arrival of two of A330-200s in the middle of 2013. The carrier is awaiting approval to commence services from Lagos to Sao Paulo by the end of 2013, which will add to existing services to London and New York, and could eventually lead to Arik providing a link between South America and China over Lagos.
The government has said it no longer plans to own up to 25% of Nigeria One and is instead searching for a core investor to fund the venture and a technical partner to operate the airline. Nigeria One would be listed on the Nigerian Stock Exchange and the government's only involvement would be to provide a "viable operating environment".
This begs the question, if the government is able to create a viable operating environment for a flag carrier, why is it seemingly not able to do so for the benefit of existing carriers which are heavily indebted to it.
Domestic fares are twice as expensive as the government believes they should be, but excessive taxes and airport charges make up nearly half the fare between Lagos and Abuja, while the cost of fuel is disproportionately higher compared to many other parts of Africa.
Nigeria is a market that on economic and population fundamentals should support a booming aviation industry. But instead it is an airline graveyard due to the government's misconceived protectionist policies.
See related reports:
Air CEMAC could harm central Africa's existing airlines
In central Africa the CEMAC group of nations is planning the launch of a collective regional carrier in a joint venture with Air France. While there is a need for more regional links, in particular its two land-locked member countries the Central African Republic and Chad, there appears to be scant regard for the damage Air CEMAC is likely to inflict on existing airlines in the region, including Camair-Co, Ceiba Intercontinental and ECAir (Equatorial Congo Airlines). Air France is reportedly demanding Air CEMAC be granted a monopoly on future regional routes cutting across free market principles that are already lacking in Africa.
Camair-Co, Cameroon's national carrier has already suffered from low sales on its regional network and is reportedly seeking additional funding from the Cameroon Government to finance its operations for the next six months. Camair succeeded Cameroon Airlines which collapsed in 2008 following an unsuccessful privatisation attempt. The government has announced it plans to privatise Camair-Co through the sale of a 51% stake in the carrier. But given the underperforming nature of the carrier and the prospect of increased competition, finding investors could be difficult.
Latest media reports have Air CEMAC launching in Jan-2014 with CEMAC countries and Air France expected to finalise a partnership agreement in Oct-2013. The carrier reportedly intends to operate between CEMAC member states, to 20 other African capital cities, and to six destinations in Europe.
See related report:
Uganda's government is considering plans to relaunch Uganda Airlines which collapsed in 2001 due to weak demand and mismanagement during the 1990s. The carrier would compete against Air Uganda which is part of the Celestair Group of African carriers owned by the Aga Khan Fund for Economic Development (AKFED). The airline has steadily grown its regional network from Entebbe to its East Africa neighbours since launching in 2007.
Air Uganda CEO Cornwell Muleya stated in Jul-2013 that the airline plans to expand its international network through partnerships with other carriers. It also plans to add long-haul aircraft to its regional jet fleet, which includes two elderly but refurbished MD-87s, allowing services to Europe and the United Arab Emirates. Mr Muleya said the airline carried 155,000 passengers in 2012.
The government's motivation to relaunch a flag carrier is driven by a desire to reap the benefits of a growing economy. Currently most of the benefits associated with the country's budding oil industry and growing tourism are going to foreign carriers that dominate the market, led by Kenya Airways and Ethiopian. The ownership structure of Uganda Airlines, including the level of state involvement, is still being considered, but Uganda's Civil Aviation Authority has recommended that the carrier be protected by legislation from political interference and be adequately capitalised.
Uganda total capacity (seats per week) by carrier: 30-Sep-2013 to 6-Oct-2013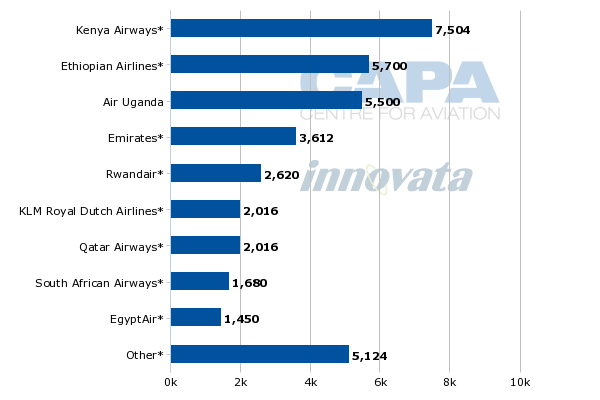 Similar to earlier plans in Nigeria where the government had looked at merging domestic airlines into a single entity, Uganda's government considered taking a stake in Air Uganda. However, a proposal being considered by the Cabinet suggests this in no longer the favoured course of action.
Regardless of the eventual ownership model, the plan to relaunch a flag carrier in competition with a succeeding privately-owned incumbent is flawed. The Ugandan market is too small to sustain both airlines long term and the end result is likely to be one winner with no obvious benefit to the country.
See related report: Uganda plans to relaunch Uganda Airlines and invest USD400 million in airport developments
Unless private airlines are able to compete equally with flag carriers, the future remains bleak
The infatuation among African states to own their own flag carriers, most of which are heavily loss making and survive on a constant drip from the national treasuries, is holding back development of the aviation industry on the continent and in turn its economic development.
For most of Africa's small economies the financial risks associated with airline ownership, which invariably include overly ambitious plans to serve the world, are disproportionate to the national priorities.
A host of private carriers are able and willing to provide the much needed air links, but to do so they require a level and liberalised playing field free from government intervention or state-subsidised flag carriers which are allowed to compete with loss making business models.