Nigeria's government talks of rebuilding a failing airline industry in 2013. But the path is unclear
Nigerian aviation industry is at its lowest ebb in 20 years following a year that saw a crash kill 163 people, the collapse of a major airline and a domestic financing ban on the country's two remaining largest carriers, one of which was also temporarily grounded by industrial action allegedly over outstanding debts.
Faced with a market that has been reduced to an effective duopoly between Arik Air and Aero, along with the associated very high air fares and often systemic corruption, the Nigerian Government is talking of pulling out the stops in 2013 to encourage more investment in the scheduled aviation sector – including fast tracking registration of four new unidentified airlines and the establishment of a new national carrier.
Both these initiatives were to have been fulfilled by the end of 2012, but have failed to meet the deadline.
An arrangement is also being developed with the Central Bank of Nigeria to provide single digit interest rate funding to airlines to acquire new aircraft to improve safety, which includes the government buying 30 aircraft on behalf of domestic airlines, as part of a transformational programme that also includes airport remodelling and reconstruction to establish Nigeria as an aviation hub.
Whether the talk turns to action – and, more importantly, positive outcomes – is for 2013 to show.
Nigerian government determined to establish African hub
Nigeria's government is reportedly determined to create a western African hub at Lagos and regain the initiative from Ghana, which has similar aspirations for Accra.
See related article: West Africa movers and shakers: Air Nigeria shuts down; Egyptair and South African look to expand
The Nigerian government appears to have been spurred into action by the 03-Jun-2012 Dana Air MD-83 aircraft which crashed into Lagos killing 163 people. The crash was the worst airline accident in Nigeria for 20 years and first major accident in six years.
Dana's subsequent grounding and the collapse of Air Nigeria in Sept-2012 left the country with just three active scheduled airlines dominated by Arik and Aero.
Abuja-based Dana operated a domestic network of five destinations including Lagos, Port Harcourt, Uyo and Kano.
After an on-off grounding of the airline, Dana eventually had its AOC withdrawn by the government just before Christmas following a recommendation by the Nigeria Civil Aviation Authority (CAA). The airline then placed its staff on compulsory leave, effective from 24-Dec-2012.
The CAA had earlier in Dec-2012 abruptly reinstated Dana's AOC, though the airline had not resumed operations pending the completion of compensation payments for the accident.
Government will buy new aircraft for domestic carriers
In an effort to improve efficiency, reduce fares and improve safety the government on 02-Jan-2013 announced plans to buy "about 30 aircraft" which would be distributed among the country's airlines. The decision to acquire the aircraft directly follows allegations that previous state funding to the airlines had been misused.
The aircraft acquisitions would be funded by the Central Bank of Nigeria and Bank of Industry in a deal first announced by aviation minister Stella Oduah on 01-Nov-2012. At that time Ms Oduah expected about 30 new aircraft would be delivered to airlines within three months of approval of a proposed intervention fund agreement with the CBN.
Federal Airport Authority of Nigeria (FAAN) spokesman Yakubu Dati said the effect of the new aircraft would be eventually to lower fares by about half their current levels and increase demand.
"We believe that a one hour flight in Nigeria shouldn't cost more than NGN10,000 (USD63.97) or NGN15,000 (USD95.95)," he was reported as saying.
The move follows Nigeria's government and Brazilian airframe maker Embraer reaching an agreement in principle in Nov-2012 to collaborate in assisting domestic airlines to acquire new aircraft using government funding.
FAAN managing director George Ureisi said at the time: "There is no established record of sustainability for these airlines mainly because of the use of wrong equipment".
While the unconventional move may help Nigeria's struggling airlines upgrade their fleets, there are concerns that the loans, like previous bail-outs, will never be repaid.
Chinese interests to support airport and infrastructure upgrades

In addition, the government is investing heavily in upgrading aviation infrastructure, including construction of five new airports starting this year, making improvements to runway and air navigation facilities, as well as attempting to clean up corruption that pervades the industry.
Construction of five new airports at Lagos, Abuja, Port Harcourt, Enugu and Kano is expected to start in Jan-2013 according to FAAN. The projects, would be financed, constructed and operated under a 21-year build operate and transfer (B-O-T) agreement with the Chinese government.
FAAN reportedly expects international passenger numbers to increase to a record six million in 2012. But domestic passengers are expected to decline for the year due to a slump in demand in the three months following the Dana accident.
Nigerian airports recorded a total of nearly 14.9 million passenger movements in calendar 2011, including 11.3 million domestic passengers, up 5.2% on 2010; and 3.58 million international passengers, an increase of 10.8% on the prior year, according to FAAN data.
Nigeria is a land of plenty for aviation but domestic airlines are in deep financial trouble
On paper, Nigeria should be a highly active and potentially profitable aviation centre. The nation has Africa's largest population of 170 million people (of whom, according to CIA data, 44% are under the age of 14); is oil rich; enjoys economic growth running at around 7% a year and has a growing middle class, with GDP per capita of USD2,600 – but unemployment of 20%.
See related article: Nigeria and Ghana driving West African aviation development
Yet the home-grown aviation industry is littered with airline failures; the latest was Air Nigeria (successor to Virgin Nigeria) which collapsed on 10-Sep-2012 under NGN35 billion (USD224 million) of debt. In a refrain that is only too typical in Nigeria, its owner Jimoh Ibrahim, however blames disloyal staff and a government conspiracy. Mr Ibrahim has declared that Air Nigeria will resume services this year.
Nigeria's two remaining carriers of any scale, Arik Air and Aero, are also reportedly in deep financial difficulties – which had become a risk to the industry's bankers.
Nigeria's domestic carriers received a USD3.3 billion state bailout in 2010, allowing them to refinance their debt for 10 to 15 years.
Central Bank of Nigeria documents, obtained by Reuters, reportedly show Arik owes NGN85 billion (USD543.8 million) to state-backed "bad bank" Asset Management Company of Nigeria (AMCON) while Aero owes AMCON NGN35 billion (USD223.9 million). AMCON took over the debt of the two airlines in 2010, but they have been unable to repay it.
Arik and Aero have been prevented from receiving further loans from Nigerian banks by the CBN due to the airlines' outstanding debts to AMCON.
Industrial action forced Arik to suspend all domestic operations on 20-Sep-2012 for three days, due to union action at Lagos International Airport over debts owed by Arik to FAAN, Nigerian Civil Aviation Authority and Nigerian Airspace Management Agency.
Nigeria's air fares are prohibitively high

The loss of three competitors, Dana Air, Air Nigeria and short-lived start-up First Nation Airways, in Oct-2012 resulted in air fares surging to record levels in a country where air travel was already among the costliest in the world.
Arik and Aero dominate the market with 58% of total domestic and international seat capacity.
A low return domestic air fare between the main centres of Lagos and Abuja on Arik Air, costs NGN54,503 (USD348.71) for a flight of little more than an hour each way. Arik's pricing power – and apparent lack of revenue management capability – is further demonstrated by the fact that the fare is the same regardless of whether the booking is for travel the next day or bought four months in advance.
Poor surface infrastructure, however, means most Nigerians have little choice than to travel by air – or not to travel at all. Some are reportedly forced to pay bribes to touts, especially in the capital, Abuja.
Arik offers 93 international services a week and 492 domestic services against Aero's 24 international and 417 domestic services.
Arik and Aero have expansion plans, despite current debt issues

Arik Air managing director Chris Ndulue has indicated the airline plans to commence services to Equatorial Guinea, Gabon, Guinea and Ivory Coast in 2013. Other routes are expected to include Lagos-Houston, Abuja-Kano-Jeddah, Accra-London, and Freetown-London.
In apparent conflict with other suggestions about its inability to raise cash, the carrier has reportedly secured a USD2 billion credit facility from international financiers to fund the purchase of new aircraft, potentially including Boeing 787s.
However, intercontinental expansion and associated fleet orders have long been touted by the airline, but never eventuated.
While Arik is Nigeria's largest carrier, its network is focused on western Africa. Its network consists of 20 domestic destinations and 12 regional points, with the exception of a daily 737-800 Lagos-Johannesburg and daily Lagos-London and three times weekly Lagos-New York each operated with A340-500 aircraft.
The carrier dropped its Abuja-London service in Mar-2012 after the lease on a Heathrow slot from bmi expired and Arik claimed the Nigerian and British governments were unable to agree on terms under the 2008 bilateral air services agreement for a replacement slot.
Arik Air route map as at Jan-2013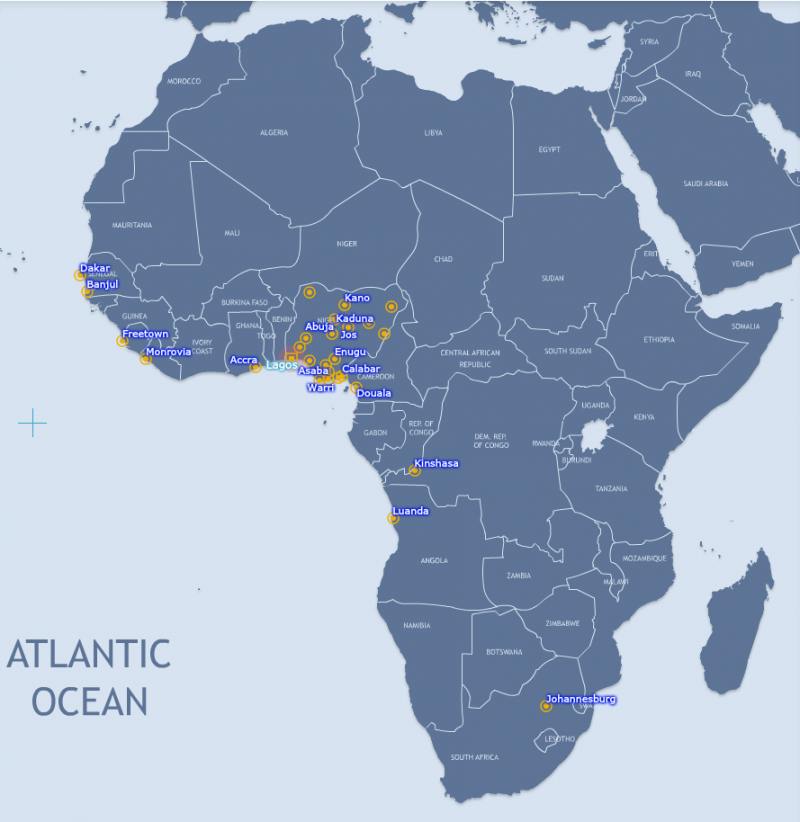 Arik Air has added a twice weekly service from Lagos to Kinshasa, DRC, in Dec-2012 as an extension to its three times weekly Lagos-Douala route, using two-class, 124-seat Boeing 737-700 aircraft. Kinshasa is Africa's third largest city with a population of around nine million.
Arik competes with ASKY Airlines and Camair on Lagos-Douala and with Camair on Douala-Kinshasa, according to Innovata.
For its part, Aero took delivery of two Boeing 737-400s in Nov-2012, taking its fleet to 12, consisting of a mix of 737-400 and 500s as well as Dash 8-300s. The carrier says it will use the additional aircraft to open new routes. It currently operates to 11 domestic points.
Aero's sole destination outside of Nigeria is a 12 times weekly Lagos-Accra, Ghana, service. Its main hubs are Lagos and Abuja.
The airline also resumed operations to Port Harcourt and Warri from Lagos on 05-Nov-2012 with Dash 8-300 aircraft.
Two small carriers, Overland Airways and Med-View Airlines, are taking advantage of the growing demand and capacity shortage by adding services, but currently lack the necessary clout to influence the much larger capacity brought to the market by Arik and Aero.
Overland does not even compete on the key Lagos-Abuja route, preferring to focus on other domestic destinations.
Overland Airways is expanding its network with the acquisition of a fleet of ATR72s and the wet lease of a 737. The airline currently operates a domestic network of seven destinations, from Lagos and Abuja to Asaba, Ilorin, Minna, Calabar, Bauchi and Ibadan, using a mixed fleet of three ATR 42s three ATR 72s, two Beechcraft 1900-Ds and the 737.
Med-View Airlines, previously a charter operator specialising in Hajj operations, is Nigeria's latest scheduled domestic carrier. It set itself in competition with Arik and Aero, commencing services between Lagos and Abuja and Lagos and Port Harcourt in Nov-2012 using a Boeing 737-400. On 03-Jan-2013 Med-View added Lagos-Owerri and Lagos-Yola to its network. Med-view plans to start services to Kano and Sokoto in 1Q2013.
A fourth Boeing 737-800 is due to be delivered by 01-Mar-2013.
The airline reportedly carried 13,000 passengers in Nov-2012 and 20,000 in Dec-2012.
Fly540, now owned by LCC Fastjet, is a likely contender to enter the market in due course as part of Fastjet's objective to establish a pan-African network. Ghana's Starbow has indicated it plans to launch services from Accra to Lagos, but has not yet stipulated a date.
European, US and Gulf airlines dominate Nigeria's intercontinental routes
Foreign airlines including British Airways, United and Emirates dominate long-haul routes to Nigeria from western Europe, North America and the Middle East.
British Airways, which has operated to Nigeria for 76 years offers 7,826 seats a week according to Innovata against Arik's 1,896. Air France should consolidate its second place position when it replaces its A330-200 services on the daily Paris-CDG-Abuja-Port Harcourt with a larger Boeing 777-200ER aircraft from 31-Mar-2013.
Top eight airlines western Europe to Nigeria (total seats per week, one way): 31-Dec-2012 to 06-Jan-2013
Nigeria-europe.PNG" alt="" width="336" height="217" />
On the North America routes, United's 3,808 weekly seats trump Delta's 2,940 offering which in turn is double Arik's 1,422 seat capacity. United Airlines will deploy a Boeing 787 on its Houston-Lagos service from 30-Jan-2013, replacing Boeing 777 aircraft.
Top three airlines North America to Nigeria (total seats per week, one way): 31-Dec-2012 to 06-Jan-2013
Nigeria-north-am.PNG" alt="" width="268" height="99" />
Emirates puts its fellow Gulf state competitors, Qatar and Etihad, in the shade operating 10,416 seats a week to Lagos. Emirates up-gauged its Dubai-Lagos service in Dec-2012 from an A340-500 to a 364-seat 777-300ER, increasing capacity by 48%.
Top four airlines Middle East to Nigeria (total seats per week, one way): 31-Dec-2012 to 06-Jan-2013
Nigeria-me.PNG" alt="" width="298" height="123" />
Etihad Airways commenced a six-times weekly service from Abu Dhabi to Lagos in Jul-2012.
Arik dominates Nigeria's intra-continental traffic, but this is almost entirely focused on regional services in western Africa. Nigeria is dependent on other African airlines such as Ethiopian, EgyptAir and South African Airways to provide continental access.
Top 12 airlines within Africa to Nigeria (total seats per week, one way): 31-Dec-2012 to 06-Jan-2013
Nigeria-africa.PNG" alt="" width="314" height="313" />
Nigerian government's proposed re-entry to the airline industry does little to offer confidence in a brighter future

Nigeria has a potentially huge domestic and international market for its airlines to tap into and help grow the country's economy. But, somehow, a sustainable domestic aviation industry must be fostered, free from corruption, to unlock and support the country's trade in natural resources.
The problems to confront are legion – and of course not just confined to the aviation sector: lack of transparency; lack of management skills; errant government intervention; funding and infrastructure shortages.... and much more.
Whether an apparently knee-jerk and unconsidered programme which apparently involves the government becoming directly involved in aircraft purchases – always a doubtful activity – and, somehow the promotion of new airlines, including a government-sponsored flag carrier, is the right way to go is less than obvious.
Cheap government sponsored financing, has potential benefits, but unless the process is carefully managed, may lead only to the ability to lose more money more quickly. As for re-establishing a government-owned flag carrier, there is no evidence to suggest that this would be any more than a chaotic repeat of former errors.
Then again 2013 is another year – and the world is changing.