Nigeria and Ghana driving West African aviation development
Analysis
West Africa's aviation industry is being led forward by Nigeria and Ghana. In Nigeria, the largest carrier, Arik Air, recently revealed itself as Boeing's un-named B747-8 customer, while national carrier Air Nigeria is in the process of re-establishing its long-haul network. While the airlines are not without their problems, the market is growing and new entrants are appearing. In Ghana, the country is opening up to international carriers who are eager to increase their frequencies to the gold-producing country. Ghana itself is the site of one of Africa's newest carrier, Starbow Airlines, and an impending base for pan-African LCC, Fly540.
Airbus predicted cities in these two countries, Accra and Lagos, will become "airline megacities" in the next 20 years, meaning they will handle 10,000 or more long-haul passengers a day. Accra and Lagos are two of just six** African cities tipped to become an "airline megacity".
Nigeria: A market with a low propensity for travel, but lots of potential
Nigeria is a rich land. Its borders contain mineral and petroleum wealth and its population comprises 15% of the continent's total. Egypt, second in terms of population, has only about 60% of Nigeria's total, and Lagos just trails Cairo as Africa's largest city. Despite Nigeria's relative wealth, Airbus, in a graph displaying national propensity to travel by air, ranks it very near the bottom of the list and just barely ahead of war-torn Afghanistan.
Trips per capita by country: 2008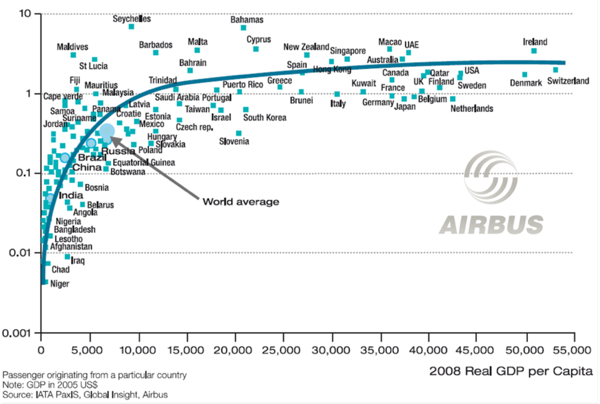 Significantly underserved
Nigeria is the world's seventh most populous nation but because of its history and current problems, it remains relatively isolated from much of the rest of the world. There are only 74 services per week from all of Western Europe to Nigeria. From Madrid, Iberia's base, the service is operated with an A319, one of the smallest aircraft in the Spanish carrier's fleet. Even from the normally dominant Gulf region there are only 21 weekly flights; roughly equal to the weekly offer by Emirates alone to India's Chennai.
Frequencies and seats per week between Nigeria and all international destinations: 17-Oct-2011 to 23-Oct-2011
From

To

Frequency

Seats

Accra Kotoka

LOS

42

4,863

LOS

21

5,631

DXB

LOS

14

4,816

JNB

LOS

14

2,823

Abuja International

12

2,455

NBO

LOS

10

2,602

COO

LOS

10

1,056

ATL

LOS

7

1,701

AMS

LOS

7

2,478

Addis Ababa Bole

LOS

7

2,317

DOH

Doha

LOS

7

1,981

CDG

Paris Charles De Gaulle

LOS

7

2,457

FRA

LOS

7

1,680

FRA

Abuja International

7

1,540

CAI

Abuja International

6

972

DLA

LOS

6

700

LFW

Lome

LOS

5

590

CAI

KAN

5

775

Addis Ababa Bole

Abuja International

5

1,107

Accra Kotoka

Abuja International

4

296

IST

LOS

4

1,135

CAI

LOS

4

648

JFK

LOS

3

711

FNA

Freetown Lungi International

LOS

3

444

Beirut International

LOS

3

732

LBV

Libreville

LOS

3

354

AMS

Abuja International

3

750

MAD

LOS

3

423

DKR

Dakar Yoff

LOS

3

222

NDJ

Ndjamena

KAN

2

530

CMN

Casablanca Mohammed V

LOS

2

236

Beirut International

KAN

1

244
US services growing - Continental to enter Nigerian market
Continental Airlines will launch Houston-Lagos service on 14-Nov-2011, which will make it the second US carrier to operate the route. Soon after the launch date, Continental will offer the highest capacity on the route from its Houston base. The Nigeria-US route is dominated by business travellers, with many US companies having offices or headquarters in Nigeria, such as multinational energy business, Chevron Corporation.
Nigeria to United States, seats per week, one way: 19-Sep-2011 to 07-Apr-2012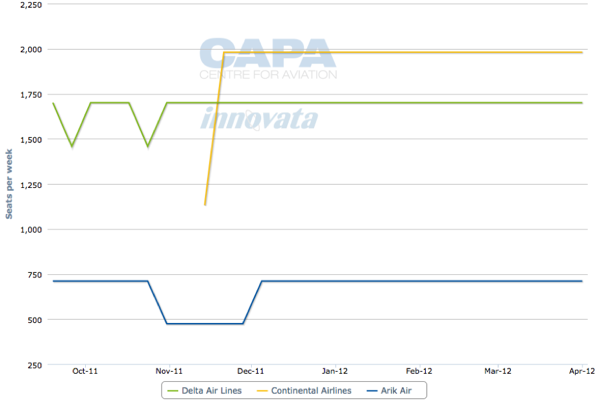 Not only does the US-Nigeria air link serve as a valuable channel for business travellers, it also provides for tourists and families. Nigeria's emigrant population has been increasing year-on-year and in 2010, 1.1 million Nigerians were living abroad. Of this emigrant population, 23.8% live in Sudan, 13.7% live in the US and 8.6% live in the UK.
Nigeria's emigrant population, 1960-2010

Between 2000 and 2009, 105,667 Nigerians obtained lawful permanent resident status in the US, with 15,253 in 2009 alone. There are an estimated 206,604 Nigerians living in the US, making Nigeria the largest African source country of immigrants to the US. New York has one of the highest Nigerian populations, after Texas. Delta operates in Nigeria service from New York JFK and Continental will launch its from Houston.
Percentage of Nigerians living in the US by area
| Region | Nigerian population (%) |
| --- | --- |
| Texas | 17* |
| New York | 12* |
| Maryland | 12* |
UK - Arik drops link to Nigeria's largest market
The UK is Nigeria's largest market for aviation and is home to a large Diaspora community, reinforcing Nigeria's colonial history. The UK is now the third largest Nigerian Diaspora community and the second largest excluding African countries. Between Apr-2008 and Mar-2009, the UK issued 1,690 settlement visas to those applying in Lagos and Abuja. During the same period, 23,750 family visit visas were granted by the UK Government. Western Europe is Nigeria's largest market for air service, while North America is its seventh.
Nigeria international capacity by region: 17-Oct-2011 to 23-Oct-2011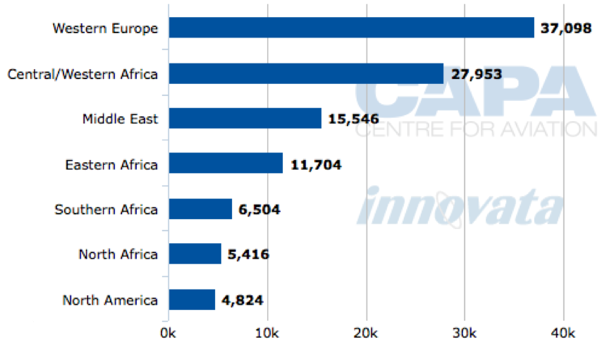 Currently, Nigerian carrier Arik Air operates the UK-Nigeria route along with British Airways and Virgin Atlantic Airways but only until 29-Oct-2011 - when Arik will drop its five times weekly service as part of its efforts to streamline its network and cut non-profitable routes. The suspension comes as a surprise, as the UK is an important trade partner for Nigeria and is ranked as its third largest import partner. In 2009, UK exports of goods to Nigeria was worth GBP1.235 million and in 2008, exports of services was worth GBP1.279 million. Nigeria is the UK's 33rd largest trade partner.
Arik Air recently revealed itself as the previously unidentified customer of two B747-8s, which it plans to operate on its "key long-haul routes", which will soon only include New York JFK and Johannesburg after the London suspension.
On 29-Nov-2011, Arik Air will begin its first route to the Middle East, with three times weekly Lagos-Abu Dhabi service with A340-500 equipment. Emirates currently offers 4,816 seats a week on the route from Dubai. The UAE was Nigeria's 15th largest trading partner in 2010, suggesting ties between the two countries could be strengthened through the air service. The route should benefit tourism, which Nigeria has identified as a key way to develop itself as a top African economy. As expressed at the annual Arabian Trade Market, Nigeria is eager for the Middle East to invest in its tourism sector.
Nigeria to United Arab Emirates, seats per week, one way: 19-Sep-2011 to 07-Apr-2012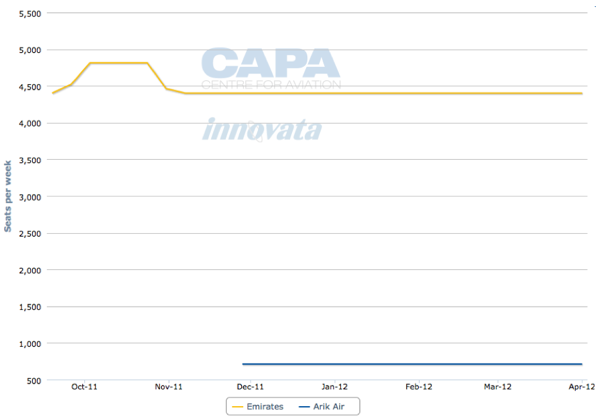 Royal Jordanian has meanwhile announced its interest in launching four new destinations in Africa, starting with Lagos. While the frequencies or launch date have not yet been released, Royal Jordanian will reportedly use A330 equipment to Lagos and A320 equipment to Accra, Nairobi and Addis Ababa. When the service commences, Royal Jordanian will be the fourth Middle Eastern carrier to serve Nigeria, following Emirates, Qatar Airways and Middle Eastern Airlines.
Nigeria has no direct links to the growing markets of Asia. Even between Lagos and Cairo, Africa's two largest cities, there are under 650 seats each week. Egyptair operates five times as many weekly seats between Cairo and Khartoum, a city that has been involved in civil war for a decade. However the 21 services to Dubai and Doha provide new options to Asia and India that supplement traditional European hubs. As seen in other CAPA analyses of the African aviation market, the Middle East carriers are enjoying a dominant position in Africa-Asia markets, combining and building traffic over their powerful hubs.
Air Nigeria's re-establishment of long-haul routes delayed
Nigeria's third largest carrier, Air Nigeria, had hoped to re-establish its long-haul network by Sep-2011 through a service to London Gatwick, however this has stalled and no updates have been announced. The carrier also previously mentioned plans to launch a New York service, to compete with Arik, United and Delta, but again, this plan has not come to fruition. See related CAPA analysis: Air Nigeria re-establishes long-haul routes
Air Nigeria took over the position of Nigeria's national carrier when Nigerian Airways folded in Aug-2004. Air Nigeria operates a fleet of 10 aircraft, and has eight E-190s on order, which it plans to deploy on regional and domestic routes. The carrier's medium-term goal is to operate to all major West African cities. It has not announced plans to launch any long-haul services within Africa.
Air Nigeria destination map: Oct-2011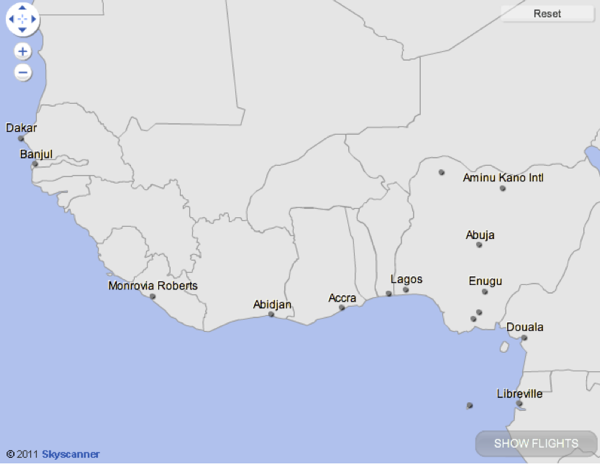 Nigerian President, Goodluck Jonathan, to "turn around the country"
Nigeria's infrastructure is underdeveloped through lack of investment, however the government is working on repairing its deficiencies through its National Economic Empowerment Development Strategy (NEEDS), under the guidance of President Goodluck Jonathan.
The Federal Airports Authority of Nigeria (FAAN) recently undertook a major restructuring, as part of the President's "transformation agenda" – a sorely needed initiative aimed at turning the country around before the end of the President's tenure in 2015. During the period, the government expects to invest NGN465 billion (USD2.9 billion) in the transportation sector. The investment would cover roads, railways, ports, inland waterways and airports, through the evolution of a "multimodal", integrated and sustainable transport system. The government is attempting to create a stable environment for Public Private Partnerships (PPP) through the implementation of new policies, legislation and institutional framework.
Ghana's Accra is the second "airline megacity"
Ghana, while lacking a successful airline of its own, is becoming an increasingly popular market for foreign airlines. The county is home to only a handful of charter and commuter carriers including Air Ghana, Antrak Air, Airlift International of Ghana and as of Sep-2011, Starbow Airlines.
Starbow Airlines is a private carrier that operates a fleet of two BAe 146-300 aircraft on a small domestic network. Starbow CEO, Brock Friesen, stated the company wants to offer at least twice daily services to domestic destinations, to counter the "grossly underserved" African city pairs. As of 17-Oct-2011, the carrier's current routes are Accra-Kumasi (south/central), Accra-Tamale (north/central) and Accra-Takoradi (south coast). It plans to expand its network to include Senegal, Cote d'Ivoire, Sierra Leone, Liberia, Burkina Faso, Mali, Guinea and Benin.
Starbow Airlines future and current destinations: Oct-2011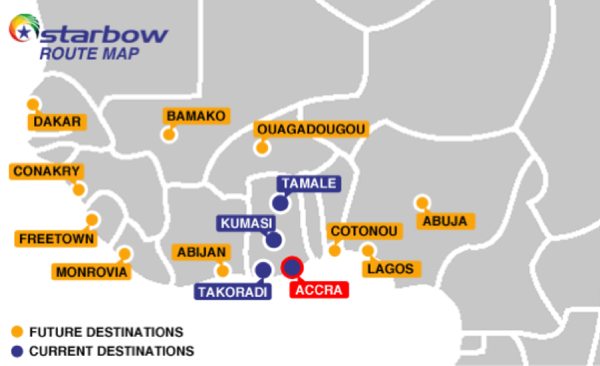 Large foreign airline presence in Ghana
Emirates, Air Nigeria, KLM, Delta Air Lines, Kenya Airways and Ethiopian Airlines are the leading carriers in the Ghanaian international market, which includes many more carriers operating a small number of services than Nigeria. Lufthansa will increase its frequency in the market on 01-Nov-2011, by introducing a daily service with B737-800 equipment. For the week beginning 17-Oct-2011, Lufthansa offers 1,100 seats per week.
Ghana capacity, per week, by carrier: 17-Oct-2011 to 23-Oct-2011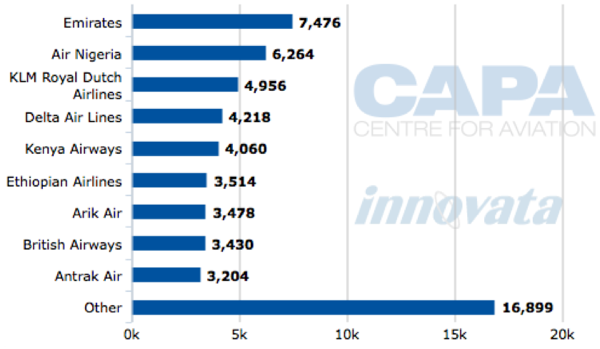 Kenya-based LCC Fly540 had hoped to extend its network into West Africa by establishing a base in Ghana. The venture, to be named Fly540 Ghana, will serve Senegal and Equatorial Guinea from a base at Accra Kotoka Airport. Fly540 has already started recruiting for cabin crew, retail agents, ATR72-500 first officers, engineers and customer service agents in Ghana. Fly540 had hoped to commence operations in the country by Oct-2011 however this date is likely to be pushed back slightly. The carrier is still in the process of converting its Air Service Licence (ASL) to an Air Operator's Certification (AOC). See related CAPA analysis: Turnover growth continues for Fly540 as African expansion plans take off
An emerging business market
Ghana's top export product is gold, with the mineral accounting for 5% of the country's GDP and 90% of its total minerals exports. The gold mining industry is dominated by AngloGold Ashanti – a South African based mining conglomerate with bases in 20 countries. Direct service operates between Ghana and South Africa, the US and Namibia – which are all sites for AngloGold Ashanti operations. Ghana's 2009 gold production increased slightly from 2006 and it is now the 9th largest producer in the world, up from 10th in 2006**.
The proportion of business class seats at Accra Kotoka Airport is considerably higher than the worldwide average.
Accra Kotoka Airport schedule by class of seat - one way weekly departing seats: 17-Oct-2011 to 23-Oct-2011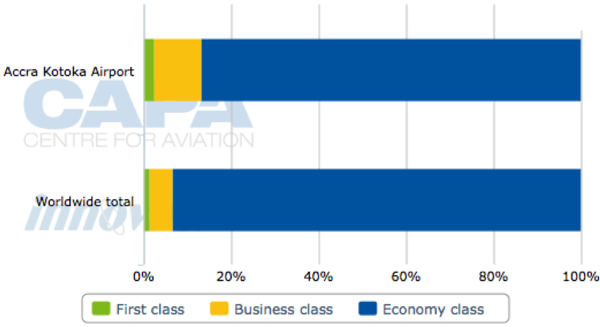 Outlook: Strong potential in West Africa
With its natural resources and oil reserves, West Africa is receiving increasing attention from international markets. Nigeria – rich in oil - and Ghana – rich in gold - are proving to be the stand-out aviation markets of the region. While both face difficulties, such as carrier debt, poor infrastructure and unaffordable travel, the economies of the countries are handily exceeding the global average GDP growth rate. Ghana's GDP is estimated to increase 13.5% for 2011, while Nigeria should see a 6.9% increase. According to the International Monetary Fund (IMF) Ghana's economy is expected to perform strongly because of its ability to return to private capital flows, which were an important source of financial funding before the GFC. Sub-Saharan Africa is showing a solid macroeconomic performance, with many economies now growing at rates close to their pre-crisis average. Nigeria is slightly slower in its growth rates, reporting a smaller-than-2 percentage point difference from pre-crisis levels. Ghana, on the other hand, is one of the continent's fastest growing.
Nigeria and Ghana are headlining growth in West Africa, but it is mainly being captured by foreign (US, Middle East and European) carriers in the absence of financial stable and internationally competitive local airlines.
Background information
*Airbus estimates only five other cities in Africa will become an "airline megacity" – Accra (Ghana, West Africa), Lagos (Nigeria, West Africa), Luanda (Angola, Central Africa), Addis Ababa (Ethiopia, East Africa) and Nairobi (Kenya, East Africa). Johannesburg (South Africa, Southern Africa) is already a megacity, according to Airbus.
2030 cities with more than 10,000 daily long-haul passengers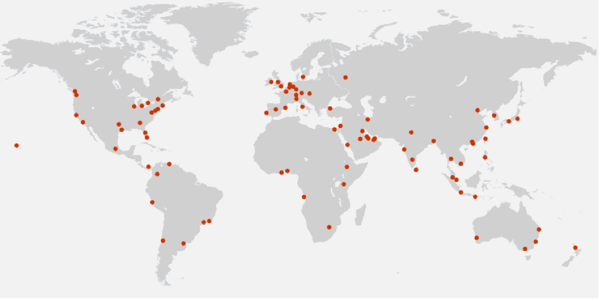 **According to the British Geological Survey, retrieved in Sep-2011
Nigerian and Ghanaian aviation littered with failed ventures
Nigeria Airways had a troubled and erratic time during its 45-year history. In 2003, a new airline, named Transatlantic Airlines, operated for a few weeks before it collapsed, leaving hundreds stranded. Next, the joint venture attempted by Virgin, resulting in the creation of Virgin Nigeria also had a brief and colourful life before Virgin divested itself of the association. The remnant is now operating domestic and regional routes as Air Nigeria.
Bellview Airlines had a similar poor track record. Founded in 1992, it finally disappeared in 2009 with many of its aircraft still derelict in Lagos. The staff then began a new carrier that still awaits certification, First Nation Airways. It is a repetitive tale of failure.
Ghana Airways ceased operations in Aug-2004, shortly after it was banned from US airspace. Ghana Airways suffered a wealth of problems including under-capitalisation and mismanagement. The carrier's fleet, comprised of Soviet-built Ilyushin jets, could only be serviced in Russia. Ghana Airways served Russia but it was a loss-making route – most passengers were government officials who travelled for free.
Ghana International Airways (GIA) was established to replace Ghana Airways when it folded. GIA launched operations in Oct-2005 but was plagued with similar problems to Ghana Airways. In May-2010, GIA ceased operations, making it the second causality to Ghana's aviation industry in six years.
GDP growth
Sub-Saharan Africa: Current GDP growth versus pre-crisis average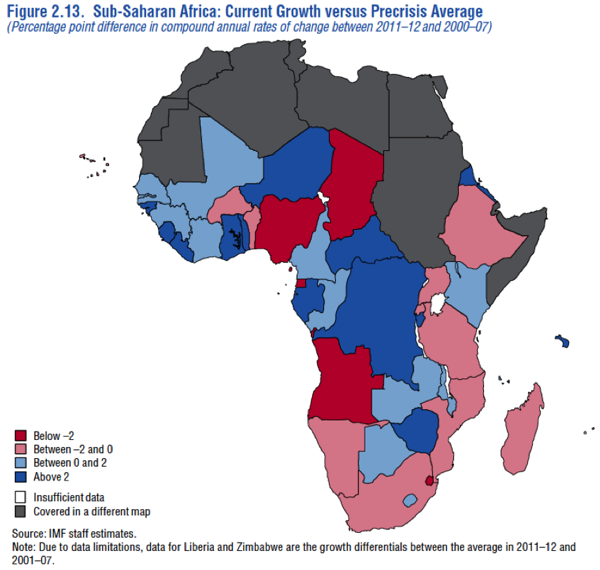 Despite efforts to diversify trade products, oil and natural gas are still Nigeria's primary exports. As for agricultural products, Nigeria is a strong exporter of cocoa, palm oil, livestock and cotton. From the US, Nigeria imports machinery, chemicals, transport equipment (including US-made Boeing aircraft) and manufactured goods. Nigeria's top trading partner for 2010 was the US, followed by the EU, India, China and Brazil (there is currently no direct air link between Nigeria and Brazil)
Nigeria's trade with main partners: 2010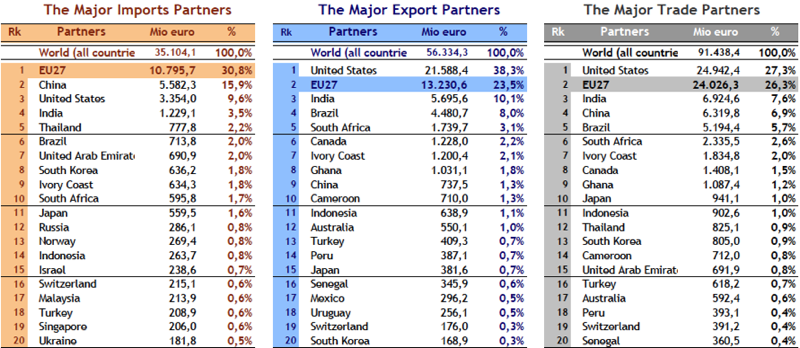 Arik Air international route map from Lagos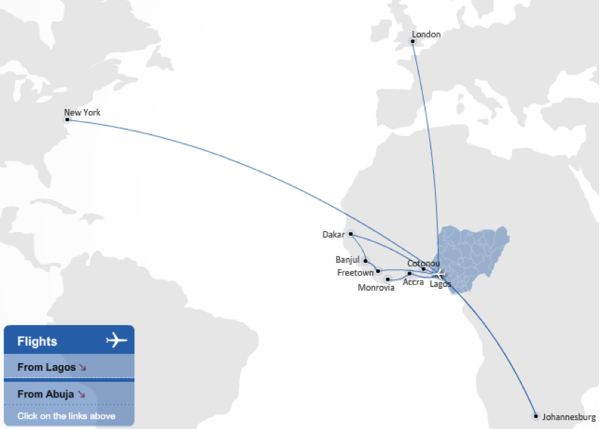 Arik Air domestic route map from Lagos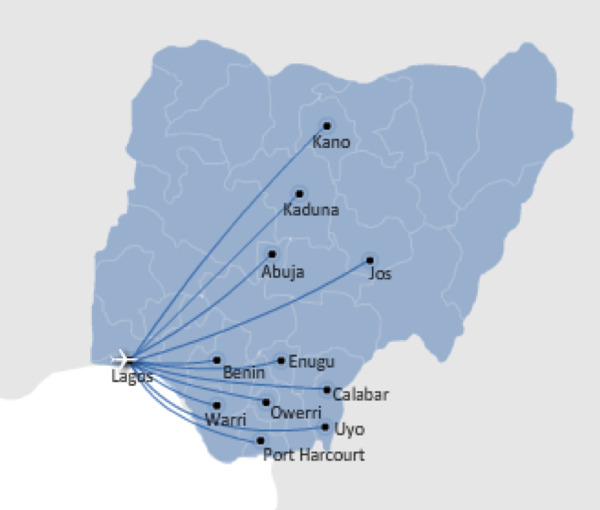 Arik Air international route map from Abuja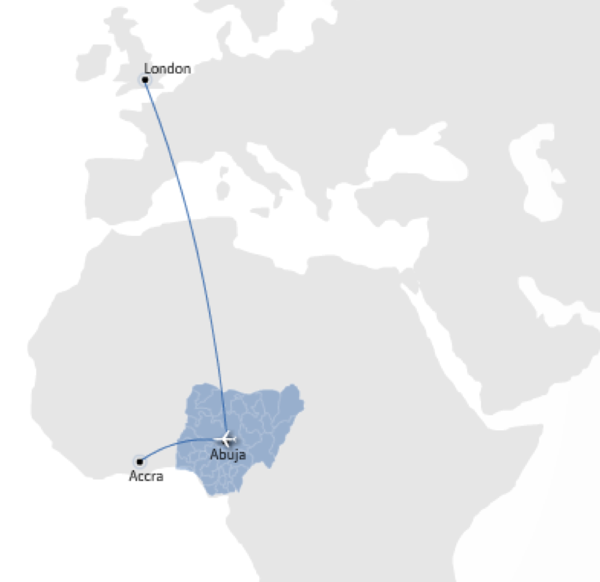 Arik Air domestic route map from Abuja