Cameroon's aviation market experiences strong growth driven by Camair-Co and regional competitors
Analysis
Cameroon's overall aviation market has grown by 46% in the year to Sep-2013, driven by an influx of Western African carriers competing on regional routes and national carrier Camair-Co adding 77% to its domestic capacity.
The bulk of the growth has come from Western and Central African carriers including Karinou Airlines from the Central African Republic and Rwandair, while Turkish Airlines has provided the country with its third European link.
Camair-Co continues to hold a monopoly, but profitability remains elusive and the Cameroon Government in Sep-2013 replaced CEO Matthijs Boertien after just nine months in the job, naming a former finance minister as chairman to lead a turnaround and to find an investor willing to take a 51% stake in the carrier.
Camair-Co asks for more state funding and appoints a new chairman and director general
Camair-Co is Cameroon's new national carrier, succeeding Cameroon Airlines which collapsed in 2008 after an unsuccessful privatisation process. Camair-Co was originally set up in 2006, but did not commence operations until early 2011. The Cameroon Government invested XOF22 billion (USD45.4 million) in Camair-Co in 2010 while the carrier also took Cameroon Airlines' 767-300ER which it uses to operate the five-times weekly Douala-Yaoundé-Paris CDG service.
See related report: New Cameroon national carrier Camair-Co fails to reach first year targets, but continues to grow
The Cameroon Government on 11-Sep-2013 appointed a new chairman and director general to head the airline. Former minister of economy and finance, Edouard Akame Mfoumou has been appointed chairman by a presidential decree replacing Cameroon's Prime Minister Philemon Yang. Deputy GM Frédéric Mbotto Edimo has been promoted to director general replacing CEO Matthijs Boertien, who had been in the job since 03-Jan-2013, but reportedly had a difficult relationship with trade unions.
Mr Boertien had an ambitious strategy for Camair-Co to grow the airline's fleet to 26 aircraft by 2018 and expand its network regionally and to Asia. The fleet would also include six dedicated cargo aircraft as part of a plan to establish Cameroon as a sub-Saharan freight hub.
Camair-Co has had a troubled first two years of operation marked by low, albeit improving load factors and missed revenue targets. The carrier is reportedly struggling under debts of XOF9 billion (USD18.6 million) to XOF10 billion (USD20.6 million).
In May-2013 the carrier reportedly sought further funding from the government to finance its operations for the next six months. At the time the government also announced plans to privatise Camair-Co by selling a 51% share to investors. The privatisation plan was reportedly discussed by the carrier's board on 7-Jun-2013, but no decision appears to have been made on the proposal.
Finding investors for the underperforming airline will be difficult, particularly given Cameroon's generally unfavourable business environment and endemic corruption which is a deterrent to foreign investment in the country.
Camair-Co's original business plan called for the carrier to be profitable by 2014. Few financial details are available, but while sales revenue is forecast to nearly triple to XOF33 billion (USD68.1 million) in 2013, costs are reportedly running at XOF45 billion (USD million). The carrier also has a poor service reputation including regular flight cancellations and delays.
Camair-Co increases Cameroon's domestic capacity by 77% in last 12 months
Camair-Co operates a route network of 12 destinations, including five domestic and six regional routes from its Douala hub, as well as Paris CDG as its only intercontinental destination.
Camair-Co route network
The carrier has a monopoly on its domestic routes where it has grown capacity by 77% in the past 12 months, including a more than 57% increase on the largest route between the country's biggest city Douala and the capital Yaoundé.
Camair-Co also operates to Garoua, Ngaoundere and Maroua's Salak Airport.
Cameroon Top Five Domestic Routes (return seats): 16-Sep-2013 to 22-Sep-2013
Several international airlines have launched services to Cameroon in the past year
Several carriers have commenced services to Cameroon in the past year, including Karinou Airlines from the Central African Republic, Rwandair and Turkish Airlines.
Karinou has opened seven regional destinations from Cameroon, including six destinations from Douala to Cotonou, N'Djamena, Bangui, Kinshasa, Brazzaville and Pointe-Noire. It also flies from Yaoundé to Malabo. Rwandair also commenced four-times weekly Kigali-Brazzaville-Libreville-Douala services in Jun-2013 with 737-700 equipment.
But East Africa's biggest carriers Kenya Airways and Ethiopian Airlines both reduced overall capacity to Cameroon. Kenya Airways' capacity is down about 25% in Sep-2013 compared to a year ago despite adding a fourth frequency on Nairobi to Douala in Mar-2013. Kenya Airways cancelled plans to increase frequencies from Nairobi to Yaoundé from four to six per week in Jul-2013. Ethiopian has reduced capacity by 35% since Sep-2012 to 708 one-way seats per week over three weekly services between Addis Ababa and Douala via Malabo.
Camair-Co faces greater competition on the Douala-Libreville route
Camair-Co operates a network of six regional destinations of which Libreville in neighbouring Gabon is the biggest. Total capacity on the route has increased by about 52% comparing Sep-2013 to Sep-2012 due to Camair-Co doubling its capacity to 768 one-way seats per week along with the arrival of Rwandair in May-2013 and Westair Benin in Aug-2013 joining incumbent South African Airways (SAA). In addition Afric Aviation launched four-times weekly services on the route on 01-Sep-2013.
SAA operates four times weekly on the Douala-Libreville route as an extension of its A319 Johannesburg-Libreville service. Rwandair also flies four times per week Kigali-Brazzaville-Libreville-Douala with a mix of 737-700 and CRJ equipment. Westair Benin has operated the route twice-weekly since Aug-2013 and carries on to Cotonou.
Camair-Co further consolidated its regional network in Apr-2013 by suspending direct services from Douala to Brazzaville and Douala to Kinshasa in favour of a three times Douala-Brazzaville-Kinshasa-Douala service. Similarly three-times weekly direct services from Douala to Cotonou and Lagos were consolidated to a three-times weekly Douala-Lagos-Cotonou offering.
Camair-Co's three-times weekly service to Abidjan from Douala lasted just two weeks in Jun-2013, before leaving the route to Air Cote d'Ivoire which had launched a three-times weekly A319 service from Abidjan to Douala and on to Yaoundé in Feb-2013. Air Cote d'Ivoire also operates a dedicated weekly Abidjan-Douala service, but a twice weekly Abidjan-Douala-Kinshasa service has not started as planned in Sep-2013. Camair-Co's plans to extend its three-times weekly Douala-Lagos to Abidjan in Sep-2013 also appear not to have eventuated.
Camair-Co also briefly reinstated Douala-Malabo between Apr-2013 and Jun-2013 to compete with Ethiopian Airlines, which dominates the route, and Cronos Airlines.
Cameroon Top 25 International Routes (return seats): 16-Sep-2013 to 22-Sep-2013
Turkish Airlines in Dec-2012 became the third European carrier to commence operations to Cameroon when it launched a four-times weekly service from Istanbul Ataturk to Yaoundé returning to Istanbul via Douala using 737-900s. The carrier also launched three-times weekly Istanbul Ataturk-Douala-Libreville-Istanbul Ataturk in Feb-2013.
Turkish Airlines' new services coincided with the country's Prime Minister, Recep Tayyip Erdoğan announcing that Turkey would increase the value of its trade with Africa to USD50 billion by 2015. The value of Turkish exports to Africa increased 31.4% year-on-year in 2012 to USD12.1 billion of which USD8.6 billion was to North African countries.
Cameroon's links with former colonial master France has also been improved with Camair-Co adding three weekly frequencies on its flagship Douala-Yaoundé-Paris CDG route taking it to five times per week offering to 1,050 one-way seats using its 767-300ER. But competitor Air France plans to respond by increasing its current three times weekly Paris CDG to Yaoundé service to four times weekly in Nov-2013, adding 266 one-way seats per week to match Camair-Co offering. Air France also operates daily direct to Douala from Paris CDG with the service carrying on to Malabo. Both routes are operated with 777-200ERs. France is Cameroon's second biggest trading partner after China.
Brussels Airlines also operates six-times weekly to Douala from Brussels.
Cameroon Top Airlines (seats): 16-Sep-2013 to 22-Sep-2013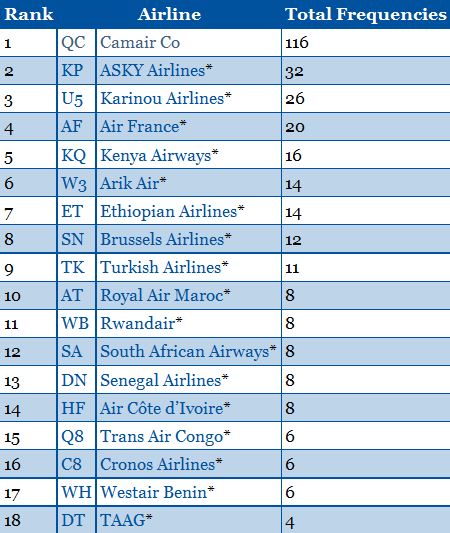 Camair-Co plans to acquire a 777 and two 787s
Camair-Co has a fleet of three aircraft, including a 12-year-old 767-300ER and two 737-700s. The carrier reportedly expects to take delivery of a 777 by the end of 2013 and two 787s in 2014. It is likely that one of the new aircraft will replace the 767-300ER and potentially increase capacity on the Paris CDG route, but it is unclear if the aircraft will be leased or purchased, or what new routes may be opened with them.
China is likely to be high on the list of priorities. A bilateral air services agreement was signed between Cameroon and China in Apr-2011, but so far no air link has been established by carriers from either side.
The carrier also has two Chinese-built MA60 turboprops on order, but the previous management had expressed concerns that taking delivery of the aircraft, which has not been type certified by the US Federal Aviation Administration, could impact on Cameroon's prized European access rights, as the only Central African country not to be black-listed by the EU. The MA60s were originally ordered by the government in Jul-2012 and had been due to be delivered in Sep-2012.
Cameroon benefits from increased airline access, but Camair-Co will need to establish a profitable platform and look to Asia
Cameroon has enjoyed strong growth in aviation access as foreign carriers look to tap the country's population of 22 million people and the government's investment in recent infrastructure projects.
For its part, Camair-Co has significantly increased domestic capacity, but the carrier's new leadership will need to find a way to improve yields to ensure the airline turns a profit sooner rather than later.
Finding an investor to take a majority stake, perhaps a strategic airline partner, will also help to defend its position in the increasingly competitive regional market, while in turn expanding the long-haul network to major trading partner China will boost the economy and make it easier to attract investment.