Nigeria reaches airport renovation milestone, but exorbitant taxes hinder domestic airline growth
Nigeria's aviation transformation programme is making good progress with the government's extensive airport renovation project of 22 federal airports reaching the half-way stage and the remaining 11 airports to be remodelled by 2015.
Foreign carriers, attracted by Nigeria's 170 million population and economic potential are also bringing in more capacity, in particular Ethiopian and Emirates, while Arik and Gol are preparing to reopen a direct link between Nigeria and Brazil for the first time in about 20 years.
But domestic carriers continue to struggle under the burden of massive debt, high operating costs and the prospect of increased competition from a proposed new national carrier and potential start-ups.
Nigeria's airport upgrade reaches the halfway point
The Federal Airport Authority of Nigeria is about half way through a programme to remodel the country's 22 federal airports, by 2015 by which time total domestic and international passenger numbers are expected to have grown to 16 million per year compared to 14.3 million in 2012. Passenger volumes are forecast to grow at a rate of 10% per year, providing a more positive outlook for airlines in a country where the sector should in theory be booming - that is, if it were not for massive structural constraints including inept government interference, endemic corruption and past mismanagement.
Remodelling projects at Nigeria's main airports has been largely completed at the first 11 airports including at Benin City Airport, Kano International Airport, Lagos Murtala Muhammed International Airport, Owerri Airport and Yola Airport.
But on-going development work at Lagos Airport will include upgrading the airport's air conditioning systems, improving vehicle access, adding more baggage carousels and customer service counters, installation of new aerobridges to separate arriving and departing passengers, construction of a multi-story car park and a 20-room transit hotel at the airport. The number of retail outlets is also being increased, including airside duty free shops.
Separately, construction of new international terminals at Nigeria's four hub airports, Lagos, Abuja, Kano and Port Harcourt airports was approved by Government in Sep-2012 and is due to be completed by May-2015. The projects will be developed by the China Civil Engineering Construction Corporation (CCECC) and funded by a USD500 million loan from the China Nexim Bank under a 21-year build operate and transfer (B-O-T) agreement with the Chinese government.
See related report: Nigeria's government talks of rebuilding a failing airline industry in 2013. But the path is unclear
Passenger traffic at Nigeria's airports decreased 4.2% year-on-year to 14.3 million in 2012 according to Federal Airports Authority of Nigeria figures. Passenger traffic at Lagos Murtala Muhammed International Airport increased 5.7% year-on-year to 7.4 million, Abuja International Airport traffic decreased 14.3% to 3.6 million and traffic at Port Harcourt Airport remained steady at 1.3 million.
Nigerian One continues to seek elusive backers
Efforts by the government to establish a new national carrier to compete against the country's two largest airlines Arik and Aero – both of which are heavily indebted to the government – appear to have made little progress. The government is searching for a core investor to fund the venture and a technical partner to operate the carrier, which has been named Nigerian One. The carrier would be listed on the Nigerian Stock Exchange and the government's only involvement would be to provide a viable operating environment.
On the face of it the proposition appears appealing given the massive size of the Nigerian market with a population of about 170 million. Just 5 million people travel by air, but with the help of a strongly growing economy, a growing middle class and government initiatives to reduce exorbitant operating costs helping to lower fares, that number could rapidly increase.
The government believes that a one hour domestic flight in Nigeria should cost no more than between NGN10,000 (USD61.67) or NGN15,000 (USD92.50). Arik currently charges NGN22,785 (USD140.52) for a 1h15m flight between Lagos and Abuja, costs regardless of how far in advance it is purchased. But, according to the Arik website, the fare includes NGN12,737 (USD78.55) in taxes and fees, leaving a base fare of just over NGN10,000 (USD61.67).
Arik plans to spend USD300 million on a fleet of E-Jets
Arik has reportedly announced that it will invest at least USD300 million to acquire 10 to 15 new Embraer E-Jets and has held talks with the Brazilian Development Bank over funding options for the deal. Arik is Nigeria's largest carrier with an extensive domestic and regional network as well as long haul services to London and New York. But the carrier, along with its only domestic competitor of any scale, Aero, have been banned by the Central Bank of Nigeria from receiving further loans from the Nigerian banks due to their heavy indebtedness to the government following bailouts in 2010.
Arik operates a domestic network of 20 domestic destinations while Aero operates to 13 domestic points as well as Accra, according to its website. Arik boasts a fleet of 22 aircraft ranging from a new A330-200 to Q400 turboprops, and has orders for 24 aircraft, according to the CAPA Fleet Database. Aero's fleet of 13 aircraft including six 737-400 and six 737-500 as well as a Q300.
Arik's discussions to acquire E-Jets are a shift in position from Mar-2013 when the carrier announced it would rebuild its maintenance hangar in Lagos to service Boeing and Bombardier aircraft. At the time the carrier called on the government to acquire Bombardier aircraft under a proposed plan to provide struggling domestic carriers with cheap loans to acquire 30 new Embraer aircraft.
See related report: Arik Air has the funding and opportunity to grow in 2013, but faces further government interference
Despite its financial challenges Arik has grown its domestic capacity by about 12% in the past year to nearly 70,000 return seats per week in Sep-2013 compared to about 62,200 seats per week in Sep-2012. Arik has substantially increased capacity on the core Lagos-Abuja route since Jul-2012 where it has grown capacity from about 4400 one-way seats per week to 7224 seats per week.
Arik introduces the first of four A330-200s as part of its fleet expansion programme
Arik took delivery in Jun-2013 of the first of four A330-200s it has on order from lessors with the remaining three due to by Jun-2014. The new aircraft is leased from Pembroke Capital Aircraft and configured with 217 seats in two classes and will support the two existing A340-500s in the long haul fleet.
The A330-200 has been deployed on the daily Lagos-London route replacing the A340-500. The move has in turn freed up the A340-500 to up-gauge the daily Lagos-Johannesburg services from a 737-800. The carrier indicated in Jun-2013 that the A330-200 would also be used to increase frequencies on the Lagos-New York route from three-times weekly to daily in Oct-2013.
Arik reportedly intends to operate the A330-200 for eight years before replacing them with A350s. The airline already has an order for seven competing 787-9s for delivery in 2017 and 2018.
Network expansion to North Africa, including Egypt as well as East Africa has been mooted for 2014 once Arik receives a further two 737-800s out of a total of eight due to be delivered by 2015.
Arik's regional network is currently focuses largely on Western and Central Africa and has no destination in North or East Africa where it will compete with Ethiopian and Kenya Airways.
Arik Air Fleet Summary: as at 19-Sep-2013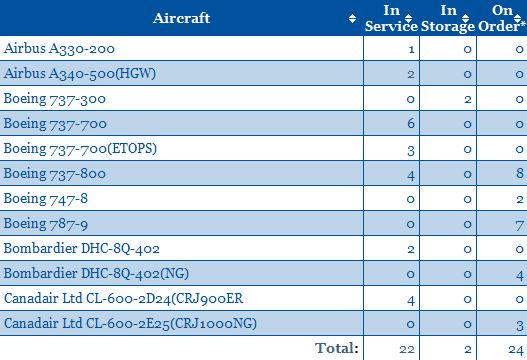 Arik is ready to launch Lagos-Sao Paulo services by the end of 2013
Arik also plans to commence flights from Lagos to Sao Paulo by the end of 2013 as part of a reciprocal deal struck between Nigeria and Brazil to restore direct air links between the countries on a route last served by Varig about 20 years ago. Since then passengers have had to make the journey on a circuitous route via Europe or South Africa.
Flight details, including frequencies have not yet been announced, but Arik's deputy MD, Ado Sanusi reportedly said a daily service to Sao Paulo would be "ideal". Mr Sanusi also said the airline may consider routes to Recife and Rio de Janeiro.
Brazil's Gol aims to reciprocate with the launch of three weekly flights to Lagos from Recife by the end of 2013. But, Mr Sanusi said while Nigeria had provided Gol with the necessary regulatory approvals and landing rights to commence services, Arik was still to receive landing slots at Sao Paulo airport.
Direct links between Latin America and Africa have traditionally been limited. But the Brazil-Africa market is poised for rapid growth, particularly as the Brazilian government promotes more trade with Africa.
Several carriers, including Ethiopian Airlines, are eager to tap into the growing demand. Ethiopian launched three weekly flights to Rio de Janeiro and Sao Paulo via Lome in Jul-2013.
See related reports:
Ethiopian Airlines is building a significant presence in the Nigerian market, launching four times weekly 737-800 services to the newly refurbished Enugu Airport in Aug-2013, becoming the first international carrier to do so.
Ethiopian already operates to Abuja and Lagos and its CEO Tewolde Gebremariam has reportedly said that Kano will also be added to the network, though no time frame was given. With a population of about 2.2 million, Kano is Nigeria's second largest city after Lagos.
Nigeria is Ethiopian's largest international market accounting for more than 10,200 one-way seats per week, ahead of the United Arab Emirate and China. Tanzania is the second largest African market for Ethiopian.
Ethiopian Airlines international capacity (seats) by country: 16-Sep-2013 to 22-Sep-2013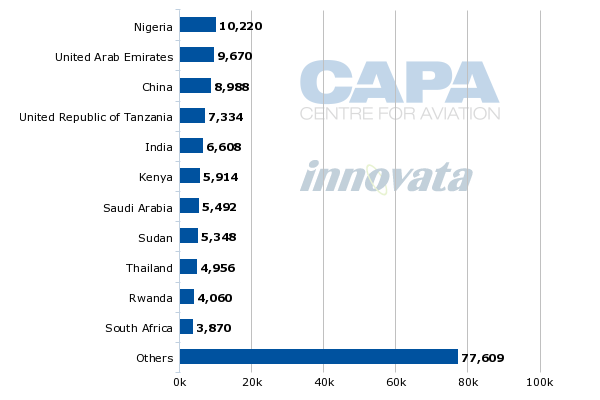 Ethiopian's Enugu service has attracted business passengers bound for Asia via Addis Ababa from nearby Aba, Nnewi and Onitsha who previously had to travel to Lagos to connect with an international service. The addition of Enugu takes Ethiopian's African non-stop network to 54 destinations including 14 domestic points, two behind SAA on 56 and well ahead of Kenya Airways' 42 destinations, according to Innovata.
Ethiopian also increased frequencies on its Addis-Abuja services from five-times weekly to daily on 27-Aug-2013 using a 777-200LR, matching the daily service to Lagos where the carrier also operates a five-times weekly freight services using a mix of 777-200F and 757 freighters.
East African competitor Kenya Airways also operates daily direct from Nairobi to Lagos with a 737-800 as well as three times weekly via Cotonou. A direct service from Nairobi to Abuja reportedly mooted in Jul-2013 is yet to eventuate. Lagos has, however, been added as a destination under Kenya Airways' extended codeshare agreement with China Southern which took effect in Aug-2013.
Nigeria to Africa : Eastern Africa (seats per week, one way): 19-Sep-2011 to 9-Mar-2014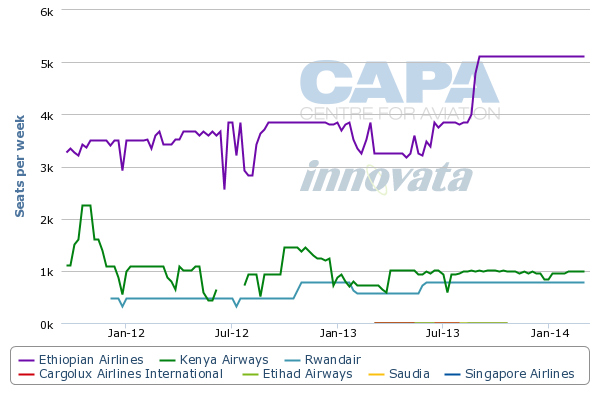 Nigeria is also attracting increased interest from the Middle East, with Emirates having added capacity on its Dubai-Lagos service which it currently operates 13 times weekly with 777-300ERs as well as a weekly 777-200F.
Fellow Gulf carrier Etihad launched Abu Dhabi-Lagos in Jun-2012 and currently offers about 1800 one-way seats per week with A330-200s, as well as a direct weekly 777 freighter service.
Saudi and Royal Jordanian have also entered on a smaller scale during 2013. Saudi's entry, however, was short-lived operating twice weekly to Kano from Jeddah between Jan-2013 and the end of Aug-2013. Royal Jordanian commenced twice weekly Amman-Lagos-Accra services in Jul-2013 with A330 equipment as part of a strategy to diversify its travel and tourism markets away from weakening traditional markets in Europe and North America.
The Western African service is aimed in particular at religious and medical tourism from Nigeria and Ghana.
Nigeria to Middle East (seats per week, one way): 19-Sep-2011 to 9-Mar-2014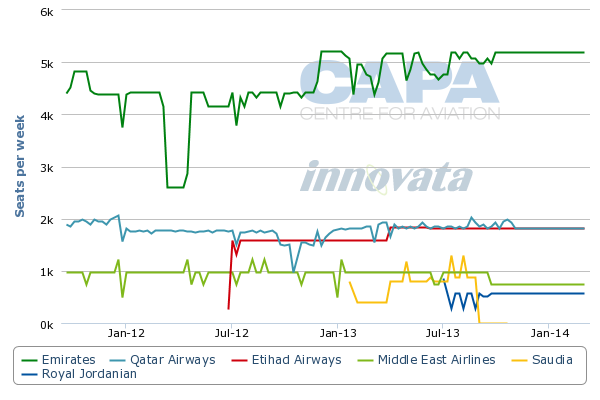 Turkish Airlines will add Kano as its second Nigerian destination in Dec-2013 via N'Djamena with a four-times weekly service using a 737-800. The carrier already operates daily to Lagos with a 737-900, according to Innovata.
The UK remains Nigeria's biggest market owing to the large diaspora population, but capacity on the route has remained flat since Feb-2012 among competitors British Airlines which has about a 50% share of capacity, Virgin Atlantic about 28% and Arik the balance.
Nigeria international capacity (seats) by country: 16-Sep-2013 to 22-Sep-2013
Improved aviation infrastructure will make Nigeria more competitive, but exorbitant taxes undermine viability
Nigeria's infrastructure development programme will make the country more attractive to foreign carriers eager to tap into Africa's second largest economy. But as the main centres of Lagos, Abuja, Kamo, Port Harcourt and Enugu attract direct services from foreign carriers the role for domestic airlines such as Arik and Aero to provide onward domestic feed will diminish.
The two dominant domestic carriers are also likely to come under increased pressure from new entrants, either with the support of the government or a new LCC such as fastjet which is eyeing the over-priced market as fertile ground for its potential partnership with Nigerian company Red 1 Airways.
See related report: fastjet plans first international route, delays South African domestic launch
However, for air transport to become mainstream within Nigeria, the Government must first wean itself off the exorbitant taxes it imposes on airlines. Government taxes make up more than half the price of a domestic fare.
Without affordable fares the aviation industry will be held back from realising its full potential - even in a country with a poor road system – and the largest casualty is the national economy.