Arik Air has the funding and opportunity to grow in 2013, but faces further government interference
Analysis
Nigeria-based Arik Air enters 2013 with some prospect for growth having reportedly secured a USD2 billion credit facility to fund the acquisition of additional aircraft. The carrier has also held preliminary talks with Ivory Coast national carrier Air Cote d'Ivoire to provide that nation's domestic network.
But despite repeated announcement of new long-haul routes, the previously aggressive Arik founded in 2006 after taking over the assets of bankrupt national airline Nigeria Airways has achieved little growth in recent years. Arik harboured pretentions of becoming Western Africa's leading airline and candidate for membership of one of the main marketing alliances but has been weighed down by debt, the lack of a clear business plan and a meddlesome government.
The carrier has capitalised on the demise of a major privately-owned competitor in Air Nigeria as well as grounding of Dana Airways following a crash, which effectively reduced the domestic market to a duopoly with Aero.
Nigerian Government plans to launch a new national airline and encourage new entrants
Faced with an uncompetitive market between two carriers, both heavily indebted to the state, along with the associated very high air fares and often systemic corruption, the Nigerian Government is talking of pulling out the stops in 2013 to encourage more investment in the scheduled aviation sector – including fast tracking registration of four new unidentified airlines and the establishment of a new national carrier.
The Central Bank of Nigeria is also developing a plan to provide cheap funding to airlines allowing them to acquire new aircraft to improve safety. The plan includes the government buying 30 aircraft on behalf of domestic airlines, as part of a transformational programme that also includes airport remodelling and reconstruction to establish Nigeria as an aviation hub in competition with Accra in Ghana.
Arik became West and Central Africa's largest carrier after taking over the assets of bankrupt national airline Nigeria Airways in 2006. From its main base at Murtala Muhammed International Airport in Lagos, and a secondary hub at Nnamdi Azikiwe International Airport in Abuja the carrier offers domestic, regional and intercontinental services to destinations in North America and Europe.
Six years on and Arik remains largely a regional carrier with a network of 20 domestic destinations and eight regional points, with the exception of a daily 737-800 Lagos-Johannesburg, daily Lagos-London and three times weekly Lagos-New York each operated with A340-500 aircraft.
Arik may launch Ivory Coast domestic routes in partnership with Air Cote d'Ivoire
Arik and start-up Ivorian national carrier, Air Cote d'Ivoire held preliminary discussions in Jan-2013 with a view to forming a partnership to build a domestic network from Air Cote d'Ivoire's hub in Abidjan.
Air Cote d'Ivoire wants to urgently launch services to eight domestic destinations and believes Arik has the suitable aircraft types required. Arik does not currently operate to Ivory Coast, though the nation was on a list of new routes reportedly planned by MD Chris Ndulue in Oct-2012. Mr Ndulue also reportedly said the airline plans to commence Lagos-Houston, Abuja-Kano-Jeddah, Accra-London, and Freetown-London services.
Air Cote d'Ivoire replaces Air Ivoire as the nation's national carrier as joint venture between the Ivorian Government which owns 65% of the airline, Air France with 20% and Aérienne de Participation-Côte d'Ivoire 15%.
Air Cote d'Ivoire operates between 13 destinations in Western and Central Africa with two A319-100LRs provided by Air France under lease from Macquarie Bank, but has no domestic network.
Arik strengthens its domestic position following collapse of Air Nigeria and Dana Airlines grounding
Arik holds a comfortable leading position in the domestic market where it deploys about 80% of its capacity giving it a market share of seats of 56%, offering about 68,000 one-way seats per week, according to Innovata.
Main competitor, Aero has a nearly 39% market share by seats, offering about 48,000 seats and Dana Airlines the remaining 5% with about 6,000 seats per week.
Dana Airways was grounded following the Sep-2012 crash of a MD-83 aircraft at Lagos killing 163 people. The airline resumed operations in Jan-2013. But Arik has taken advantage of Dana's misfortune by picking up much of its traffic.
Nigeria domestic seats per week, one way: 19-Sep-2011 to 25-Aug-2013
Arik's biggest domestic routes are between Lagos and the capital, Abuja offering about 17,700 seats per week across 53 times weekly services, followed by Lagos-Port Harcourt offering about 13,600 seats. Abuja-Port Harcourt is the third largest route with about 5,600 seats.
Arik operates 61% of its international capacity, or about 10,500 seats to eight regional destinations in Western Africa including five to the west; Dakar, Banjul, Freetown, Monrovia and Accra as well as to Douala, Kinshasa and Luanda to the east and south.
Lagos to Accra accounts for about 4,000 weekly seats, making it Arik's biggest international route ahead of Lagos-London, 3,300 seats and Lagos-Johannesburg about 2,000 seats.
Arik struggles to expand its long-haul network

Arik has struggled to expand its long-haul network and was forced to drop its Abuja-London service in Mar-2012 after the lease on a Heathrow slot from bmi expired and Arik claimed the Nigerian and British governments were unable to agree on terms under the 2008 bilateral air services agreement for a replacement slot.
London continues to be served daily from Lagos, as Arik's only European destination. The large Nigerian population in Britain and significant leisure and business traffic sees the carrier deploying more than 19% of its international capacity on the route.
Arik competes on the London route with British Airways which has a 50% market share and Virgin Atlantic with about a 28% share.
Nigeria to Britain seats per week, one way: 19-Sep-2011 to 25-Aug-2013
The Lagos to London route is highly lucrative with high demand and a lack of capacity due to bilateral rights restrictions. Fares are driven by high demand for first and business class seats of which nearly 60% are bought by politicians and government officials.
Nigeria is also served from western Europe by Lufthansa, Air France, KLM and Iberia.
Nigeria to western Europe seats per week, one way: 19-Sep-2011 to 25-Aug-2013
Arik's only other intercontinental long-haul route is to New York, which it operates from Lagos three times weekly, offering about 950 seats per week.
Arik competes with United States carriers Delta and United Airlines between Nigeria and the North American market. Arik trails with a 20% share of seats against Delta's 43%. Delta operates a daily service from its Atlanta hub to Lagos with a Boeing 767-300. Delta pulled off the Accra-Abuja route in Jul-2012, which was an extension of its New York-Accra service which continues. United flies to Lagos from Houston five times weekly, using a Boeing 777.
United has reduced its capacity on the route from a market leading position of nearly 2,000 seats when it operated as Continental to a little over 1,300 seats per week in Mar-2013. This is scheduled to slip further in June-2013 to just under 1,100 seats.
The high demand for business travel on Arik's long-haul network means Arik offers substantially more premium capacity than the global average.
The carrier operates with 3.2% of its total seats in first class, compared to 1.7% of the global average and nearly 6% in business class, compared to the average of 4.5%
Arik has 787-9s and 747-8s on order for expansion
Arik operates a fleet of 21 aircraft and has 17 on order, including eight Boeing 737-800s due for delivery by 2015, two 747-8s with delivery scheduled in 2014 and 2015, and seven 787-9s for delivery in 2017 and 2018. Air Arik, however, has a history of placing orders and then cancelling them.
Arik Air fleet summary as at Mar-2013
| | | | |
| --- | --- | --- | --- |
| Aircraft | In Service | In Storage | On Order |
| | | | |
| | | | |
| | | | |
| | | | |
| | | | |
| | | | |
| | | | |
| | | | |
| | | | |
Arik Air fleet delivery schedule as at Mar-2013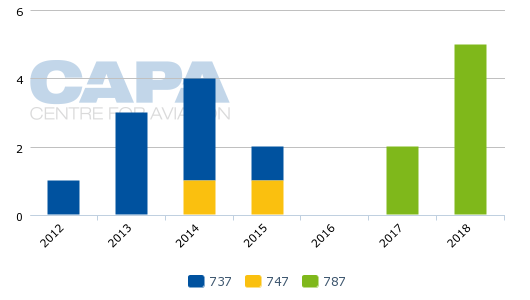 The carrier in Jan-2012 reportedly issued a RFP as it seeks to finance four new Bombardier jet aircraft. The airline has six Bombardier aircraft in its fleet including four CRJ900ER regional jets and two Q400 turboprops.
In Oct-2012 Arik reportedly secured a USD2 billion credit facility to purchase new aircraft. Arik along with Aero are barred by the Central Bank of Nigeria from receiving further loans from Nigerian banks due to outstanding debts relating to support funding received in 2010 as part of a USD3.3 billion bailout for the country's domestic carriers to enable them to refinance their loans for 10 to 15 years.
Central Bank of Nigeria documents, obtained by Reuters, reportedly show that Arik owes NGN85 billion (USD543.8 million) to state-backed "bad bank" Asset Management Company of Nigeria (AMCON) while Aero owes AMCON NGN35 billion (USD223.9 million).
Arik will rebuild its maintenance hangar and urges the government to acquire Bombardier aircraft
Arik chairman Joseph Arumemi-Ikhide announced on 04-Mar-2013 that the airline would rebuild its aircraft maintenance hangar in Lagos in partnership with Lufthansa Technik, Boeing and Bombardier. The new hangar would service Arik aircraft as well as those of other domestic carriers.
The Bombardier connection is interesting in that the Nigerian Government reached an agreement in principle in Nov-2012 with rival airframe maker, Embraer to collaborate in assisting domestic airlines to acquire new aircraft using government funding.
Mr Arumemi-Ikhide called on the government to instead consider acquiring Bombardier aircraft which he considered more suitable to the Nigerian environment.
Nigeria's aviation market has huge potential

On paper, Nigeria should be a highly active and potentially profitable aviation centre for its airlines to tap into and help grow the country's economy. The nation has Africa's largest population of 170 million people, is oil rich, enjoys economic growth running at around 7% a year, and has a growing middle class.
Arik should be leading the way, but appears to lack the ability to execute a business plan beyond constant promises to open new international routes, highlighting its rights to fly to Houston, Paris, Beijing among others and acquisition of fleet to support the expansion.
The carrier is deep in debt and survives at the behest of a government which is determined to meddle in a supposedly free market littered with airline failures.
Somehow, a sustainable domestic aviation industry must be fostered, free from corruption, to unlock and support the country's trade in natural resources.