SA Express returns to profit and plans to expand its regional network and fleet
Analysis
South Africa's SA Express has reported a net profit of ZAR650,000 (USD65,000) for the 2013 financial year, turning around a restated loss of ZAR365.9 million (USD36.7 million) in FY2012 driven by increased revenue and stable operating costs.
The result marks a return to profitability as the state-owned carrier and member of the South African Airways Group looks to expand its regional network over the next six months and strengthen its feeder support role for South African Airways as well as implement a fleet replacement programme to further reduce costs.
SA Express also reported a 91% reduction in its operating loss to ZAR25.1 million (USD2.5 million) in FY2013. SA Express CEO Inati Ntshanga said: "Though the business is making the right decisions and heading in the right direction, we cannot afford to be complacent as a lot still needs to be done to ensure that we champion a sustainable operational and financial performance."
While selected details of the financial results were presented at the airline's AGM on 25-Sep-2013, neither the full audited accounts nor the annual report have been made public.
SA Express increases revenue and reduces costs in FY2013
South Africa's Minister of Public Enterprises Malusi Gigaba stated at SA Express' AGM that the South African airline industry has been impacted by slow economic growth and reduced demand as well as increasing costs of landing and navigation charges, the depreciating ZAR and high fuel costs.
Cost control in the short and medium future will be crucial to the SA Express' financial sustainability, Mr Gigaba said.
SA Express increased revenue by 13.6% year-on-year to ZAR2.29 billion (USD226.5 million) on the back of higher fares and improved load factors, despite an unspecified decline in passenger numbers, implying capacity has been reduced.
Operating costs however remained stable, though no supporting figure was disclosed, while cost savings of ZAR129.1 million (USD12.8 million), exceeded the target of ZAR70 million (USD6.9 million).
The carrier's total assets increased to ZAR1.4 billion (USD138.6 million) from ZAR1.1 billion (USD108.9 million) in FY2013 mainly due to an increase in receivables and a ZAR158 million (USD15.6 million) deferred tax asset.
Mr Ntshanga said: "It is expected that operations will be sustainable based on expected future growth levels and implementation of the SA Express 20:20 Vision in line with SAA's long-term turnaround strategy (LTTS)."
SA Express had been negotiating with the government over a ZAR539 million (USD53.4 million) government guarantee to fund its turnaround plan. The guarantee would reportedly include ZAR316 million (USD31.3 million) to cover short term and long term lending facilities, ZAR123 million (USD12.2 million) to fleet expansion and ZAR100 million (USD9.9 million) for working capital and capital expenditure.
Negotiations for the guarantee began in 4Q2012 and had originally been for ZAR1.1 billion (USD108.9 million) after a massive loss in equity led to the carrier being in breach of its loan and aircraft lease covenants.
The guarantee is in addition to a ZAR5 billion (USD499 million) government guarantee granted to SAA on Oct-2012 for a two year period to allow the carrier to borrow on the financial markets and remain solvent. The guarantee was dependent on SAA presenting a turnaround strategy to the government and it being approved by the cabinet.
See related report: South African Airways' future hinges on a new strategic plan and CEO
SA Express has also employed a CFO to help bring the carrier's financial reporting systems back up to standard. The auditor general took over auditing the carrier's books for FY2012 after extensive discrepancies were revealed in the FY2011 accounts by auditors.
SA Express' part in the Long-Term Turnaround Strategy
Under the SAA LTTS, approved by the cabinet and SA Express' 20:20 vision the government will review the fleet, finance and network opportunities for all three state-owned carriers, SAA, SA Express and LCC Mango.
Mr Gigaba said the government has shifted its focus for the airline group from "good financial performance of one company, to strategic leveraging of state aviation assets to optimise economic impact".
SA Express' role in the group is that of a key strategic domestic and regional feeder airline implementing government policy to link African countries and promote intra-Africa trade.
With Middle East carriers establishing hubs throughout the continent, SA Express is required to quickly expand into strategic new markets and secure a competitive position leveraging its affiliate status in the Star Alliance as well as joint ventures with other partners.
SAA's 12-year LTTS calls on the carrier to create an integrated airline group, SAA Group Holdings, incorporating SAA, Mango and SA Express under a single holding company structure to improve asset utilisation, operational efficiency and capital allocation.
Consolidation of SAA's network will form a critical component of the plan over the next 18 months, including reducing its exposure to loss-making international routes, suspending routes to reduce operational losses and focus instead on developing its profitable domestic and African regional network.
SA Express will expand its regional network over the next six months after being granted approval to launch direct services from Durban to Botswana, Mozambique and Namibia. Currently SA Express' only direct regional services from Durban are to Lusaka, Zambia and Harare, Zimbabwe.
The new route agreements will significantly reduce regional one-stop operations via Johannesburg from Durban and help to establish Durban King Shaka International Airport as a secondary hub to Johannesburg.
SA Express flies daily from Johannesburg to Namibia's Walvis Bay and five-times weekly to capital Windhoek. It also operates 32 times per week to Gaborone, Botswana via Johannesburg as well as to Hoedspruit in Mozambique.
Direct services on the newly approved routes may be introduced by Mar-2014, with Durban-Maputo likely to be the first to launch, even though this will compete directly with SAA's privately-owned affiliate SA Airlink, which already operates four times per week on the route with a 29-seat Jetstream 41. SA Express currently operates to Maputo from Cape Town with a 50-seat CRJ200 three times per week.
Negotiations are also under way for rights to operate direct services from Durban to the Democratic Republic of the Congo, which SA Express currently serves five times per week from Johannesburg with Q400s.
SA Express route map

Johannesburg-based SA Express also serves nine domestic destinations across a network spanning 14 routes. While the carrier operates limited services between Durban and Johannesburg and provides all of the group's capacity on the Durban to Cape Town route with 18-weekly services, it does not compete directly on the golden Johannesburg-Cape Town route, which is by far the country's largest.
South Africa Top 10 Domestic Routes (ranked by seats): 30-Sep-2013 to 6-Oct-2013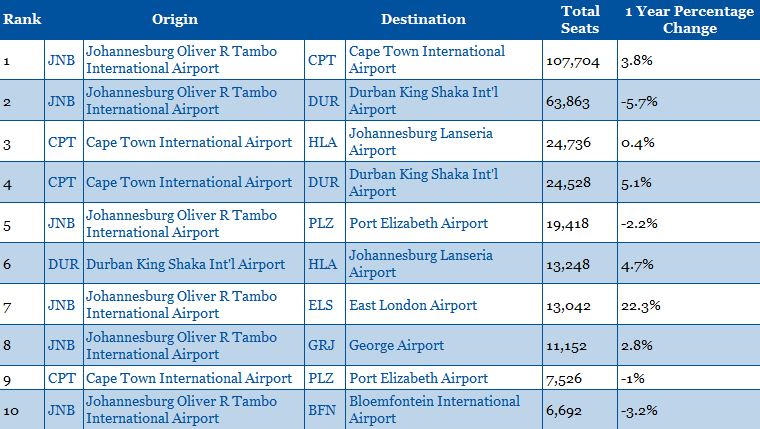 fastjet Dar es Salaam-Johannesburg service launch delayed by South African Government
South Africa's regional markets are becoming more competitive particularly from Eastern Africa where Kenya Airways and Ethiopian have added capacity in past 12 months.
But Tanzania-based fastjet has had its plans to launch its first international service from Dar es Salaam to Johannesburg on 27-Sep-2013 postponed by an 11th hour request for more information from South Africa's Department of Transport. The move is, unsurprisingly, widely seen as a tactic by the South African Government to delay entry of an LCC competitor against national carrier SAA which holds a monopoly on the Dar es Salaam-Johannesburg route.
London Stock Exchange-listed fastjet remains philosophical about the delay which it regards as part and parcel of doing business in Africa and is confident it will commence operations on the route by the middle of Oct-2013. Its schedules are already loaded in GDSs and as Innovata data show below.
See related report: fastjet plans first international route, delays South African domestic launch
South Africa to Eastern Africa (seats per week, one way): 19-Sep-2011 to 23-Mar-2014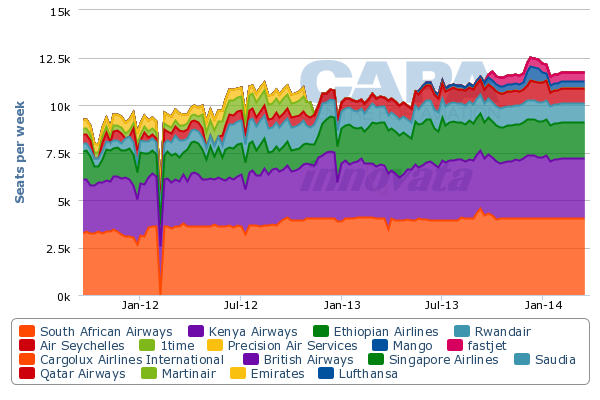 SA Express plans to update its regional jet fleet in 2014
As part of a 15-year fleet strategy approved under the turn-around programme SA Express expects to update its fleet in 2H2014 with next generation aircraft that will allow the carrier to broaden its network and reduce operating costs.
Mr Ntshanga reportedly stated that more aircraft would be needed to operate the planned direct regional network from Durban.
The carrier currently operates a fleet of 23 Bombardier regional jets and turboprops, but does not have any aircraft on order according to the CAPA Fleet Database. SA Express took delivery of seven Q400s in 2011, including four NG models, all of which are reportedly on 10-year operating leases. The Q400s replaced smaller Dash8-300s. The airline also took delivery of a sixth CRJ700 in Aug-2013.
Earlier in 2013 SA Express stated it was evaluating 80-seat regional jet options to replace its existing 50 and 70-seat CRJ aircraft which have an average age of 13.4 years. Given SA Express' close relationship with Bombardier – the carrier became the manufacturer's first authorised MRO provider in Africa in Nov-2012 – the most likely option would be CRJ900 NextGen.
SA Express Fleet Summary: as at 30-Sep-2013
SA Express recovery surprises on the upside, but state protectionism rears its head again
Although the devil is often in the as yet undisclosed detail, SA Express' financial recovery has outperformed expectations which earlier in the year had been for a possible break-even position for FY2013. The carrier also appears to be on track for regaining control of its financial reporting systems and with the help of taxpayer funding is ready to expand its regional network from the increasingly important Durban hub.
The carrier will play a central role in the SAA's latest turnaround strategy by improving regional links, but this is likely to come at the cost of consumers and the travel indusry. The apparent last minute thwarting of fastjet's plans to launch a competing service from Tanzania has again raised the unwelcome spectre of government protectionism in Africa's largest aviation market.