Gulf airlines at the Dubai Airshow smash order records, a vivid message to governments and industry
Analysis
The opening day of the Dubai Airshow brought orders for over 350 widebody passenger aircraft from Gulf carriers. The size of the orders – 150 777Xs and a further 50 A380s for Emirates – gives a sense of the scale Emirates, Etihad and Qatar Airways are still to achieve. The three have already re-written aviation, from network construction to partnership strategy. While markets have benefitted, the three have caused consternation. No doubt that after this spate of orders, competitors are worried now that projected growth targets in abstract percentage terms have been translated into metal.
But there is some relief. While Emirates has now placed orders for 140 A380s – more than half of the programme total – the airline is most unlikely to operate 140 A380s at one time. There will be growth, but some of the A380s – and 777s and other aircraft ordered – will be for replacement since these orders cover deliveries well into the 2020s, when aircraft from the 2000s and 2010s will be due for replacement. What exactly the balance is between growth and replacement is still being defined within the airlines, and no doubt will be subject to revision. In this report we look at the current fleet and projected deliveries at Emirates, Etihad and Qatar as well as average fleet age to see where these new orders slot in.
Gulf airlines order 508 aircraft, including 355 passenger widebodies
The first day of the 2013 Dubai Airshow saw orders and LOIs from Gulf carriers for 508 aircraft. The majority – 355 – were passenger widebodies, mostly to be used long-haul but some, like A350s at Etihad, for regional flights.
With airlines receiving substantial and confidential discounts, an exact value is difficult to place. However, over a few hours in conference rooms, Gulf carriers with their airframe partners did deals equivalent to the annual GDP of many medium-sized countries.
Some of the deals were rushed and completed at short notice; printed statements were not available for some orders after the announcement. Elsewhere there was choreography as backdrops for one airline's announcement were torn down to reveal a backdrop for the next order announcement. In the weeks leading up to the show it had been clear through official commentary and anonymous statements what aircraft would be ordered. The details of exactly how many remained uncertain – and under negotiation. In the end, the sheer size of the orders surprised even seasoned campaigners.
Qatar Airways and its outspoken CEO Akbar al-Baker played into the revelry – and perhaps breathless reporting – by noting how he was ordering 777Xs despite telling the press in prior weeks that he had no such intentions.
List of orders and LOIs from Gulf carriers on the opening day of the Dubai Airshow: 17-Nov-2013
Airline
Aircraft
Quantity Ordered At Dubai Airshow
Number Currently In Service
Number Previously Awaiting Delivery
New Total For Type
Commentary
Emirates
A380
50
39
51
140
"The A380 continues to be the flagship of our fleet" -Emirates Airline and Group Chairman and Chief Executive

HH Sheikh Ahmed bin Saeed Al-Maktoum

Emirates
777X

150

(115 -9X, 35 -8X)

0

(777 family, including freighters: 131)

64
345
"up to 18 per cent more fuel efficient than Boeing 200LRs (long range) and 300ERs (extended range)" -Emirates Airline President Tim Clark (Gulf News)
Etihad
A320neo

36

(10 A320neo, 26 A321neo)

0

(23 A320ceo)

11
70
"We have more than 60 Airbus aircraft in our fleet today, and this latest order is testament to the continued strength of our partnership." -Etihad CEO James Hogan
Etihad
A330-200F
1
3
1
5
N/A
Etihad
A350 XWB

50

(40 -900, 10 -1000)

0
12
66
"As one of the first airlines set to receive the much-awaited Airbus A350-1000, we look forward to benefiting from its operational efficiencies and cost savings." -Etihad CEO James Hogan
Etihad
777X

25

(17 -9X, 8 -8X)

0

(777 family, including freighters: 20)

0

(2)

47
Etihad to receive 777-9X from 2020 and the 777-8X from 2022 -Company statement
Etihad
787
30 (-10)
0
41
71
"In the United States, this order translates into a direct impact on America's gross domestic product and supports employment throughout the aerospace supply chain." -Etihad CEO James Hogan
flydubai
737

111

33
18
162
In the past two years, flydubai has more than doubled the number of destinations it flies to and has around 1,200 weekly flights. flydubai carried 5.1 million passengers in 2012 and has become the second largest carrier, by passenger numbers, operating out of Dubai International. -Company statement
Qatar Airways
A330
5 (-200F)
3
0
8
These new aircraft will complement the airline's rapidly growing network, which includes more than 40 routes that have dedicated freighter services. -Airbus statement
Qatar Airways
777X

50

(50 -9X)

0

(777 family, including freighters: 37)

7
94
"The Boeing 777 is our flagship aircraft. It has been the backbone of the fleet." -Qatar Airways CEO

Akbar al-Baker
777X launched with a record flourish and the A380 sustained
Two aircraft achieved sustainability at the 2013 Dubai Airshow. First, Gulf airline orders and LOIs for 225 777Xs formally launched the aircraft at Dubai. With 34 previously announced orders from Lufthansa, the 777X is launching with a record 259 orders. It will formally be named at a later date. Besides signing up early to secure favourable pricing, there were hints of securing strategic elements. With 150 777Xs on order, Emirates will seek to shape the aircraft to meet its missions. Reports elsewhere indicate Lufthansa entered early to curtail Gulf influence. Overall the four carriers will have a tight grip on delivery positions for the first few years, probably until 2024. Any additional carriers will have to fight to gain early slots, but they won't be available in great numbers.
Second, the A380 was in need of a boost with production slots as early as 2015 available. Although not huge practically, symbolically Air France's recent wavering on the A380 was significant for what it said of one of Airbus' "home" airlines being uncertain on the airframer's flagship – and controversial – aircraft. Emirates' order for a further 50 A380s supplements its existing order for 90. The 140 frames it accounts for in the programme means it represents about half of all orders – an exposure not seen before on such a larger aircraft development programme. Airbus used the top-up order to assuage concerns about the A380 programme, but noted it may still need to adjust production output.
A380s in service and on order: as of 17-Nov-2013
Emirates and Etihad can use aircraft orders as leverage against protectionism
With aircraft production something of a holy grail for economic benefit, Emirates and Etihad reminded countries of their contribution to local economies where there is backlash against and airline protectionism being sought from Gulf carriers.
Etihad was more subtle. The carrier's proposal for a pre-clearance US immigration facility in Abu Dhabi has sparked a lobbying campaign from US airline association Airlines4America and other entities. Delta has also objected to codeshare applications in the US from Etihad.
Lest these rumblings reach higher in the government, Etihad CEO James Hogan made patently clear in a statement about his airline's order for 55 new Boeing widebodies: "This deal is good for Etihad Airways, it is good for Boeing and it is also good for economic development both in the UAE and in the USA. In the United States, this order translates into a direct impact on America's gross domestic product and supports employment throughout the aerospace supply chain." The economic impact on the US economy of well over USD100 billion in new aircraft orders clearly far outweighs any perceived negative impact on US airlines operating internationally.

Emirates was far more direct and combative in remarks not directed at any specific nation. Emirates Airline Group chairman and chief executive Sheikh Ahmed bin Saeed Al Maktoum was quoted by Arabian Business as saying: "We see that many countries so far don't update their policies. They're a bit, you can say, scared...We are buying a product from their countries...Why would we buy something when they will not allow us (to increase landing capacity)? Then they can take the aircraft back." Although he made the suggestion, he conservatively noted: "But I don't think something like this will happen."
Addendum: since this report was published, Airlines4America issued a statement entitled "Middle Eastern Airline Plane Orders at Dubai Airshow Highlight Need for a National Airline Policy to Improve Global Competitiveness of U.S. Carriers, Drive U.S. Economy". The association makes the very valid point that the US is lacking an environment that supports its own airlines while Gulf nations have recognised how airlines can be an instrument of growth, and how the success of aviation is intertwined with economic growth. But the association ends its statement with a quote from Airlines4America President and CEO Nicholas E. Calio indicating the larger objective is not a national policy but protectionism. While the association wants a national policy, "Even more important, we want our government to stop actions that benefit state-owned foreign carriers over U.S. carriers."
Emirates A380 deliveries were going to slow in 2015; 777 slows in 2018
Delivery dates for the new orders and for existing aircraft on order are not public. In these times and with this size of order, flexibility will be built into the delivery dates, but estimates can be made. Beginning in 2015, Emirates' A380 deliveries are likely to slow from 14 in 2014 to 11 in 2015 and all A380s by 2018, according to CAPA's Fleet Database and projected delivery timetable.
So the additional 50 A380s could – theoretically, it must be stressed – boost delivery in the first half of this decade, provide growth in the latter part and early next decade as well as provide replacement for Emirates' first A380s, delivered in 2008. The A380 has the youngest average age – 2.9 years – in the Emirates fleet.
Emirates says the new order A380s will be used to replace existing A380s, but has not said how many will do so.
Emirates projected delivery dates for aircraft purchased from OEMs and leased from lessors: as at 16-Nov-2013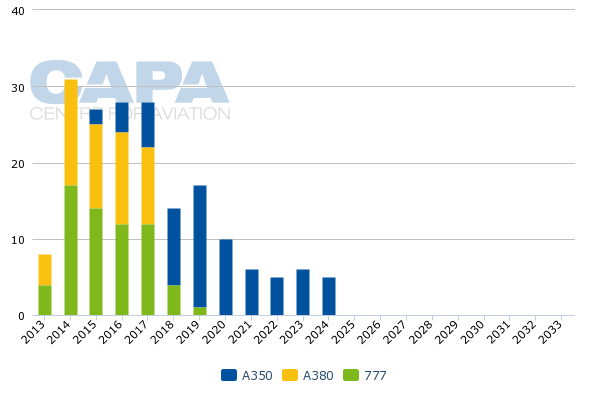 Meanwhile 777 deliveries at Emirates start to slow in 2018, according to projections. Emirates is unlikely to want to take 777-300ERs so close to when a new and more efficient variant will be available. The timetabling may coincide with past comments from Emirates that it wanted a 777 successor this side of 2020. Boeing had thought its 777 successor would be early next decade, but now the first delivery (as planned) will be 2020 on the dot.
The average age of Emirates' 777 family is 5.8 years. By 2020 Emirates will have 23 777-300ERs that are about 14 or 15 years old, most of which are leased and which Emirates will want to replace – if not earlier.
Emirates operates 90 777-300ERs with a further 61 on order for a total of 151 – about the same amount as the 777Xs it ordered at Dubai. Emirates also operates other 777 passenger variants amounting to 31 frames, but these arguably could be better replaced by other aircraft types. The 777 is the workhorse of the Emirates fleet and comprises 64% of in-service aircraft.
Emirates most popular aircraft types in service: 16-Nov-2013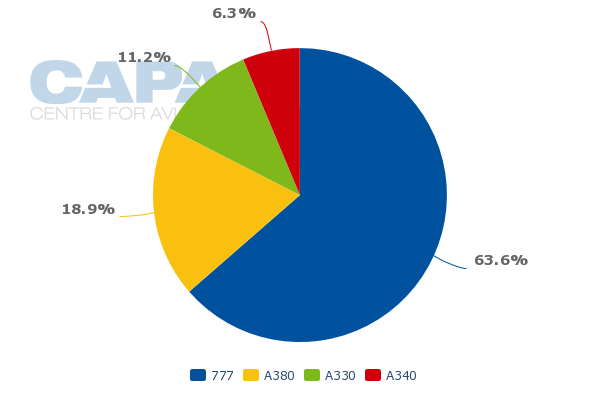 The airshow orders bring Emirates' aircraft order book to 385 – all widebody aircraft, in keeping with Emirates' existing fleet strategy. Emirates in Nov-2013 reported a first half 2013/2014 profit that, while down and despite another year of large growth, was still ahead of global competitors. Although Emirates and aviation at large are tightly tied to Dubai's fortunes, existing and future, Emirates is benefitting Dubai strategically and through profits.
See related reports:
Emirates Fleet Summary: as at 18-Nov-2013
Qatar was relying on the A350 after 2018 for long-haul growth
Qatar's 777X strategy is more curious given it has 27 777-300ERs in service or on order but also has 80 A350s on order. The most capable A350 variant, the A350-1000, is a close – but not quite – 777-300ER replacement. Qatar's sole long-haul aircraft on order after 2018 were A350s, according to projections. It seems Qatar's order for 50 777Xs (all -9Xs, the highest-capacity variant currently planned) will be used for growth as well as replacement of 777-300ERs on key long-range and high-capacity routes the A350-1000s will not cover.
Qatar Airways projected delivery dates for aircraft purchased from OEMs and leased from lessors: as at 16-Nov-2013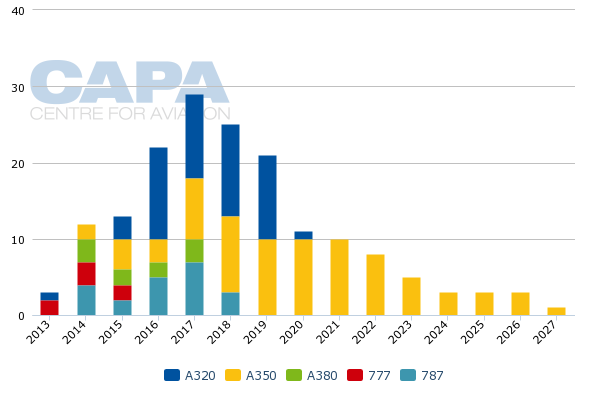 The 777 accounts for a slightly lower share of Qatar's fleet than the A330. In the future, based on current orders and intents, the emphasis will further shift to Airbus' twin-engined widebody offering, which eventually will be only the A350 in Qatar's fleet. This contrasts to Emirates, where the 777X – so far – will outnumber the A350 by more than 2:1.
Qatar Airways most popular aircraft types in service: 16-Nov-2013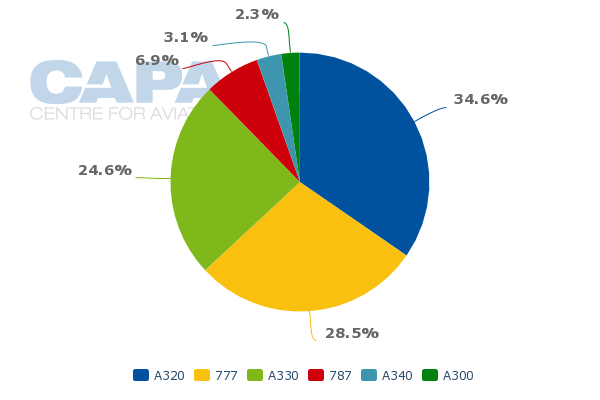 Qatar also ordered three A330 freighters, which may replace its three A300Fs, which have an average age of 23 years. The airshow orders brings Qatar's orderbook to 169, far less than Emirates but still significant given that over 100 of them are widebody aircraft. Qatar in Oct-2013 joined the oneworld alliance. It has not yet released financial information.
See related reports:
Qatar Airways Fleet Summary: as at 18-Nov-2013
Etihad's growth was going to be smaller and more dependent on 787
While the 777X was the star of the Dubai Airshow, Etihad ordered only 25 of the type, placing larger orders for the 787-10 (30) and A350 (50), the latter of which it has returned to after cancelling orders. Prior to the airshow order, Etihad's aircraft delivery stream was thin and much smaller than at Emirates or Qatar Airways, although that fits with Etihad's profile of being a smaller carrier and its greater reliance on its unique partnership model.
Etihad was also very dependent on the 787. Etihad's 777X order is different as it is relatively balanced between the -9X and slightly smaller but longer-range -8X whereas Qatar is exclusively (for now) ordering the -9X and Emirates also predominantly ordering the -9X. This too fits with Etihad's profile of being smaller.
Etihad Airways projected delivery dates for aircraft purchased from OEMs and leased from lessors: as at 16-Nov-2013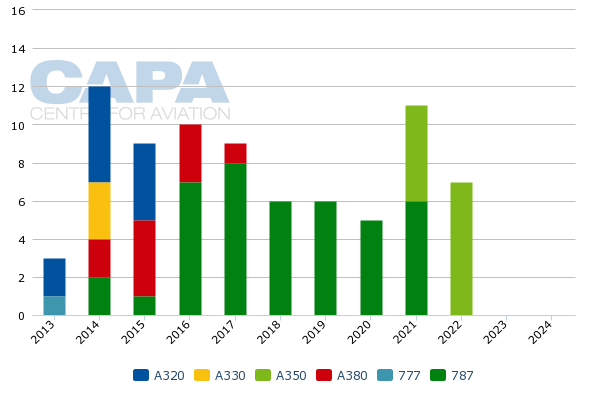 The outcome will be that Etihad will have one of the most diverse fleets, with A350s, 777Xs and 787s. Emirates is forgoing the 787 while Qatar will have (so far) a larger number of A350s than 787s – and Etihad will have a similar amount of the two.
Etihad Airways most popular aircraft types in service: 16-Nov-2013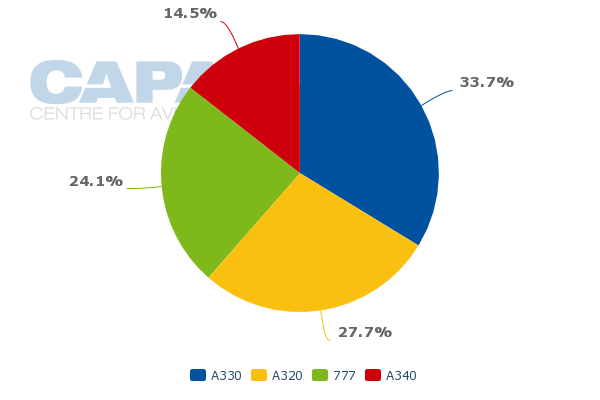 Etihad may have already embarked on its partnership joint purchasing concept
Simultaneously with some of the recent equity partnership purchases that Etihad has made, CEO James Hogan talked of the ability now to gain advantages for the members in joint purchasing.
These airshow orders brings Etihad's orderbook to 184, slightly more than Qatar's, although Qatar will maintain a lead over Etihad as Qatar currently has 130 aircraft in operation to Etihad's 80. But so far it seems Etihad is narrowing the gap with Qatar – or perhaps some aircraft Etihad has ordered will be sent to equity partners.
Etihad Airways Fleet Summary: as at 18-Nov-2013
Mr Hogan has repeated that aircraft orders should be shared with its equity partners, which include airberlin, Air Serbia, Air Seychelles, Aer Lingus, Jet Airways and Virgin Australia, as well as a pending stake in Switzerland's Darwin Airlines (to be re-branded as Etihad Regional), although Darwin and Air Serbia are unlikely to see widebody aircraft (or at least in any great number).
Whereas alliances have so far generally focused on the revenue side – bringing partners more passengers and thus revenue – Etihad sees the alliance capable of also addressing the cost side, which was an initial objective of the global marketing alliances, Star especially, but never fully realised. Each airline was so precious about needing its own specifications that there was never a sufficient consensus to create viably large orders.
Mr Hogan said in a statement: "The revenue benefits of our equity alliance, to all the members, have always been clear. But the real strength of this strategy lies in the opportunity for business synergies which can improve the operating costs of all the partners. This means all our strategic partners will have the chance to benefit from it."
Etihad reported its first profit in 2011.
See related reports:
Flydubai's 737 orders cover the airline for the medium and long term
Although flydubai did not order any widebody aircraft, in keeping with its existing all-narrowbody profile, its order for 111 737s was no less spectacular. The order comprises 11 737-800s, which the carrier will likely use to bridge the gap from 2015 onwards, when its current delivery stream is projected to be quite small.
Flydubai projected delivery dates for aircraft purchased from OEMs and leased from lessors: as at 16-Nov-2013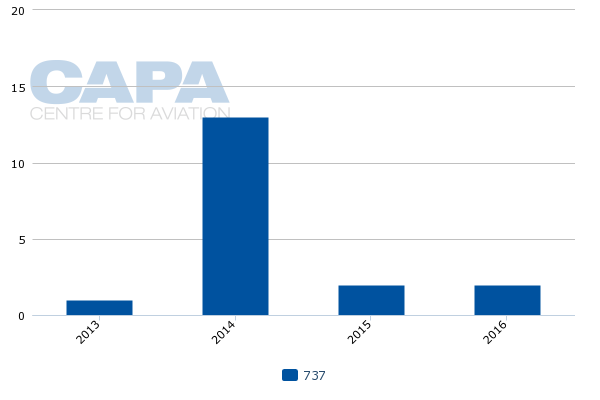 The remaining 100 737s are for the MAX 8, the successor to the 737-800. The orders secure growth for the latter part of this decade and well into next decade. Even if the MAX 8s eventually replace all of the carrier's existing 737-800s, that still means the carrier will double its all-737 fleet.
Although less known than other LCCs, flydubai has a highly sustainable business model targeting thinner routes out of Dubai that Emirates largely does not serve, although there is overlap. Both are state-owned but under separate management.
Flydubai partners with Emirates and the two transfer passengers between each other, but still in a very limited way and not sufficiently to consider flydubai as a regional feeder to its larger cousin, which clearly still has no ambitions to incorporate a single aisle fleet of its own.
A question for its growth going forward is if Dubai International Airport (DXB) can sustain its growth or if a move to Dubai Central (DWC) is better suited, although such a move comes with the drawback of not having connectivity with Emirates (or other airlines). Flydubai has long been a hybrid carrier, and its hybridisation has further grown with the launch of business class.
See related reports:
Flydubai Fleet Summary: as at 18-Nov-2013
The Gulf airlines have made Dubai 2013 a tipping point for world aviation
Several messages emerged from the record orders announced on 17-Nov-2013. The first message, of massive relevance to airlines worldwide is that you ain't seen nothin' yet.
The sheer size of these orders, on top of already very substantial outstanding order books, makes it clear that the Gulf carriers, led by Emirates, are firmly embarked on a seemingly unstoppable journey to link the world in ways and on a scale never previously seen. Though it was already an irreversible equation as the airlines expanded and as liberalisation swept the world, the events at Dubai 2013 surely anchor this rise and rise as the most significant change in long-haul travel since the advent of the jet engine.
While necessarily a large proportion of the aircraft purchases announced will replace existing units as they age, the net growth must still be considerably larger than previous estimates of the airlines' fleet sizes. And the inherent flexibility in being able to select how quickly to withdraw older aircraft (mostly fuel efficient aside from the four-engined A340s still used) delivers great power to the Gulf carriers to dictate terms on how the future global long-haul market will look.
Neither was anybody present oblivious to the loud message conveyed to European and US governments that the value of these airframe and engine orders to the respective national economies drastically outweighed any suggestions of concerns about loss of skilled US or European jobs, as the Gulf airlines expand. And just in case there was anybody sufficiently insensitive, it is a message that Emirates chairman and CEO Sheikh Ahmed nailed home and that Etihad CEO James Hogan will no doubt be repeating in Washington this week.
In an always surprising industry it is dangerous to make predictions of any kind. But even in the unlikely event that such a concentrated large order is made again in future, it is beyond doubt that the impact will not be greater than occurred at Dubai 2013.
This was not quite the dawn of the new era, but it has vividly forecast the nature of the days ahead.