Emirates' 1H2013/14 15% growth: led by Saudi Arabia, Australia and UK, but full year looks slower
Analysis
Emirates Airline carried 15% additional passengers in the first half of 2013/2014 compared to a year ago. The growth in volume has been led by Europe and the Middle East while Australia has seen the highest percentage growth. Saudi Arabia, the UK and Thailand have received some of the largest capacity injections. India and the UK remain Emirates' two largest markets based on seat capacity, but Saudi Arabia has overtaken Germany as the third-largest while Australia overtook the US, and Thailand overtook South Africa.
In terms of the rate of growth, the standouts were Portugal, Vietnam and Zambia – all with 100%-plus growth, albeit from a low base. But Emirates saw 40-50% growth in seven other countries, including Australia, Saudi Arabia and France.
Overall, 15% passenger growth and 16% capacity growth for an airline the size of Emirates is a considerable achievement. Full year capacity growth, however, is likely to be closer to 12%, making 2013/2014 one of the slower years at Emirates in recent times. Asia will be the largest market for growth, followed by Europe and the Middle East.
Emirates' 1H2013/2014 passenger growth of 15% brings assurance that the 8% growth of 2011/2012 and 7% of 2008/2009 is firmly behind Emirates.
But Emirates does not seem to be coasting back into its 20% growth days as full year 2013/2014 capacity is up only 12.5%. Short of a large (and unlikely) improvement in load factor, 2013/2014 may be Emirates' third-slowest growth year in nearly a decade.
Emirates annual passenger numbers: 2006-2013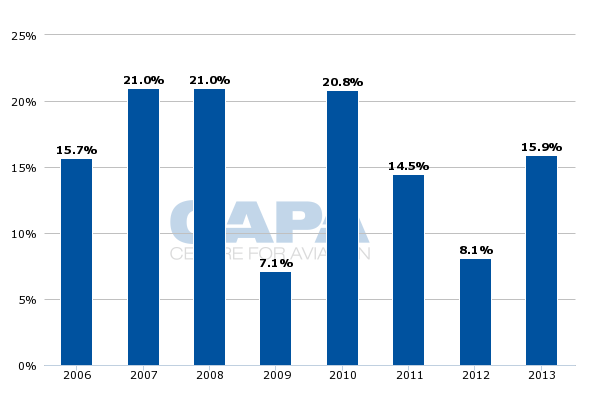 Emirates' top 10 markets comprise one half of seat capacity; India and UK lead
Emirates flies to over 60 countries but just 10 accounted for half of its seat capacity in 1H2013/2014. India and the UK are the clear standouts, as they were in 1H2012/2013. The rest of the top 10 are largely intact but there have been changes: in 1H2013/2014 Saudi Arabia overtook Germany as the third-largest seat market while non-stop Australian services overtook the US (this excludes one-stop via Southeast Asia). South Africa has dropped from the ranking (it was 10th in 1H2012/2013). Eleventh in 1H2012/2013, Thailand has become Emirates' ninth largest country in 1H2013/2014. Thailand shows a unique ability to keep absorbing tourists.
See related report: Emirates, Etihad & Qatar continue to pursue rapid expansion in Southeast Asia-Western Europe market
Depending on how long Dubai-India traffic rights remain constrained and on how much the UK grows, the UK in the short term could overtake India as Emirates' single largest country. It is unlikely for another country to be in the top two in the next year or two, but beyond that the US is certainly possible. Already 2014 will be a busy expansion year for Gulf carriers.
See related reports:
Emirates top 10 countries ranked on one-way seat capacity: 1H2013/2014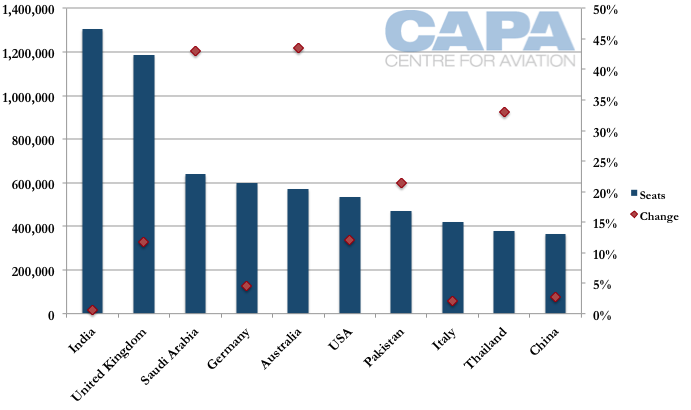 In 1H2013/2014 Emirates added about 1.9 million seats from Dubai (3.8 million return). Europe was the largest recipient with about 500,000 additional one-way seats, while Europe saw nearly 400,000 seats and the much smaller Middle East market a staggering 460,000 seats. Latin America saw a slight drop due to aircraft configuration changes. The India sub-continent region (which includes Bangladesh, the Maldives and Sri Lanka in addition to India) saw minor growth due to capacity additions to Bangladesh and Sri Lanka; India, where the bilateral has been restrained, saw limited changes.
North America was also a slower mover after high growth in previous periods. There was little change in the 'other' category, which we define as inter-regional fifth freedom flights, primarily between Southeast Asia and Australia.
In terms of percentage growth, Australia (and New Zealand) was the highest with 30% growth while Asia and the Middle East recorded growth around 25%.
Emirates one-way seat capacity change by region: 1H2013/2014 compared to 1H2012/2013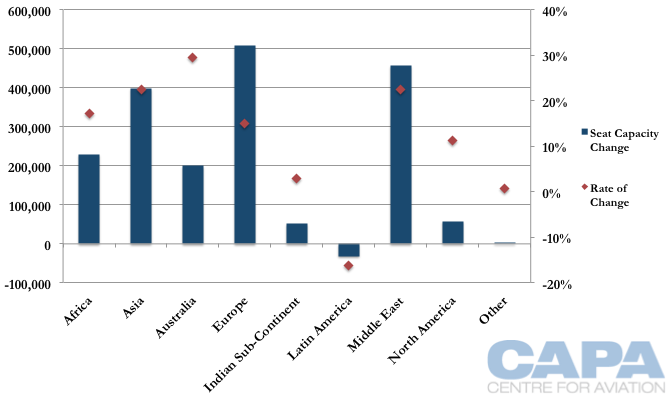 Emirates' largest regions by seat capacity are Europe and the Middle East followed by Asia and the Indian sub-continent.
Emirates seat capacity by region: 1H2013/2014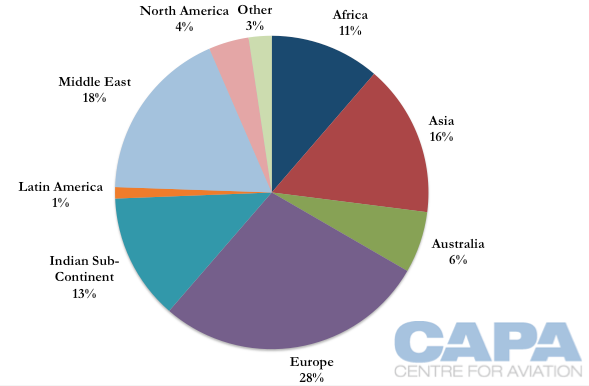 Just over half of Emirates' additional capacity in 1H2013/2014 compared to 1H2012/2013 came from 10 countries, with Saudi Arabia, Australia and the UK the bigger contributors.
Growth in Saudi Arabia was led by Damman gaining an extra frequency and more 777 (as opposed to A330) services, while Jeddah saw about an extra daily frequency and Riyadh went from just over two daily flights on average to four.
In Australia, Perth was increased from about two daily flights to three, Melbourne and Sydney each had a 777-300ER service up-gauged to an A380 and a daily Adelaide service was started.
In the UK, London Heathrow transitioned to five daily A380 flights, Manchester from A330/777-300 to A380/777-300, Glasgow from A340-300/777-300 to 777-300 (with some frequency increases) and London Gatwick had a 777-200 service replaced by 777-300s.
The 10 countries seeing the largest seat growth: 1H2013/2014 compared to 1H2012/2013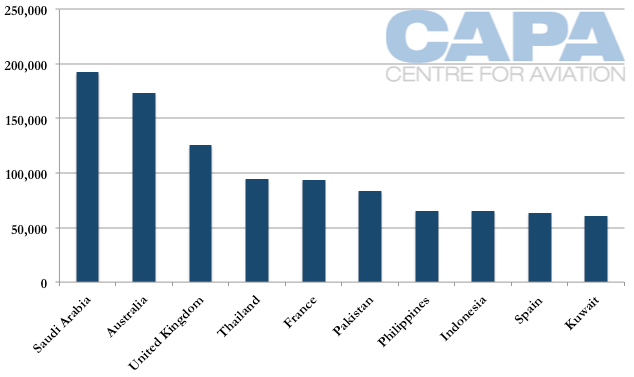 The countries that saw the highest growth rate in 1H2013/2014 were Portugal, Vietnam and Zambia. However, this 100%-plus growth came from a low base, about 50,000 one-way seats in 1H2012/2013. The next seven fastest growing markets saw growth around 40-50% and were both small markets like Iraq and large markets such as Australia and Saudi Arabia.
Top 10 countries in Emirates network ranked on percentage growth in 1H2013/2014 measured with 1H2013/2014 seat capacity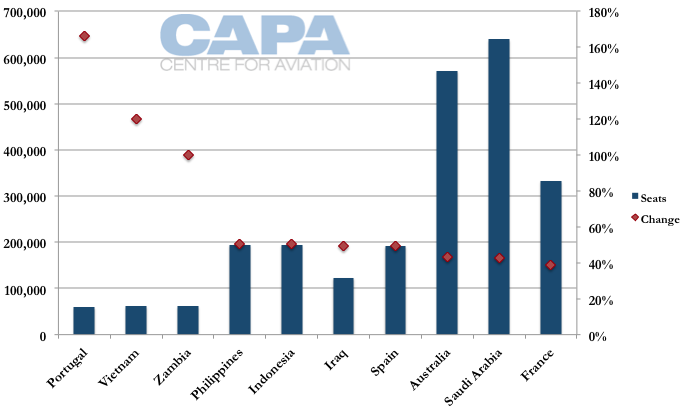 Vietnam is a hotbed (albeit small) for Gulf carriers. Growth in the Philippines is a large challenge for Philippine Airlines, which is looking to grow its European network. Emirates' presence, combined with other factors, saw British Airways exit the Lusaka market.
Emirates is growing in Indonesia, along with Qatar, whereas Etihad is favouring a partnership with Garuda, which routed its Dubai flight to Abu Dhabi instead. Emirates' growth in Spain taps the unmet demand for flights to the east; Iberia flies only as far east as Tel Aviv.
See related reports:
There are exceptions to growth: decreases to Brazil and Austria; Syria suspended
Growth at Emirates is two steps forward and one teeny step backwards: the biggest drop in 1H2013/2014 was the suspension of Syria services due to the deteriorating situation. But after that the largest – relatively insignificant – changes were a decrease in frequencies to Vienna while Sao Paulo saw decreased capacity due to different aircraft configurations in use, according to OAG.
Outlook: Asia fuels full year 2013/2014 growth, which will still be slow (er) - only 12%
Emirates' full year capacity outlook may seem strong in comparison to an environment where Air France needs more time to restructure and even Ryanair issues a profit warning, but by Emirates standards is low.
Full year 2013/2014 capacity as of Nov-2013 is expected to grow only 12%. With load factors likely flat to down in the full year, passenger growth should be lower than in 2012/2013, and one of Emirates' slowest years in recent times.
Emirates one-way seat capacity change by region: full year 2013/2014 compared to full year 2012/2013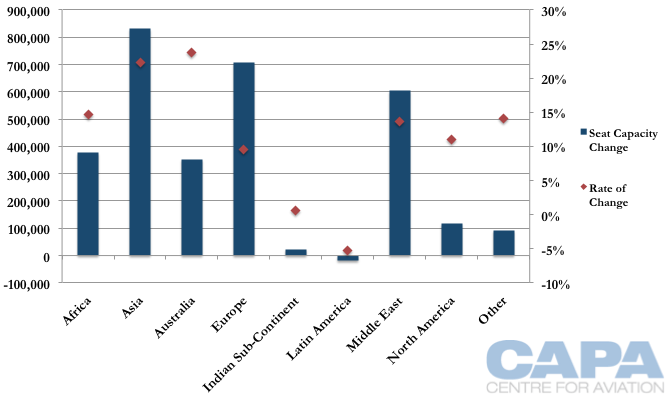 Growth will be led by Asia with over 800,000 additional one-way seats, amounting to over 20% of growth in that market. Asia is not as stable as it once was, but relying on it for growth is still a solid option. Australia will have a higher growth rate, about 24%, but from a lower base and with only about 350,000 additional seats. And with the Australian dollar down more than 10%, the market is not as flush as it once was.
Europe will see the addition of 700,000 seats and the Middle East 600,000, but this represents growth at slower – but still fast – 10-15%.
The second half compared to the first half will see remarkably slower growth in Europe, the Indian sub-continent and the Middle East while Australia will see faster growth, as will Emirates' fifth freedom markets, led by the addition of Milan-New York. Africa will be a bit under while Asia and North America will see relatively consistent growth.
See related reports:
With no sign of change in market economies, fuel or foreign exchange, revenue and profits should more closely resemble the sombre first half figures than some of the more impressive figures in past years. Not to be forgotten is that Emirates has to be measured by its own unique yardstick, and that modest performance there is still strong performance for almost everyone else.