Qatar Airways to launch Hangzhou, a worthwhile alternative to Shanghai & with its own local market
Analysis
Qatar Airways intends to launch four weekly A330 services from Doha to Hangzhou in eastern China, 138km from Shanghai, where Qatar Airways already operates a daily service. Hangzhou becomes Qatar's sixth Chinese destination, bestowing Qatar with the title of serving more Chinese cities than any other non-Asian carrier. The previous holders of this title were KLM and Lufthansa with five cities.
Hangzhou can be an alternative to Shanghai thanks to a high-speed rail link that connects the two cities in as little as 45 minutes. But Hangzhou also has its own local market, including one of China's wealthiest – and by some counts the wealthiest – population pool. Hangzhou is also near significant trading ports.
In Hangzhou Qatar will join Ethiopian Airlines and KLM, the only other non-Asian carriers at the airport, China's 10th largest. This is a two-part report with this first part looking at Hangzhou both for its own market and as an alternative to congested Shanghai. The second part will look at the overall positioning of Emirates, Etihad, Qatar and Turkish Airlines in China.
China's 20 largest airports plotted against passenger volume (size of bubble) and year-on-year growth: 2012
Hangzhou is Qatar's sixth destination in mainland China
Qatar intends to launch Hangzhou service in a tight timeframe, with the first flight being loaded in the GDS for 20-Dec-2013. Qatar is also advertising for commercial and operational jobs, although the carrier has not yet formally announced Hangzhou. The four times weekly service will be operated by the A330, which Qatar generally uses to open new routes (where the aircraft is capable) and is also the type flown on Qatar's service to two secondary Chinese points: Chengdu and Chongqing.
The route is made possible by an expansion of the Qatar-China bilateral in Mar-2013 that allowed an increase in weekly passenger flights from 27 to 31. Prior to the increase Qatar had fully utilised its bilateral allotment. With the Hangzhou service Qatar will once again fully utilise the passenger bilateral, hence why the service – and others – do not have greater frequency.
Qatar surely would have liked to increase its frequency to Beijing and Shanghai, where it has a daily service, but slots or air traffic space would not have been made available.
In addition to Beijing, Chengdu, Chongqing and Shanghai, Qatar also serves Guangzhou. Hangzhou becomes its sixth destination.
Hangzhou is 138km from Shanghai, but high-speed rail links the two in 45 minutes
Hangzhou airport is in the Yangtze River Delta Economic Zone, 138km southwest of Shanghai Hongqiao, the convenient downtown airport serving Shanghai. While this distance might be considered a stretch to make Hangzhou an alternative to Shanghai, a high-speed rail connection links the two cities in as little as 45 minutes.
Trains taking between 45-60 minutes leave every half hour while slower trains leave more frequently. The Hangzhou railway station is not connected to the airport, but there are frequent shuttle buses. Alternatively direct buses leave from Hangzhou airport and arrive in Shanghai in two hours.
The connection is easier for those arriving in Shanghai and connecting to Hangzhou as the Shanghai railway station is connected to Hongqiao airport.
Path from Hangzhou (HGH) to Shanghai Hongqiao (SHA)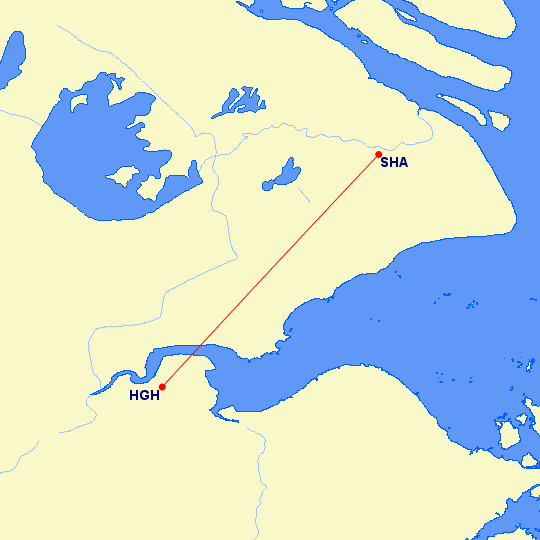 Hangzhou has its own local market, unlike Tianjin-Beijing relationship
Qatar will not have to depend on Shanghai for the Hangzhou route. This is unlike carriers such as AirAsia X and Scoot that served Tianjin as an alternative to Beijing and found very little of a local market in Tianjin. AirAsia X later elected to drop Tianjin in favour of service to Beijing Capital airport. When AirAsia X launched Shanghai Pudong service, however, it maintained its Hangzhou route due to the stronger local market there than in Tianjin, as well as Hangzhou being a significant tourist site (although the recognition of this is better within Asia than in the non-Asian markets Qatar will target).
Hangzhou is one of the China's most prosperous areas. By some counts its wealth is greater than Shanghai's, which fuels the middle class impetus to travel.
While inbound tourism may not be strong immediately, there should be business traffic going to Yiwu market, located in Yiwu, which like Hangzhou is in Zhejiang province. Hangzhou to Yiwu is half the distance of Shanghai to Yiwu. Ningbo and Hangzhou are in the same proximity to Yiwu, but Hangzhou airport is significantly larger and the city is known to be more of a gateway to Yiwu than Ningbo.
Map of major cities near Yiwu
Yiwu is home to the China Commodity City, which is considered the world's largest small commodity wholesale market. China Daily in 2013 said 40% of companies at the market focus on trade with Africa. Additionally, 50,000 Africans visit the market every year and there are over 70,000 Africans living in Yiwu. These figures should grow with Africa's increasing wealth.
China is Africa's largest trading partner. Yiwu says trade with Brazil, Russia, India and South Africa surpassed USD1 billion in 2011. So this alone can provide Qatar with a core set of passengers as it taps its network in Africa but also elsewhere.
Qatar Airways serves 17 points in Africa with about 50,000 weekly seats, comprising 9% of its total network.
Qatar Airways international seat capacity by region: 21-Oct-2013 to 27-Oct-2013
Ethiopian Airlines serves Hangzhou but not Shanghai – slots and market nuances at play
Only 12% of Hangzhou's seat capacity and 10% of movements are for international flights. 70% of international flights are flown by foreign carriers. Most are Asian carriers, with the exception of Ethiopian and KLM. The top nine international carriers are all from Asia.
Hangzhou international seat capacity by carrier: 21-Oct-2013 to 27-Oct-2013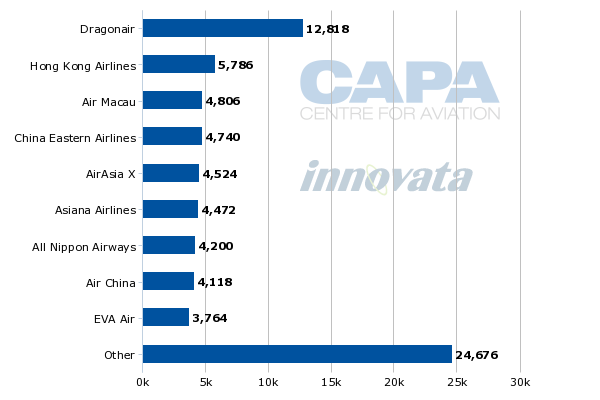 Ethiopian serves Hangzhou from Addis Ababa five times a week via Delhi with a 767-300, partially indicating the difficulty in relying on Yiwu alone. While the market brings traffic, it is price sensitive. Ethiopian, which is known to have fluid plans, planned to move the stopover to Hong Kong but has cancelled that decision.
Ethiopian is unique as it does not serve Shanghai, unlike KLM. At play here are the difficulties Ethiopian would have experienced in securing a Shanghai slot when it launched Hangzhou in 2011. Additionally, given the significance of Yiwu and Ethiopian's African base, Hangzhou is arguably more relevant, although a Shanghai service is perhaps inevitable.
KLM has been the only non-Asian airline to serve both Hangzhou and Shanghai
KLM serves Hangzhou with three weekly 777-200ER flights from Amsterdam. KLM serves Shanghai with 10 weekly flights on a mix of 747-400s and 777-200ERs. KLM launched Hangzhou in 2010, a year prior to Ethiopian's entry. Hangzhou was KLM's second secondary city destination in China; its first was Chengdu in 2006, while Xiamen was added in 2011.
Long-haul links to secondary Chinese cities are growing, as Beijing grants greater access
Hangzhou is not for every long-haul carrier but it does have its advantages, although overall its international strength is greatest with regional Asian markets.
Qatar's Hangzhou route continues the theme of long-haul carriers serving secondary Chinese cities. More links are surely to come, as many of these have very substantial populations, often with high GDP per capita.
As far as Gulf network carriers are concerned, such links would have been established earlier if bilateral agreements had permitted them. The presence of the Gulf carriers and of Turkish Airlines in China remains surprisingly small. This will be the focus of Part 2 of this report.
See related reports: