TAP Portugal Part 2: bidders in its privatisation will focus on the airline's Brazil network
Analysis
Savoy Capital, a potential bidder for TAP Portugal, has said that Portugal's Government "has to decide whether or not to exit the aviation business" (Dinheiro Vivo, 07-Oct-2014). Headed by ex-Continental Airlines president Frank Lorenzo, Savoy said that TAP has adopted a favourable strategy and the Lisbon hub is attractive.
If (as expected) the privatisation process is relaunched before the end of 2014, any potential bidder will need to be convinced that TAP can drive a more significant gap between its RASK and CASK in order to generate more attractive returns. Savoy seems to be the only non-airline company linked with a possible bid for TAP, for whom a strategic airline investor with a complementary route network might be the best option.
Following our recent analysis of TAP's financial performance, this second report on TAP looks at its key strategic asset: its Latin American network, in particular its operations to Brazil. We consider those airlines to whom TAP's position in this market may be of interest and so who may be preparing to make a bid in the privatisation.
See related report: TAP Portugal Part 1: the national carrier needs privatisation to tap fresh capital
CAPA's World Aviation Summit will he held at the Hilton Antwerp Hotel on 20/21 November 2014, preceded by a Corporate Travel Innovation Day on 19 November.
Register now to hear:
- Director General João Aguiar Machado of DG MOVE
- the highest level debates on EU objectives,
- global liberalisation,
- the role of unions and many other critical issues, involving over 20 airline CEOs and numerous other industry and government decision makers. Please click here: CAPA World Aviation Summit and Corporate Travel Innovation Day
TAP's finances are improving
Since the privatisation process was first launched in 2012, the TAP Group has narrowed its annual losses and its principal operating company TAP SA has modestly improved its modest profits. The group's balance sheet has benefited from some reduction in net debt, but still has a significantly negative equity value as a result of years of accumulated losses.
The privatisation process may be eased by the government relieving some of the group's debt, although this could fall foul of European rules on state aid. In addition, loss-making group activities such as the Brazil Maintenance division should not be included as part of the privatisation if possible
Benchmarking TAP's unit cost (CASK) against other European airlines, and taking account of its average trip length, shows that it is fairly cost efficient by comparison with FSCs. However, LCCs are taking a growing share of the market to/from and within Portugal and TAP's CASK remains substantially higher than theirs.
TAP's Lisbon hub attracts traffic to LatAm, especially Brazil, from around Europe
TAP's strategic focus is to use its Lisbon hub to funnel traffic from around Europe into its Latin American network, in particular to Brazil. This has seen it grow more rapidly on short and medium haul than on long haul in recent years as it seeks to supplement LatAm-bound traffic originating in Portugal with transfer traffic originating elsewhere in Europe.
This strategy is helped by TAP's being the largest airline by seat capacity between Europe and Brazil. This also builds on Lisbon's geographical advantage in being more or less on the way to Brazil from almost anywhere in Europe. However, this strategy faces some degree of threat by taking TAP more into territory that is increasingly the realm of lower-priced short and medium haul competitors.
Airlines operating between Europe and Brazil ranked by seats 6-Oct-2014 to 12-Oct-2014
| Rank | Airline | Share of seats |
| --- | --- | --- |
| 1 | | 25% |
| 2 | | 15% |
| 3 | | 12% |
| 4 | | 10% |
| 5 | | 8% |
| 6 | | 7% |
| 7 | | 6% |
| 8 | | 6% |
| 9 | | 3% |
| 10 | | 3% |
| 11 | | 2% |
| 12 | | 1% |
| 13 | | 1% |
| 14 | | 1% |
Brazil network likely to be greatest attraction for bidders
TAP's long haul network is more exposed to Latin America than to any other region, In particular, Upper South America accounts for 15% of its international seat capacity. Brazil is its main destination country in the region, taking 14% of TAP's international seat numbers. Brazil represents 12 out of TAP's 15 Latin American destinations (it also has one in each of Panama, Colombia and Venezuela).
TAP's position as the leading airline from Europe to Brazil is its key strategic asset. TAP has a market share of 25% by number of seats. Second placed airline TAM has 15% of seats between Europe and Brazil, although the combination of third placed Air France and seventh ranked KLM has a share of 18%. IAG has a share of 15%, adding Iberia's 8% and British Airways' 7%, on routes between Europe and Brazil.
TAP's Latin American network, particularly its Brazil network, is the feature most likely to be of interest to potential bidders in the privatisation. It also has some niche markets in Africa, particularly Central/Western Africa and Southern Africa.
It has a strong competitive position on routes to Angola, Cape Verde and Mozambique, but Africa is a much smaller part of its network and less likely to be at the core of potential bidder interest.
TAP Portugal international seat capacity by region 13-Oct-2014 to 19-Oct-2014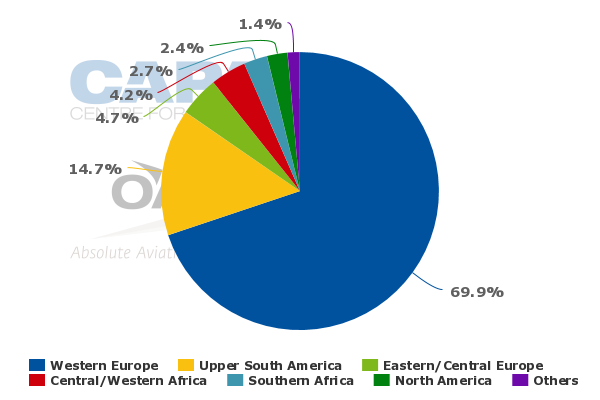 Monopoly on all its LatAm routes from Lisbon, but there is competition in wider market from Europe
TAP's routes Latin American routes from Lisbon are all monopolies, with no competitors from Latin America. However, its hub strategy means that these routes do not only attract traffic from Lisbon, but also from elsewhere in Europe.
Viewed in the context of the market from Western Europe to each of its 15 destinations in Latin America, there are competitors to nine of them, leaving it with a monopoly on six. Among the nine competitive routes, TAP is the leader by seats from Western Europe on five and second placed on one.
On the remaining three competitive routes (Bogota, Panama City and Sao Paulo), TAP is ranked number four or five by seats from Western Europe. Regarding two of its non-Brazilian destinations, it serves Panama City via Bogota on the outbound leg and then operates direct to Lisbon from Panama City on the return leg. There is strong competition from Western Europe to both of these cities, particularly from the Air France-KLM group and Iberia, but also from Colombia's Avianca and Lufthansa to Bogota.
Sao Paulo is the most competitive of TAP's Brazilian destinations, in terms of seats from Western Europe, with eleven other operators. TAP is only the fourth biggest operator from Western Europe to Sao Paulo, behind TAM, Lufthansa and Air France.
TAP is the sole operator from Lisbon to 12 destinations in Brazil and the leading airline from Western Europe to 11 destinations in Latin America, of which ten in Brazil. TAP's Latin American network would, therefore, mainly complement those of the other major competitors between Western Europe and Latin America.
There is also some overlap as follows: Air France-KLM (six routes), IAG (five routes), the Lufthansa Group (four routes), Condor (three routes), Alitalia (two routes) and Air Europa (two routes). Among Latin American airlines, TAP's network overlaps on one route from Western Europe with each of Avianca, Conviasa and the LATAM Group.
TAP Portugal's competitive position on routes to Latin America
| Destination airport | TAP rank by seats on route | Competitors on route | Competitors on routes from Western Europe to destination |
| --- | --- | --- | --- |
| | 1 | Monopoly* | Monopoly* |
| | 1 | Monopoly | Monopoly |
| | 1 | Monopoly | 1 Avianca, 2 Iberia, 3 Lufthansa, 4 Air France 5 TAP |
| | 1 | Monopoly | 1 TAP, 2 Air France |
| | 1 | Monopoly | Monopoly |
| | 1 | Monopoly | 1 TAP, 2 Iberia, 3 Air France, 4 Air Europa, 5 Lufthansa, 6 Conviasa, 7 Alitalia |
| | 1 | Monopoly | |
| | 1 | Monopoly | Monopoly |
| | 1 | Monopoly | Monopoly |
| | 1 | Monopoly** | 1 KLM, 2 Iberia, 3 Air France, 4 TAP |
| | 1 | Monopoly | Monopoly |
| | 1 | Monopoly | |
| | 1 | Monopoly | 1 Air France, 2 TAP, 3 Lufthansa, 4 Iberia, 5 KLM, 6 British Airways |
| | 1 | Monopoly | 1 TAP, 2 Air Europa, 3 Condor |
| | 1 | Monopoly | 1 TAM, 2 Lufthansa, 3 Air France, 4 TAP, 5 Iberia, 6 British Airways, 7 Alitalia, 8 KLM, 9 SWISS, 10 Air Europa, 11 Singapore Airlines, 12 Air China |
Greatest overlap is with Europe's Big Three
Strategic interest in TAP might be expected to be greatest from the Big Three European flag carrier groups Air France-KLM, IAG and the Lufthansa Group, all of whom would have the opportunity both to extend their presence in the Latin American market and to consider the elimination of duplicated routes that rely more on transfer traffic than on O&D demand.
Among these three, Air France-KLM has the biggest presence in South America and the greatest degree of overlap with TAP's LatAm network (AF-KLM is also the biggest European airline group in sub-Saharan Africa), but it also has the greatest financial challenges and is currently preoccupied with its own restructuring. Moreover, its relatively recent minority investment in Brazilian LCC GOL suggests that it has played its hand for the time being in this market.
It has previously been widely reported that IAG considered bidding for TAP when the privatisation was first launched in 2012, but that it decided not to proceed. As recently as Sep-2014, IAG CEO Willie Walsh said: "What appealed to us there at first glance was getting into Latin America, principally Brazil and their network in Africa. We did have some informal discussions but in the end we concluded it wouldn't generate sufficient additional value for our shareholders and decided not to pursue it" (Arabian Business, 13-Sep-2014).
Renewed interest from IAG cannot be ruled out, particularly given the improving financial performance of Iberia and its more positive stance on the growth of the latter's long haul network, but these comments from Mr Walsh appear to make an IAG bid unlikely.
Lufthansa would want to keep TAP in Star
Lufthansa would seem to have a strong interest in retaining TAP's membership of the Star Alliance, but this could be achieved if Synergy (owner of fellow Star member Avianca Brazil) were to renew its bid. In recent years, Lufthansa has consistently resisted buying indebted, loss-making companies that are not profitable unless they have already taken significant steps to restructure (eg Swiss), the seller has contributed towards debt reduction (eg Austrian) and the price is very favourable.
Lufthansa did not make a bid for TAP in 2012, but it may be the more likely of the European Big Three to do so (if there is a threat to TAP's membership of Star). According to a number of press reports, Lufthansa executive board member Karl Garnadt has confirmed that the German airline is monitoring the situation.
Star Alliance member Turkish has global expansion ambitions, although it has not chosen to achieve them through overseas acquisitions previously. It only has two destinations in Latin America (Sao Paulo and Buenos Aires), but has been growing its capacity quite rapidly to the region.
Turkish Airlines codeshares with TAP on some routes operated by the latter from Lisbon to destinations in Europe and Africa, but not to Latin America. Turkish may prefer to extend its cooperation with TAP through LatAm codeshares rather than an equity investment.
Among other European airlines, Air Europa may have greatest interest
Other airlines that have some overlap with TAP's Latin American network might also be interested in bidding if the privatisation process is renewed. German leisure carrier Condor operates to three TAP destinations in Latin America, but has a very different business model and is not a likely bidder. Alitalia operates to two TAP cities in Latin America, but is currently in the process of joining the Etihad Equity Alliance and does not have the resources to make an independent bid.
Spain's Air Europa, which operates from Madrid to three LatAm destinations that TAP serves from Lisbon (Caracas, Sao Paulo and Salvador), is reported to be interested in making a bid. Air Europa has been expanding its South American network in competition with Iberia and may be keen to accelerate this.
Air Europa's country manager for Portugal, José Mínguez, recently said that Air Europa parent Globalia is "in negotiations" over a possible bid for TAP (Jornal de Negocios, 22-Sep-2014). Air Europa launched a four times daily Madrid-Porto service on 06-Oct-2014, which could provide feed to TAP's three long haul destinations from Porto (Caracas, Rio de Janeiro and Sao Paulo).
See related reports:
Iberia vs Air Europa in Latin America: two to tango, as Air Europa expands, Iberia contracts
Air Europa will need its lower costs and higher growth to face renewed competition from Iberia
Air Europa: Latin America remains key strength, but Iberia is re-awakening
Synergy/Avianca is expected to revive its interest, but LATAM may stay away
The only serious bidder in 2012 was Synergy, the owner of the Avianca group of airlines, which includes Avianca Brazil and the Colombian airline Avianca. The bid failed as a result of technicalities surrounding bank guarantees, but Synergy's owner and Avianca chairman German Efromovich has been reported to be interested in any revival of the privatisation process. A TAP-Avianca/Synergy combination would be a positive outcome for Star as it would ensure the Portuguese carrier and its valuable Europe-Brazil network stays in Star.
Avianca Brazil could also help to provide domestic Brazilian feed into TAP's routes to Lisbon, partly replacing TAM following its exit from the Star Alliance to join new sister carrier LAN in Oneworld. TAP is also keen to work with GOL in Brazil, but the latter is not a candidate to bid for TAP.
TAM is the second largest airline on Europe-Brazil and the LATAM Group is the largest Latin American player in the South Atlantic market (but smaller than the Europeans Air France-KLM, IAG, TAP, Lufthansa and Air Europa. The addition of TAP would make LATAM number three on the South Atlantic and the clear leader on Europe-Brazil. TAP's network is very complementary, particularly since the LATAM Group does not currently serve Portugal. LATAM considered a bid for TAP in the early stages of the privatisation process in 2012, but chose not to proceed.
The Gulf Three have little LatAm presence
In addition to Turkish Airlines, the three main Gulf carriers have strong global ambitions and a relative weakness in Latin America. Qatar Airways was in talks to take a stake in Spanair before the Barcelona-based airline collapsed in January 2012 and may consider an investment in TAP as a way to increase its presence in South America, where it has only two destinations currently (Sao Paulo and Buenos Aires). It is unlikely TAP would remain in Star under Qatar, which is a member of the oneworld alliance.
Emirates and TAP have a limited code-share agreement covering TAP-operated routes from Lisbon to destinations in Portugal and Spain and Emirates-operated routes from Dubai to Lisbon, Bangkok and Kualia Lumpur. However, Emirates is a very unlikely equity partner.
Etihad expressed interest in the first round of bids for TAP, which carries the Etihad code on a number of routes in Europe (and one in Africa), but CEO James Hogan was reported to have said in Oct-2012: "We are code-share partners with TAP. However strategically, we do not see any value in investing in TAP." Etihad signed a codeshare with Air Europa early in 2014 and this seems to satisfy its need to expand its Latin American footprint, at least for now.
See related report: Air Europa-Etihad codeshare links LatAm to Asia Pacific: Etihad again challenges alliance status quo
Plenty of potential interest, this time
Our analysis suggests that there are a number of airlines that could have a real interest in TAP and TAP Portugal president Fernando Pinto has said that "three or four" groups have expressed interest in the privatisation (Dinheiro Vivo/Jornal de Negocios, 01-Oct-2014).
He has also said that TAP is in need of the capital privatisation would provide, confirming one of our conclusions in the first part of our TAP analysis.
A strategic relationship between TAP and an airline with a complementary route network could have a positive impact on TAP's traffic and unit revenues, but could be expected to keep its network largely intact. In addition, an airline partner might also be able to improve TAP's profitability through cost synergies.
By contrast, the reported interest of Savoy Capital, the only potential financial bidder that has been linked to TAP in recent media reports, may revolve more around cost reduction through cutting TAP's capacity and network.