Air Europa will need its lower costs and higher growth to face renewed competition from Iberia
Analysis
IAG's recent announcement that Iberia is to receive 16 new widebodies marks a shift of emphasis for Iberia from internal restructuring towards a new competitive growth phase. Rival Air Europa has taken advantage of Iberia's capacity cuts in recent years to pursue international growth, particularly to Latin America. Parent company Globalia does not report profits for Air Europa, but the group's annual report shows 2013 was very successful for increased revenues, load factor and RASK. It also saw Globalia's return to profit, while Iberia was still posting losses in 2013. Moreover, Air Europa already has its own widebody order (eight Boeing 787-8s and options for eight more).
However, Iberia returned to profit in 1H2014 and its CEO Luis Gallego is relaxed about competing with Air Europa, saying Iberia is "three times [its] size at [Madrid Airport] and twice its size in Spain" and can now "compete with anyone" thanks to its new cost structure (Europa Press/Preferente, 22-Jun-2014).
This analysis of the available data on Air Europa's traffic and financial performance will be followed by our updated analysis of its strategic positioning.
See related reports:
Air Europa revenues up 18% and pax up 7% in FY2013
We do not know what Air Europa's profitability was like in its last financial year (to Oct-2013), but we do know that its parent Globalia made a profit of EUR41 million in FY2013, turning around a EUR37 million loss in FY2012.
Given that the group's air division, which consists of Air Europa, was its largest segment (with 46% of group revenues), it seems reasonable to assume that this business was also once more profitable. Reports in late 2013 and early 2014 that Globalia was considering an initial public offering of Air Europa also indicat that it had achieved improved results.
The Globalia annual report for the year to Oct-2013 does give details of Air Europa's traffic and its total revenues. Air Europa's revenues increased by 18% in FY2013 to EUR1,395 million, compared with a 4% increase for the Globalia group as a whole. This continued a trend of rising Air Europa revenues that goes back at least to 2010.
Air Europa's total passenger numbers (scheduled plus charter) increased by 7.1% to 8.7 million in FY2013, thereby reversing a trend of declining passenger numbers that had persisted since 2008.
Air Europa development of total passenger numbers (left hand axis) and revenues (EUR '000, right hand axis) FY2009 to FY2012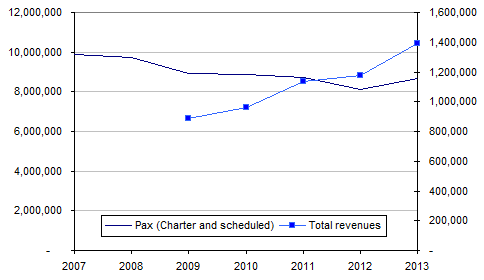 Continued growth in revenue per passenger as average trip length grows
Combining the data for revenues and total passenger numbers, we calculate that total revenue per passenger increased by 10% to EUR160 in FY2013. This metric has grown by 60% since FY2009. Even when its traffic was declining, Air Europa's revenues were growing.
Air Europa development of total revenue per passenger (EUR): FY2009 to FY2013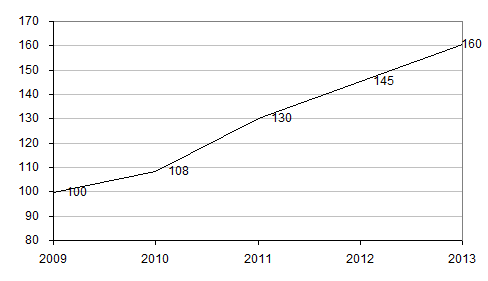 Growth in revenue per passenger in recent years appears to have been driven by increased average trip length. Nevertheless, the 10% growth in revenue per passenger in FY2013 significantly outpaced the 2% increase in average trip length.
Moreover, revenue per ASK (RASK), which typically falls as average trip length grows, has also been increasing every year since FY2010 and was up 12% in FY2013. This suggests that trip length alone is not the sole driver of increased revenue per passenger.
Air Europa revenue per passenger versus average trip length: FY2009 to FY2013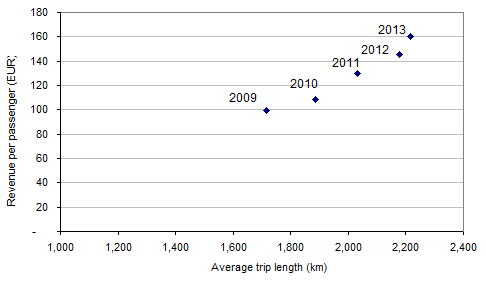 ASK growth of 5% driven by strong international growth in FY2013
Air Europa increased its scheduled ASKs by 5% in FY2013, reversing the 4% cut of FY2012 and managed to increase its passenger load factor by 2.8 ppts to 84.5%. This load factor puts it comfortably ahead of the average of around 80% for members of the Association of European Airlines and confirms a rising trend after load factor declined from FY2009 to FY2011.
The capacity increase in FY2013 was driven by international routes, where ASK growth reached 9%. Domestic capacity was cut by 3%, although mainland Spanish routes saw a very strong increase of 59% (coming from a low base) and the reduction reflected lower capacity on routes to the Balearic and Canary Islands.
International routes increased their share of Air Europa's total ASKs from 61% in FY2009 to 74% in FY2013. The focus on international expansion is what has led to the increased average trip length and in revenue per passenger over this period.
Air Europa development of scheduled ASK ('000) by region: FY2009 to FY2013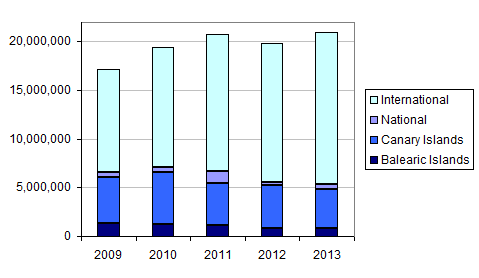 America network the biggest driver of increased revenue since FY2009
Revenues on international routes increased by 140% from FY2009 to FY2013, taking their share of Air Europa's total revenues from 46% to 70%. Revenues on the 'America' network (most of this is Latin America) increased almost four-fold over the same period, taking their share of the total from 16% to 40%. Since FY2009, America was responsible for incremental revenue of EUR415 million out of a total increase of EUR505 million.
Revenues from the rest of Europe were up by just over one quarter between FY2009 and FY2013, with much of this growth taking place in FY2013. 'National' revenues (ie domestic) fell by 13% from FY2009 to FY2013, but returned to growth in FY2012 and FY2013.
Air Europa development of revenues (EUR '000): FY2009 to FY2013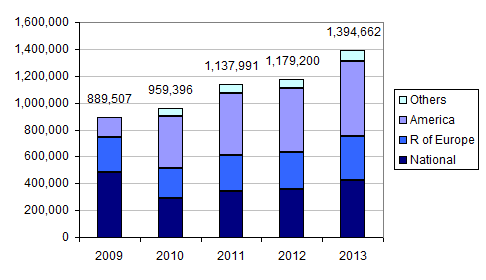 Air Europa's RASK was up 12% in FY2013 in spite of higher average trip length
Using data reported by Globalia for total revenues and scheduled ASKs in its air division (ie Air Europa), we can derive figures for RASK (although note that total revenues include those from activities other than the carriage of scheduled passengers).
In FY2013, RASK grew by 12% and, after falling by 3% in FY2010, RASK has grown every year since then, despite increased average trip lengths.
The RASK increase in FY2013 was driven both by load factor gains (up 2.8ppts as noted above) and by higher yield (revenue per RPK, which grew by 8%). We do not have a breakdown of revenues and so cannot know how big a part was played by ancillary revenues, and other revenues such as charter and cargo, in driving up revenue per RPK.
However, the growth in RASK points to a fairly unusual degree of pricing power for Air Europa in an era marked by strong price-based competition. It probably owes much to capacity cuts by leading Spanish rival Iberia.
Air Europa development of revenue per available seat kilometre (RASK, EUR cent): FY2009 to FY2013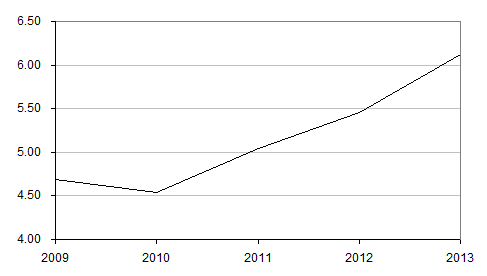 Fleet utilisation increased in FY2013
According to the CAPA Fleet Database, Air Europa's fleet totalled 47 aircraft as of 4-Aug-2014, up from 44 aircraft just over a year earlier following the addition of one ATR 72, one Boeing 737-800 and one leased Airbus A330-200. In Sep-2013, Air Europa agreed with Boeing to push back the delivery of the eight more 737-800 aircraft on order from 2015-2016 to 2016-2018.
Air Europa expects to receive its first of eight Boeing 787-8 Dreamliner aircraft in 2016. The airline will gradually replace its A330 fleet with the 787s and expects the new type to make up the bulk of its long-haul fleet by 2022. It also has options on a further eight Dreamliners.
The Globalia annual report put the average age of Air Europa's fleet at 6.3 years at the end of Oct-2013, up slightly from 6.1 years a year earlier. The CAPA Fleet Database says that the average fleet age was 7.3 years at 4-Aug-2014 (the addition of the almost 24 year old ATR 72, as well as the passing of time, will have nudged this upwards).
Air Europa Lineas Aereas Fleet Summary: as at 4-Aug-2014 and 31-Jul-2013
| Aircraft | 31-Jul-2013 | 4-Aug-2014 |
| --- | --- | --- |
| | 11 | |
| | 1 | |
| | 1 | |
| | 0 | |
| | 19 | |
| | 11 | |
| | 1 | |
| | 44 | |
In FY2013, the fleet's total number of flight hours grew by 9% in spite of a broadly stable number of aircraft. From the data on flight time and aircraft numbers, we calculate that Air Europa's average daily aircraft utilisation grew by 8% to 11.1 hours.
Increased flight hours were driven by the regional jets and the widebodies, reflecting growth on domestic regional routes and on the America network.
Air Europa average number of aircraft and flight time completed: 2009 to 2013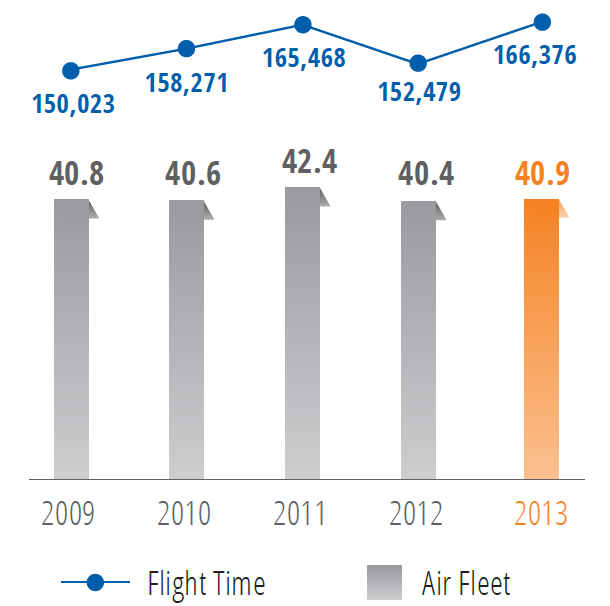 Faster growth and lower unit costs than Iberia, but strategic positioning will be key
In the group's 2013 annual report, Globalia chief executive Juan José Hidalgo said that he was confident that Air Europa would increase its operations and its turnover by approximately 20% in FY2014. Iberia has now returned to capacity growth after three years, but Air Europa's 2014 plans contrast with Iberia's planned ASK growth of around 3% in 2014.
Moreover, although Iberia has made good progress with its cost restructuring, it continues to have a higher unit cost, CASK, than Air Europa, in spite of also having a longer average trip length. Iberia's CASK in 2013 was more than EUR8 cents and, although we do not know precisely the level of Air Europa's CASK, its RASK of a little more than EUR6 cents probably gives a good indication.
Of course, Iberia also generates a higher level of unit revenue, RASK, and further cost efficiencies should allow it to achieve a margin - if it can maintain its higher RASK. However, Iberia's ability to maintain a RASK premium over Air Europa rests on its strategic positioning and the perceived quality of its network, product and service. If Iberia cannot sustain strengths in these areas, Air Europa will have a strong advantage in the form of its lower CASK, particularly as both should benefit from lower operating costs when they receive their new widebody aircraft.
See related reports:
In the second part of our analysis, we will examine Air Europa's network and strategic positioning, including some comparison with that of Iberia.