Outlook for airport privatisation & financing: Part 1. CAPA database tracks 475 airport investors
Analysis
Despite the fact that there are now 450 airports worldwide that have some form of private-sector participation in their management or ownership, it is not for the first time that airport privatisation went through a lean period in 2012 and the first half of 2013. Governments traditionally turn to the private sector for help when the cost of funding new infrastructure or even of maintaining existing infrastructure exceeds their resources. But investors have grown increasingly sophisticated and no longer perceive airports to be the cash cows they were considered to be as recently as five years ago. Which is a good thing: for often, they are not.
Equally, governments have also learned to approach privatisation deals with greater caution, to try to ensure adequate investment in capacity and in ongoing maintenance, and to make provision for early termination of deals that do not work out as expected.
2012 also was characterised by a paucity of airport M&A transactions, but those that did materialise (or, as in most cases, were carried over from 2011) were quite significant ones, in Portugal, the UK and Brazil.At least prices started to creep back up, to around 15 - 16 times earnings (from 10-13 times in 2011), which should please the sellers if not the buyers. The number of investors has also continued to increase as well, along with their variety.
Today there is a growing number of pension funds and sovereign wealth funds (the two can be interchangeable) in addition to existing and new infrastructure funds that now dominate the airport investment landscape.
On occasion, a bidding consortium can even be made up exclusively of these funds managers with only a modicum of direct airport operational experience contained within it. That experience now often resides within the existing management team, which can be expected to continue to operate the airport subject to overview from the financiers that may involve one or more designated hands-on directors at one end of the scale, to mere attendance at a quarterly board meeting at the other. (continued below)
CAPA introduces new Global Airport Investors Database, part of the unique CAPA Airport Data Suite
This report coincides with the release of CAPA's Global Airport Investors Database, which is now available as an interactive online database at the CAPA website. It currently lists over 475 active, recently inactive and potential investors in airports, infrastructure and estate, located in all corners of the globe.
A work in progress since 2010, the newly available database is updated frequently and is conveniently divided into sections that cover:
Company data (country location; address, telephone and email; senior level contacts, website URL);
Type of enterprise (operator/financier/fund etc);
Investments and contracts;
Previous investments, failed and withdrawn bids;
Potential future investments and sales;
Financial results where known, in some cases with four years of historical record;
Ranking by size of turnover (airport operators).
The database enables subscribers to learn exactly who the investors are, their preferences, and whether they are increasing or decreasing their presence in the airport sector.
Sample of the CAPA Global Investors Database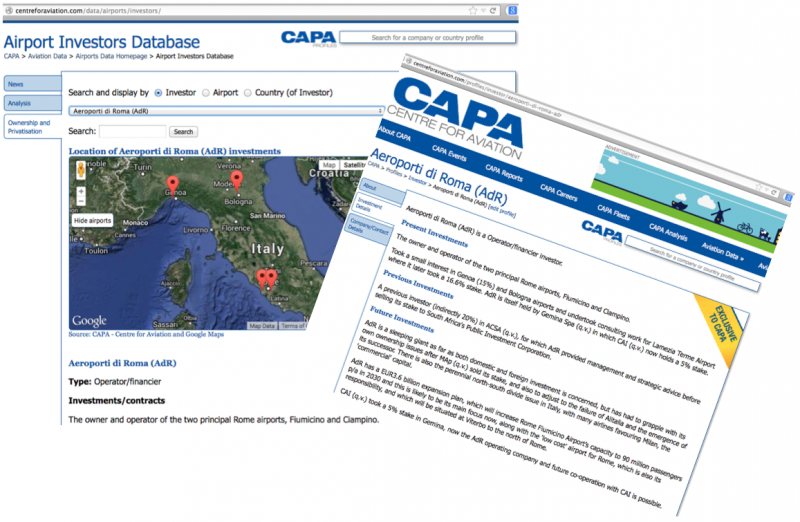 In addition, data is presented in a variety of graphical formats, permitting comparison of investment between countries and regions. Inbuilt links permit subscribers to view details of invested airports in depth.
The database, part of the new CAPA Airports Data Suite, will be of interest to single and group airport operators; national, regional or local government or private organisations seeking investors in their airport(s); investment banks; pension funds; venture capitalists; private equity funds; hedge funds; sovereign wealth funds; financial intermediaries/brokers/deal arrangers; legal firms active in the aviation sector; architectural firms active in the aviation sector; airlines considering investing in airports; other transport sector firms considering investing in airports; and the full spectrum of aviation industry suppliers.
The Outlook for Airport Privatisation and Financing: Part 1 (cont)
Evidence of private placements, bonds and debt funding of airports
There has also been an increase in private placement activity (essentially a share loan) while around USD30 billion of airport finance in the form of bonds and loans was issued in 2012. There is over USD50 billion of such funding in issue globally and some 25 airports are involved in bond markets. There is a small but emerging debt fund market in countries like Australia, which is historically a short-term debt market. But green field project financing generally has reduced by 40% generally (i.e. not just in the airport sector).
Conversely, there will always be the small operator and even the 'one man band' entrepreneur who is willing to risk his shirt, often because of a reason that is personal to him or her.
While the accepted wisdom is that there are still too many operators chasing too few deals, there has been, perhaps surprisingly, a growing sense of optimism about the fortunes of the sector in the last year or so, despite the lack of deals mentioned earlier and air traffic results that in many cases continued to deteriorate or at best to stall. Indeed the ratio of growing optimism can be correlated with that of declining passengers and freight almost as if the airport investment sector has collectively decided it has had enough of being dragged down, often by government inertia or outright incompetence, and that it will do whatever it takes to kick-start its own resurgence.
ANA Airports of Portugal was one of the biggest deals in 2012, making Vinci Airports a major player

One of the main deals of 2012 was that of ANA Airports of Portugal, one that started over five years previously with the only interest then being shown by an investor/operator which, ultimately, did not bid and which subsequently advised that it would be prepared to part with all of its own airport portfolio at the right price. At the time of writing it has almost succeeded in doing that. Such is the amorphous nature of the business.
The 50-year concession on ANA, which ultimately went to France's Vinci Airports, and the deal to sell state airline TAP Portugal, was a direct consequence of the Portuguese bailout by the European Investment Bank, the IMF and the 17 euro zone countries; a scenario that appeared likely to be repeated in other countries in 2013, such as Greece. In the first instance the winner is required to maximise what little capacity remains at Lisbon's Portela Airport but once that is reached the prospect of commissioning and building a replacement airport there will again raise its head.
The ANA transaction attracted expressions of interest from 10 bidders, which ultimately merged into eight consortia. They included some of the traditional big hitters like Fraport, Global Infrastructure Partners, Ferrovial, Vinci Airports and Flughafen Zurich, but also some Latin American ones that are becoming more prevalent in these activities like CCR and Odebrecht (Brazil) and Corporación America (Argentina) as well as newcomers looking outside of their own region like Odinsa (Colombia), Engevix (Brazil) and Sonae Sierra (Portugal). Collectively they represented a healthy mix of operators and investors for any transaction. The influence of investors from these countries is likely to grow.
The ANA concession deal was worth around EUR3.08 billion, offering a figure that valued ANA at 15 times its EV/Ebitda, broadly in line with other 2012 transactions (e.g. Edinburgh, UK). Perhaps it is a sign of the times that Vinci was required to pay an immediate deposit of EUR100 million as a guarantee that it would proceed with the agreement, and had nine months to complete payment, which for a time appeared to be less than certain.
Through the acquisition of ANA, Vinci Airports will again become a significant international player in airport concessions, with 23 airports managed in Portugal, France and Cambodia (it has previously participated in airports in China, Africa and Mexico). There is also the suspicion, which Vinci has so far done nothing to allay, that it might use ANA and its influence in Latin America (especially the Portuguese-speaking Brazil) as a bridge to further airport management contracts there and also in Asia. That would represent a 360 degree round trip back to the position it was in at the beginning of the previous decade.
In mid-2013, Vinci announced itself as a candidate, along with Credit Agricole to acquire a stake the French Government is selling in Aéroports de Paris;10 million shares, worth almost EUR700 million. For Vinci, which already has a stake of around 3.3%, such a purchase would give it a seat on ADP's board. Subsequently it acquired a 9.5% stake in Aeroports de Paris with, the life insurance subsidiary of Credit Agricole Assurances. The sale leaves the French state as majority owner in AdP with a 50.6% holding. Credit Agricole/Predica now owns 4.81% of the company and Vinci has a 4.69% stake. The agreement calls for Predica and Vinci to keep the AdP shares purchased for at least 12 months and not to increase their stakes in the airport operator beyond 8% for at least five years.
Greek regional airports' operations receive interest from 11 consortia
At the same time Greece's Hellenic Republic Asset Development Fund SA (TAIPED) said 11 consortia had expressed an interest in taking over the operation of Greek regional airports and had until the end of Sep-2013 to submit binding bids for the two clusters of airports that the state privatisation fund has put up for private utilisation. The first stage of the tender attracted non-binding interest from, inter alia: a consortium comprising Vinci with Greek peer Ellaktor, an infrastructure company.
In neighbouring Spain the concession of Madrid and Barcelona airports at the end of 2011 was summarily cancelled just before a general election with potential investors rapidly bailing out. 18 months on, the new government there seems no nearer knowing just what it should do next. The latest indication is that it will attempt to sell a minority share (as much as 49%) of the whole of AENA without focusing solely on the 'jewels' of Madrid and Barcelona. But as so many governments have discovered, now is still not the best time to sell though there is at least some sign that Spain might be able to ease itself out of severe recession at least in time, via an increase in exports.
In Spain's case AENA faces financial difficulties for several years to come because of high debt and low air traffic, while it studies a potential reduction in previously imposed airport fee increases in the face of withering criticism from airlines such as the ultra low cost Ryanair, which has over 20% of all seat capacity in Spain and the Canary Islands. AENA has losing around 7% of traffic each month in 2013y, Spanish air traffic in general having tripled between 1991 and 2011. And all this is without taking into account the Spanish recession and the frightening unemployment figure of over 27%.
It now seems that AENA's partial privatisation could be delayed to (northern) spring 2014, as the Development Ministry feels this could allow for more potential investors to prepare bids for participation.
One thing that AENA did, early in Aug-2013, was to acquire, together with a newcomer to the airport sector, France's AXA Private Equity, the stake held by its Spanish rival, the Barcelona-based Abertis, in the operating concession on London Luton Airport (in the ratio 51%:49%).
Abertis is in disposal mode, to concentrate on other assets
Abertis is the company alluded to earlier in respect of early interest in ANA. This is one of several transactions Abertis entered into as it sought to dispose of its airports business to concentrate on other elements of its portfolio, the process having been kick-started by the enforced nationalisation of three of its assets (invested airports) in Bolivia (see later).
The biggest transaction was the disposal of Belfast International, Stockholm Skavsta and Orlando Sanford airports to ADC&HAS (USA/Canada) along with the airports business in Central and South America that it inherited from British company TBI when Abertis acquired it. Previously, Abertis had disposed of Cardiff Airport (where TBI began) to the Welsh Government. All in all that left Abertis with just a stake in Grupo Aeroportuario del Pacífico in Mexico and the concession for Montego Bay Airport in Jamaica, which remain for sale at the time of writing.
Just as Vinci has risen again, so has Abertis capitulated to the ever-changing demands of the airports' business.
Elsewhere in Spain Castellon Airport, now the responsibility of local government, is yet to open, while the most extreme example of rampant, unsubstantiated, infrastructure building during Spain's 'boom years', Ciudad Real Central Airport, was ordered to begin asset liquidation by the Court of First Instance. Operator CR Aeropuertos will be dissolved and replaced by receivers, and assets liquidated to meet outstanding payments. A EUR40 million bid for the facility from Zaragoza-based Kriber Airlines, which wished to develop cargo operations, was deemed to be non-viable.
Declining Stansted Airport still offered a tantalising prospect
The other big transaction in Europe in 2012 was that of London Stansted Airport in the UK which after four years of legal manoeuvring in the courts was forcibly prised from the clutches of BAA (which is now known as Heathrow Airport Holdings).
There were not as many investors enquiring about Stansted as there were for ANA. The budget airline-dominated Stansted continued to be an airport in decline where passenger numbers are concerned (but it recorded its first month of passenger growth in three years in November 2012 and has generally shown an upward trend since) and is not well served by rail transport, which is, compared to Heathrow and Gatwick airports, slow and occasionally unpredictable. It is 55km out of London, a distance considered to be too far by some.
Nevertheless, Stansted holds out the promise of being the existing London area airport best able to offer greater capacity in the future, as it is underused, can accommodate an additional runway(s) more easily, and can extend its existing terminal building. Much will depend on how much emphasis the Davies Commission, which is tasked with deciding on the immediate future of airport capacity in the UK from an overwhelming plethora of submissions and statements by business and pressure groups, puts on Stansted in its interim and final reports at the expense of Heathrow, Gatwick and other neighbouring airports. Potentially, Stansted could be identified as an alternative/second 'hub' airport by Davies but so could Gatwick Airport and a couple of non-London airports.
The bidding process attracted Manchester Airports Group (MAG) in tandem with Australia's Industry Funds Management, which acquired a 35% stake in MAG when its bid was successful. Also, Australian investment bank Macquarie, the Hong Kong based Cheung Kong Holdings (which dropped out at the first stage), the US private equity firm TPG and a consortium comprising New Zealand's HRL Morrison, its fund Infratil, the New Zealand Superannuation Fund and the Retail Employees' Superannuation Trust of Australia.
This latter, HRL Morrison-led, consortium is a good example of the previously mentioned trend of collections of funds providing financing with one, often small, operator making up the numbers. Infratil, apart from being a fund, is actually the operator in this case.
Ferrovial is seeking new opportunities as debt reduces as Qatar Holding moves up
Apart from Stansted the other big issue in the UK has been the changing ownership of Heathrow Airport as Ferrovial seeks to reduce its debt further and reposition itself for changes in infrastructure ownership closer to home in Spain.
Throughout 2012 Ferrovial successively reduced its exposure to what has become Heathrow Airport Holdings Ltd, by selling stakes to Qatar Holding, a Middle East sovereign wealth fund, and then to CIC International, an arm of China's leading sovereign wealth fund. With the completion of both deals Ferrovial's stake in Heathrow fell from 49% to just 33.7%. It is perhaps of little surprise that Ferrovial emerged as a leading candidate to take over AENA in mid-2013, as long as the Spanish government is prepared to cede a majority stake in the operator (unlikely).
London Gatwick Airport meanwhile, now owned by a consortium headed by Global Infrastructure Partners (GIP), has seen GIP's ownership reduce in favour of various Middle East, US, Korean and Australian funds to 41.95%.
Other UK airports have been active in transactions and DAA is declared independent, becoming daa
Elsewhere in Britain the 49% stake held in Newcastle Airport by Denmark's Copenhagen Airports was sold to another fund, one managed by AMP Capital Investors of Australia. The deal involved fresh debt funding by the local authority owners – known as the LA7 – and the purchaser, and refinancing of an existing facility to the tune of GBP218.5 million. The LA7 authorities had also previously wished to sell their equity but now declare themselves committed to building the airport's prosperity.
Earlier in 2012, Edinburgh Airport was sold to Global Infrastructure Partners for GBP807 million. The main opposition came from a JP Morgan-led consortium that included Korea's Incheon International Airport Corporation (which had been very active in 2012) and TIAA-Cref, The leading US retirement provider for people who work in the academic, research, medical and cultural fields.
The price was a little more than half what GIP paid for London Gatwick Airport in 2009, but was still quite high at over 16 times earnings; recent transactions having been more in the order of 12-13 times. This reflects Edinburgh's growth profile, balanced traffic mix and expansion potential. However, the price is well below the 30 times earnings level reached in the pre-recession mid-2000s. Surprisingly, despite representation from several organisations early on, there was no local Scottish interest in the final transaction.
Manchester Airport Group (MAG) sold its 82.7% shareholding in the struggling Humberside Airport to the Eastern Group, which operates Eastern Airways, for a sum believed to be as little as GBP2.3 million, taking a heavy loss on the price it paid plus the subsequent investment it had made there.
In Jun-2013 Balfour Beatty exited its interests in airports by selling Regional and City Airport Management Ltd (Exeter, Blackpool and City of Derry airports) to the Rigby Group, parent of Patriot Aerospace, which already owned Coventry Airport. By and large these are regional airports that are badly influenced by the UK's economic downturn (which may, at last, be about to turn the corner) and by the high level of aviation taxes in the UK. The English West Country in particular has been adversely affected with Plymouth Airport closed and both Exeter and Newquay airports struggling to keep their head above water.
In Ireland, the long awaited breakup of the Dublin Airport Authority (DAA) began as Shannon Airport was declared 'independent' and merged with the Shannon Development Company, a privatised regional development agency. The remaining parts of the Dublin Airport Authority, together with investor and retail facilities operator Aer Rianta, were rebranded 'daa'.
Hochtief AirPort GmbH is finally sold, to Canada's Public Sector Investment Board's PSP Investments
In Germany, the sale of (Hamburg) Luebeck Airport to an Egyptian/German entrepreneur for around EUR4 million but with the assumption of accumulated debt of almost EUR40 million overshadowed the flagging attempt to sell Essen-based Hochtief Concessions, which operated airports in Germany, Greece, Hungary, Albania and Australia.
The company commenced the sale process in May 2011, expecting around EUR1.5 billion for the unit.
The sale of the entire division, and not just individual airport holdings remained a strategic goal for Hochtief, and it was finally achieved in 2013 when it entered into a sale and purchase agreement with a subsidiary of the Public Sector Pension Investment Board of Canada (PSP Investments) for the sale of all shares in Hochtief AirPort GmbH. The transaction had retroactive economic effect as of 01-Jan-2013. The transaction proceeds were approximately EUR1.1 billion.
Frankfurt Hahn airport majority stake is for sale, as Berlin looks to open in 2104

The majority public sector owner of Frankfurt Hahn airport, the Rhineland-Palatinate State (82.5%) made it clear that it wished to sell a majority stake in the loss-making facility. Hesse State owns the remaining 17.5% but is not, at present, a seller. The potential sale would require the continued operation of the airport and its associated infrastructure.
Berlin Airport, which needs a report in its own right to chronicle the lengthy and ongoing saga of its delayed opening, is now pencilled in for an opening sometime in 2H2014. Though it could be later. Or even sooner.
In Italy, Milan is off the market and SAVE may receive buyer interest

Italy's SEA had a second attempt at privatisation. The first was in 2006 when it sought to attract a trade buyer for 33% of its own equity in a private auction that failed after it became apparent that the City Of Milan would retain too much equity and power and because of the demise of Alitalia.
Then, in 2012, an IPO was called off after only 30-40% of the shares were subscribed. SEA had planned to sell off a 23.8% stake. The airport was offering 58.5 million shares, with 85% reserved for institutional investors.
Previously, the City sold 29.75% of the capital of SEA to Italy's Fondi italiani per le infrastrutture(F2i), which had earlier bought Naples Airport from BAA.
In Sep-2013 rumours surfaced that Fraport was interested in acquiring a stake in Italy's SAVE, which runs Venice, Treviso and Padua airports in Italy and Charleroi Airport in Belgium.
Aeroports de Paris (AdP) look to invest more widely
France's Aeroports de Paris (AdP) completed the purchase of 38% of Turkey's TAV in June 2012.
AdP CEO Pierre Graff acknowledged growth at the Paris airports it owns is limited and therefore it had to lead its thinking about international strategy, which included targeting airports with more than 10 million passengers. Competitors for the TAV stake had included the Qatar Investment Authority and the US private equity firm Carlyle Group in partnership and local French rival Vinci. Subsequently, TAV was to seek the BOT contract for the new Istanbul airport but was not successful (see below).
It has been more successful in 2013 in becoming one of the four remaining bidders to finance, build and operate a new terminal at New York's La Guardia airport (also see below).
Earlier in the year an AdP-led consortium took over responsibility for operating the Zagreb Airport in Croatia for 30 years.
Belgium's Flemish Regional Government officially named in Jul-2013 Egis (France) as the winner of two public service concession tenders for the operations of Antwerp and Ostend-Bruges airports, for a 25 year term.
Greece plans PPPs for 37 state-owned airports
In Jun-2012 the Government of Greece revealed it was seeking to establish public-private partnerships to develop 37 state owned airports in the country. The project is part of a larger restructuring effort by the Greek Government to privatise state companies and infrastructure. Subsequently, the state privatisation fund (TAIPED) unveiled a process for the submission of expressions of interest in a tender concerning the privatisation of regional airports; having later to extend it by 14 days, as the interested parties needed additional clarifications about a complex process by which two groups of seven airports could mysteriously increase to two groups of ten.
The airports will be conceded for 30-35 years while the contractors will have to make infrastructure investments in the terminals amounting to EUR200-220 million in the coming three years. Interest parties (first stage, non-binding) were:
Aeroport Nice Cote d'Azur;
Engelinvest Israel Ltd;
A consortium comprising Global Liman Isletmeler and Flughafen Munchen;
A consortium comprising Zurich Airport and Greek construction company J&P Avax;
A consortium comprising the Greek Copelouzos Group and Fraport AG;
TAV Holdings;
A consortium comprising Vinci with Greek peer Ellaktor;
The consortium of Corporacion America with Greek construction firm METKA;
US investment group Advent.
The New Istanbul airport attracted 'worldwide interest' and Turkey's State Airports Authority will invite tenders to lease 4 airports this year
Moving into Asia, Turkey's Ministry of Transport and Communication announced plans to build and operate a USD6.5 billion new airport in Istanbul would be put out to tender before the end of 2012, claiming it had attracted worldwide interest. Phase I of the new airport will comprise three runways and three taxiways, with a 100 million passenger capacity terminal due to be operational by 2018. The new gateway will be located in the north-western part of Istanbul and will accommodate around 150 million passengers per annum on six runways once fully operational.
The project seeks to overcome exceeded capacity limits at the main Ataturk Airport, while Sabiha Gocken Airport is also growing rapidly. Meanwhile, Turkish Airlines continues in expansionist mode. It plans to increase its fleet from 200 aircraft currently to 350 aircraft by 2020 and to build Istanbul into a transfer hub for services from Europe and North America to Asia to rival the Gulf carriers and airports. The Turkish aviation sector reached a turnover of almost USD17 billion in 2012, up from USD2.5 billion in 2003. In 2003 the country recorded 33 million passengers, multiplying to 130 million by the end of 2012.
The procedure progressed rapidly (the UK might care to investigate how it managed to do so). The tender took place on 03 May 2013, attracting 17 bids but only two foreign companies. As mentioned previously, TAV/AdP did not win, and neither did Fraport/IC holding, which operates Antalya Airport, both being outbid by a consortium of Turkish construction firms - Cengiz, Kolin, Limak, Mapaand Kalyon - that offered EUR22 billion (EUR26.14 billion with 18% VAT) for a 25-year lease. Limak Investments is already a 40% shareholder in Sabiha Gocken airport, along with India's GMR and Malaysia Airport Holdings and will have 20% of the new airport.
The group will initially invest EUR10.25 billion and the concession fee will be paid off in 25 equal annual instalments. It will seek financing from both domestic and international sources.
Away from Istanbul, Turkey's State Airports Authority (DHMİ) said it would organise tenders to lease four airports before the end of 2013. The government plans to transfer operational rights of Dalaman, Bodrum-Milas, Samsun and Nevşehir-Cappadocia airports in compliance with the 'lease-transfer' mode and as part of government efforts to raise funds through private sector involvements. The Bodrum and Dalaman tenders will definitely be separate but the DHMI is working to see if it can unite Nevşehir and Samsun as a single group.
TAV Airport Holdings is looking further afield and considering five airport tenders, in order to offset a loss of earnings once the company's Istanbul Ataturk Airport contract expires in 2021. It interested in three airport tenders in Latin America, the La Guardia Airport terminal contract in New York and one in Southeast Asia. Atatürk Airport makes 50% of TAV's earnings before interest taxes, depreciation and amortisation.
Russia looks to transfer regional airports "on the brink of bankruptcy" and Moscow's airport ownership to be rationalised

Russia's Prime Minister Dmitry Medvedev expressed support for the transfer of regional airports to private operators as many "are on the brink of bankruptcy," although that is hardly an attraction to an investor. During 2012 there was much speculation about an IPO on Moscow's Sheremetyevo Airport, and/or external investment, but nothing came of it. Sheremetyevo is still scheduled for privatisation in 2014-15 but latterly the Ministry of Finance has indicated the schedule (which also includes Aeroflot) may have to be revised.
The government has come up with several alternatives to the unification of Moscow airports under the control of the state, which was previously a preferred policy. Its 2014-2016 privatisation plan now allows for the state's complete withdrawal from Moscow's Sheremetyevo and Vnukovo airports.
Private investors would see the airports remain competitors. In the interim the President ordered all Moscow airports to make their ownership more transparent by disclosing their beneficiary owners. This appears to be part of efforts to put pressure on Domodedovo Airport, whose beneficiary owners have refused to reveal themselves.
And Saudi Arabia concludes a B-T-O to construct Medina Airport
In the Middle East, Saudi Arabia's General Authority of Civil Aviation (GACA) signed a Build-Transfer-Operate contract in June 2012 with the Tibah Airports Development Company for the construction and operation of Medina Airport, under a 25-year concession.
The project also secured USD1.2 billion of Islamic finance facilities, a noticeably growing trend in airport financing in Muslim countries, as it is already in aircraft financing.
Part 2 of 'The outlook for airport privatisation and financing' will be published next week
The final part of this analysis will include:
USA – airport privatisation slots up; applications down
Next (second) round of Brazilian transactions reviewed
Privatisation patchy in Africa
No sudden upsurge in deals forecast for 2013 but new markets are emerging
Conclusion: Who are the movers and shakers, and who is new to airport privatisation and investment?
ALL the organisations featured in both parts of this analysis report are described in detail in the Global Airport Investors Database.
About the CAPA Airports Data Suite
The Global Airport Investors Database is one component of the new CAPA Airports Data Suite.
The Investor Database is a production of CAPA – Centre for Aviation, researched by David Bentley, who has previously researched CAPA's management reports on Global Airport Privatisation, and on Low Cost Airports & Terminals.
The Global Airport Investors Database, one of eight components of the comprehensive new CAPA Airports Data Suite, available as a premium add-on to the CAPA Membership service.
The CAPA Airports Data Suite contains a unique goldmine of airport information:
Airport Profiles
Airport Charges & Charges Benchmark Database
Airport Traffic Database
Airport Route Capacity Analysis
Airport Investors Database
Airport Construction & CAPEX Database
Airport Contacts
Airport Rankings