HNA of Hainan Airlines buys 24% of Azul as China's airlines eye their final continent: South America
Analysis
Having established a footprint in Australia, Europe and North America, this year Chinese airlines turned their attention – with government direction – to Africa. Now they are closing in on their latest continent: South America. China's HNA Group, which owns flagship Hainan Airlines, disclosed on 24-Nov-2015 that it would take a 24% stake in Azul for USD450 million, becoming the largest shareholder of Brazil's third largest airline.
This stake is HNA's largest airline acquisition by value, and most significant outside greater China. It follows a separate non-airline transaction in recent days and a slew of acquisitions over the summer, including Swissport, bringing known acquisition spend to over USD11 billion in a handful of months.
Unlike the US and European investments in Latin American carriers, HNA's objective is different. It wants to link South America with China but also, by all indications, to learn about an efficient domestic operation, which Azul has created in its own right. Air China serves São Paulo while other Chinese airlines rely on partners, but more fifth freedom Chinese services into Latin America are expected. Vancouver, the most popular North American point for Chinese carriers, hopes China will ask Canada for beyond rights to connect China with Latin America over Vancouver.
HNA investment in Azul dwarfs its past airline stakes
The Nov-2015 acquisition of Azul follows a Sep-2015 cooperation agreement between Hainan Airlines (owned by China's HNA Group) and Azul, to open China-Brazil flights. With a USD450 million investment, Azul is HNA's largest airline acquisition by value, by far. It far exceeds the USD13 million HNA spent for South Africa's Comair (for a 6.2% stake), and USD66 million in France's Aigle Azur (48% stake).
By share owned, Azul sits in the middle. HNA (via various affiliates) owns over half of Hong Kong Airlines, although the value is unclear. HNA had been looking to make a significant airline acquisition in 2015 (ideally with a majority interest), and is understood to have been interested in Poland's LOT, until the government changed course on privatisation.
HNA's stake and price paid in other airline investments is not known to be public; the opaque nature of the HNA Group, combined with the small size and unlisted status of its acquisitions, make information difficult to assemble. There is a further challenge of HNA affiliates owning the same company – HNA directly has a minority share in Hong Kong Airlines, but when combined with affiliates' companies, the share exceeds 50%, for example.
HNA (and affiliate) airline investments outside mainland China: 24-Nov-2015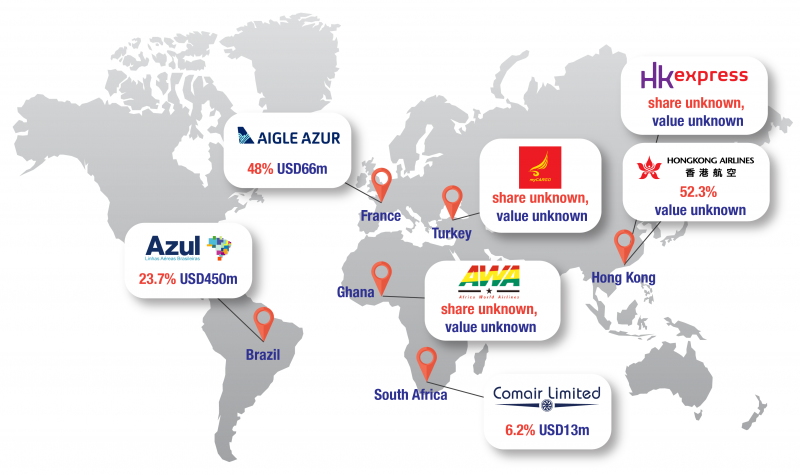 Azul to raise USD400 million from Chinese banks
Chinese investments in Brazil and the wider Latin America market are growing, in part as other investors shy away from the market. Azul had previously raised USD200 million from China's ICBC bank, and expects to raise a further USD200 million by the end of the year.
Azul has postponed its IPO three times.
As CAPA previously wrote:
One of the challenges Azul faces during the next few years will be funding its growth, which is more of a challenge now that the IPO has been shelved. Deliveries of its Airbus narrowbodies are scheduled to begin in 2016 at a time when it will still be maturing its long haul routes. Deliveries of its A350 widebodies are scheduled to begin in 2017.

Brazil's economic conditions are not likely to improve drastically by 2016. In Jan-2015 the IMF cut its projected growth for Brazil to 0.3%, rising to 1.5% in 2016. Thus, if Azul proceeds with the introduction of narrowbodies into the domestic market, there could be oversupply. Azul has the ability to deploy the Airbus jets elsewhere in Latin America, but many economies in the region are on shaky ground, evidenced by 1.3% GDP growth forecast for the region overall in 2015.

Azul is also not shielded from the sting of the BRL devaluation. In early 2015 the New York Times highlighted that roughly 55% of Azul's expenses were aligned with foreign currencies while little of its revenue is derived from international operations. Azul's rival Gol, which has nearly 87% of its ASKs deployed into the Brazilian domestic market, faces similar challenges.

Azul has done a remarkable job of launching and building up a strong presence in the Brazilian domestic market place during the last seven years that includes acquiring regional operator trip, to become the third largest airline in Brazil.

The airline will be in a strong position to leverage a rebound in the Brazilian market once the country's economy starts to make significant improvements.

But in the short term Azul faces the challenge of funding its growth at a time when investors have little appetite to take risks on Brazilian companies. At some point Azul may need to think about refining its growth targets and short-term ambitions.
The last publicly available data from Azul shows that the airline widened its losses by 213%, for the 9M ending Sep-2014, to BRL63 million (USD24 million, using exchange rates at that time). Conditions in Brazil have worsened since then, so it is unlikely that Azul's financial situation has improved. Corporate demand in the country remains weak, and Brazil's largest airlines TAM and Gol have posted unit revenue declines in the domestic market throughout 2015, due to a lack of pricing traction. Azul no doubt has faced the same challenges.
But while Gol is deferring aircraft deliveries in 2016 and 2017 and enlarging the number of aircraft it subleases during the off season during 2016, and TAM works to reduce its fleet CapEx commitments by 40% between 2016 and 2018, Azul has 101 aircraft on order, and has not publicly declared its intent to engage with suppliers to defer deliveries. Its order book includes 63 Airbus A320neo family narrowbodies, five A350 widebodies and 30 Embraer 195 E2 jets. The A320 deliveries are scheduled to start in 2016, followed by the A350s in 2017.
HNA's investment comes at a key point, since Azul needs to finance its aircraft expansion against a background of tough conditions in Brazil.
See related reports:
HNA has invested over USD11 billion in recent months
A day prior to HNA's USD450 million investment in Azul, it invested USD500 million in online Chinese travel company Tuniu (via its subsidiary HNA Tourism), bringing nearly USD1 billion of investments over a few days.
This follows HNA's busy summer, when it made over USD10 billion of investments, including in Swissport and Avolon. As CAPA previously wrote:
HNA was sprawling prior to its busy summer 2015 that saw it acquire ground handler Swissport for CHF2.73 billion (USD2.8 billion). HNA unit Bohai Leasing bought Irish lessor Avolon in a transaction valued at USD7.6 billion.

HNA has a local ground handling unit, but acquiring Swissport – the world's largest ground and cargo handler – must be about more than overlap, synergies and financial prospects. For Bohai and Avolon, it is true there is a resurgence of airlines also being lessors (whether this is wise or not is debatable). This is seen in China (Spring Airlines), elsewhere in Asia (Lion Air's Transportation Partner) and abroad (Norwegian). But these will mostly be small scale operations; Avolon is one of the world's top lessors. HNA's investment is a strong example of it wanting to be an aviation, travel and tourism group far wider than today's groups stretch. Leasing synergies for its own airlines must be watched.

HNA's Aug-2015 acquisition of Reuters' London office is more fitting given HNA's real estate portfolio, but the nature of the deal still attracted attention even if the sum was undisclosed. Reports earlier in 2015 put the asking price at GBP215 million.
See related report: China's airlines and foreign investment Part 2: Foreign acquisitions already an established strategy
HNA's airline investment strategy varies
HNA's international investment strategy often seems impenetrable. Its two Hong Kong carriers – Hong Kong Airlines and HK Express – have the most clear rationale. Hong Kong Airlines carries significant transfer traffic out of mainland China to Southeast Asia, which HNA may not have been able to carry on its various Chinese AOCs. HK Express has been distanced from Hong Kong Airlines to focus on the point-to-point Hong Kong LCC market, although this includes scheduled and charter flights to mainland China. HK Express' conversion to LCC follows the HNA Group's growing interest in the LCC model.
MyCARGO in Turkey (formerly ACT Airlines) is the only non-passenger acquisition, and has been a quiet story. Africa World Airlines in Ghana is a regional airline, while South Africa's Comair, operating as a British Airways franchise as well as LCC Kulula, is a long-established carrier. Hainan, or any other HNA Group airline, does not serve Ghana or South Africa, or anywhere nearby.
HNA is more active in Africa World, from management to aircraft dealing, whereas its role in Comair is expected to be that of a dormant investment (albeit relatively cheap – USD13 million).
HNA's Aigle Azur investment has not gone according to plan. HNA's intention was for the French carrier to serve Paris-Beijing, which HNA is unable to do because Air China has a hold on the lucrative route. HNA intended to give Aigle Azur A330s for the route and although it would mostly have been outbound China traffic, Aigle Azur even advertised the service, but Russia declined overflight rights, in part due to the unusual nature of the operation.
Hainan has since launched service to Paris from other Chinese cities. Aigle Azur was mostly serving North Africa, leaving limited synergies for Hainan Airlines' inbound traffic.
See related reports:
AF-KLM, Delta and United have bought into Latin American airlines. Unlike Hainan, they already serve the market and want to protect interests
HNA is not the first to buy into a Latin American carrier – or even into Azul.
United has taken a 10% stake in Azul, while Delta has invested in Aeromexico and Gol. Gol has also received investment from AF-KLM. SkyTeam has been trying to woo Gol to be its Brazilian member, and the AF-KLM and Delta stakes are seen as defensive moves, to protect their interests and facilitate cooperation. Likewise for Delta in Aeromexico, and then United in Brazil.
United's Star Alliance lost TAM, which detached from Star to join its merger partner LAN's oneworld. Star has since added Avianca Brazil, but Avianca Brazil has a limited network, and does not fly long haul. Azul gave United a partner not just in Brazil but in the Brazil-US market, which Azul has entered with A330s. The Azul-United tie-up comes as American and TAM are expected to form a closer partnership.
Delta appears to have been left without a long haul partner since Gol is scaling back its very limited US operation (which may be beneficial from Delta's view), but Delta will retain Gol's valuable short haul connections and Gol's selling of Delta capacity. In contrast, Hainan is far from placing its metal anywhere near South America. Unlike American and European peers, it has little to be defensive about. Hainan is also unaligned, taking out the alliance part of the equation.
One uncertainty, now that HNA has pledged to take a stake in Azul, is how it will affect coordination between Azul and United. From a shareholder's perspective, the potential revenue from a United partnership should be a bonus for HNA, as Azul navigates tough conditions in Brazil.
Both HNA and Delta are necessarily taking the long view on Brazil in 2015, since the country's economy is shrinking, inflation is ballooning (possibly over 10%) and the BRL is slumping – falling 55% against the USD in 3Q2015. Against that backdrop, Delta upped its stake in its largest Latin American partner Gol to 9% from 3% and guaranteed USD300 million of Gol's debt, secured by Gol's publicly traded loyalty programme Smiles. Delta made its purpose in upping its stake in Gol crystal clear.
Earlier in 2015 Delta president Ed Bastian declared: "This will raise Gol's cash position to a level that ensures that carrier will have ample liquidity in the difficult economic environment in Brazil. Adjusted for these initiatives, Gol would have ended its second quarter with $1.1 billion in liquidity, 35% of their annual revenues."
See related reports:
With Azul, HNA via Hainan Airlines wants to enter the China-Latin America market. The broader Asia-Latin America market has 1.2 million annual passengers, compared with Asia-North America's 37 million, according to Vancouver Airport. By 2033 Asia-Latin America is expected to grow to 6.7 million annual passengers (Asia-North America will grow to 86 million).
Looking at the China-South America market specifically, a decade ago nearly two fifths of the market transited via Europe, but Europe now accounts for only 64%, having lost market share to the Middle East, which accounts for 24% of the market. The US as a transit point has declined from 12% to 6%, and Canada from 3% to 1%.
See related reports from CAPA's Airline Leader strategy journal about the Asia-Latin America market:
While traffic flows and growth may be appealing, the Asia-Latin America market is fragmented. This is what gave European hubs an advantage, as they were able to combine their large Latin American destinations with various Asian points. Japan is also a large source for Latin American traffic.
With this acquisition Hainan does not have an automatic win in the Latin American market. From China it may have one or two cities that it links non-stop to its intermediate hub. From the intermediate hub it may reach one or two Brazilian cities, from where it will be dependent on connections with Azul. Although Brazil is Latin America's largest market and a large market for Chinese traffic, Azul is mostly a domestic operator, and will have limited options for Hainan to other Latin American countries.
Two and three stop itineraries may be necessary in many instances, but these could be accepted by the Chinese market where the alternatives are not especially good, and HNA has an advantage of owning tourism companies that can sell such itineraries. Then again, intermediate carriers could cheaply offer China-Latin America itineraries by selling off inventory that would otherwise go unsold.
Sheer distances preclude non-stop operations between Asia and South America.
The Sep-2015 cooperation agreement between Azul and Hainan flagged Northeast Brazil's Fortaleza as the Brazilian destination for Hainan, after stopping over in Lisbon (which Hainan does not serve). Fortaleza is Azul's 18th largest point in Brazil with about 10 daily flights across seven destinations.
In comparison, Azul's main base at São Paulo's Campinas has about 147 daily flights across 52 destinations. Although Azul has a large presence and is the dominant airline at Campinas, São Paulo Guarulhos (100km from Campinas) remains the major gateway and transit point to Brazil's domestic market, and other destinations throughout Latin America. Fortaleza has manufacturing and mining sectors in its economy but there is no immediately clear Hainan focus for the city, except perhaps subsidies.
The uncertainty over exact details of cooperation between Azul and Hainan reflects the theory that HNA is being opportunistic with its investment in Brazil, with a more formalised strategy for its Latin American investment likely unveiled over the medium term, after Brazil's economy shows signs of a recovery.
Azul shows no interest in flying to China. The onus will be on Hainan Airlines
The HNA-Azul acquisition may seem similar to the HNA-Aigle Azur acquisition, where Aigle Azur was to fly to China. But that is not the case in this instance. A statement from Azul founder and CEO David Neeleman explains that the HNA stake "may result in the company's [Azul's] entry into the Asian market through interline and codeshare". This is a conservative statement with only interline and codeshare flagged as a possibility.
Azul's long haul programme is for now focused on two markets in Florida (Fort Lauderdale and Orlando). Hainan serves neither of those markets in North America.
Azul has also flagged expansion to potential cities such as New York and Madrid. Hainan intends to serve New York, which could give Hainan a common destination with Azul, should Hainan not want to operate all the way to Latin America, which would surely be unprofitable. However, Hainan achieves strong performance on its North American routes, meaning it could absorb a yield hit by offering onward connections on Azul, even if US-Brazil fares are at historical lows at present.
See related report: Azul and Delta intensify competition in the Florida-Brazil market to solidify their long term goals
Hainan partnering with a carrier in an intermediate hub would have been a more strategically intriguing scenario. TAP, for example, has an extensive Latin American market and is one of the five largest carriers flying between Europe and Latin America, being the largest between Europe and Brazil. A TAP partnership could potentially have given Hainan more one-stop access and a less capital intensive way of accessing Latin America, compared to potentially flying its own aircraft all the way to the region.
Brazil to Europe (seats per week, one way): 19-Sep-2011 to 8-May-2016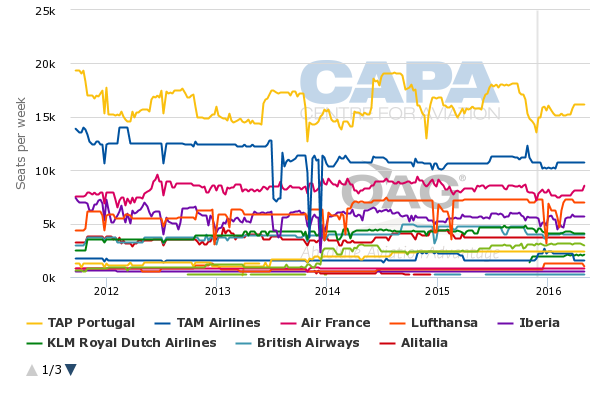 TAP also does not serve Asia, meaning a Hainan connection from China onto TAP's network would create no direct cannibalisation, although TAP may face objections from Star partner Air China. Star Alliance generally has restrictions on codeshares with non-Star carriers.
There is perhaps more to play out in this story. Mr Neeleman and his partners have successfully acquired TAP, bringing the likelihood of an Azul-TAP partnership. That could later be extended to Hainan, but is a distant priority for now, as Azul and TAP work through their main partnership.
See related reports:
Air China is the only Chinese carrier with service to Latin America, operating twice weekly São Paulo service via Madrid. Air China is also extending its Montreal flight to Havana as other parts of the Americas become of national interest to China, with Air China asked to serve such markets. Korean Air and Singapore Airlines also serve São Paulo (Korean Air via Los Angeles and SIA via Barcelona). JAL used to serve São Paulo (and Mexico City) via North America, but exited the Latin American market. JAL and ANA have evaluated Latin American services on their own metal but appear unlikely to pursue such services.
China Eastern and China Southern have been considering Latin American options for a few years, including placing their own metal into the region. China Southern Airlines senior VP of sales division Li Dongliang, at the CAPA Australia Pacific Aviation Summit in Aug-2015, said the carrier would like to operate to Brazil through a South Pacific point such as Auckland or Tahiti. For now, the airline prefers instead to work with partners. Codeshares are limited – China Southern codeshares with Air France to Santiago – while interlines, such as with US partners, are more common.
China's strategic focus remains on Africa, with state carriers asked to open routes to the continent. It is inevitable Chinese airlines will be directed at Latin America, but probably not soon. Hainan's Azul purchase and likely entry into the Latin American market may create pressure for Chinese and other Asian operators, but is unlikely to lead to significant changes. Hainan's potential service is limited in size, while profits are far from guaranteed.
The growth of Chinese airlines' interests into the Latin America region comes as Vancouver Airport looks to grow Latin American services; in part by relying on connections from Asia, and in particular China. Connecting traffic will help sustain Latin American flights that Vancouver could not offer by relying only on local or connecting Canadian traffic. Air China has used onward traffic rights to tag its Montreal service with Havana.
Vancouver Airport hopes upcoming talks between China and Canada will result in China requesting more Canadian stopover rights, which Chinese carriers can use to link China with Latin America. Vancouver Airport does not have true transit-free facilities but hopes the Canadian government will reinstate these, giving Canada an advantage over US hubs. American in recent years has made Dallas a transit point between Latin America and its growing Asia network.
See related report: American Airlines looks to catch up to Delta and United in Asia. Capacity re-deployment from LatAm?
Vancouver is the most popular North American point for Chinese carriers.
Four Chinese airlines serve the western Canadian city – Air China, China Eastern, China Southern and Sichuan Airlines.. Three more are on their way – Hainan, Xiamen and Beijing Capital have applied to serve Vancouver.
Xiamen and Beijing Capital launched long haul services in 2015, among China's secondary airlines flying long haul.
See related reports:
Vancouver International Airport to China (seats per week, one way): 19-Sep-2011 to 8-May-2016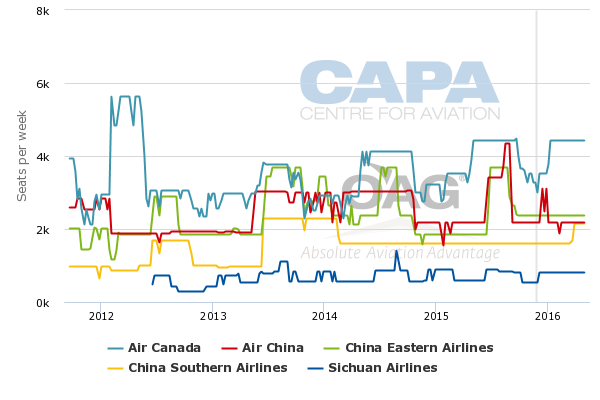 HNA will have a presence on every continent. Now for focus
HNA's Azul acquisition will give the group an aviation presence on every inhabited continent: Hainan flies throughout Asia, to Europe and North America and soon to Australia, while it has two airline investments in Africa.
Yet the value of this is at present uncertain. Hainan's airline investments cannot be judged in the same way as those by other carriers. The group has considerable funds, meaning that synergies can be distant, and returns very long term. At times the group appears more as an investment vehicle than one linking aviation companies, but with the market looking favourably, in HNA's view, on purchases, perhaps this is the time to buy, and develop focus later.
Focus, HNA must. Soon to be on present on every continent, HNA has breadth, but needs depth in value and strategic focus. While its international investments are showing scope for integration, the largest opportunities to mesh together are around China. Regulatory matters make complete integration challenging, but there is plenty that can be done. The international purchases risk distraction of HNA's home market.