Brazilian airline Azul caps off an ambitious 2014 with another stab at accessing the public markets
Analysis
Brazilian airline Azul continues to shake up the country's aviation business in CY2014 through the launch of widebody operations, an order for Airbus narrowbodies and resuscitating its initial public offering that was shelved in CY2013.

Azul is basing its ambitions on the conclusion that there is significant upside for air travel in Brazil as growth projections over the medium to long term remain relatively robust. The airline believes it has built a solid network to accommodate the long-term demand, and is now making its case to potential investors that it is positioned to leverage the anticipated growth.

But the challenges Brazil's airlines have faced in the short term – namely a fragile economy – remain intact, and it is not certain if the market will rise to meet Azul's ambition.
Azul's road to an IPO is marked with rapid expansion
Azul shelved plans for an IPO in CY2013, citing unfavourable market conditions. Since that time the airline has acquired Airbus widebodies and launched its first international service to Fort Lauderdale. The airline is now capping off a watershed 2014 with the announcement it is acquiring 63 Airbus A320neo narrowbodies for delivery beginning in CY2016. In the span of two years Azul will have jumped from the operation of Embraer E-Jets and ATR turboprops to the operation of four fleet types – E-Jets, ATRs, Airbus widebodies and Airbus narrowbodies.

See related reports:
Since its debut in 2008 Azul has rapidly expanded, and now serves 104 cities, roughly 217 routes and approximately 864 daily departures. In paperwork filed with regulators tied to its IPO, Azul stated that it was the market leader by frequency on 76% of its routes, and the only airline operating on nearly 65% of its routes on offer. The airline also concluded that it was the most frequent operator on approximately 11% of its routes.

Part of Azul's rapid expansion stemmed from its CY2012 acquisition of Brazilian regional operator TRIP. Azul concluded that by acquiring TRIP it gained leading airline status in Brazil's third largest metropolitan area Belo Horizonte and secured key landing rights at Sao Paulo Guarulhos and Santos Dumont in Rio de Janeiro.

Using data from the Brazilian government, Azul estimates that it achieved a nearly 17% market share as of 30-Sep-2014 compared with just a 3% share at YE2009.
Azul's market share growth in the Brazilian domestic market: CY2009 to 9M2014

Azul touts its network strength and revenue premium versus its competitors
Azul believes connecting smaller markets not viable for narrowbodies operated by its major competitors Gol and TAM through its hubs in Campinas and Belo Horizonte allows it to achieve a revenue premium to some of its competitors. For the 9M ending 30-Sep-2014 Azul stated it generated a 43% PRASK premium over rival Gol. For that nine month period Azul's passenger unit revenues increased 8% and its operating unit revenues grew 7%. The airline's yields increased roughly 6% year-on-year.

Azul's main base and largest hub is Campinas Viracopos, roughly 100km north of Sao Paulo Guarulhos, and is one of three major airports serving Sao Paulo state in addition to Guarulhos and Congonhas. Prior to Azul's launch Campinas was underserved, but passenger throughput has increased with Azul's expansion from five million in CY2010 to 9.3 million in CY2013.
Azul top 10 hubs/bases/stations by seats: 1-Dec-2014 to 7-Dec-2014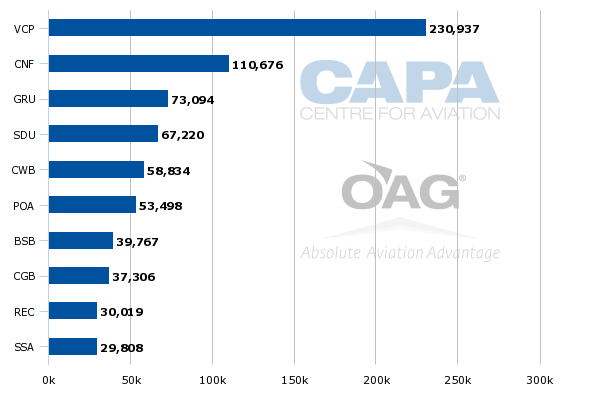 Illustrating its stimulative effect in under-served markets, Azul supplied data from Campinas Viracopos to Rio de Janeiro, Salvador, Belo Horizonte and Porto Alegre and from Belo Horizonte to Goiânia, charting the growth in those markets after its launch. Between Viracopos and Rio de Janeiro, Azul estimates that total direct flights jumped from six to 31 from Nov-2008 to Sep-2014, with Azul representing 22 of the flights. Average one-way daily enplanements have grown from 564 to 2,492. There was no direct service from Campinas Viracopos to Porte Alegre in Nov-2008, with roughly 241 enplaned passengers connecting on the route. During Sep-2014 the number of directly enplaned passengers grew to 1,068.
Flight and enplanement growth on select Azul routes: Nov-2008 to Sep-2014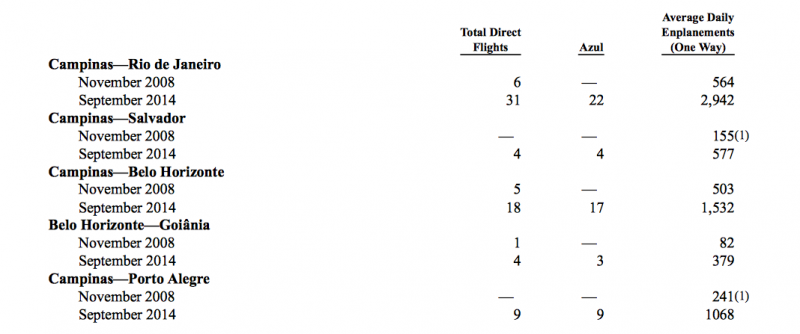 As its largest hub, Campinas Viracopos is a key connecting point for Azul. The airline estimates that as of 30-Sep-2014 nearly 54% of its passengers at Campinas were connecting customers and nearly 29% of its system-wide passengers were connecting through one of its hubs.
Azul fleet projections: CY2010 to CY2019

Azul's bullish view on Brazil's potential spurs an order for new narrowbodies
Azul believes significant stimulative opportunities remain in Brazil, and projects that domestic passenger counts will rise to 122 million by 2017, and increase of 32 million from the 90 million transported in CY2013. The airline also estimated that domestic passengers travel on 0.4 flight segments per year compared with 2.6 in the more mature US market (US figures are based on 2012 data).

Those projections were no doubt a factor in Azul's decision to order up to 63 Airbus A320neos comprised of 28 leased aircraft due for delivery between 2016 and 2019 and 35 firm purchase orders with Airbus, with deliveries scheduled to begin in 2020 and continue through 2023.

Azul stated it plans to use the narrowbodies on domestic long-haul routes "with high demand targeted at leisure travellers, including the Northeast of Brazil". Once that phase of Azul's growth begins, its overlap with its major domestic competitors Gol and TAM is likely to increase. It is a significant amount of growth, even for what Azul believes is untapped demand within Brazil.

It remains to be seen if the domestic market will support that level of growth during the next couple of years. Gol and TAM have slashed their capacity during the last couple of years to ensure a rational supply-demand balance. And even as Azul has continued its rapid growth during that time, some of its expansion has been into smaller markets with limited air service.

Azul's declaration of targeting leisure customers with its new narrowbodies is also tenuous given that economic growth in Brazil has been tepid after significant growth in 2010. GDP growth for CY2014 is projected at 0.3, rising to a forecasted 1.4% in CY2014. Inflation, meanwhile appears to be hovering at 6% in CY2014 and CY2015.
GDP Growth of Brazil: CY2009 to CY2019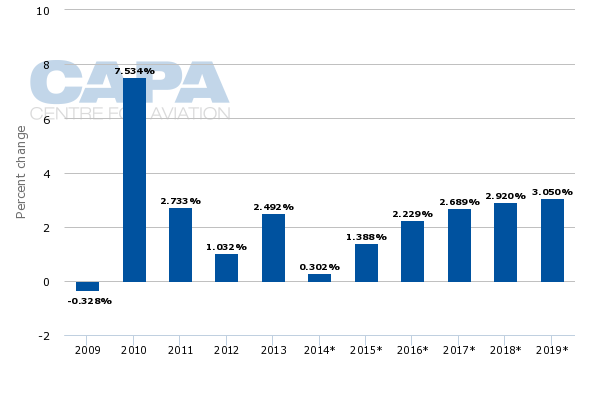 Inflation, average consumer prices of Brazil (Percent change): CY2009 to CY2019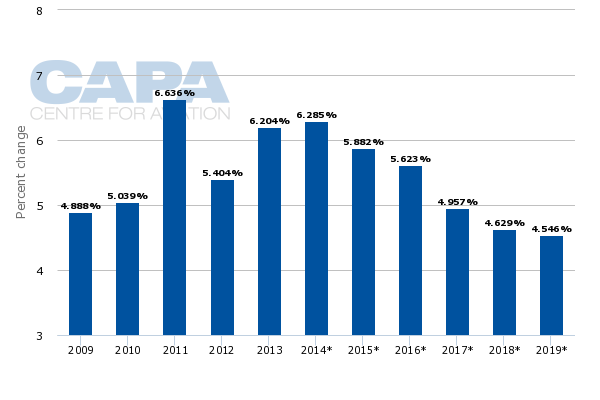 Traffic in the Brazilian domestic market grew at a healthy 7% clip in 1H2014; but that was driven by flat capacity growth stemming largely from restraint by Gol and TAM. Azul's declaration to enter into long-haul domestic markets could prove disruptive in Brazil's domestic traffic growth.
See related report: Brazil's domestic market remains stable despite macroeconomic uncertainty
Azul embarks on a public offering with mixed financial results
Azul is accessing the public markets when certain challenges in Brazil seem to be becoming a mainstay – overall economic weakness and currency devaluation. Those obstacles resulted in Gol now suffering from chronic unprofitability, and TAM leveraging the scale of LATAM Airlines Group to diminish its currency exposure.

After posting losses in CY2011 and CY2012 Azul recorded a USD8.5 million profit in CY2013. For the 9M ending 30-Sep-2014 Azul recorded a 10.8% increase in operating revenue to BRL4.2 million (USD1.6 million) and a nearly 14% rise in operating expenses to BRL4 million (USD1.5 million). Its operating income sank 22% to BRL255 million (USD98 million).
Azul select financial results: 9M2014 vs 9M2013

Azul widened its losses for the first 9M of 2014 by 213% to BRL63 million (USD24 million). At the end of 30-Sep-2014, the airline had cash balances of USD142 million, loans and financing of USD1.4 billion, USD169 million in equity and total assets of USD2.5 billion, (the figures are based on an exchange rate of BRL2.4 to the USD as of 30-Sep-2014). As of 30-Sep-2014, roughly 40% of Azul's aircraft debt was denominated in the BRL.
Azul's ambitions could be put to the test in its next chapter of growth
Arguably, Azul has operated with a high level of ambition since its 2008 launch, reflected in its rapid growth and its pursuit and ultimate acquisition of rival TRIP in 2012.

The next chapter of Azul's evolution could be its most ambitious yet as it works to build up a fleet of 12 Airbus widebody aircraft, introduces narrowbodies into the Brazilian domestic market and adapts to the changes that becoming a publicly traded company will usher in.
It is a tall order for such a young company – but so far Azul seems undaunted by the challenges it has faced in its six-year existence. However, the next phase of its growth may require a new level of resolve.