United Airlines forges a new path in Brazil with Azul. What is in store for their partnership?
Analysis
United Airlines' decision to take a USD100 million stake in Brazil's third largest airline Azul is a highly strategic move to entrench itself in the important Brazilian market and occurs after TAM's exit from the Star Alliance left a significant hole for United to fill in its Brazilian operations.

Through its stake in Azul, United also gains a seat on the Brazilian airline's board which, similar to the Delta-Gol tie-up, gives United insight into Azul's strategy and long term vision. In the short term, plans are underway for a codesharing pact following an interline agreement the two airlines struck in 2014.

The deal with Azul is a solid step forward for United in gaining some lost ground in Brazil; but it will still not completely fill the void created after TAM's departure from Star. United and Azul may also need to revisit their joint strategy in serving the US and Brazil in light of their new partnership, and the upcoming implementation of open skies between the two countries.
After TAM departed Star in 2014 to join oneworld as part of the LATAM Airlines Group, Star faced a critical hole in Latin America's largest aviation market. The opening created an opportunity for Avianca Brazil, which was previously precluded from joining the alliance by TAM. The other Avianca Group airlines have been members of Star since 2012.

Eventually after some lengthy negotiations the pieces fell into place for Avianca Brazil's ascension into Star. However, as CAPA has previously highlighted, Avianca Brazil does not have exclusivity in Brazil within the Star grouping.

See related report: Will an Azul-TAP partnership skew the alliance dynamics in Brazil as Avianca Brazil joins Star?

Azul and Avianca Brazil are the country's third and fourth largest airlines, holding domestic market shares of 17% and 9% for the four months ending Apr-2015. Although each airline during the last few years has been growing rapidly, their size does not rival TAM's 37% marketshare and Gol's 36% share.

It is not clear if United's acquisition of Azul could impact a potential codeshare between Avianca Brazil and United. But with an equity stake in Azul, it would not seem logical for United to partner with a rival to Azul.
Airlines get creative in forging partnerships in Brazil as Azul and Gol remain unaligned
Neither Azul nor Brazil's second largest airline Gol have so far been interested in joining an alliance. As a result airlines such as Delta and United have had to find creative ways to forge partnerships with Brazilian carriers.
Delta in 2011 took a 3% stake in Gol for USD100 million to make inroads into the Brazilian domestic market. SkyTeam member Air France-KLM has also subsequently taken a stake in Gol, but the Brazilian airline continues to maintain that it will remain unaligned.

Despite some recruitment discussions with Star, Azul also appears to be maintaining its independence. Given that Brazil's second and third largest airlines for now have no intent to join an alliance, airlines have had to create other strategies for gaining a foothold in the Brazilian domestic market. With its 17% market share and new service to the US, Azul was an obvious target for United.
Azul gives United a chance to slowly regain some lost ground in Brazil
The new partnership with Azul definitely is a start for United to fill the gap left by TAM. But there seems to be opportunities waiting for the airlines beyond their initial codesharing routes. At least initially the codesharing deal will not play to the network strengths of either airline.
United serves Brazil's largest gateway Sao Paulo Guarulhos from its hubs at Chicago O'Hare, Houston Intercontinental, New York Newark and Washington Dulles. It also operates service from Houston Intercontinental to Rio de Janeiro.

Although United highlighted that Azul has 50 daily flights from Guarulhos, Azul represents just 9% of the airport's domestic seats on offer and 6% of its ASMs. This makes Azul the fourth largest carrier at Brazil's main international gateway, way behind TAM and Gol and also beyond Avianca Brazil although overall Avianca Brazil is a much smaller carrier.
Sao Paulo Guarulhos International Airport domestic capacity by airline (% of seats): 29-Jun-2015 to 5-Jul-2015
Sao Paulo Guarulhos International Airport domestic capacity by airline (% of ASMs): 29-Jun-2015 to 5-Jul-2015
As CAPA also highlighted in the 26-Jun-2015 report, Guarulhos is Azul's third largest base measured by both seats and ASMs. Its main hub is at Sao Paulo alternative airport Campinas, where it has almost four times as many seats as Guarulhos.
Azul global top 10 hubs/bases/stations by seats: 29-Jun-2015 to 5-Jul-2015
Azul global top 10 hubs/bases/stations by ASMs: 29-Jun-2015 to 5-Jul-2015
Azul's routes from Guarulhos include Curitiba, Goiana, Ilheus, Joinville, Maringa, Navegantes, Porto Alegre, Recife, Rio Santos Dumont, Salvador, Vitoria, Brasilia, Campo Grande, Cascavel and Cuiaba. The new codeshare with Azul will give United access to some of Brazil's largest domestic markets including Brasilia, Curitiba, Salvador, Porto Alegre and Recife.
Brazil top 10 domestic destinations ranked by arriving seat capacity: 29-Jun-2015 to 5-Jul-2015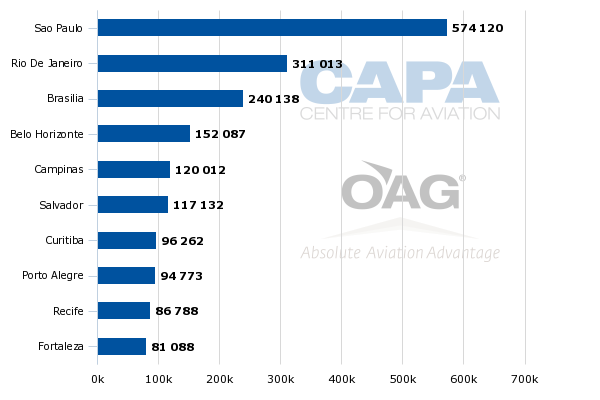 In Rio de Janeiro, Azul has a large operation at Santos Dumont, where it has almost as many seats at Guarulhos. But United along with all other international operations at Rio De Janeiro are at Galeão Airport, where Azul has a very small presence.
Azul currently only accounts for less than 4% of domestic seats at Galeão and only about 1% of domestic ASMs.
Rio de Janeiro Galeão International Airport domestic capacity (% of seats) by airline: 29-Jun-2015 to 5-Jul-2015
Rio de Janeiro Galeão International Airport domestic capacity by airline (% of ASMs): 29-Jun-2015 to 5-Jul-2015
Open Skies could give Azul and United more opportunities for network optimisation
Azul presently serves Fort Lauderdale and Orlando from its largest base and headquarters Campinas Viracopos. But in late 2015 it plans to introduce services from Belo Horizonte and Guarulhos to Orlando.
Azul is also planning to launch services to New York JFK in Mar-2016. This will complete the initial phase of its new long-haul low-cost operation using a fleet of seven A330-200s.

United operates service from Orlando to its hubs in Chicago, Cleveland, Denver, Houston, Los Angeles, New York Newark, San Francisco and Washington Dulles. From Fort Lauderdale it offers service to Chicago, Denver, Houston, Newark and San Francisco.
Similar to Azul's positions in Guarulhos and Rio de Janeiro Galeão, United is not a strong airline in Orlando and Fort Lauderdale. It is Orlando's fourth largest airline by seats and fifth measured by ASMs, and Fort Lauderdale's sixth largest airline measured by seats and fifth by ASMs.
Orlando International Airport capacity by airline (% of seats): 29-Jun-2015 to 5-Jul-2015
Orlando International Airport capacity by airline (% of ASMs): 29-Jun-2015 to 5-Jul-2015
Fort Lauderdale-Hollywood International Airport capacity by airline (% of seats): 29-Jun-2015 to 5-Jul-2015
Fort Lauderdale-Hollywood International Airport capacity by airline (% of ASMs): 29-Jun-2015 to 5-Jul-2015
Azul could consider moving planned New York JFK flights to Newark
United has an even more limited operation at Azul's planned third gateway, New York JFK. United currently only connects JFK with Los Angeles and San Francisco and plans to move these flights to Newark in Oct-2015, leaving United without any operations at JFK.
See related report: United Airlines' moves in New York reflect the heightened competition in the US transcon market
Now that it has formed a significant relationship with United, perhaps Azul may considering instead operating to Newark, a major hub for United where it could benefit from a broad array of connections. But even if Azul sticks with its plans for JFK it should be able to secure feed by working with JetBlue.
Azul has been discussing a codeshare partnership with JetBlue. It would be logical for Azul to continue these talks even as it gets closer to United as JetBlue has bases at Fort Lauderdale, Orlando and New York JFK. Even if Azul decides to serve Newark instead of JFK it will need JetBlue to provide feed to its operations in Florida, where there are no alternatives as United also has a very small presence in Miami.
The full open skies agreement between the US and Brazil is slated to take effect in Oct-2015, enabling United and Azul to perhaps add new routes to its codesharing pact. United may consider adding flights to more Brazilian airports, in particular Azul's points of strength such as Belo Horizonte and Porto Alegre. Azul could also now consider flights to United's hubs.

The current codeshare agreement is likely just a framework for more coordination in the future as restrictions on flights are lifted between the US and Brazil. To fully optimise the partnership, Azul and United need to leverage their positions of strength within Brazil and the US.
United takes a stake in Azul as TAP and Azul plot a tie-up
The United-Azul deal occurred just days after Azul's chairman David Neeleman and a group of investors were successful in their bid to acquire a 61% stake in TAP Portugal, another Star partner. Mr Neeleman has stated that TAP and Azul will form an alliance, which has led to questions about TAP's future in Star, or if Azul will change its stance on remaining an independent entity.

Although both Star and SkyTeam would like members in Latin America's largest aviation market, it seems for now that Azul and Gol have no plans to change their stances of remaining independent. Gol has a slew of codeshare partners, but United will be Azul's first.
However, as CAPA previously highlighted, Azul plans to follow up codeshares with United and JetBlue by discussing codeshare partnerships with other airlines. Given their respective places within the Brazilian market, Azul and Gol are attractive to numerous airlines, and likely do not want to be hemmed in by the alliance structure.
United forges a path in the Brazilian domestic market controlled by four airlines
The Brazilian domestic market seems to have reached a steady state after Azul's 2008 debut, Oceanair's 2010 rebranding to Avianca Brazil, Gol's 2010 acquisition of Webjet and the 2012 merger of LAN and TAM.

United's decision to buy a stake in Azul is a logical move and clearly is a way for the US airline to forge a path in Brazil for the long term. Brazil is too large a market to ignore, and now each of the three large global US airlines has chosen their path to ensure they have access to the Brazilian domestic market – American's oneworld relationship with TAM, Delta's stake and codesharing agreement with Gol and now United's equity stake in and partnership with Azul.

There are still lingering questions over how Avianca Brazil's joining of Star will play a role in United's Brazil strategy. But for now the groundwork has been laid for United to ensure it can start restoring some of the lost feed from TAM.