Delta Air Lines Part 2: Stiff international market competition, eased by Delta's foreign investments
Analysis
Currency pressure and general economic weakness are pressuring Delta Air Lines' performance across all of its geographical entities, reflected in 2Q2015 negative unit revenue and yield performance in both domestic and international sectors.

But recent moves by Delta to increase its stake in Brazilian airline Gol and a proposed investment in Japanese airline Skymark show that Delta is attempting to lay the groundwork now to solidify its position in two markets that remain highly strategic over the long term.

Delta more than any other US airline during the last few years has moved quickly to take stakes in airlines located in areas where it needed to fill gaps in its network, and its enlarged stake in Gol shows a certain willingness to step in to ensure it achieves positive returns from its investments.
This is Part 2 of a series on Delta Air Lines.
Currency pressure and lower fuel surcharges drag down Delta's international performance
Delta suffered negative unit revenue and yield growth across all its geographical entities in 2Q2015. The weak performance in its international sectors was driven by the appreciating USD against many currencies and lower fuel surcharges. Delta estimates its foreign exchange headwind was USD160 million during 2Q2015.

The airline recorded a 7.8% decline in its Latin American unit revenues during 2Q2015, which drove yields down 6.8% Delta's capacity on Latin American routes grew 8% year-on-year during the quarter.

It attributed weak results on Latin American routes to currency fluctuation and still-lingering fallout from capacity reductions to Venezuela initiated during the year prior. Delta president Ed Bastian stressed that in future the airline's capacity growth to Latin America would return to levels more consistent with industry averages.

Delta estimated that its partners in the region Aeromexico and Gol contributed roughly USD25 million, down from USD33 million in 1Q2015.

After failing to acquire a stake in Japan Airlines in 2009/10, Delta in 2011 made investments in Aeromexico and Gol to bolster its position in Central and Latin America, areas where it lagged behind its large US global network rival airlines. It invested USD65 million to acquire a 4% stake in Aeromexico and gained a seat on the airline's board.
Delta also paid USD100 million for a 3% stake in Gol, and also secured a place on the Brazilian airlines' board.
Delta opts to up its stake in Gol as Brazil's economic outlook remains bleak
Delta has now opted to invest USD56 million in Gol, which will increase its stake in the airline to 9%, and agreed to guarantee USD300 million of Gol's unsecured debt secured by Gol's interest in its publicly traded loyalty programme Smiles.

Gol has recorded annual losses since 2011, and has faced tough conditions in the Brazilian market for the last couple of years driven by the widening devaluation of the BRL against the USD. Adjusting for those changes, Delta estimates that Gol would have ended 2Q2015 with USD1.1 billion in liquidity. Gol's major shareholder has also USD90 million of newly issued preferred shares in the airline.

Although Brazil's domestic sector is struggling, (evidenced by TAM's Jul-2015 revision of 2015 capacity projections of a 2% to 4% cut versus previous estimates of flat growth) it remains Latin America's largest aviation market, and it is important for US airlines to ensure they are well positioned in the country once conditions improve.
United in Jun-2015 detailed its plans to invest USD100 million in Brazil's third largest airline Azul even as the country's economy is projected to shrink in 2015.

United opted to invest in Azul after TAM left the Star Alliance in 2013, creating a difficult hole for the grouping to fill in Brazil. Avianca Brazil is set to join Star in Jul-2015, but obviously United sees long term strategic value in partnering with Azul, which launched flights from Campinas to Orlando and Fort Lauderdale in late 2014 and aims to launch service to New York in late 2015.

Through the enlarged investment in Gol, Delta plans to expand its commercial partnership with Gol and is pushing for a joint venture with the airline once an open skies agreement between the US and Brazil takes effect in late 2015. It is not clear if Gol feels as strongly about a joint venture, but Delta will no doubt attempt to exert is broadened influence with Gol to form a tie-up.
Gol continues to maintain its stance that it prefers to remain independent from any of the three global airline alliances, but the deepened relationship with Skyteam anchor member Delta raises some questions about the longevity of Gol's alliance independence.

Part of Delta's original pursuit of Gol was to close the competitive gap with American and United, which have a broader presence in Latin America. Data from CAPA and OAG show that for the week of 20-Jul-2015 Delta's seat share between the US and upper South America is 9% (its seats are down 5%). American holds a 29% share (with seats essentially flat) and United represents a 10% share (its seats are down 1%).
American has historically been the largest airline between the two regions, and its breadth in Brazil was bolstered when TAM became a part of oneworld after its merger with LAN to form the LATAM Airlines Group.
United States of America to Upper South America: seats per week, one way, 19-Sep-2011 to 10-Jan-2016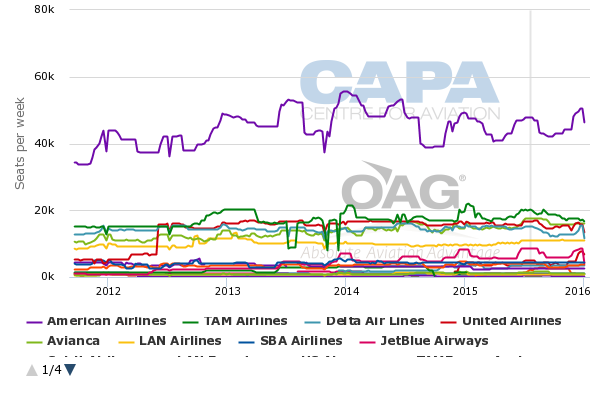 See related reports:
Delta's investment in Gol has SkyTeam and broader US-Latam strategic implications
United Airlines forges a new path with Azul. What is in store for their partnership?
Delta and Virgin Atlantic continue their US-UK push as European demand remains weak
Delta's unit revenues on its Atlantic routes fell 11.5% year-on-year during 2Q2015 and yields dropped 6.5% on 5% capacity growth. Mr Bastian estimated that roughly 6ppt of the unit revenue decline was attributable to currency devaluation and lower fuel surcharges. Strong US point of sale demand for the airline's core markets was not enough to offset weaker demand in Europe and the falling Euro.
Delta's president stated the airline continues to face headwinds in Africa, Russia and the Middle East; but highlighted margin expansion in its joint ventures with SkyTeam partners Air France-KLM and Virgin Atlantic.

At the end of 2012 Delta opted to purchase a 49% stake in Virgin Atlantic held by Singapore Airlines for USD360 million. A joint venture followed, but more importantly, Delta gained a valuable position at London Heathrow, and important competitive leverage against oneworld joint venture partners American and British Airways. After the launch of their joint venture in 2014 the two airlines aligned their schedules between the US and the UK, and during the summer 2015 time period have increased their seats on offer by a wider margin than their competitors.

For the week of 20-Jul-2015 Delta's one-way seats between the US and Western Europe are up 9% and Virgin Atlantic's have grown 25%. Delta's other joint venture partner Air France-KLM has flat seat growth year-on-year.

United's seat numbers from the US to Western Europe have increased 4% and its joint venture partner Lufthansa has increased its seats on offer for the high summer travel season by 5%. American's seats have risen 8%, and seats remain essentially flat for its JV partner British Airways. American's merger partner US Airways has grown its seats 5% year-on-year.
Total one-way seats between the US and Europe for the week of 20-Jul-2015 have increased 9% versus the year prior to roughly 838,309.
United States of America to Western Europe: seats per week, one way, 19-Sep-2011 to 10-Jan-2016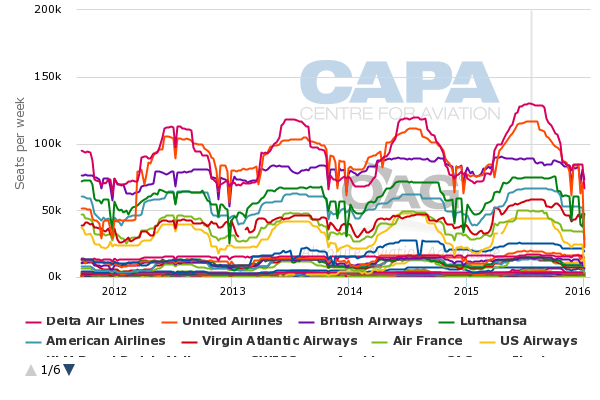 For the summer 2015 season Delta's new service includes flights from Philadelphia to Heathrow and New York JFK to Manchester. Virgin Atlantic has launched flights from Los Angeles and Detroit to Heathrow and added a second daily flight between Heathrow and Delta's Atlanta hub. It also has added service on its San Francisco-Heathrow route for the summer season, and launched seasonal flights from Orlando to Belfast and Las Vegas to Glasgow.

One-way weekly seats for the week of 20-Jul-2015 between the US and the UK are up 11% year-on-year to approximately 263,426. Virgin Atlantic's have jumped 25%, American's are up 13%, Delta's have notched up 0.45%, United's have increased 1% and US Airways's have grown 7%. BA's are essentially flat.
United States of America to United Kingdom: seats per week, one way, 19-Sep-2011 to 10-Jan-2016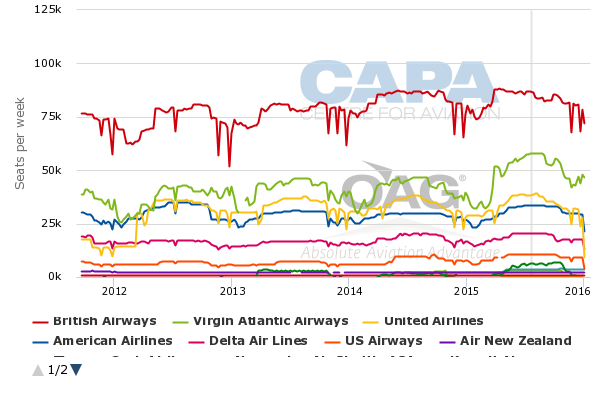 Delta opts to pursue Skymark as JPY weakness remains an overhang in it Pacific results
Weakness in Japan's currency continues to drag down Delta's Pacific results. Unit revenues on those routes fell 8.5% and yields sank 10.6% as capacity fell nearly 4%. Mr Bastian estimated the JPY currency impact at USD65 million for 2Q2015 net of hedges.

Delta has been restructuring is Pacific operations to decrease reliance on connecting passengers through Tokyo Narita. It retired four Boeing 747 widebodies used on pacific routes in 2014 and aims to retire the remaining 16 by 2017. For the winter 2015 period, Delta is slashing its Pacific capacity by 6% to 8%, including cutting loss making service between Seattle and Haneda.

Haneda is a big draw for Delta in is pursuit of Japanese airline Skymark, which is currently in bankruptcy. Its rehabilitation is being handled by investment firm Integral. One of its largest creditors Intrepid favours Delta sponsoring Skymark, but Integral maintains that Japanese airline All Nippon Airways is the best option for Skymark.

As previously reported by CAPA, Skymark is the third largest slot holder at Haneda, and Delta is the only airline among the large US three global network airlines without a joint venture partner in Asia. But the potential investment by Delta is not a panacea for the airline's lack of immunisation in the Pacific. CAPA has recently concluded:
For Delta, Skymark presents opportunities but is not quite the saviour some have made the deal out to be. Delta is the only one of the US "Big 3" lacking a joint venture partner for Asia: both American Airlines and United are with Japanese carriers, JAL and ANA respectively. These arrangements cover the large US-Japan market but also help with connections beyond (where permitted by regulators – China is a holdout).

Delta would gain access to Skymark's domestic position. But there are several qualifications. Under current regulations, Skymark cannot transfer its domestic Haneda slots to Delta for any service, international or domestic cabotage. The former would be very appealing, the latter not. Delta would be taking a long term view that Skymark in the future will have a better slot portfolio, and that Delta will have better access to Haneda, allowing it to better utilise its potential partner's flights for connections.
See related report: Delta Air Lines' proposed investment in Skymark clouds a possible joint venture with Korean Air

It is not clear how Delta will fare in its pursuit of Skymark, (the airline is not popular in Tokyo's corridors of power). But its efforts show a no holds barred approach to gaining footholds into regions where it needs to compete effectively in the future.
Delta is taking the long view while short term pressure remains in international markets
Delta is projecting negative unit revenue growth for 3Q2015 (an estimated drop of 4.5% to 6.5%), and the elements weighing down its international performance – currency and lower fuel surcharges – will remain an overhang for 2015.

But Delta will need to look beyond the short term to remain competitive against its US global network rivals, and its aggressive pursuit of stakes in various airlines throughout the last few years reflects its long term view.
The global airline mood seems to be shifting slowly towards greater internationalisation through acquisition and in this respect at least Delta seems unafraid to move relatively quickly to bolster is competitive position in key markets.