Delta Air Lines increases its Aeromexico stake and broadens its influence in the US-Mexico market
Analysis
Delta Air Lines has opted to expand its stake in Aeromexico, following a similar move earlier in 2015 when it increased its investment in Brazilian airline Gol. Delta has also invested in China Eastern Airlines during 2015, and unsuccessfully pursued a stake in Japanese airline Skymark.

With low fuel costs propelling record profitability at US airlines, perhaps the time is right for Delta to solidify investment to build a competitive network for the long term. Its moves during the past year reflect an aggressive pursuit of strengthening its presence in Latin America and Asia.

By enlarging its stake in Aeromexico, Delta also grows its ability to exert influence over the airline, something that Delta believes could help Aeromexico improve its overall business strategy.
Delta believes it can help Aeromexico improve its business through an enlarged stake
Delta and Aeromexico are seeking requisite approvals for Delta to expand its equity stake in Aeromexico up to 49%, which would then equal Delta's holding in Virgin Atlantic. Delta initially invested USD65 million in Aeromexico in 2012, gaining a seat on the airline's board. The airline has stated that it expects to begin its current deal to grow its stake in Aeromexico by 2Q2016.

The move is not unsurprising, given that earlier in 2015 Delta invested an additional USD56 million in the Brazilian airline Gol, and agreed to guarantee USD300 million of Gol's unsecured debt. Delta also holds a seat on Gol's board, after taking an initial 3% stake in the Brazilian airline in 2011.

Delta aims to pursue joint ventures with both Aeromexico and Gol. By increasing its stake in each airline prior to gaining approval for the joint ventures, Delta also enlarges its ability to influence each airline.

Putting Delta's plans for its stake in Aeromexico into context, airline CFO Paul Jacobson stated that the airline's decision was less about returns, but more centred on "how much value you can drive from a deepening relationship".

Mr Jacobson noted that Delta intends to exploit a lot of opportunity to enhance both Delta and Aeromexico's performance, and "bring our coordination and experience to help them [Aeromexico] improve their business model".

Through a joint venture, and an increased ownership stake, Delta can now be a force in the way that Aeromexico shapes its network, approaches revenue management, and improves operation, while also ensuring that customers travelling on co-branded flights have a positive experience.
Delta's airline acquisition portfolio: Nov-2015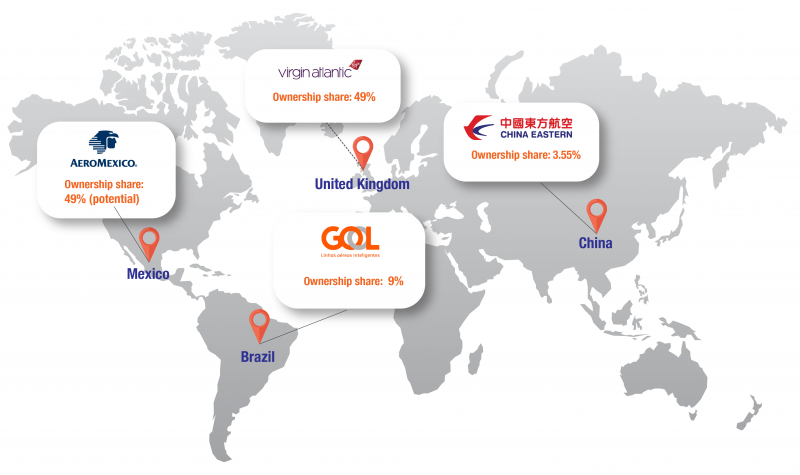 Delta is ensuring it remains competitive in the strategic US-Mexico market
Delta's moves to exert influence over Latin American airlines in which it has equity stakes are also based on ensuring its own network competitiveness over the long term. CFO Mr Jacobson stated Mexico is the second largest trans-border trade market in the world. Mexico remains one of the largest business and leisure travel markets to the US.
Data from CAPA and OAG for the week of 16-Nov-2015 to 22-Nov-2015 show that Mexico is the second largest international market from the US measured by seat deployment, right behind Canada.
United States of America international capacity by country (number of seats): 16-Nov-2015 to 22-Nov-2015
Mexico's forecast 2.6% GDP growth is stable compared with other economies in Latin America. The country's largest airlines have also cited improving economic conditions. Aeromexico has highlighted that Mexico's General Economic Activity Indicator grew 2.4% between Jan-2015 and Aug-2015, an 0.5ppt increase over the year-ago period.
Volaris, Mexico's second largest airline, referenced growing consumer confidence between Jun-2015 and Aug-2015.

See related report: Aeromexico and Volaris cite positive signs in Mexico despite growing currency pressures
Capacity continues to grow between the US and Mexico. Data from CAPA and OAG for the week of 16-Nov-2015 showed one-way seats between the two countries had risen 16% year-on-year. However, on a stand-alone basis the Delta share is 8%, well below the 23% held by American and United's 21% share. Both American and United have historically been stronger in the Mexican trans-border market than Delta, given their hubs in Dallas and Houston. Combined, Delta and Aeromexico have a 22% share, resulting in a stronger competitive force.
United States of America to Mexico: (seats per week, one way): 16-Nov-2015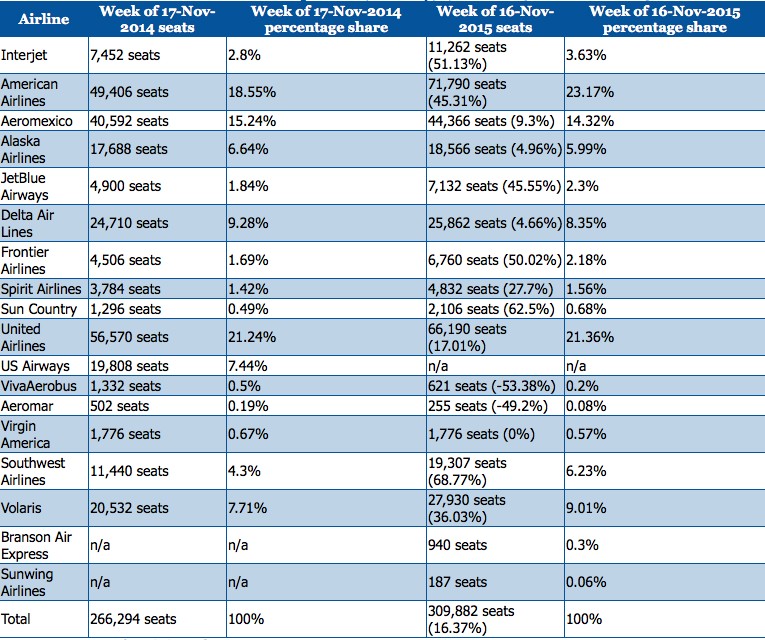 By investing in Aeromexico, Delta gains key access to the Mexican domestic market, while offering Aeromexico a certain level of stability through guaranteed feed for Aeromexico's domestic network. Delta can also lend some sophistication to Aeromexico in revenue management, as ties between the two airlines deepen.
Delta takes the long term view by deepening its relationship with Gol
Given Brazil's current economic conditions – a projected 3% contraction in GDP for 2015 – Delta is obviously taking the longer term view with its increased stake in Gol. But the same logic for Delta's increased stake in Aeromexico also applies to its growing ties with Gol: access to strategic global markets.

Brazil's economy may be abysmal for the short term, but the reality is that the country is Latin America's largest aviation market, with plenty of room for growth once the economy stabilises. In return for giving struggling Gol some financial support, Delta gains access to the vast domestic aviation market within the country.

Similarly to its presence in Mexico, Delta has trailed behind its rivals in serving Brazil. For the week of 16-Nov-2015 Delta holds a 12% seat share, compared with 37% for American and 15% for United. Despite Brazil's weakening economy, Delta is introducing new services to the country in 2015, with the launch of flights from Orlando International to Sao Paulo in Dec-2015. This is particularly interesting given that Orlando is not a hub for Delta, and pricing between the US and Brazil has dropped significantly. Gol recently cited fares falling from an average of USD950 in 2014 to USD350 in 2015.
Brazil to the United States: (seats per week, one way) 16-Nov-2015

See related report: Gol increases domestic competition with Azul as it navigates Brazil's ailing economy
Delta can provide key feed to Gol to help it weather the conditions in Brazil's domestic market. Delta's service also provides some added competition to Azul, which serves Orlando International from Campinas Viracopos (99km from Sao Paulo) and Belo Horizonte.

Delta has talked openly about forging a joint venture with Gol when a full open skies pact has taken effect between the US and Brazil. Gol has been less vocal about a tie up, but Delta will no doubt be relentless in its pursuit of anti-trust immunity with Gol, which would allow the airlines to coordinate schedules and pricing. That could actually benefit Gol as it weathers Brazil's recession, and it obviously provides Delta with a key presence in the country.

United is also working to bolster its position in Brazil after TAM's exit from the Star Alliance, and has pledged a USD100 million investment in Brazil's third largest airline Azul. There is also the possibility of a joint venture partnership between oneworld members American and TAM, but neither airline has publicly stated its intent to pursue that type of partnership.

The actions taken by both Delta and United show the importance of Brazil over the long term, and reflect each airline's desire to partner with the key players in the market.
Delta's JV with Virgin Atlantic remains in early days, but shows promising results
Delta has also used its acquisition strategy to bolster its position in the US-London market, an area where it has been virtually absent for the last three years. It spent USD360 million to acquire a 49% stake in Virgin Atlantic, secured three seats on the airline's board, and forged a joint venture with Virgin Atlantic.

Through that acquisition Delta has significantly expanded its presence in the key London Heathrow market. For the week of 16-Nov-2015 Delta and Virgin Atlantic held a 26% seat share between London Heathrow and the US, which still pales when held up to the 59% share on oneworld joint venture partners American and British Airways but without the tie up with Virgin Atlantic, Delta would hold just an 8% share.
London Heathrow Airport to United States of America: (seats per week, one way) 16-Nov-2015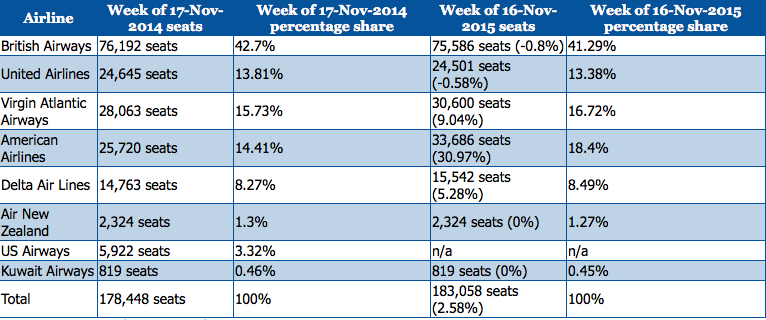 It is still early days in the joint venture, but the tie up is producing positive results. Delta has previously estimated the venture would produce a USD200 million benefit in 2015.

See related report: Virgin Atlantic and Delta Air Lines keep expanding their JV to provide blanket coverage
Delta spent a large amount to have less influence over China Eastern
Delta has less influence over China Eastern, yet spent USD450 million for a 3.55% stake in the airline and an observer's seat on the airline's board. The acquisition could potentially be setting the stage for a joint venture, if the US and China achieve an open skies agreement. Ironically, China is expected to be following with interest the request of Delta, American and United for the US government to seek consultation on open skies agreements with Qatar and UAE.
The big three US airlines argue the governments of those countries subsidise their airlines and distort competition, but as CAPA has recently highlighted: "Delta will need to reconcile its Gulf carrier subsidy accusations with the fact China Eastern openly states its subsidy amount and in 2014 was the most heavily subsidised Chinese airline."
In 2014 China Eastern received government subsidies and grants totalling USD489 million.
See related report: Delta Air Lines plans a China Eastern stake. Will other US airlines follow the foreign equity path?
Delta works to spread its sphere of influence with bigger stakes in Aeromexico and Gol
During the last three years Delta Air Lines has moved assertively either to increase its investments in, or take stakes in, airlines located in regions where it has historically lagged behind rivals.

Its airline investment portfolio now ensures that it has a solid position in most of those areas, and its recent decisions to increase stakes in Aeromexico and Gol show that Delta is working to broaden its position in two of Latin America's most important markets, and exert greater influence over two of the region's largest airlines.