HNA, of Hainan Airlines, takes 48% stake of France's Aigle Azur, giving backdoor European access
Analysis
Hainan Airlines and Hong Kong Airlines parent HNA Group, one of the largest privately-owned Chinese conglomerates, has taken a 48% stake in niche French airline Aigle Azur, adding to HNA's foreign aviation interests in a Turkish cargo carrier and Ghanian LCC.
While HNA's intent does not always have a clear focus, the acquisition of a stake in Aigle Azur, unofficially valued at USD40 million, has one of the clearest rationales. By having a French AOC, HNA can have Aigle open France-China services, which HNA is effectively blocked from doing owing to Chinese restrictions that limits the number of local carriers on intercontinental routes. Aigle Azur will acquire two A330s, likely from HNA, for Paris-Beijing and other services.
Paradoxically, the justification for HNA may be the clearest of its investments, but the profitability of the price-sensitive and competitive Europe-China market remains to be proven.
The two sides did not disclose a value for HNA's stake, but said HNA would be the second largest shareholder, able to appoint two of the five members of the committee that runs the airline, as well as appoint a vice president and a deputy chief financial officer. Reports of the deal first originated in late 2011.
Hainan Airlines as of 30-Jun-2012 is 41.60% owned by Grand China Air, the aviation arm of the HNA Group. Other notable investors include 10.46% from Haikou airport (which HNA Group owns), 7.21% directly from the HNA Group and 2.62% from American Aviation LDC, controlled by George Soros.
Aigle Azur is a niche carrier primarily serving Algeria
Aigle Azur is France's second oldest carrier, having been founded in 1946 by Sylvain Floirat. The carrier was sold in 2001 to the Go Fast group, which is primarily a French transport and tourism conglomerate.
The carrier, which ranks 190th largest in the world based on available seats, operates from a base at Paris Orly to limited European destinations (Portugal is most prominent) but with a heavy network into north Africa, much of it French-speaking and with historical ties to France. Most north African capacity is into Algeria, where Aigle Azur serves 11 points.
Aigle Azur destinations: 22-Oct-2012 to 28-Oct-2012
France
Africa
Europe
Bordeaux Airport, Lille Lesquin Airport, Lyon Saint-Exupéry Airport, Marseille Airport, Mulhouse/Basel EuroAirport French, Nice Cote D'Azur Airport, Paris Charles De Gaulle Airport,Paris Orly Field, Toulouse Blagnac Airport

Algiers Houari Boumediene Airport, Annaba Les Salines Airport, Bamako Airport, Batna Airport, Bejaia Airport, Biskra Airport, Chlef Abou Bakr Belkaid Airport, Constantine Ain El Bey Airport,

Djerba Zarsis Airport, Hassi Messaoud Oued Irara Airport, Oran Es Senia Airport, Setif Airport,Tlemcen Zenata Airport,Tunis Carthage Airport

Lisbon Lisboa Airport,Madeira Airport, Moscow Vnukovo Airport, Porto Airport
Aigle Azur's capacity into Algeria makes it the second largest carrier by far serving the country.
Algeria capacity (seats) by carrier: 22-Oct-2012 to 28-Oct-2012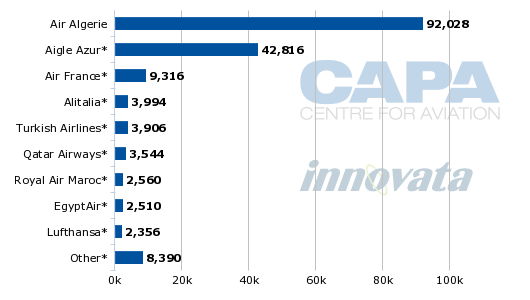 About 84% of Aigle Azur's seat capacity is deployed to north Africa, 13% across Europe and 3% to Eastern Europe. It currently does not operate any domestic services, according to Innovata.
Aigle Azur international capacity (seats) by region: 22-Oct-2012 to 28-Oct-2012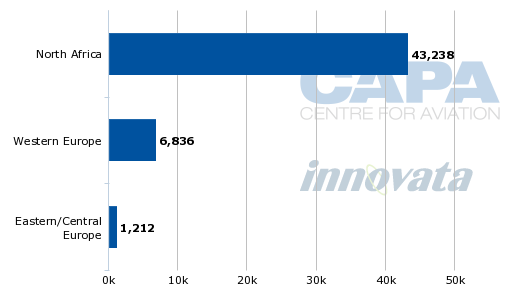 Aigle Azur operates an all Airbus narrowbody fleet with about 12 A319s, A320s and A321s.
Aigle Azur route map: Sep-2012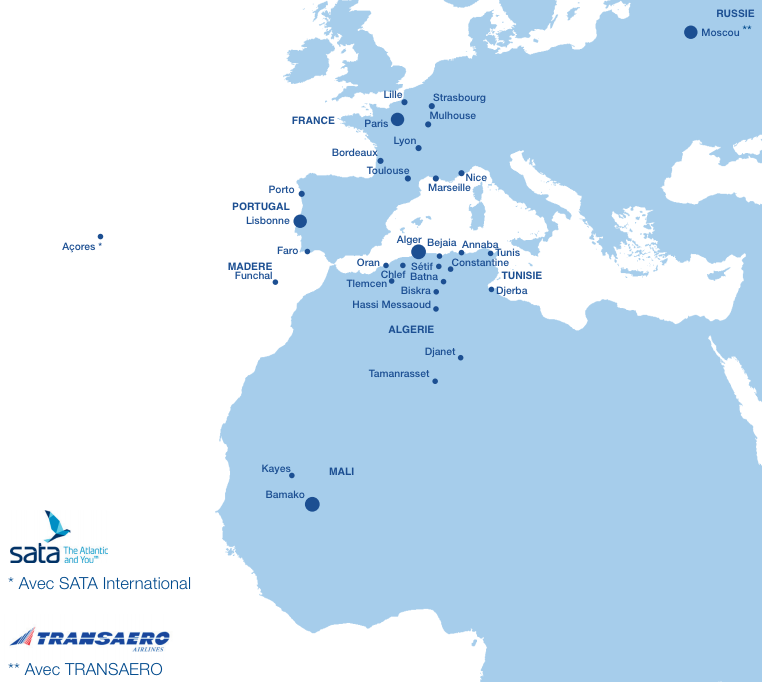 While European and north African feed may be welcome to Hainan Airlines, the value in Aigle Azur is squarely in its French AOC. Although operational specifics remain to be defined, HNA's stake in Aigle Azur will be followed with Aigle Azur acquiring A330s, likely via the HNA Group, and opening Paris-Beijing links, the first long-haul flight for Aigle Azur. The furthest Aigle's scheduled network currently extends to is Mali's Bamako, served from Paris Orly (4,125km). A statement says the two aircraft, officially described only as widebodies but understood to be A330s, will also be used on other undisclosed international routes to unspecified regions.
The Beijing-Paris route will enable Hainan Airlines, the largest and only long-haul carrier of the HNA Group, to overcome Chinese route restrictions. China effectively operates under a one airline, one route policy in which its carriers are not permitted to compete on long-haul routes.
There are exceptions for flag carrier and government-preferred Air China, which operates from Shanghai to Frankfurt, Milan, Paris and Sydney. Shanghai is the base of China Eastern, which serves from Shanghai those routes (except Milan) but has not been able to operate long-haul routes from Beijing alongside Air China.
Additionally, China Southern has faced a quandary over where to deploy its A380s. Its home of Guangzhou offers few viable high-volume routes, making the carrier want to access routes from Beijing that are already served by Air China.
Negotiations with regulators were extensive; China Southern's first A380 was delivered in Oct-2011 but the A380's first long-haul route (Guangzhou-Los Angeles) was not announced until Jul-2012. China Southern's Beijing-Paris application (a duopoly route served by Air China and Air France) was so contentious it was eventually elevated to the National Development and Reform Commission, the Chinese government agency that effectively plans the country's economy. The upshot was an announcement in Aug-2012 that China Southern's A380 would fly between Beijing and Paris in cooperation with Air China, but the details – a codeshare, joint-venture, wet lease – have not yet been finalised.
See related article: China Southern to finally commence long-haul A380 services, but operation still faces challenges
Paris Charles De Gaulle to Beijing Capital capacity by carrier (seats per week, one way): 19-Sep-2011 to 14-Apr-2013
With these carriers being state-owned, privately-owned Hainan would face taller barriers. Chinese carriers serve Paris from China's main hubs of Beijing, Guangzhou and Shanghai. That would leave Hainan to either operate to Paris from a secondary and less viable city (its home of Haikou on Hainan island is its fourth-largest base), or fly from its primary hub in Beijing to a secondary French city like Lyon or Marseille.
Hainan's existing long-haul network is mainly to secondary cities like Berlin and Seattle. Its first blue-chip route, Beijing-Chicago to be opened in 2013, is possible because Air China does not serve the route.
See related article: Hainan Airlines to enter under-served Beijing-Chicago market with 787 service
The majority of Hainan's capacity by far is at Beijing Capital.
Hainan Airlines top 10 hubs/bases/stations by capacity (seats): 22-Oct-2012 to 28-Oct-2012
A seemingly awkward match, but one that could work
HNA has deep pockets, so spending USD40 million to effectively buy a route to Paris may not be that outlandish to the group. The financials of privately-owned Aigle Azur are not consistently available, but a statement says the carrier in the year to 31-Mar-2010 posted a net profit over EUR10 million on the back of EUR287 million in revenue, giving the carrier a net margin of at least 3.5%, which is not too shabby considering the financial straits the industry was in during 2009.
HNA in the long-term may very well recoup its investment, via Aigle's profits as well as traffic that potentially enters its Asian network from Aigle's European-originating flights. As for Europe's smaller carriers, there are more sellers than buyers. Aigle's Go Fast owners may be comforted knowing that HNA's investment is centred on east-west links, effectively meaning Aigle can continue its traditional business as long as it provides Chinese services.
The two companies said in a statement Aigle Azur will continues its north and west African expansion "and other places throughout Africa". While HNA may be targeting greater Africa-Asia links, routings via Europe are circuitous. Ethiopian Airlines and Kenya Airways are building extensive Africa-Asia links, and Chinese carriers are increasingly turning their focus to Africa too. Air China and China Southern have been evaluating launching scheduled services to Africa while China Eastern may access the continent via Abu Dhabi with new partner Etihad Airways.
There is the risk of future clash. Algeria's aviation market is protected, which has benefitted national carrier Air Algérie (and Aigle Azur), but sentiment is changing. In an unusual occurrence for the industry, protests, albeit small, were held in London and Paris in Sep-2012 calling for liberalisation (posters demanded "open sky") to pave the way for a local LCC, a process neighbouring Morocco has done with tremendous success for the overall market; it signed open skies agreement with Europe which led to UAE-based Air Arabia establishing a JV in Morocco, Air Arabia Maroc
Liberalisation or greater foreign LCC entry in Algeria could quickly see Aigle Azur's routes, which comprise the bulk of its network, become unprofitable. HNA is a young carrier with growing experience, but not in LCCs.
See related article: Europe's LCCs are making a first entry in Algeria
Other clashes could be if HNA wants more European feed, a short-haul experience that is generally proving unprofitable for all but LCCs. HNA will of course, owing to European foreign investment restrictions, only own a minority of the French carrier.
While China Southern may be the most high-profile with its international ambitions, China Eastern is less bullish and reckons the Asia-Europe market is over-competitive as it is (it does, however, speak from the viewpoint of having few long-haul aircraft available). These opposing viewpoints, when one comes to fruition, will have an impact on HNA's Aigle partnership.
HNA has set its interest on the economically growing continents of Africa and Latin America, and Aigle's heavy exposure to north Africa does let HNA plant its flag there, but to what purpose remains unseen, as does HNA's investment in Ghanian LCC Africa World. If Africa World launches services to Mali, there could be connectivity between HNA's foreign investments, but this would be minor.
China's private carriers are pursuing circuitous relationships for international routes
HNA may become the first privately-owned Chinese carrier to forge an arrangement to work around China's one route, one airline policy, but it is not alone. Spring Airlines, China's only LCC and which is also privately-owned, intends to launch a Japanese subsidiary in 2013 that while giving access to the domestic Japanese market and services around Asia, will enable it to serve more city-pairs than what its Chinese AOC will allow.
See related article: Spring Airlines embarks on pan-Asian strategy with establishment of Japanese subsidiary
This flavouring of joint ventures to allow greater access to a carrier's home market is substantially different from the JVs formed by the likes of AirAsia, Jetstar and Tiger that see pan-regional networks in the absence of an EU-style open network. The greatest uncertainty is how China's regulators will view these carriers effectively operating to circumnavigate Chinese policy, even if the carriers wish to operate between markets where traffic rights are available. China revising its international route policy seems inevitable, potentially making these type of investments expensive in the long-term unless the route policy remains in place for a significant period of time, or the exceptionally opaque HNA Group finds other value.