HNA/Hainan Airlines buys 6.2% of South Africa's Comair, accelerating China-Africa aviation links
Analysis
China's expansive HNA Group, including flagship carrier Hainan Airlines, is continuing its international acquisition strategy with a USD13 million investment for a 6.2% stake in South Africa's Comair, which operates a full-service brand under a British Airways franchise and a low-cost carrier, Kulula. Uniquely to recent airline acquisitions, Comair is well-run and profitable. The purchase has been made for less than half the cost of a narrowbody jet, making it perhaps relatively inexpensive.
The synergies between the parties are unclear. Comair does not fly outside of southern Africa while HNA no longer flies to Africa – and if it did, it probably would not need an investment stake to work with Comair, which is generally open to partnerships. HNA is an investor in Ghana's Africa World Airlines, but there are no network links (yet) between that airline and Comair.
The investment comes after HNA and Air China are understood to have looked at investing in South African Airways, although this was too politically difficult. Africa is a new theme for Chinese aviation, with growing air routes, airport infrastructure projects and placement of Chinese aircraft to African airlines and governments.
HNA investment in Comair another step in HNA's offshore excursions
HNA Group One BV, a Dutch company wholly-owned by China's HNA International, acquired 6.2% of South Africa's Comair, which operates as British Airways under a franchise agreement. HNA paid ZAR160 million (USD13 million) for the stake. The transaction occurred on 22-May-2015 and was announced on the Johannesburg Stock Exchange, where Comair is listed, on 26-May-2015.
HNA bought its shares from investment group Thelo Aviation, which has now fully disposed of its interest. Thelo bought into Comair in 2006 with a 16.1% stake valued then at ZAR137 million (USD21 million at the time). Thelo has reportedly made a ZAR160 million (USD13 million) profit on the deal.
Comair was the first investment for Thelo. Thelo and Comair anticipated that Thelo's ties could help Comair buy SA Express from the South African government, and to secure more of the South African government's travel budget. SA Express remains owned by the South African government. Thelo stated it would be a hands-on investor and was looking at long-term deals. "We have taken a view that we are going to be long-term shareholders and that we want to involve ourselves in the businesses which we invest in. We don't really want to be passive shareholders," Thelo part-owner Craig Lyons said at the time of the deal.
Locally in South Africa the deal has made some headlines in light of the government's recent changing policy on Black Economic Empowerment (BEE), which awards points to companies for their involvement with previously disadvantage races, notably blacks. Thelo selling its stake has not only left Comair without a BEE partner but introduced capital from HNA. Various African nations are growing wary of China's influence on the continent. Comair CEO Erik Venter told the Sunday Times the airline would not look for a BEE shareholder.
Ronnie Ntuli owns 87% of Thelo and is the deputy chairman of Comair. He told the Sunday Times of the deal: "There was a commercial offer [from HNA] which we negotiated and accepted. That's really it."
The British Airways (UK)-Comair arrangement is a franchise deal, although IAG (the parent owner of BA) had a 12.26% stake in Comair in IAG's fiscal 2014. The HNA-Comair deal does not immediately give HNA a direct partnership with British Airways. BA would certainly be familiar with HNA based on its experience in China. The HNA-Comair deal could make BA more familiar with HNA, but in terms of a partnership between BA and HNA, it seems BA is looking to work more closely with China Eastern.
Immediate links between HNA and Comair are unclear
Mr Venter told the Sunday Times that Comair would look to explore potential synergies with HNA. The immediate benefits are unclear.
Comair comprises the full-service British Airways and low-cost Kulula brands. They mostly operate in southern Africa's regional network. In the company's fiscal 2014 it carried 5.2 million passengers, comprising 1.7 million domestic British Airways passengers, 3.1m domestic Kulula passengers and 290,000 regional Africa British Airways passengers, according to its annual report.
Kulula only flies domestically while the British Airways brand flies mostly around southern Africa; it does not serve points outside of Africa, including any flights to China. HNA's flagship carrier, Hainan Airlines, is the only HNA carrier to serve intercontinental markets. It does not fly to Africa.
British Airways (Comair) network: FY2014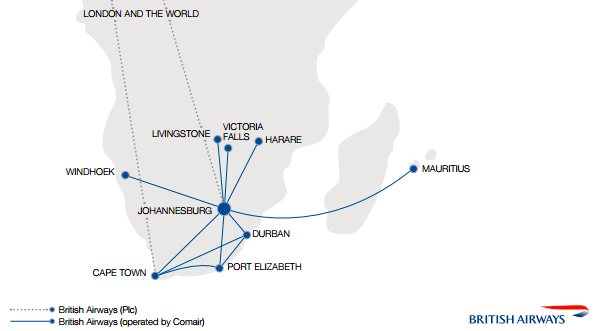 Kulula network: FY2014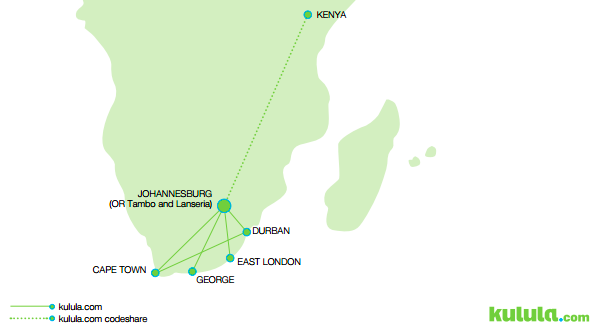 Africa was part of Hainan's reported "wishlist" for new routes in 2015. Hainan reportedly proposed a Beijing-Guangzhou-Nairobi service. However, it is not clear how serious this plan was or whether Hainan was looking to upstage China Southern, which had been planning East African routes from its Guangzhou hub. China Southern plans to launch a Guangzhou-Nairobi service.
See related report: Hainan Airlines eyes ambitious 2015 with wishlist for nine new long-haul routes
Hainan Airlines has previously served Africa, with very limited service to Cairo in 2010 and 2011 (14 and 25 flights for each year, respectively). Khartoum was opened in 2009 and served until 2011; service peaked in 2010 with 95 flights during the year. The longest and biggest service was to Luanda, served via Dubai and later via Abu Dhabi. Service opened in 2007 and ran through 2013.
At its peak Hainan offered 141 flights during 2010. There have been no Hainan flights to Africa since 2013. Luanda has accounted for most of Hainan's Africa network.
Hainan Airlines total Africa network and Beijing-Abu Dhabi/Dubai-Luanda service measured by seats: 2007-2013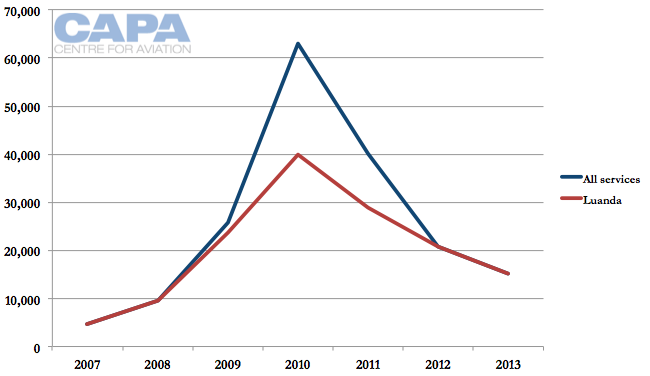 Hainan Airlines total Africa network and Beijing-Abu Dhabi/Dubai-Luanda service measured by frequency: 2007-2013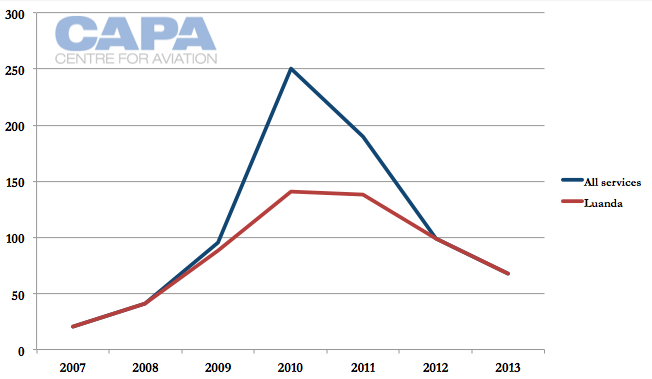 With China Southern launching Guangzhou-Nairobi and Air China Beijing-Johannesburg, Hainan is effectively blocked from obvious China-Africa routes due to China's one airline, one route policy.
Hainan has faced this challenge before with Beijing-Paris, served by Air China. Hainan attempted to get around this by placing a minority investment in France's regional carrier Aigle Azur. Aigle Azur was to receive A330s from Hainan and open Beijing-Paris services, which ultimately could not secure Russian overflight rights.
Could Hainan seek to replicate that strategy and have Comair fly to China? The prospects of that are highly unlikely; any China-Africa route would be challenged to achieve profitability, unlike Beijing-Paris, which is very lucrative. Hainan also has a much smaller stake in Comair than it does in Aigle Azur.
China-Africa aviation links are increasing
HNA's investment comes as the Chinese government is directing policy towards the resource rich African continent, including in the aviation sector. Chinese airlines are turning their attention – at Beijing's directive – to Africa. Air China will open two routes (Beijing-Addis Ababa/Johannesburg), its first in Africa, making it one of the few carriers to serve all inhabited continents. China Southern is opening service to Nairobi. "China Southern Airlines has the responsibility and obligation to fly to the African continent," China Southern SVP sales Li Dongliang told China Daily. The flights broadly fall under China's 21st Century Maritime Silk Road.
Chinese infrastructure investment in Africa has mainly been on roads and railways but is turning to airports, with Chinese companies having constructed airports in countries including Kenya, Mali, Mauritius, Mozambique, Nigeria, the Republic of Congo and Togo.
Chinese Premier Li Keqiang in a speech in Addis Ababa in May-2014 said: "China proposes a China-Africa Regional Aviation Cooperation Plan, under which we will encourage Chinese enterprises to set up aviation joint ventures with African counterparts to provide civilian regional jets and jointly develop regional aviation in Africa."
There are efforts to sell Chinese-built aircraft (MA-60 and Y-12) to African airlines, with aircraft manufacturer AVIC stating in Dec-2014 that 400 of its aircraft can be found in 10 African countries at commercial and government customers.
See related reports:
HNA's investment portfolio is wide, and maybe could do with focus
Comair as a company is well run, growing and profitable – the latter factor unique amongst many recent airline investments. But airlines seldom make investments to (possibly) get a financial return. There are broader interests, often around synergies and partnerships. Comair partners with a number of airlines and an equity stake would probably be unlikely if Hainan were to serve Africa and seek links between common Comair/Hainan ports.
HNA is an investor in Ghana's Africa World Airlines, but there are no immediate links between that small regional operation and the Comair network concentrated around southern Africa.
Both HNA and Air China are understood to have been looking at an equity investment in South African Airways as part of its restructuring, but this was not possible politically. Sometimes airlines preemptively make defensive moves with regards to equity investments, but such logic to invest in Comair would require long-term confidence in possible synergies. However, only a 6.2% stake does not preclude another investor from making a move. Equity investments can also be driven by a state seeking a suitor for its ailing carrier, but this is not the case, as Comair is owned independently of South Africa and not in need of a golden knight.
Comair annual revenue (ZAR): 2009-2014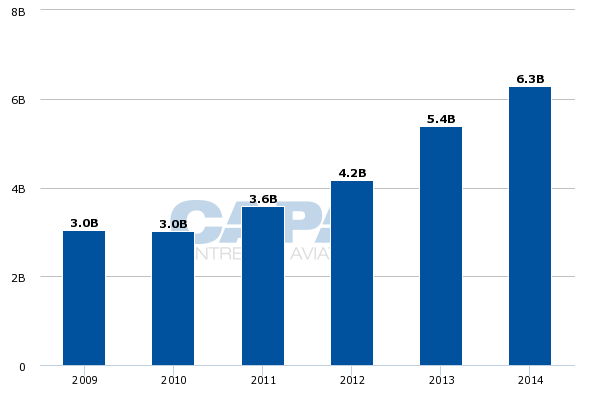 Comair annual profit before tax (ZAR): 2009-2014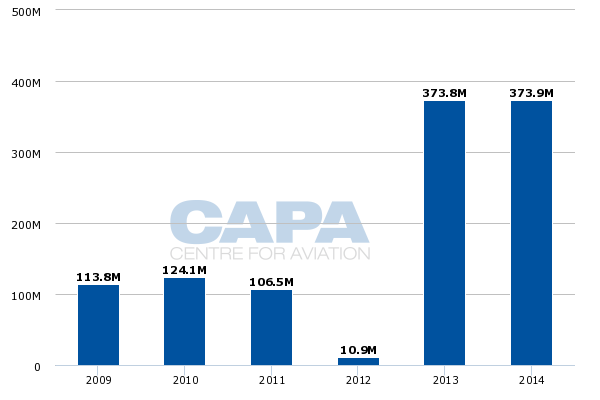 HNA has global ambitions and is eager to expand its footprint, but its international acquisition strategy is relatively young and some initiatives have not turned out as expected. Its purchase of Aigle Azur in France has not yet resulted in the expected synergies, while Africa World Airlines in Ghana does not appear core to HNA's business. HNA over the years has proposed investments in Zest Air, a Filipino LCC, and Skymark in Japan. It also applied to launch a new airline in Saudi Arabia as part of that country's reforms. HNA recently denied it was interested in a stake in Pakistan International Airlines.
See related report: HNA, of Hainan Airlines, takes 48% stake of France's Aigle Azur, giving backdoor European access

The investment in Comair is of a small minority, unlike in Aigle Azur or Hong Kong Airlines. USD13 million is less than half the cost of a new narrowbody jet, which HNA's various airlines are adding at a quick pace. This is perhaps an initial tester to feel the waters prior to making a further investment.
The growth of the Chinese market dictates there will be massive changes over time, with some occurring in the short term. HNA's Comair stake could become a valuable strategic move – or not.
Outlook: Chinese investments will continue, pressuring protectionist regulators
No country has financial stakes in more foreign airlines than China. With a financial interest inevitably comes a desire to exercise control, pushing the regulatory framework. As CAPA previously wrote:
The current regulatory regime developed largely without China's influence. The bilateral and national aviation structure was very much a fait accompli as China arrived on the international scene. The protections built into the bilateral system have until now served China reasonably well, but as its influence in the world framework increases it is going to want to introduce new directions, ones which suit its interests more effectively than today's regime.

Now is a very different era from the faltering early days of the industry, when the current regime was established. Safety and technical constraints, protection of flag carriers, and a small elite of developed nations defined the way the industry would work. National airline interests prevailed over all other. Core to the regulatory controls are the aged provisions on ownership and control, the very factors which restrict investment in foreign airlines.

Where the priority instead becomes using aviation as an instrument of trade, the perspective necessarily shifts. Flavoured with this influence, Chinese investments are today often being made with heavy regulatory support helping ease possible resistance, which China is sensitive about. But as China seeks a larger role and inevitably turns to larger foreign acquisitions - as it surely will - the actions will become far more influential. In the process they will also become more controversial.

There will also be opportunities to reshape aviation, just as Etihad's investments are doing. For now, the number of Chinese investments and the quality of those investments is variable. The same is true of Etihad's and even Lufthansa's initiatives. The challenge is that as China's opportunity for new directions increases, so too does the potential to stir sensitivities. But there are elements of modern thinking in wanting to engage in cross border ownership that are also attractive to other countries.
See related report: China launches airlines in Cambodia and Nepal, as it progressively shifts the regulatory balance
The South African government on one hand is overly influential (interfering) on South African Airways, usually to the airline's detriment. On the other hand, the government with time will surely be tested by HNA's investment in Comair, even if small.
What is certain in this transaction is that HNA believes in growth at Comair and has put down its money to back it. South Africa should welcome a party looking to make an economic contribution, of which airlines have a great impact. But South Africa's always-political overtones in anything aviation will probably continue to divert logic and sound policy.