Air China's entry into Addis Ababa and Johannesburg would further China's objectives in Africa
Analysis
China's aviation authorities have long pressured its airlines to serve Africa, where China has growing commercial and government ties with many resource-rich countries across various regions. African airlines, especially Ethiopian Airlines, have been growing in China and the government is eager to see its own airlines represented there. However, there have been limited African routes operated by Chinese airlines: Hainan Airlines has withdrawn from Luanda while China Southern is serving Mauritius to carry Chinese tourists on holiday.
Air China, as the flag carrier, may be pressured finally into entering Africa as it, according to a Chinese report, is considering service in 2015 to Addis Ababa and Johannesburg. Air China would presumably need to work with Star Alliance partners Ethiopian Airlines and South African Airways on such a service. Ethiopian has been receptive to partnerships while SAA desperately needs a solution to its Beijing route that is heavily loss-making but which the South African government wants maintained. Air China's possible entry comes as Asian airlines are declining in Africa; but both possible routes would be commercially difficult for Air China.
See related report: Air China looks for new long-haul markets after securing stronghold in Europe and the United States
China has a growing role in Africa but commercial aviation achievement will be difficult
China has influence across Africa's many and varied regions. China is taking an active role in investment (it is the largest trading partner to South Africa, amongst other countries) while the number of Chinese workers in Africa is growing, and China is even looking to sell its local aircraft to African nations.
Chinese Premier Li Keqiang in May-2014 proposed cooperation between China and Africa, which as envisioned would see African airlines use Chinese aircraft and for Chinese companies to invest in African airlines, as the HNA Group has done in Ghana-based Africa World Airlines. There are an unverified 400 Chinese built AVIC aircraft in China, and China has sold its latest aircraft, the ARJ21, to Congo.
With this background, China has been pushing its airlines to serve Africa. Hainan in the past has had service to Luanda and more limited service to Cairo and Khartoum. In late 2013 Hainan Airlines disclosed plans to launch Beijing-Dar es Salaam and China Southern Guangzhou-Entebbe, but neither service has eventuated. China Southern is serving Africa, but with charters to Mauritius carrying Chinese tourists on holiday. The CAAC tied Hainan's New York route approval to also serving an African route, but Hainan has launched neither route.
Air China could begin Beijing-Johannesburg service in in Jun-2015 with three weekly 777-300ER flights, and Beijing-Addis Ababa in Oct-2015 with three weekly A330 flights, according to unconfirmed Chinese reports.
South African Airways and Air China met in Dec-2014 and established a working group to strengthen relations. SAA said in a statement: "The key element in this strengthened relationship will be some network reconfiguration for both airlines"; the stated goal was "to provide better passenger and cargo services between South Africa and China and countries adjacent to both."
Although the statement does not explicitly say Air China would serve Johannesburg, that can be inferred, and at the very least is likely to be one of Beijing's wishes. SAA has three weekly flights between Johannesburg and Beijing. They could combine their service for six weekly flights, but this would likely be too much capacity, even if Air China looked for connecting Japan and Korea traffic.
Even if the service does not eventuate in Jun-2015, it could at a later date. The service would be more politically-oriented than commercially. The 15 hour flight time is costly and premium yields are weak (Air China's 777-300ER has large premium cabins). Connections from Johannesburg are limited to nearby countries as otherwise they become circuitous. While commercial and especially government traffic would originate out of Beijing, connections are difficult on the Chinese side as well since Beijing is in the northeast, requiring passengers from most other Chinese cities to backtrack to Beijing, weakening yields.
The possible Addis Ababa service carries less risk. The flight time is shorter, meaning aircraft can be smaller and premium cabins not as big. Connections on Ethiopian Airlines would open more direct city-pairs. Ethiopian is also more stable than SAA in general and on Chinese routes. Air China would not need to help underpin Ethiopian's already commercial operation, whereas it would be expected to support SAA's weak position on the Johannesburg-Beijing service. Perhaps more importantly for Beijing, the route would not bring the political achievement that Johannesburg would.
Beijing concerned about Chinese growth of African carriers, especially Ethiopian Airlines
Also underlying the entrance of Chinese airlines into Africa is China's aim for its airlines to fly alongside foreign airlines in order to have some balance on international routes. The CAAC can effectively direct Chinese airlines where to go. Beijing has watched African powerhouse Ethiopian Airlines grow in Africa with publicised comments to grow further in China.
See related report: Ethiopian Airlines to continue Asia expansion with Singapore non-stops, giving Changi a needed boost
Ethiopian is the largest African airline in China. In 2015 its Chinese destinations include Beijing, Guangzhou and Shanghai Pudong. Ethiopian had served Hangzhou, near Shanghai, but dropped the service around the time Shanghai was launched.
Annual Africa-China capacity of major African carriers (EgyptAir, Ethiopian Airlines, Kenya Airways and South African Airways ): 2005-2015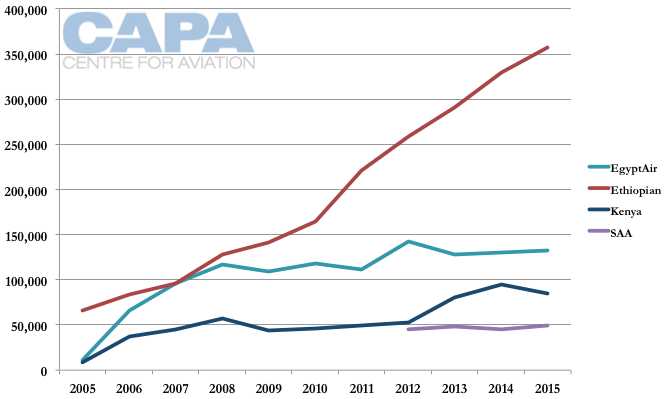 Ethiopian Airlines CEO Tewolde GebreMariam at CAPA's Nov-2013 Amsterdam World Summit called Addis Ababa "the political capital of Africa" as it is the home of the African Union. Mr GebreMariam said his hub could be the gateway to Africa for Chinese passengers, calling Addis Ababa a "stepping stone for Chinese carriers" into the continent. He explained he wanted to develop partnerships with Chinese airlines, which would be equally beneficial, especially since China seeks reciprocity. As CAPA previously wrote:
The next stage in Ethiopian Airlines' approach to China is to develop its links with Chinese carriers. Ethiopian has codeshare agreements with Air China and Shenzhen Airlines, but Mr GebreMariam said that, until now, Chinese carriers have been "preoccupied with the domestic market".

Developing partnerships with Chinese airlines is not easy, according to Mr GebreMariam: "There is the language barrier and they are more interested in their domestic market", than in forging new partnerships. Moreover, in terms of traffic rights, their focus is on third and fourth freedom rights and so the focus of his discussions with Chinese partners is on hub to hub connections.

Nevertheless, the Chinese carriers are now coming under pressure from the Chinese government to develop internationally. "They will come to Africa, but not everywhere, so they need a hub". In addition to Ethiopian's main hub in Addis Ababa, he plans additional hubs in west Africa (Togo), southern Africa (Malawi) and central Africa (Democratic Republic of Congo is reported to be under consideration). This will enable Ethiopian to offer its partners a significant codeshare network across the continent.

Mr GebreMariam said he hopes that this will lead to greater opportunities for his airline in China: "The Chinese strongly believe in reciprocity. We have to think of providing them with the platform when they are ready to fly to Africa."
See related report: China air travel: airline CEOs jump on the express train about to steam through world aviation
Kenya Airways has missed targets for large expansion in China
Kenya Airways is a smaller player in Asia and China. In China Kenya Airways only serves Guangzhou (in 2015 via Bangkok but in the past non-stop and via Dubai). Kenya Airways had planned to serve Beijing and Shanghai by the end of 2014 but these routes have not materialised.
In Nov-2013 Kenya Airways upgraded capacity to Guangzhou by transitioning three of its Guangzhou frequencies to non-stop using the 397-seat 777-300ER. The carrier took delivery in Oct-2013 of its first of at least three 777-300ERs. At the time the type was only used on the Nairobi-Guangzhou non-stop route. Kenya Airways planned to transition the remaining four weekly one-stop Guangzhou flights via Bangkok to non-stop after receiving the two additional 777-300ERs. However, the four weekly flights via Bangkok have remained but switched to 787-8 service. The non-stop 777-300ER flights have also moved to the 787-8.
Shifting the Bangkok-Guangzhou service to non-stop was to be followed with opening Bangkok-Shanghai by the end of 2014 with either 777-300ERs or 787-8s. The Shanghai route has not been opened, and nor has Beijing, which was to be launched in Sep-2014 with 787-8. In Mar-2014 Kenya Airways secured a late evening slot pair at Beijing but was working with Chinese authorities to secure a slot pair at Shanghai Pudong.
Kenya was more restricted at Shanghai as it needed to turn around at Pudong at roughly 20.00 to 21.00 hrs in order to maintain its current Bangkok schedule. Pudong slots are generally only available during late night hours.
As CAPA previously wrote:
Guangzhou – which is also served by Ethiopian, EgyptAir and Air Madagascar (the latter via Bangkok) – is a large trading hub with a good mix of Africa and China origin traffic. It is also a hub for SkyTeam member and Kenya Airways codeshare partner China Southern. But Kenya Airways is keen to grow its online mainland Chinese network to include Beijing and Shanghai, which have higher volumes of passengers heading to Africa and generally better yield.

The Beijing-Africa and Shanghai-Africa market predominantly consist of Chinese originating passengers. Ethiopian, SAA, Air Algerie, AirMauritius, EgyptAir and Angola's TAAG currently serve Beijing.

Air Mauritius is currently the only African carrier serving Shanghai non-stop (Air Seychelles, with Etihad, has a one-stop) but Ethiopian plans to launch service to Shanghai on 29-Mar-2014, with a daily non-stop flight from Addis Ababa using 787-8s.

Ethiopian already serves Hangzhou, which is only about 160km from Shanghai, via Delhi. Ethiopian is the only African carrier serving Hangzhou or any secondary Chinese destination.

"Guangzhou is a trading hub but the most important traffic is coming from Shanghai and Beijing," Mr Ngunze [Kenya COO] says. "There's a lot of trade which is growing; there's also a lot of labour traffic into Africa and there's tourism which will grow. We have got to be able to position ourselves to sell that."
See related report: Kenya Airways to focus on Asia, with new Beijing and Shanghai routes, as 787s and more 777s arrive
A 2012 masterplan called for Kenya to launch three weekly Beijing services with the 777-200LR in 2014/2015, followed by three weekly Shanghai 787 services in 2015/2016, three weekly Chengdu 787 services in 2016/2017, three weekly Chongqing 787 services in 2017/2018, three weekly Xiamen 787 services in 2018/2019, three weekly Kunming 787 services in 2019/2010 and finally three weekly Urumqi 787 services in 2020/2021. Given the delay in Beijing and Shanghai, and general difficulties in secondary Chinese cities, the rest of Kenya Airways' Chinese expansion – which was always optimistic – is clearly too much.
South African Airways' sole Chinese service is a flight to Beijing, which has been a struggle for the carrier. As CAPA previously wrote:
Beijing has particularly proven to be an unviable route since it was launched as a thrice weekly service in Jan-2012. SAA says the route has been losing over ZAR300 million (USD28 million) per year. As the South African government was not willing to accept cutting the route because the link to China is seen as economically and politically critical, SAA has begun implementing initiatives aimed at reducing the losses.

At the beginning of May-2014 SAA retimed its Johannesburg-Beijing flights to arrive in the late afternoon (about 17:00) rather than in the evening. The carrier also added a fourth weekly frequency. SAA's ability to secure peak hour landing slots at Beijing, which is a major accomplishment for any carrier, allows for a wider range of domestic connections.

SAA is now also discussing an expanded codeshare partnership with Air China. The two airlines have been codesharing on Johannesburg-Beijing and Beijing-Shanghai since one month after SAA entered the mainland China market. SAA is interested in adding more domestic routes to the codeshare, particularly as its new earlier arrival time at Beijing enables more connections.

SAA CEO Monwabisi Kalawe is optimistic a combination of a stronger partnership with Air China, the retiming of the flights and the introduction of the fourth frequency will reduce the losses on Johannesburg-Beijing. But he believes the route can only break even with new-generation aircraft and if it is supported by a partner carrier from the Middle East.

"The big lever is to engage with some of our codeshare partners to see if we can maybe stop over in their hub and take additional traffic to Beijing," Mr Kalawe told CAPA on the sidelines of the 3-Jun-2014 IATA annual general meeting in Doha. "We've got two partners in the Middle East. We would come to the Middle East with our equipment and we would pick up additional traffic to take to Beijing."
See related report: South African Airways seeks UAE stop on Beijing & Mumbai with support from Emirates or Etihad
South African Airways has formed a partnership with Etihad Airways but has not yet changed its Johannesburg-Beijing service. SAA would likely be unable to partner with both Etihad and Air China. Air China brings commercial opportunities, but also poses a concern a SAA would be unlikely to maintain the Beijing service without any help from Air China.
As Beijing is a political route for the South African government, the government may elect to pursue a political partnership, which Air China would deliver.
EgyptAir has reduced Asian capacity but kept China
EgyptAir has non-stop service from Cairo to Beijing and Guangzhou. EgyptAir has made many changes to its Asian network, but China has been left intact. As CAPA previously wrote:
Guangzhou and Beijing, which are served non-stop from Cairo with five and three weekly frequencies respectively, are performing relatively better than the Southeast Asian network. EgyptAir has benefitted from increasing demand in the China-Africa market, particularly as it has added connections within Africa.
See related report: EgyptAir plans further restructuring as losses mount. But outlook may brighten as Egypt stabilises
Asian airlines have been decreasing their capacity to Africa. MAS has pulled out, Thai's future uncertain
Air China's eventual entrance in Africa comes as fellow Asian airlines have been reducing or exiting the African market. Malaysia Airline withdrew from Kuala Lumpur-Johannesburg, its sole route, in 2012. Thai Airways was to suspend its sole African service, Bangkok-Johannesburg, in Jan-2015 but will resume service in Mar-2015. A rational approach would be to keep the route suspended. Singapore Airlines has decreased capacity as it made changes, including withdrawing from non-stop Singapore-Cairo services.
Hainan Airlines briefly served Cairo and Khartoum and had a longer, but still brief, stint in Luanda, which Hainan exited in 2013. Korean Air has served Cairo on and off (last service was in 2013) while Nairobi has been offered since 2012, however this route is understood to be significantly loss-making as passenger traffic is mostly leisure travellers.
Only Cathay Pacific has grown recently in Africa, although its 2015 capacity is expected to be around 2009 levels. Air China's entry into Johannesburg could result in Air China poaching Cathay's connecting traffic sources around China but also Japan and Korea. However, due to itd northerly base, Air China would be unable to tap the more southern markets that other Asian airlines have for their Johannesburg service.
Cathay may be forced to reduce service, which is daily with 777-300ERs. Until A350s arrive, the 777-300ER is the smallest aircraft in Cathay's fleet with the performance to allow it to operate to Johannesburg.
Scheduled Northeast and Southeast Asian service to Africa: 2005-2015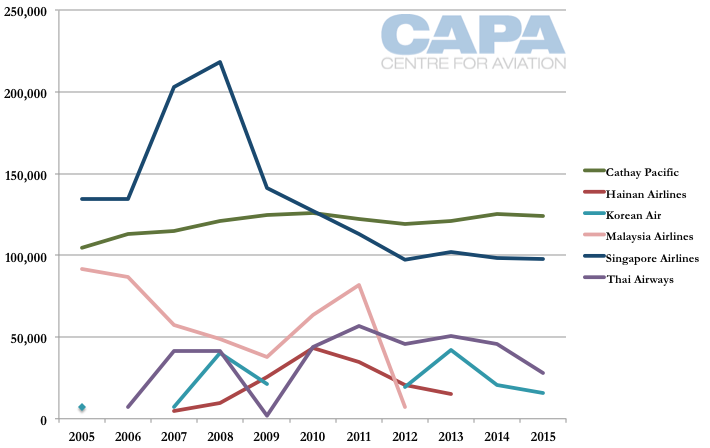 Aside from Ethiopian, Kenya and SAA, African airlines have a patchy history in Asia. Some like Afriqiyah and Air Zimbabwe have exited while others serve Asia for a specific purpose: Air Mauritius for holiday traffic with little traffic flowing onto continental Africa while TAAG flies Angola-Beijing for political reasons, not an uncommon occurrence. Air Madagascar serves Guangzhou, a popular post for African traders. EgyptAir has made numerous adjustments to its Asian network. Cairo-Beijing service remains with 42,000 annual seats in 2015, down from a peak of 50,000 in 2010.
African service would give Air China presence on every inhabited continent – at a cost
A service to Africa would give Air China the title of being one of the few airlines in the world to serve every inhabited continent. Air China would also be the only Chinese airline to do so: of the major carriers, China Southern does not serve South America while China Eastern does not serve Africa or South America. Air China serves Sao Paulo via Madrid, likely another political-led route challenged commercially.
Africa is important to China, whose influence and relations pervades many areas of the huge continent. However, the Africa-China market is fragmented, leading to a preference to use hubs, such as Addis. But even then the market is low-yielding. It is little wonder Gulf carriers have done well in the Africa-China (and larger Africa-Asia) market. China Eastern has toyed with partnering with Etihad to access Africa, but this is a low priority.
So Air China faces some difficult commercial decisions, at a time when other pressures are forcing it to improve efficiency. The benefits of being a favoured flag carrier can also come with a price.