China's secondary airlines plan long haul growth. 10 airlines to have widebody aircraft. Part 1
Analysis
Chinese airlines have finally kick-started international growth, expanding 37% in the first eight months of 2015. This equates to an additional 7.38 million passengers in 8M2015 compared to 8M2014. This almost equals the 7.39m passengers Chinese carriers added between 8M2010 and 8M2014. The volume growth Chinese carriers used to achieve over four years is now being achieved over just a single year.
With countries continuing to liberalise visas for Chinese nationals, and the Chinese government directing airlines to expand internationally, this faster international growth is the new norm. Although most international Chinese traffic is short haul, the accelerated growth is seen with long haul expansion: Sichuan Airlines launched long haul flights in 2012 and not another Chinese carrier went long haul until Xiamen Airlines in Jul-2015. Beijing Capital Airlines followed in Sep-2015, and 2016 could see two more airlines – Tianjin Airlines and Tibet Airlines – fly long haul. 2016 will see at least 10 Chinese airlines operate widebody aircraft. This report looks at the long haul growth from China's secondary carriers that will increasingly become intercontinental names.
Chinese carrier international traffic: 8M2010-8M2015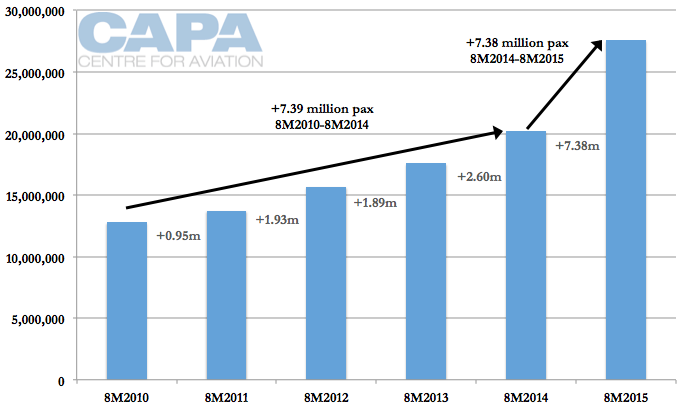 Eight Chinese airlines have widebody aircraft in 2015, and 10 in 2016
Mainland Chinese carriers operate 263 passenger widebody aircraft as of 14-Nov-2015. This is about 16% more than the passenger fleet of just Emirates. Asia's largest widebody operator, Cathay Pacific (including Dragonair) operates 140 widebody aircraft. Three Chinese carriers – Air China, China Eastern and China Southern – operate for 77% of China's widebody aircraft.
Hainan has a further 13% share, leaving the balance to four carriers: Xiamen Airlines (majority owned by China Southern), Sichuan Airlines (owned directly/indirectly by Air China, China Eastern and China Southern), Shanghai Airlines (entirely owned by China Eastern) and Beijing Capital Airlines (affiliated with Hainan Airlines under the HNA Group).
Other carriers have spoken abstractly of launching widebody/long haul operations but not given definitive plans. Beijing Capital and Tianjin's long haul programmes developed over a relatively short period. The launch of widebody aircraft at Beijing Capital, and soon Tianjin and Tibet Airlines, occurs despite larger airlines – such as Shenzhen Airlines and Shandong Airlines – not operating widebody aircraft.
Top 15 Chinese carriers ranked on total passenger aircraft size: 14-Nov-2015
The A330 is the most common widebody aircraft in China and is used extensively on domestic services as well as to Europe and Australia. For longer sectors, it is Boeing's 777 and 787 that dominate Chinese carrier fleets. Widebody aircraft account for only 10% of all in-service commercial aircraft in China, according to CAPA's Fleets Database.
See related report: Lower-weight A330 targeted at China, with its high dependence on widebody aircraft for trunk routes
Officially, there are 82 widebody aircraft on order with Chinese airlines. Giving a figure for "on order" aircraft is difficult given the complex and long process Chinese airlines go through to take delivery of new aircraft. The actual number of aircraft intended to be inducted into Chinese fleets is higher although not officially "on order" and, when the government orders aircraft for distribution at airlines, the exact placement with specific airlines may not be officially confirmed for some time (as seen with China's order for A330s).
Chinese airlines mostly take new widebody aircraft, but Beijing Capital Airlines leased ex-Garuda A330s. The largest widebody backlog held by a single airline is Hainan Airlines with 33 aircraft. Hainan earlier in 2015 announced plans to acquire 787-9s.
See related report: Hainan Airlines order for 30 787-9s underscores trans-pac growth. Partnerships will need to increase
2016 will so far see two new airlines take widebody aircraft: Tianjin Airlines and Tibet Airlines. Both will take A330s. Tianjin has announced its intent to open long haul services in 2016 while Tibet Airlines has not given an exact timeframe for its launch of long haul flights.
Xiamen Airlines is becoming the largest secondary Chinese airline. New 787-9s to open New York
Sichuan Airlines was China's first secondary carrier to launch long haul services, doing so in 2012, but Xiamen Airlines is preparing to become the largest. Xiamen launched long haul services with three weekly Xiamen-Amsterdam flights in Jul-2015. For the winter season these have decreased to twice weekly. By the end of 2015 Xiamen plans to add twice weekly Xiamen-Sydney and thrice weekly Fuzhou-Sydney service. During Feb-2016, coinciding with the Chinese New Year peak travelling period, Xiamen will double Xiamen-Sydney from twice to four times weekly.
Xiamen plans to add three weekly Xiamen-Melbourne services in Jun-2016. This will help the carrier as Chinese tourists, who comprise most Chinese carriers' Australian services, often visit more than one Australian destination. Australia is the most popular long haul market for Chinese carriers.
See related reports:
Four weekly Xiamen-Vancouver services are planned for Jul-2016. This will be Xiamen's first North American route. But the bigger opportunity is to New York City. By some metrics, Fuzhou-New York is the largest unserved trans-Pacific market. About half the market transits in Hong Kong and the remaining half in Beijing and Shanghai. Xiamen intends to open daily Fuzhou-New York service in Jan-2017 with 787-9s.
See related report: Xiamen Airlines' 787s could target Fuzhou-New York, the largest unserved trans-Pacific route
Xiamen Airlines Fleet Summary: as at 14-Nov-2015
Xiamen's widebody fleet comprises six 787-8s with no others on order. It has not officially ordered 787-9s but is expected to do so in order to open the New York route, which cannot be served without significant payload restrictions on the 787-8.
Xiamen's six 787s are far more than what is needed for its long haul flying schedule. The carrier uses the aircraft domestically and to Tokyo.
Xiamen Airlines top 10 hubs/bases/stations/focus cities ranked on system seat capacity: 16-Nov-2015 to 22-Nov-2015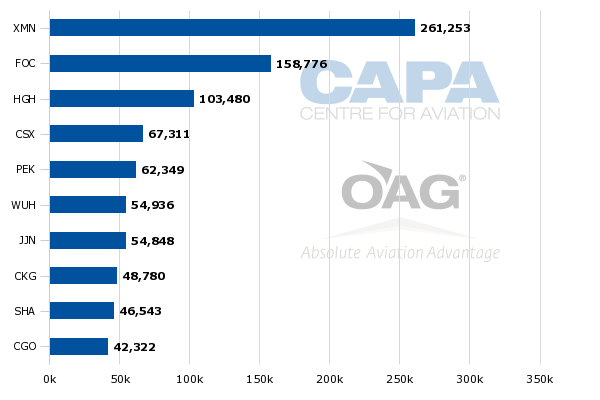 Xiamen's largest presence is in its namesake city of Xiamen. Its second largest presence is in Fuzhou. Xiamen and Fuzhou are about 220km apart. As seen with Sichuan Airlines (sometimes splitting its long haul flights between Chengdu and Chongqing, 280km apart), Xiamen Airlines splits international routes to appeal to government interests but also local subsidies.
Map of Xiamen Airlines' Fuzhou/Xiamen hubs and Sichuan Airlines' Chengdu/Chongqing hubs, and select other cities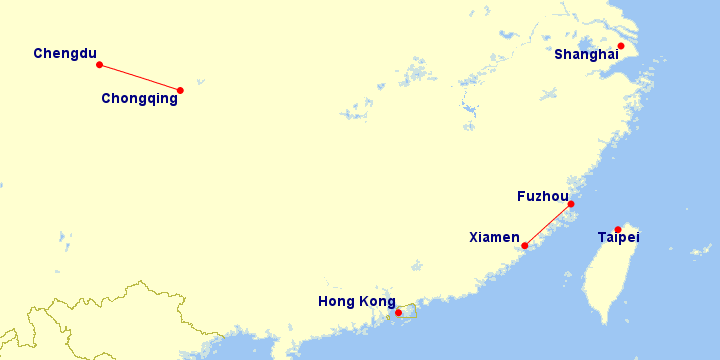 Tianjin Airlines will be the next Chinese airline to fly long haul. China's first long haul LCC?
The next Chinese carrier to fly long haul is due to be Tianjin Airlines, part of the HNA Group. Sister carrier Beijing Capital Airlines is the most recent Chinese airline to launch long haul flights (see next section). Tianjin plans to take A330s in 2016 and launch four weekly Chongqing-Tianjin-Vancouver services in Jun-2016. Tianjin can be something of a secondary airport to Beijing.
While Tianjin has a local market, it is not as big as Hangzhou, which can function as a secondary airport to Shanghai Pudong. (Hangzhou is 170km from Shanghai while Tianjin is 130km from Beijing. Both have high speed rail service between the cities, but not to/from the airports.)
Comparison of Beijing/Tianjin and Shanghai/Hangzhou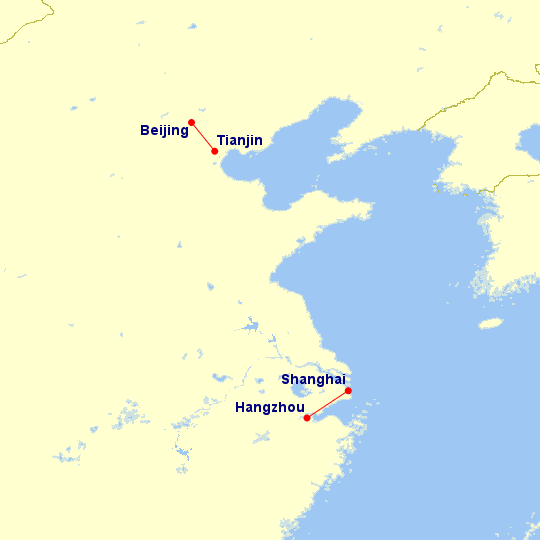 Growth out of Beijing and Shanghai is difficult as slots are congested. Out of Beijing Hainan is constrained by Air China's extensive long haul network. Under China's one route, one airline policy, Air China's presence on a long haul route prevents another Chinese carrier from serving the same route. Hainan has been trying to open service to key long haul routes from Beijing but has been stymied. In Jun-2015, Hainan stated its intent to open a long haul base out of Tianjin to serve New York and Vancouver, two routes it could not secure out of Beijing.
Thus Tianjin Airlines' plan for Tianjin-Vancouver appears to conflict with Hainan's plans. It is unclear if Hainan will cede this route to Tianjin Airlines or if they will try to secure regulatory approval to jointly serve it. With A330s, Tianjin Airlines can fly to Vancouver but not New York.
See related report: Hainan Airlines plans a new Tianjin base to secure routes to New York and Vancouver
Tianjin Airlines has also flagged Europe for long haul services. Media reports stated Tianjin Airlines would adopt a low cost model across its business, potentially making it China's first long haul LCC. However, it is understood these reports have been over-reaching and Tianjin Airlines will more resemble a charter operation than a low cost one. And even if Tianjin Airlines were to be a low cost long haul operator, there are questions how effectively it could do so compared to other long haul LCCs given characteristics of the outbound China market (mostly sold through agencies, limited appetite for ancillary services).
Beijing Capital Airlines, one of the carriers part of the sprawling HNA Group, launched long haul flying on relatively short notice. The carrier ran what was effectively a charter programme between Beijing and Hangzhou to Copenhagen, which had no Chinese carrier service. Copenhagen airport worked with a Chinese travel agency to develop the flights, which catered almost exclusively to the outbound Chinese market. Beijing Capital acquired an A330, the first of an initial fleet of three, for the flying programme in Sep-2015 and Oct-2015. Copenhagen airport expects Beijing Capital to return in 2016 for a longer period of time.
See related reports: Beijing Capital Airlines to be China's seventh airline to fly long haul, planning European routes
Beijing Capital had put in a regulatory request to fly to Helsinki in late 2015, but these services have not eventuated. Services to the Maldives, a popular Chinese destination especially in winter, were launched in Oct-2015 but after three weeks suspended until the popular Chinese New Year travelling period; it was too difficult to fill the aircraft in the off season.
Beijing Capital has put in a number of regulatory requests for long haul flights, including: twice weekly Hangzhou-Madrid in Dec-2015, weekly service from each Beijing and Hangzhou to Birmingham in Apr-2016, and Qingdao-Melbourne in Jun-2016.
As main HNA carrier Hainan Airlines increasingly focuses on North America (Las Vegas will be its next destination), Beijing Capital is seen as giving HNA a way to explore mainly European markets. Given Beijing Capital's more leisure nature and inclination to heavily work with travel agencies, Australia is another logical market, especially since Hainan Airlines is due to have only one Australian route by the end of 2015.
Beijing Capital intends to build a fleet of 30 widebody aircraft comprising more A330s but also possibly A350s, which it does not officially have on order (sister carrier Hong Kong Airlines does have A350s on order; Hainan Airlines mainly uses 787s). These could see Beijing Capital's reach extend to North America. North America has been the flagship market for the HNA Group, using Hainan Airlines. With HNA's Tianjin Airlines to enter North America in 2016, there is risk the HNA Group's long haul presence becomes fragmented amongst numerous brands. However, brand recognition (and resulting pricing power) amongst Chinese carriers is still relatively low.
The greatest confusion from having multiple brands will be in the North American market, but this will have little impact since most of the HNA carriers are taking outbound Chinese passengers.
As a demonstration of the pace of change at long haul flying at Chinese carriers, Sichuan Airlines for about three years held the title of being China's newest airline to fly long haul. Sichuan in 2012 launched a service from its home base at Chengdu to Vancouver, then adding service to Melbourne and later Sydney. Sichuan launched Chengdu-Moscow charter service in May-2015 but ended service in Oct-2015. Service to Dubai was added in Sep-2015.
See related reports:
Sichuan's 107 in-service aircraft include eight A330s. The carrier is expected to receive five more A330s. Variant and delivery timeframes are not public.
Sichuan Airlines Fleet Summary: as at 14-Nov-2015
Sichuan's route network has an odd composition. The Vancouver service stops in Shenyang, necessary because of the technical limitations of the A330, Sichuan's only widebody aircraft type. Melbourne is served from Sichuan's main base at Chengdu but Sydney, because of subsidies and complicated government interference, is served from Sichuan's smaller base at Chongqing. The Dubai route is seemingly even more peculiar, stopping in Yinchuan between Chengdu and Dubai.
Yinchuan-Dubai is about 200km longer than Chengdu-Dubai, and the Chengdu-Yinhuan sector adds a further 900km. Yinchuan however is being positioned as the hub for China and Arab countries. The Dubai service becomes symbolic (at a price) for Yinchuan rather than existing to meet existing demand. Additionally, Sichuan Airlines has a limited presence in Yinchuan, limiting opportunities for Yinchuan to act as a hub. (In any event, Chengdu is a significant hub.)
Sichuan Airlines Chengdu-Yinchuan-Dubai route and shorter Chengdu-Dubai route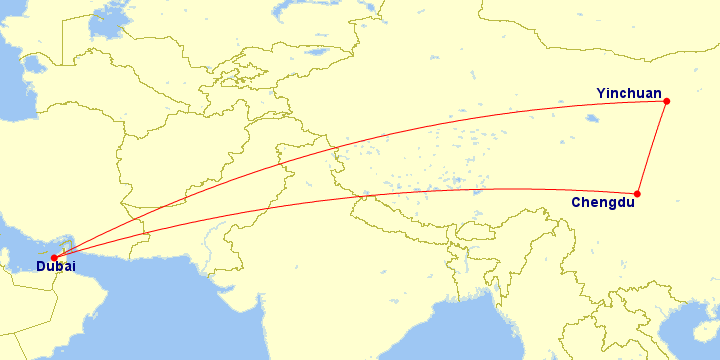 Sichuan Airlines' growth opportunities are complicated. First is the carrier's ownership structure, which includes (directly/indirectly) Air China, China Eastern and China Southern. These three carriers are rivals and have different ambitions – and wishes on restrictions – for Sichuan Airlines.
Chengdu Airport weekly system seat capacity by carrier: 16-Nov-2015 to 22-Nov-2015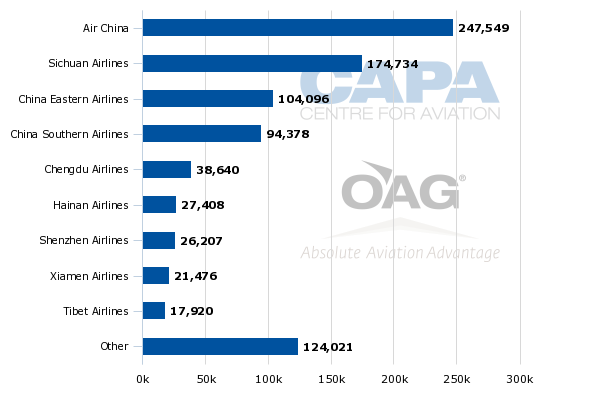 Second is Air China being larger than Sichuan Airlines at Chengdu for domestic and international capacity. Chengdu is Air China's largest hub after Beijing. Air China has been adding long haul routes from Chengdu as part of its hub strategy. Air China launched Chengdu-Frankfurt in 2013 and plans to launch Chengdu-Paris in Dec-2015.
Not only is Air China launching service to key long haul markets from Chengdu, Air China's presence on a route excludes Sichuan Airlines from adding service as the CAAC generally only permits one Chinese carrier to operate on a long haul pairing.
Air China top 10 hubs/bases/stations/focus cities ranked on system seat capacity: 16-Nov-2015 to 22-Nov-2015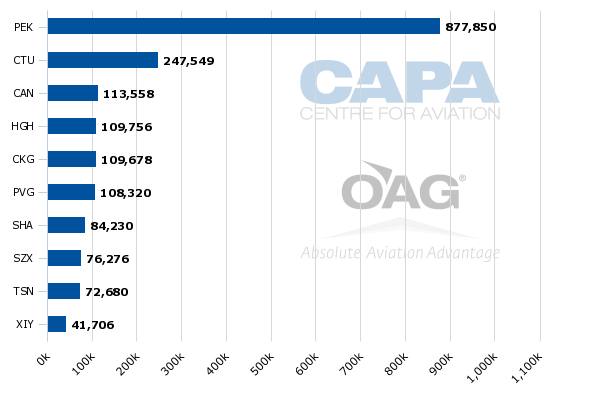 Part 2 of this report will review the international expansion plans of Tibet Airlines, Shenzhen Airlines, along with a review of the potential growth of China's secondary markets. See China's secondary airlines plan long haul growth. 10 airlines to have widebody aircraft. Part 2