Xiamen Airlines' 787s could target Fuzhou-New York, the largest unserved trans-Pacific route
Analysis
The largest unserved trans-Pacific route by many accounts is between a well known city – New York – and one few have heard of: Fuzhou in China's Fujian province. The unexpected destination may have a low profile but is rich in history: Fujian people are known for their migratory habits and comprise large parts of the overseas Chinese diaspora, where they have created economic activity, from Chinese restaurants to bus services. Besides Chinatown, New York City even has a "Little Fuzhou". Ties remain strong, and in Mar-2013 there were an estimated 201 people travelling from Fuzhou to New York City each day, according to Amadeus Air Traffic.
All of this traffic moves via intermediate hubs, but in the near future Xiamen Airlines could consider deploying its forthcoming 787 Dreamliners on the Fuzhou-New York route. Xiamen would take some beyond traffic, but would make inroads in the point-to-point Fuzhou-New York market. That would be to the detriment of Cathay Pacific, the largest carrier between the two cities, as well as China Eastern and Air China, which are also the main operators on the market.
However, Xiamen Airlines may not find it as easy as that: Fuzhou-New York is a heavy VFR market that lacks premium yields to sustain the non-stop service. But Fuzhou-New York may be the most promising long-haul route for Xiamen Airlines' 787s. Xiamen Airlines is primarily a domestic carrier and China's most consistently profitable carrier. It is rightfully hesitant to embark on long-haul operations that are being encouraged and pushed by the government and it will not help that some members of Xiamen's recently-joined SkyTeam alliance are apparently giving the carrier a cool reception.
Xiamen Airlines' first of six 787s arrives in Jul-2014
Xiamen Airlines is the fourth-largest domestic carrier in China with about half the seat capacity of number three, Air China, but about a third of the largest, China Southern.
China Southern owns a majority share of Xiamen Airlines. 7% of Xiamen's seats and 9% of ASKs are in the international (including Hong Kong, Macau and Taiwan) market.
China domestic seat capacity by carrier: 3-Mar-2014 to 9-Mar-2014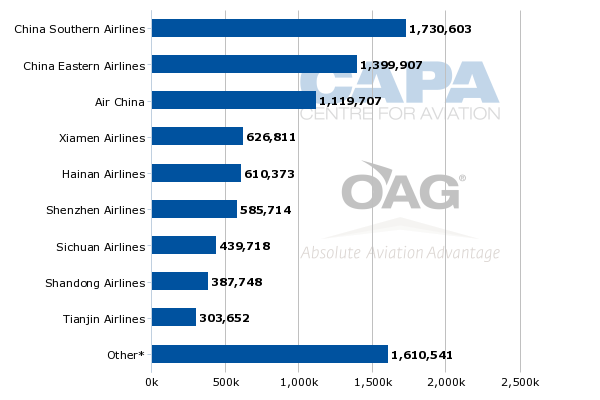 Xiamen Airlines annual passenger numbers: 2008-2013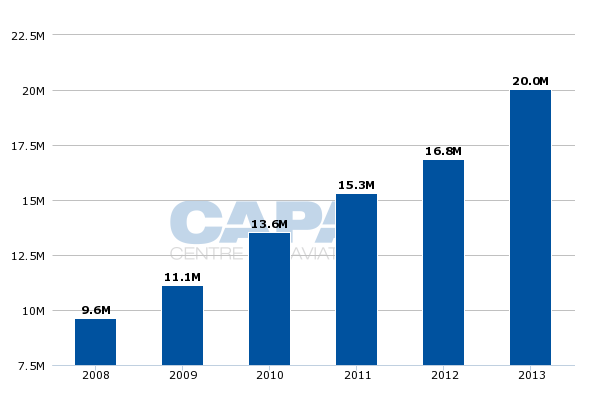 Xiamen had ordered three 787-8s last decade but cancelled them in 2006. It re-ordered six 787-8s in 2011 although the order was not formally approved until Aug-2013.
However production slots were already held and Xiamen had been planning for the 787's arrival. Xiamen will take two 787-8s in 2014 and the remaining four in 2015, giving it six widebody/long-haul aircraft in under a year.
Xiamen Airlines 787 delivery schedule: as of May-2013
Aircraft
Number
Delivery Date
1
Jul-2014
2
Oct-2014
3
Feb-2015
4
Apr-2015
5
Jun-2015
6
Sep-2015
The 787s are the largest aircraft and first widebody/long-haul aircraft to join Xiamen's almost all-737 fleet. Xiamen plans to more than double its fleet by 2020, at which point it expects to have over 200 aircraft in service. Xiamen's current backlog will take it to 177 aircraft, but this excludes likely replacement of older aircraft.
Xiamen Airlines Fleet Summary: as at 5-Mar-2014
Xiamen Airlines projected delivery dates for aircraft on order, purchased from OEMs and leased from lessors new aircraft order pipelines as at 3-Mar-2014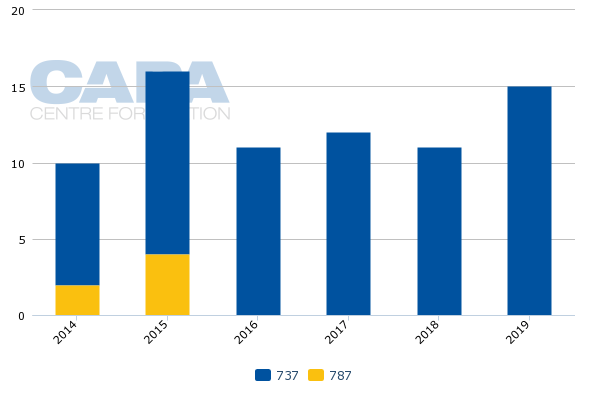 Xiamen Airlines has only vaguely stated potential markets for its 787s.
These include unspecified points in North America, Europe and Australia. Xiamen has said it will launch services from its home base of Xiamen in southern China as well Fuzhou, 218km northeast, and its largest base after Xiamen (which is also in Fujian province).
Xiamen Airlines top 10 hubs/bases/stations ranked on seat capacity: 3-Mar-2014 to 9-Mar-2014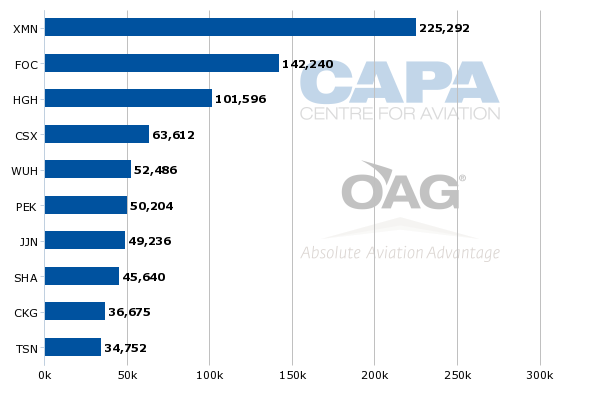 Xiamen Airlines is understood to be considering a Fuzhou-New York route. This is unsurprising as Fuzhou-New York is considered the largest un-served trans-Pacific market with 201 daily passengers, according to Amadeus Air Traffic. This makes the market twice the size of Beijing-Washington, which Air China will launch in Jun-2014 (complementing United's existing service), and nearly four times the size of Guangzhou-New York, which China Southern will launch in Aug-2014. (Guangzhou may be understated due to the number of passengers arriving via land or ferry from Hong Kong or Shenzhen.)
Cathay Pacific, China Eastern and Air China account for about 97% of the market, based on a sample from Mar-2013 to May-2013. Each carrier provides an array of one-stop service via their respective hub: Hong Kong, Shanghai and Beijing. Despite the backtracking involved in transiting via Hong Kong, Cathay is the largest operator with a 38% share of the market. Most traffic goes on a non-stop flight to New York but Cathay does see a handful of passengers every day go on its Hong Kong-Vancouver-New York service, which takes twice as long as China Eastern's Shanghai routing.
Cathay's connection via Hong Kong on the non-stop is about 2h 20m longer than via Shanghai with China Eastern, the second-largest operator with a 35% share of the market.
It is understood Cathay in recent times has been losing market share to China Eastern. China Eastern will likely make further inroads when it increases New York capacity in northern summer 2014, going from a daily A340-600 to double daily A330-200. Cathay has had an advantage with its multiple daily Fuzhou (operated by wholly-owned subsidiary Dragonair) and New York flights creating a number of possible itineraries, as well as the fact it often has the lowest fares. Cathay partner Air China has a 24% share of the market.
Incremental traffic is carried by Delta on two-stop itineraries (it does not serve Fuzhou and does not have any non-stop China-New York services) as well as United on one-stop itineraries via Beijing, with Xiamen Airlines but also Air China carrying passengers between Fuzhou and Beijing.
Taiwanese carriers carry almost no traffic due to regulatory restrictions that prohibit outbound China sixth freedom traffic, a contentious matter for Taiwanese airlines and their government. Taipei is a short flight from Fuzhou but slightly longer than transiting via Shanghai, and EVA Air has the only non-stop to New York, which is not yet daily.
Korean carriers are large sixth freedom operators between North America and Asia, and US-China especially, but neither Asiana nor Korean Air serve Fuzhou. (Likewise, ANA and JAL do not serve Fuzhou.)
Fuzhou airport top 10 carriers ranked on international capacity: 3-Mar-2014 to 9-Mar-2014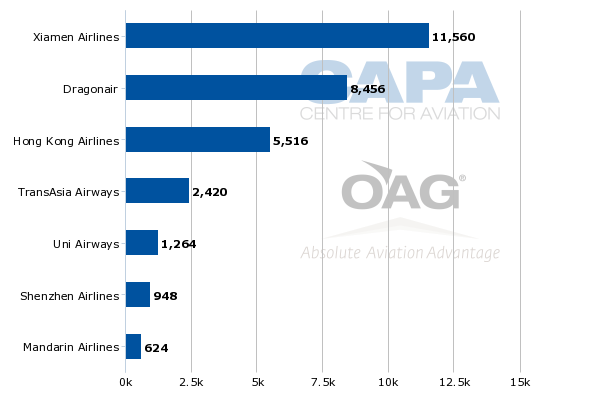 Xiamen Airlines would need to rely on connecting traffic when O&D Fuzhou-New York traffic is slow. Xiamen is the largest carrier by far at Fuzhou airport with 53% of all seats and 56% of system capacity, according to OAG for Mar-2014. Xiamen serves 24 Chinese destinations and eight (including to Macau and Taiwan) international destinations, some of which are not served daily.
Three of its four international destinations from Fuzhou – Bangkok, Jakarta and Singapore – are competitive from New York, with not just Asian carriers but Middle East carriers as well. Given Fuzhou's more southern location in China, many connections from the north will be circuitous.
Xiamen Airlines Fuzhou route map: Mar-2014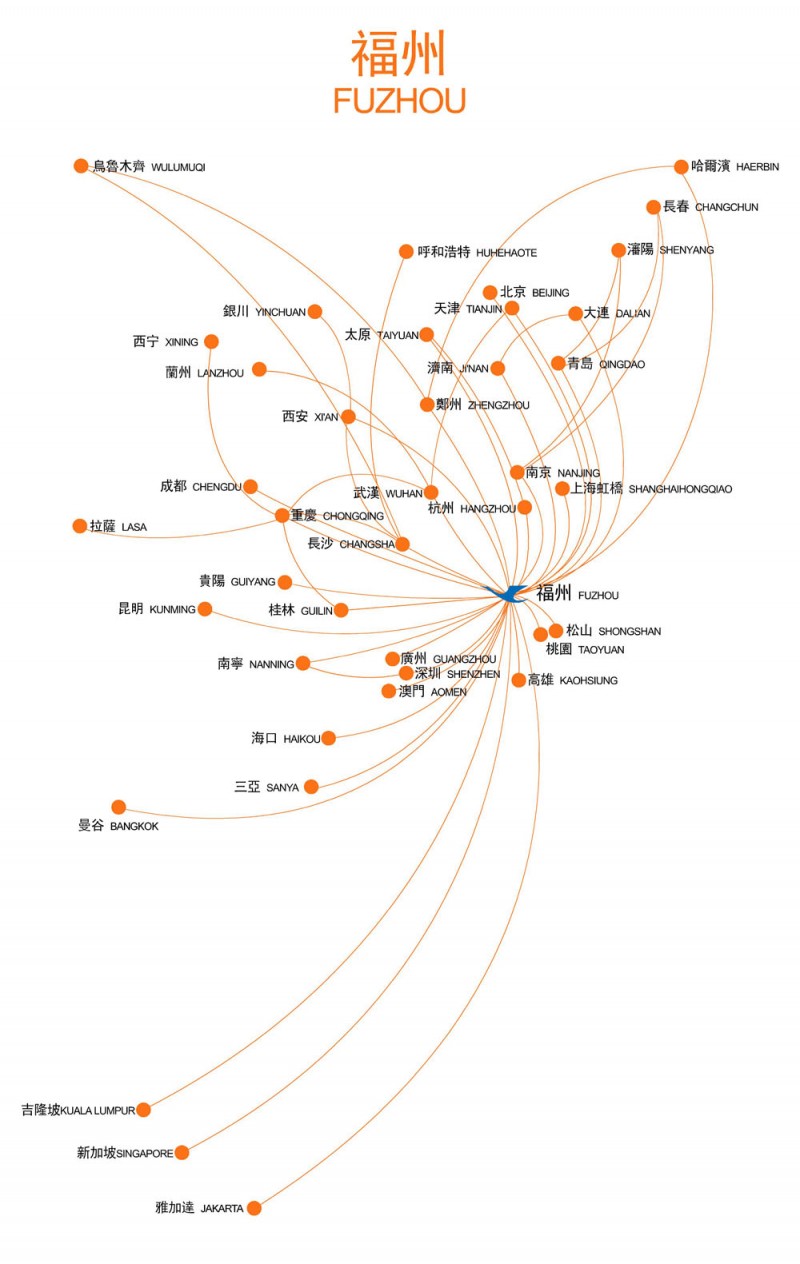 This will limit connecting opportunities as China Eastern serves more domestic and international destinations from Shanghai Pudong (and more domestic options from Shanghai Hongqiao) while Cathay serves more international destinations. This would challenge yields that will likely already be low given the nature of VFR traffic and limited premium demand.
Competitors will likely aggressively discount seats, and can do so more sustainably as Fuzhou is a smaller part of their network and long-haul flights than it will be for Xiamen Airlines. Xiamen's own parent, China Southern, will be competing for transfer traffic when it launches New York services on its far larger 777-300ER.
Fuzhou airport top 10 carriers ranked on domestic seat capacity: 3-Mar-2014 to 9-Mar-2014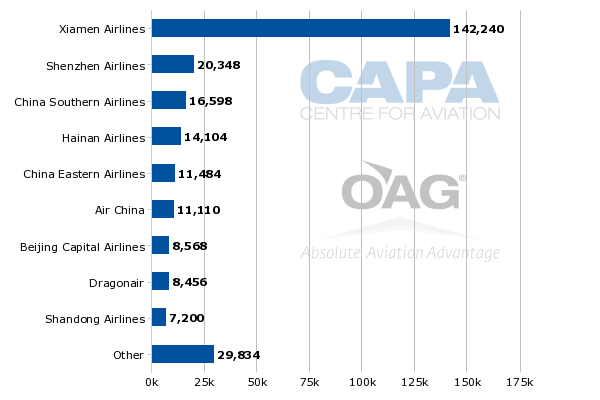 Xiamen Airlines could easily run a full 787-8 between Fuzhou and New York, and rely largely on point-to-point traffic, but has only a slim chance in the near future of the route being profitable. In the long term with passenger growth and greater marketing and brand recognition from Chinese carriers, sustainability comes into view. However, profitability is likely an objective but not a fundamental requirement.
Other long-haul routes from Fuzhou or Xiamen are not promising
Fuzhou-New York offers a relatively weak prospect, profitability-wise at least, and this is discouraging as other potential routes from Fuzhou and Xiamen are even weaker. Whereas Fuzhou-New York may generate over 6,000 passengers a month, other prominent routes would likely see only a few hundred a month. Such low reliance on O&D traffic (and very price sensitive at that), limited connecting opportunities and fierce competition give a negative outlook. Xiamen Airlines has mooted European services, likely to the hub of a SkyTeam partner: Air France's Paris CDG or KLM's Amsterdam. Xiamen joined SkyTeam in late 2012.
However, Xiamen Airlines has found that alliance membership does not suddenly open doors. AF-KLM have given a cool reception to Xiamen, seeing over-capacity in the Europe-China market, especially from secondary Chinese cities. KLM serves Xiamen two or three times a week with non-stop 777-200ER service, and has said its secondary China routes are unprofitable - but important for the long term.
Further European capacity from Xiamen would likely be to the detriment of KLM. By potentially limiting codeshares and interlines, AF-KLM can make a European service so unappealing Xiamen Airlines would strongly re-consider it.
Likewise Delta is not excited about Xiamen's entry, even though Delta's limited traffic from Fuzhou to New York takes a convoluted and long two-stop journey; the larger China-US market is Delta's larger concern. So long as China is unwilling to sign an open skies agreement with the US, the prospect of anti-trust immunised metal neutral joint ventures is not on the table, reducing the incentive for Delta to cooperate - although Xiamen might not be at the head of the queue, with both China Eastern and its parent China Southern also SkyTeam members.
See related report: KLM looks to grow partnerships in Asia, which are becoming larger targets than North America's
Outlook: Long-haul from China is challenging, as Sichuan Airlines reminds
Xiamen Airlines is seemingly stuck between a rock and a hard place. It has consistently delivered profits and respectable margins. Xiamen has even caused owner China Southern to candidly say it must learn from its subsidiary on how to be more efficient. But the quest from the top for Chinese airlines to be profitable is increasingly matched by strategic relevance and prestige.
China has made clear aviation is a means to an end. This may trouble privately-owned airlines across the world, but China has perhaps made the most visible conclusion of any government that aviation is a growth enabler, and low or even slightly negative returns are quickly made up in economic activity.
A local report highlights how in Feb-2014 the mayor and deputy mayor of Xiamen visited the airline and encouraged international expansion, so important is has even been given the slogan "Flying Farther, Flying Outward".
Xiamen Airlines annual profit (RMB): 2008-2013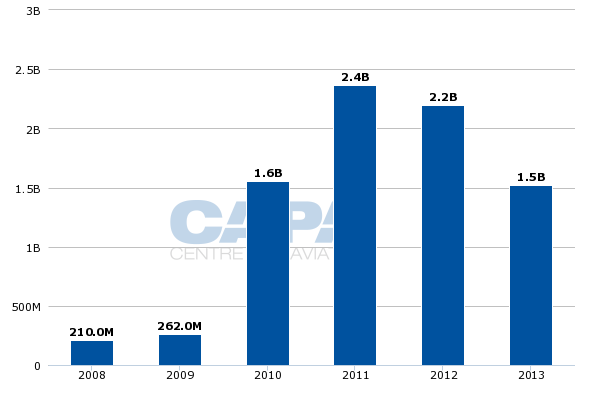 But Xiamen Airlines must reconcile this international encouragement with the realities of performance. Long haul routes can have a swiftly negative impact on short haul carriers. Virgin Australia's handful of long haul routes in 2009 nearly negated the profit from dozens of domestic 737s. Norwegian Air Shuttle and Cebu Pacific are also feeling the heat of long haul exposure, although still spooling up.
See related reports:
Xiamen has mentioned Australia as one potential future destination. Sichuan Airlines' 2013 entry into Australia has been difficult, with the carrier recording initially very low load factors that were only improved with capacity cuts.
In Sichuan's first nine months of service, its highest load factor has been just over 70%; its cumulative load factor is barely over 50%. Australia might be a more appealing market for Xiamen Airlines as its southern China base makes for connections from most of China to be efficient, although international connections remain limited for the time being at least. But with 51% owner China Southern the largest Chinese carrier by far in Australia, Xiamen Airlines could bring unwelcome added competition.
Sichuan Airlines Australia load factor: Mar-2013 to Nov-2013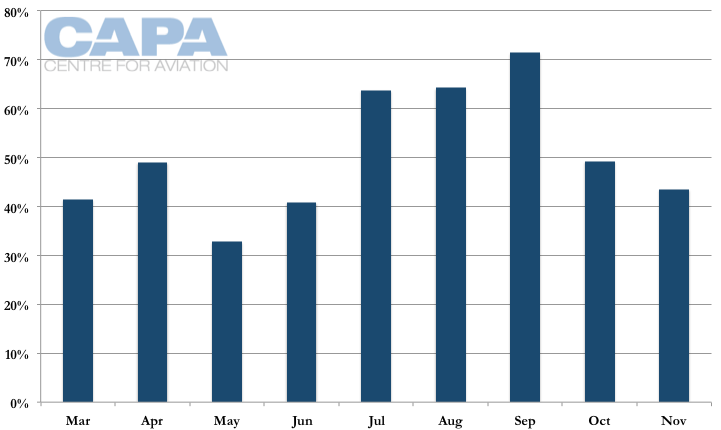 See related report: Sichuan Airlines grows with Chongqing-Sydney service, but European and American expansion awaits
For many Chinese carriers, these are of necessity long haul routes on a long haul timeframe. The long term will inevitably deliver enormous growth, but bridging the period to achieving economically sustainable operations will be a challenge. Where the bottom line also includes broader economic benefit, the services may be viable; but for the airline itself, there may be painful moments in between starting up and reaching profitability.