Beijing Capital Airlines to be China's seventh airline to fly long haul, planning European routes
Analysis
Beijing Capital Airlines filed an application on 02-Jun-2015 with regulator CAAC to open one weekly Hangzhou-Copenhagen service on 03-Sep-2015 and one weekly Beijing-Copenhagen service on 06-Sep-2015. Both are planned to be served with an A330. After the application, WCARN reported Capital Airlines would also launch Beijing-Helsinki service by the end of the year and the airline would acquire three A330s (variant unspecified) by the end of 2015. These will be the first widebody aircraft for the airline.
Seats between China and Scandinavia, one-way: Aug-2015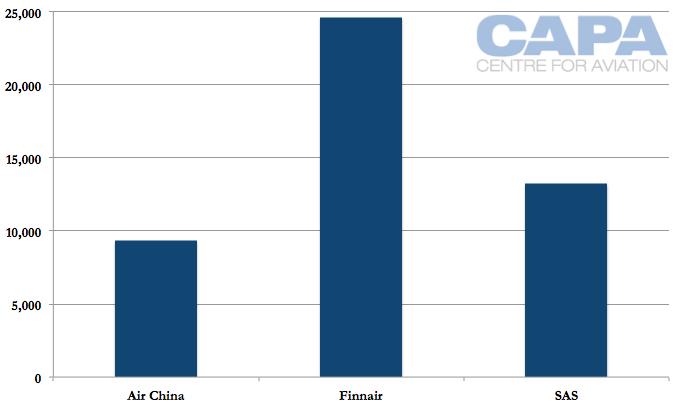 Finnair offers daily A330 Beijing-Helsinki service while SAS offers daily A340 Beijing-Copenhagen service. No carrier flies from Hangzhou to Scandinavia, and no Chinese airline flies from China to Copenhagen or Helsinki.
Air China in 2011 planned to open in Jun-2012 four weekly A330 services between Beijing and Copenhagen but the flights never eventuated and the inauguration was cancelled in Feb-2012. It is understood Air China was unable to cement a partnership with SAS, and still holds authority for the Beijing-Copenhagen service. However, by the time CAAC applications are made public they are often all but finalised, so there is still a chance Air China could object and even open Beijing-Copenhagen service.
See related report: Air China expanding European network with services to Copenhagen, London Gatwick and Paris CDG
Copenhagen was the 13th largest European destination from China in 2014 based on O&D demand, according to OAG Traffic Analyser. Copenhagen is also the largest un-served market from China. Of the top 20 European markets from China in 2014, there is service to markets smaller than Copenhagen such as Brussels and Geneva. (Helsinki does not rank in OAG's top 20.) Other unserved markets include Manchester, which has been courting Chinese carriers although it received service from Cathay Pacific, which can pull traffic from around China.
See related report: Cathay Pacific launches Manchester, continuing long-haul re-balance and clawing back at Emirates
It is understood Beijing Capital Airlines will be testing these markets, and if successful could look to grow the market, including by having year-round service. Unlike other airlines affiliated with the expansive HNA group, HNA says Beijing Capital Airlines is owned under HNA Tourism as opposed to HNA Aviation. HNA Tourism's companies as well as external travel agencies can help sell what is otherwise an initially small flight network. As with most Chinese airlines' long-haul flights, there will be significantly stronger outbound than inbound demand. Chinese carriers have an advantage over European or other Asian peers in that Russia generally does not charge them overflight fees.
Despite what its name suggests, Beijing is not the largest market for Beijing Capital Airlines, according to OAG data. Rather Sanya, Hangzhou, Xi'an and Haikou are the largest markets. Beijing Capital Airlines will have some feed at Hangzhou, although the city also boasts a wealthy catchment area. Likewise for Beijing, where local traffic can be supplemented with connections from Hainan Airlines. Future growth is most likely at Beijing and Hangzhou, and possibly other airports if incentives are strong enough.
Beijing Capital Airlines top 10 hubs/bases/stations/focus cities ranked on available seat capacity: 08-Jun-2015 to 14-Jun-2015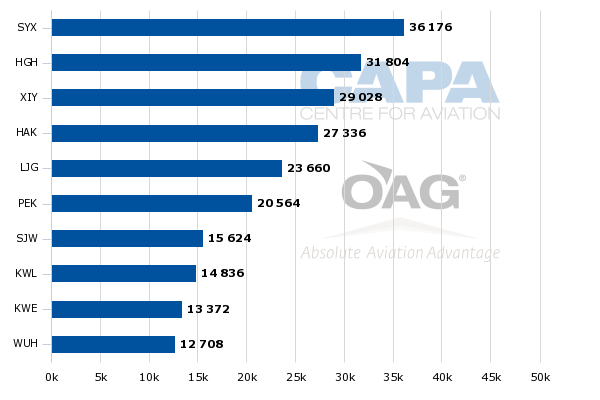 There is likely regulatory support for further Chinese growth in Scandinavia. The CAAC likes to see some attempt at balance between Chinese and foreign airlines. SAS and more recently Finnair have sought to exploit their northern geography to offer the quickest connections between Europe and Asia (and north Asia in particular).
Although connections beyond Scandinavia are critical to SAS and Finnair, there is nonetheless a perceived imbalance of foreign carriers having more flights to China from Scandinavia than Chinese carriers to Scandinavia. Finnair has added service to secondary Chinese cities of Chongqing and Xi'an while SAS is once again growing in Asia with a new flight to Hong Kong. For both, however, financial success is proving elusive.
See related reports:
Beijing Capital Airlines ended 2014 carrying 9.2m passengers. With 3M2015 traffic up 18.6%, Beijing Capital Airlines should for the first time crack 10m passengers in 2015 if growth momentum is maintained.
Beijing Capital Airlines annual passenger numbers: 2008-2014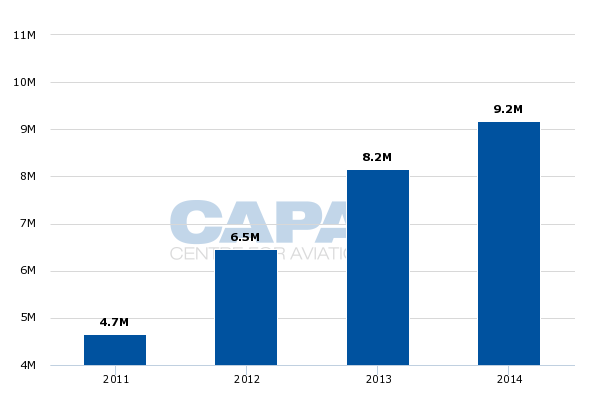 5% of seats and 6% of ASKs at Beijing Capital Airlines are in the international market. This is all short-haul regional travel so it is a leap for Beijing Capital Airlines to acquire widebody aircraft and go long-haul, although there could be some support from Hainan Airlines. Beijing Capital Airlines has a passenger of 52 A319s/A320s plus two corporate jets, a vestige from its previous days as Deer Air.
Beijing Capital Airlines Fleet Summary: as at 6-Jun-2015
70% of Beijing Capital Airlines' international seats are within Northeast Asia, comprising Japan, Korea and Hong Kong. The remaining 30% of seats are to Beijing Capital Airlines' only Southeast Asian market, Thailand.
Beijing Capital Airlines international seat capacity by country: 08-Jun-2015 to 14-Jun-2015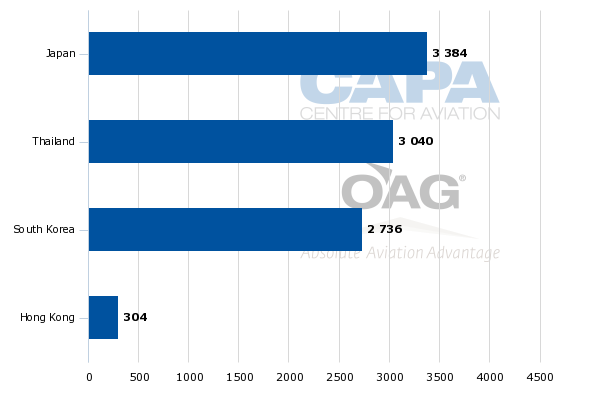 HNA will gain a second long-haul carrier when Beijing Capital Airlines commences long haul flights. The airline will be only the second mainland HNA unit to fly long haul after Hainan Airlines. Hong Kong Airlines briefly offered all-premium long haul flights between Hong Kong and London Gatwick; its focus is now regional Asia ahead of long haul growth (in more typical two-class configuration).
HNA had planned for Aigle Azur to fly long haul. HNA acquired a stake in France's Aigle Azur with hopes of giving the carrier A330s to open a Paris-Beijing route, which Hainan Airlines could not do since Air China already flew the route. However a series of issues saw that plan cancelled. HNA's newest acquisition is South Africa's Comair, but it appears very unlikely Comair will be used to fly long-haul.
See related reports:
Hainan Airlines has long haul service concentrated on Europe and North America with the latter seeing rapid growth. Hainan's focus on North America may allow other HNA units to explore less important markets. Europe is attractive as it can be reached with A330s - whereas North America needs 787s for most points.
See related report: Hainan Airlines order for 30 787-9s underscores trans-pac growth. Partnerships will need to increase
Hainan Airlines international seat capacity by region: 8-Jun-2015 to 14-Jun-2015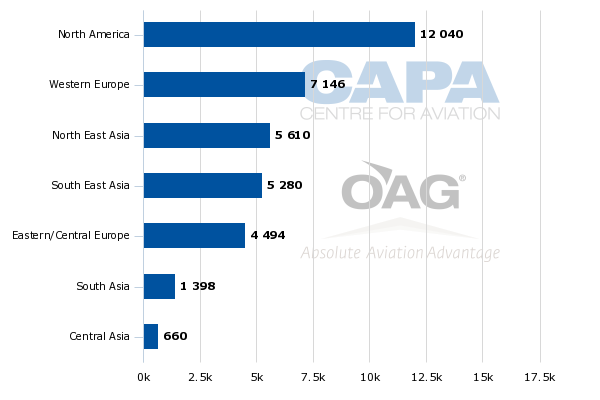 Seven mainland Chinese airlines will be flying long haul, only half with a major presence
Beijing Capital Airlines will be the seventh mainland Chinese airline to fly long haul after Air China, China Eastern, China Southern, Hainan Airlines, Sichuan Airlines and Xiamen Airlines (Shanghai Airlines no long flies long haul).
See related report: Xiamen Airlines and Sichuan Airlines are China's latest airlines to fly long-haul; risks abound
Air China, as the country's flagship, is unsurprisingly the largest long haul carrier with about 8,700 daily seats in Aug-2015, followed by China Southern (5,500) and then China Eastern (4,400). Hainan's long haul network (2,200) is half the size of China Eastern's and a quarter the size of Air China's, according to OAG data for Aug-2015 schedules. Some flights Chinese carriers will likely operate in Aug-2015 have not yet been put in schedules and are not reflected on the graph below.
Long-haul seats by market ex-China for Chinese carriers: Aug-2015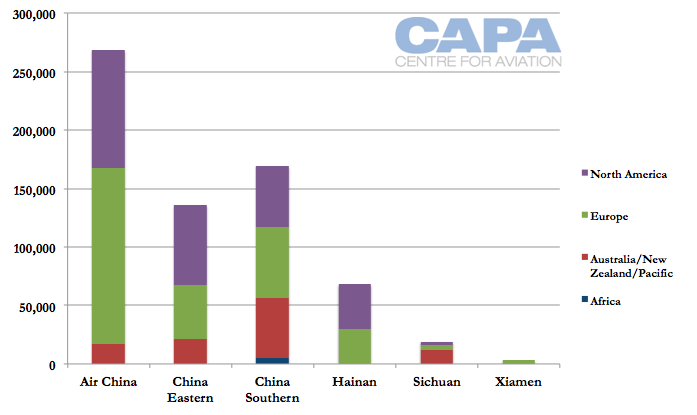 Outlook: China starts to show signs of its true international potential. With time, expect many more long haul airlines
Sichuan Airlines commenced long-haul services in 2012, so after a few years of little change to the status quo, 2015 is busy with Xiamen Airlines and Beijing Capital Airlines starting long-haul services. Seven airlines is a lot for one country to have flying long-haul, and chances are the number of Chinese airlines could easily double or triple – with the condition that much depends on what consolidation one days comes to Chinese aviation. Due to local politics and incentives, it is in airlines' interests to have multiple licenses and brands, but the efficiencies of consolidation make that activity probably inevitable.
Spring Airlines has studied long-haul services but this does not appear to be an immediate priority. Shandong Airlines, partially owned by Air China, says it plans to commence long-haul services to Australia, Europe and North America by 2020. In May-2015 the South Australian state government disclosed it was talking to the Shandong government and Shandong Airlines about plans to charter an aircraft for services to Adelaide in Jun/Sep-2016.
What is certain is that the ambitions of Chinese carriers to fly long haul will be greater than regulator CAAC's willingness to let them expand. The CAAC wants to see airlines demonstrate domestic and then regional international success before embarking on long haul flights, part of the "going out" process.
Competitors will seek to limit new entrants to long haul routes, creating some urgency for airlines to fly beyond China's borders sooner rather than later, although commercially many of these services will be some time away from sustainability.