Cathay Pacific launches Manchester, continuing long-haul re-balance and clawing back at Emirates
Analysis
Cathay Pacific's planned four-weekly Hong Kong-Manchester service, due to start in Dec-2014, will see it bring service to Hong Kong's largest un-served long-haul destination. Cathay will seek to claw back gains made by Emirates, which carried an estimated 38% of Hong Kong-Manchester traffic in 2013, according to OAG Traffic Analyser. Manchester is Emirates' largest destination from Hong Kong after London. 19% of the HKG-Manchester market transited London from either a British Airways or Cathay long-haul flight to a BA domestic flight, while 5-9% of the market travelled with each Air France, Finnair, KLM and Qatar. Cathay's service will be Manchester's first non-stop flight to East Asia; Singapore Airlines' daily flight is via Munich.
The new route is about much more than Hong Kong origin traffic. Cathay will be able to tap the Australia-Manchester market, also currently held by Emirates, as well as a number of other destinations. The new move comes as Cathay seeks to re-balance its network, which in recent times has tilted towards short-haul, where Cathay is facing extreme competition. A top-up 777-300ER order in Dec-2013 should see Cathay continue long-haul growth.
Zurich and Munich are the next largest European destinations not served by Cathay from Hong Kong, while in North America Cathay's service to Newark means it serves all seven of Hong Kong's largest markets, leaving Seattle and Boston. However these markets are smaller so it is uncertain whether Cathay will find them sufficiently attractive.
Cathay's service will be its first non-stop to Manchester, but Cathay previously served Manchester with passenger flights dating to the 1980s (via London Heathrow) and then some 13 years ago as a tag from various European points.
Cathay intended to resume passenger service to Manchester by tagging it with Moscow in 2006, but is believed lack of regulatory approval for local pick-up rights in Moscow stymied that plan.
Manchester becomes Cathay's eighth passenger destination in Europe (including Russia). Cathay had offline access to Manchester via a codeshare with British Airways from London Heathrow, where Cathay now has five daily flights. Cathay had accumulated about a 10% share of the Hong Kong-Manchester market, slightly ahead of British Airways. While one-stop Hong Kong-Manchester service was tolerable, there was limited differentiation with Emirates. For Cathay journeys beyond Hong Kong, a two-stop service was inadequate compared to the number of one-stop itineraries.
Emirates in 2013 was the largest carrier of Hong Kong-Manchester traffic, with OAG Traffic Analyser estimating its share at 38%. Manchester is Emirates' largest destination from Hong Kong after London. Hong Kong meanwhile is estimated to be Emirates' seventh largest source market for its Manchester flight.
Hong Kong-Manchester market share: 2013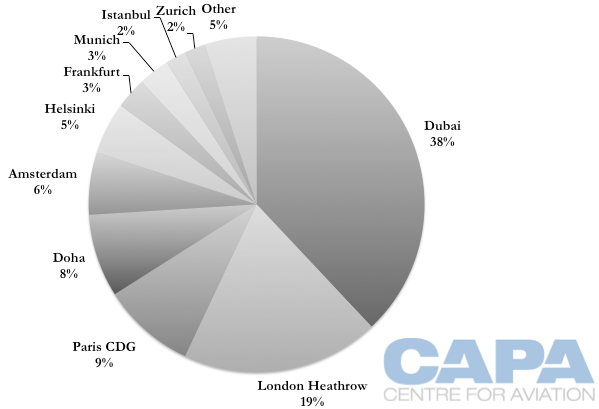 While Emirates may be concerned, it should not be losing sleep. Eventually Cathay's service could be expected to go daily, but even then Emirates has considerable growth opportunities with which to replace some Hong Kong/Asia-Manchester passengers. In many of the source markets from which Cathay will pull traffic, Emirates' expansion is limited by bilateral agreements and not by demand.
As Cathay re-routes Manchester passengers from a London connection to the non-stop Manchester service, so more capacity will be freed up for its London flights. Cargo is also part of the story as Cathay has dedicated freighter services to Manchester (via continental Europe or Dubai) and the introduction of cost-effective belly space on the Manchester flights could see it reduce its dedicated freighter service. (While Manchester airport is no doubt pleased with Cathay's passenger service, any reduction in dedicated freighter service would work against its freight centre initiative.)
Manchester's lower premium traffic has held back service. Cathay will use 777s without first class
Manchester boasts outbound demand to Hong Kong and beyond owing to it being home to the largest Chinese community (and predominantly Cantonese) outside London. And despite the large volume from Hong Kong and wider Asia to Manchester, Cathay and others have held back on non-stop service due to Manchester's more limited premium demand. For Cathay, it has focused long-haul growth in recent years on destinations that see not only larger overall volumes but those with higher premium demand. But now as Cathay seeks long-haul growth to re-balance its short-haul network, different criteria may have been applied to the route. Further, fleet options have changed.
Manchester Airport schedule by class of seat, one way weekly departing: 14-Apr-2014 to 20-Apr-2014
Challenges of passenger mix at non-London (and indeed, non-Heathrow) destinations was described by IAG CEO Willie Walsh at CAPA's Apr-2014 Airlines in Transition conference in Dublin. Mr Walsh said BA operates its aircraft in a "premium-rich configuration" with a higher than normal share of premium seats. For long-haul flights from Manchester, Mr Walsh said BA would face two unsustainable options: using a normal premium-heavy aircraft out of Manchester despite the limited premium traffic, or have a second configuration with lower premium seat exposure but at the expense of efficiency and scale.
Cathay will deploy its 777-300ER to Manchester (initially at least – the route had earlier been linked to the mid-size A350) but will use its sub-fleet of -300ERs that have three classes (business, premium economy and economy) instead of four (also including first). Besides eliminating first class, the sub-fleet has 13 fewer business class seats. In total the sub-fleet has only 12% of its seats in premium (first/business) cabins compared to 21% on the four-class aircraft.
777-300ER configurations at Cathay: 2014
3-Class, No First

4-Class

First
0
6
Business
40
53
Premium Economy
32
34
Economy
268
182
Total
340
275

Percentage of seats

that are premium

(first and business)

12%
21%
Manchester's limited premium demand has seen its international capacity dominated by local leisure carriers as well as carriers like Aer Lingus and Lufthansa using Manchester to feed their respective hubs in Germany and Ireland.
Emirates' position as the sixth-largest carrier at Manchester ranked by international seats is testament to its business model of having a wide spread of onward destinations (more so than Lufthansa) and product generally regarded as more up to date.
Manchester Airport international seat capacity by carrier: 14-Apr-2014 to 20-Apr-2014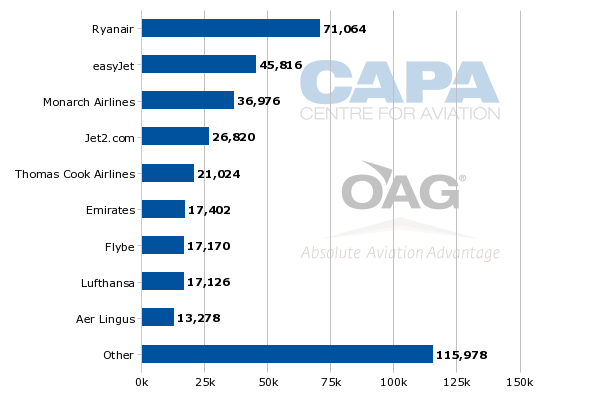 Cathay is well-placed to capture connecting traffic for its Manchester service, especially since it will be the only major carrier offering premium economy. SIA has looked on and off at premium economy while Emirates and other Gulf carriers have not given the cabin serious thought. (Premium economy will be a further advantage in the local Hong Kong-Manchester market, in addition to Cathay offering the sole non-stop service.)
There is slightly greater demand from North Asia than Southeast Asia, and a connection via Hong Kong is less circuitous than via Singapore, and Cathay has the advantage of a non-stop Asia-Manchester flight, unlike SIA.
Asia's largest city for Manchester services is Bangkok, and a connection through Hong Kong is more efficient than via Singapore, although much less so than via Dubai where Emirates has multiple daily flights to both Manchester and Bangkok.
Shanghai and Beijing – two of Cathay's (and Dragonair's) – largest destinations have as much combined demand to Manchester as Hong Kong alone, although in the long term this could be weakened with a Manchester-Beijing flight that Manchester Airport seeks.
Cathay Pacific and Dragonair top 10 destinations ranked on seat capacity: 14-Apr-2014 to 20-Apr-2014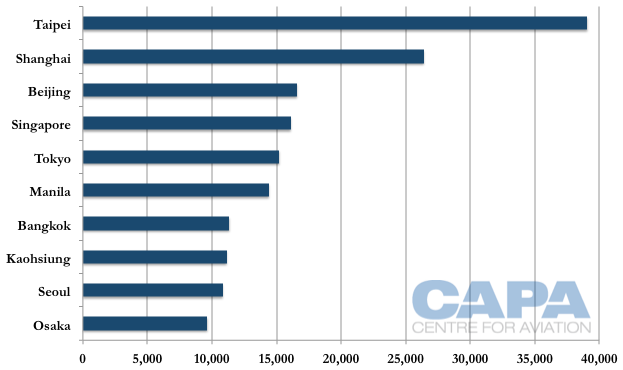 Georgia, 'Times New Roman', Times, serif;">Source: CAPA - Centre for Aviation and OAG
Australia is the largest country destination in Asia-Pacific from Manchester, with 23% of the region's Manchester traffic coming to/from Australia. Australia is a source market for Cathay, but SIA will fight competitively for this traffic. While SIA will have a two-stop offering, Cathay has limited room to absorb further Australian traffic.
Bilateral limits mean Cathay has been unable to grow at the rate SIA has in Australia. However, the North Asia-Australia (and China-Australia in particular) market has become very competitive, largely owing to China Southern's growing presence, and Cathay may welcome an opportunity to sell another long-haul destination where it can capture more total revenue.
The departure from Hong Kong at the end of the day, and arrival back into Hong Kong early in the morning, ensures wide connecting flight opportunities.
Cathay Pacific Manchester schedule: Dec-2014

Manchester is a small but nice play for Cathay. But for Manchester, Cathay is a great win, even should it in the extreme scenario end up replacing SIA. While Manchester already has a Far East service via Singapore Airlines, the daily 777-300ER service is via Munich. Manchester's other east-bound capacity beyond Europe is to the Gulf on Emirates, Etihad, Qatar and Saudia, as well as PIA.
Over three-fourths of Manchester's international seat capacity is to Eastern and Western Europe. The Middle East is only 9%. (SIA's capacity is grouped in Europe since the service's immediate destination is Munich.)
Manchester Airport international seat capacity by region: 14-Apr-2014 to 20-Apr-2014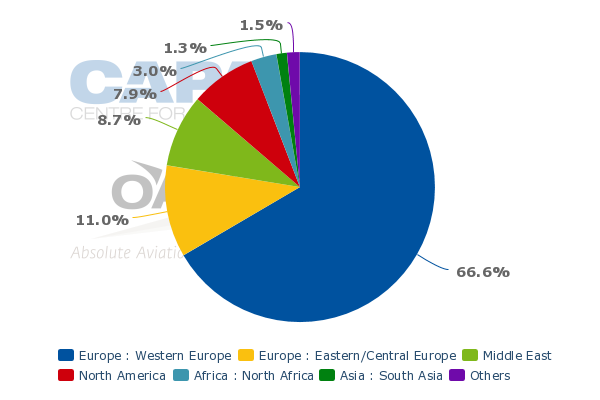 Georgia, 'Times New Roman', Times, serif;">Source: CAPA - Centre for Aviation and OAG
Cathay's four weekly service will not see it crack Manchester's top 10 ranking; Emirates has three daily flights, including one on the A380. While Cathay uses a larger configuration on its 777-300ER than Singapore Airlines' 777-300ER that serves Manchester (via Munich), SIA's daily service means it offers more seats. (But arguably this is lower than what sheer numbers suggest as the flight needs to pick up passengers in Munich.) SIA's tagging of Manchester with Munich indicates limited demand, a situation SIA grappled with a few years ago. With more competition SIA will no doubt re-evaluate its position.
If the worse happens, Manchester airport may be willing to sacrifice a tag service for a non-stop.
Manchester's first non-stop Asian service follows Birmingham's first Asian service via charters from China Southern. While the UK is less popular than continental Europe for Chinese (owing to visas and other matters), China Southern and Cathay's services are indicative of further Asian growth to come.
See related report: Birmingham Airport shows the value of marketing, to deliver the first UK non-London Chinese flights
Manchester will help Cathay re-balance short-haul and long-haul traffic
The new Manchester service will help Cathay achieve its objective of re-balancing its network. The proportion of long-haul capacity (measured in ASKs for Europe, North America, Southwest Pacific and South Africa) was 58% in 2011. This reduced to 55% in 2013 for a few of reasons: the replacement of 747-400s with smaller (but more efficient) 777-300ERs, more positive outlook on short-haul growth and the desire to avail of growth opportunities while slots permitted.
Capacity statistics for the first three months of 2014, the earliest available, indicate long-haul capacity is 56% of Cathay's network. This will shift further as Cathay expects 7% growth in 2014, with long-haul seeing an undisclosed higher growth rate. Already Cathay in Mar-2014 launched a daily Hong Kong-Newark service. Mar-2014 also saw an increase in Australian capacity.
The re-balance also aims to help Cathay shift away from short-haul markets, which it has found increasingly competitive.
Cathay Pacific ASKs by region: 2009, 2011, 2013 and Jan/Feb/Mar-2014
| | |
| --- | --- |
| 2009 | 2011 |
| | |
| 2013 | Jan/Feb/Mar-2014 |
| | |
Top-up 777 order will provide Cathay more long-haul growth opportunities
While Cathay's 777X aircraft purchase stole the headlines in Dec-2013, also included in the deal was an order for a further three 777-300ERs, meaning Cathay will take delivery of 15 777-300ERs in 2014 and 2015 combined. Some will be needed for replacement as 747-400s and A340s shift away from long-haul routes, but there are growth opportunities.
Cathay Pacific aircraft delivery plan: 12-Mar-2014
Zurich and Munich are Hong Kong's next largest destinations in Europe that Cathay does not currently serve. But these destinations see lower traffic than North America's Seattle and Boston. Seattle receives service from a few Asian carriers while Boston is increasingly popular, with Hainan Airlines joining JAL in the New England city. Cathay largely accesses Boston, in considerable volumes, via offline connections on American Airlines from other US cities. There has been speculation that some of these destinations will be forthcoming Cathay destinations in addition to further frequency increases on existing routes.
Whatever destinations are ultimately launched, Cathay should succeed in its objective of shifting emphasis to long-haul. Airports will welcome one of aviation's most prestigious brands, which can help the airiine attract more airline customers. But the long term concern becomes the increasingly apparent scenario of Asia replicating Europe (and formerly North America) where short-haul markets are unsustainable for full service operators on their own.
For now, Europe's carriers are undergoing fundamental, contentious and painful reform while Asia's carriers are waiting for the smoke to become fire.
Correction: This report previously inaccurately stated the impact of APD.