Xiamen Airlines and Sichuan Airlines are China's latest airlines to fly long-haul; risks abound
Analysis
Xiamen Airlines will be China's sixth airline to fly long-haul when it commences Xiamen-Amsterdam service as early as Jul-2015 using its new fleet of 787 Dreamliners. By the end of 2015, Xiamen Airlines expects to launch a four times weekly Xiamen-Sydney service. There could be later expansion to the US, but the longer flight length will be challenging.
Meanwhile, Sichuan Airlines is China's other new airline to fly long-haul. Services to Vancouver, Melbourne and Sydney will be followed by four times a week charter service Chengdu-Moscow with an A330.
Long-haul is a much smaller component of traffic than domestic flights for China's airlines, and this is especially true at secondary airlines like Xiamen and Sichuan, which have limited long-haul plans. No other Chinese airline already has or publicly intends to have widebody aircraft, but another long-haul Chinese carrier cannot be far away.
(This counts China Eastern with its wholly-owned unit Shanghai Airlines, which has widebodies with a limited and varying long-haul network. China Southern does not wholly own Xiamen Airlines.)
Xiamen Airlines in Jan-2015 announced the CAAC had approved its proposed Xiamen-Amsterdam service. Xiamen now awaits European approval. The airline expects to open reservations as early as Mar-2015 for a service start date as early as Jul-2015, in time (just) for peak summer travel and then the busy autumn holidays in China.
Xiamen will be dependent on transfers on both ends: Xiamen can feed traffic into its hub at Xiamen (its largest presence) and then transfer passengers to Amsterdam-based KLM, a fellow member of SkyTeam. The links go deeper as Xiamen Airlines is majority-owned by China Southern, which has an existing relationship with KLM and transfers passengers over Amsterdam (as well as over Paris with Air France).
Xiamen's geography in southern China does not give it an ideal hub location to route passengers to Europe. Its catchment area will be limited to its immediate surrounds whereas Beijing or Chengdu are more geographically efficient hubs and have stronger demand. (China Southern has two daily Amsterdam flights: one from Guangzhou and one from Beijing.)
Xiamen Airlines top 10 hubs/bases/focus cities: 9-Feb-2015 to 15-Feb-2015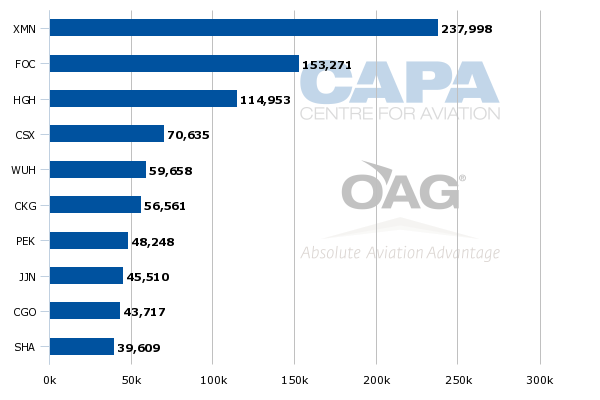 In northern summer 2015, KLM will fly Xiamen-Amsterdam three times a week with 777-200ERs. Although it may seem that KLM and Xiamen combined can offer an integrated schedule, AF-KLM has been hesitant about enabling more growth in the Europe-China market, which it sees as being at over-capacity, especially to secondary cities like Xiamen.
KLM provides Xiamen with its only long-haul route.
It will not be until Xiamen Airlines commences Sydney service that Xiamen will receive a second long-haul destination.
Xiamen Gaoqi International Airport to Europe (seats per week, one way): 19-Sep-2011 to 26-Jul-2015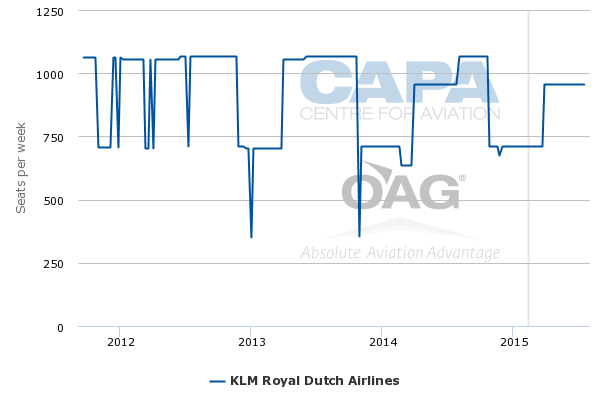 Xiamen will be the sixth Chinese airline in Europe after Air China, China Eastern, China Southern, Hainan Airlines and Sichuan Airlines (provided Sichuan launches Moscow service before Xiamen launches Amsterdam). Europe is more accessible for Chinese airlines given its shorter distance compared to North America and higher premium demand than to Australia, a mostly outbound leisure market.
Xiamen enters a crowded China-Western Europe space filled with more European airlines than Chinese airlines. Xiamen's frequency to Amsterdam has not been formally announced but is unlikely to be a daily service.
Even if it were a daily service, Xiamen would still be one of the smallest players in the market. There is some comfort that partners AF-KLM and China Southern account for a fifth to a quarter of the market, potentially alleviating some direct competition.
China to Western Europe (seats per week, one way): 19-Sep-2011 to 26-Jul-2015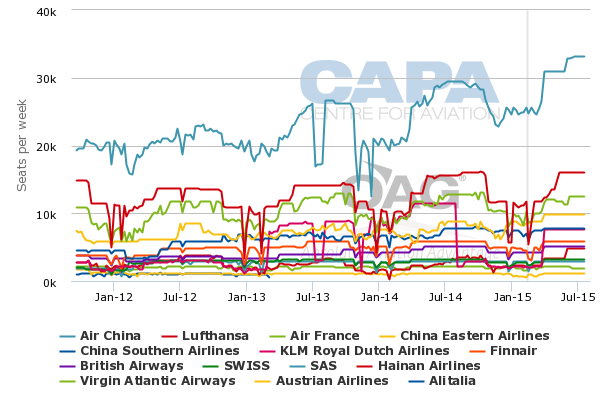 Xiamen Airlines reports it plans to commence four times weekly flights from Xiamen to Sydney in late Oct-2015. This follows a recent expansion in the Australia-China air service agreement. It is not publicly known yet if Xiamen Airlines is receiving a subsidy from China for the new route. Various financial and marketing supports from the Australian end are common.
See related report: Australia & China expand airline traffic rights en route to open skies. Xiamen Airlines to Sydney
Xiamen joins Air China, China Eastern, China Southern and Sichuan Airlines in Australia. Hainan Airlines does not serve Australia, having briefly attempted a Shenzhen-Sydney service. China Southern is the market leader while China Eastern has proposed a JV with Qantas, which could evolve over time to the pair becoming a strong joint entity.
China to Australia (seats per week, one way): 19-Sep-2011 to 26-Jul-2015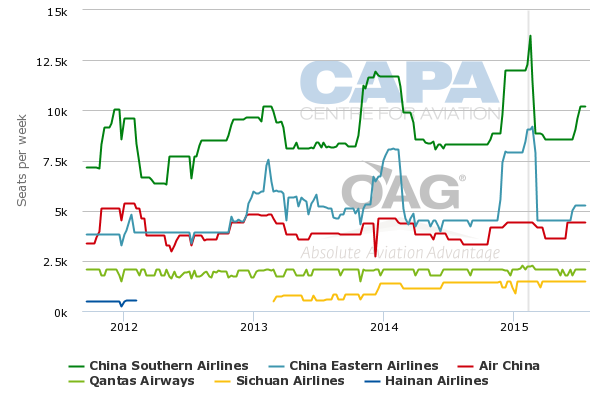 The route is heavily outbound leisure focused, driven by Chinese interest in Australia's nature-oriented and relaxed environment. It helps Australia's climate is comparatively friendly year-round and is especially warm during China's winter.
Chinese visitor growth to Australia has eclipsed the average.
Annual Chinese visitors to Australia: 2009-2013
While leisure demand is reasonable, yields are difficult. True premium yields are mostly non-existent. Chinese carriers tend to rely on groups, further pressuring yields, whereas carriers like Qantas, Cathay Pacific and Singapore Airlines rely more on individual travellers.
As a new entrant, Xiamen will need to work with Chinese agencies. Sichuan Airlines' initial low load factors to Australia are a warning sign.
Meanwhile, Chinese airlines have been slow to adopt sixth freedom strategies, although KLM has worked with China Southern and Sichuan Airlines to enhance the opportunities.

See related report: Sichuan Airlines grows with Chongqing-Sydney service, but European and American expansion awaits
Xiamen's 787s – with first class – are not core to its strategy
As of Feb-2015, Xiamen has received two 787-8s with its four remaining orders expected to be delivered in 2015. While this might be a point of pride for other airlines, Xiamen Airlines has been worried long-haul flying is premature for it; the 787s were more of a government than commercial decision. Xiamen Airlines is one of China's better managed airlines and has experienced how domestic and some regional flying can be profitable but long-haul can be a quick way to lose money.
The airline and various government levels have differed over how much Xiamen should be subsidised for long-haul flying. If Xiamen Airlines has its way, these six 787s will be its last long-haul aircraft for a while.
Amsterdam and Sydney services may not even use half of Xiamen's 787 fleet. US services could be considered, but are nearly at (or over) the range of Xiamen Airlines' 787s.
See related report: Xiamen Airlines' 787s could target Fuzhou-New York, the largest unserved trans-Pacific route
Xiamen knows long-haul will be a struggle, and surely loss-making in most months. It lacks an international brand (although it was recently refreshed) and a strong long-haul hub. Further, Xiamen will be one of only three airlines to have first class on the 787. The other two airlines (so far) with first class on the 787 are Etihad Airways and China Southern (over two dozen 787 operators do not have first class on the 787).
Given the equity and strategic ties between China Southern and Xiamen, there may be some commonality, but first class was probably a stretch for China Southern too. Alleviating some pain, Xiamen Airlines will have fewer business class seats on its 787 than China Southern, meaning Xiamen Airlines will have a lower premium seat share (9%) than China Southern (12%).
Configurations of 787 operators with first class: 10-Feb-2015
Sichuan Airlines expands to Moscow. Home base of Chengdu will have four European routes
Sichuan Airlines is China's newest airline to fly long-haul; Sichuan in 2012 launched a service from its home base at Chengdu to Vancouver with a stop in Shenyang. Sichuan then added a service to Melbourne and later Sydney. All are served with A330s, Sichuan's only widebody type in service or on order.
Sichuan plans to open Chengdu-Moscow service on 04-May-2015 with charter service four times a week. The Russia-China market has been growing (sometimes to bring Russians to leisure points in Hainan) but is being impacted by the steep depreciation of the rouble. In Aug-2014 the Russia-China market peaked with about 31,000 scheduled weekly seats but in Aug-2015 will likely have around 29,000 weekly seats, according to schedules as of Feb-2015.
China to Russian Federation (seats per week, one way): 19-Sep-2011 to 26-Jul-2015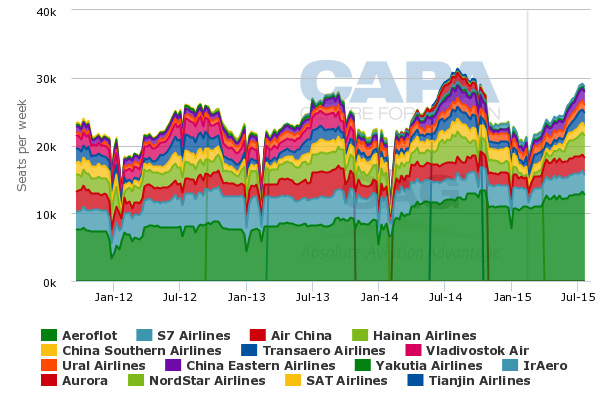 Sichuan's Australian services are subsidised from within China despite the routes mostly carrying outbound Chinese passengers, which has limited short-term impact for China. But in the long term the routes could contribute to Chengdu's hub development. Chengdu is eagerly promoting itself as China's fourth gateway after Beijing, Guangzhou and Shanghai.
Nearby Chongqing is a competitor to Chengdu. Sichuan's Moscow service will give Chengdu its fourth European service after Amsterdam (KLM), Frankfurt (Air China) and London (British Airways).
Long-haul is a small part for Xiamen and Sichuan. It should stay that way for now
In Feb-2015, 87% of Xiamen Airlines' ASKs and 89% of Sichuan Airlines' ASKs are in the domestic market. In Feb-2015, Xiamen Airlines has 114 aircraft with plans to end the year with over 130 aircraft as the airline takes delivery of 19 aircraft (including the four 787s, its only widebody type) in 2015.
Sichuan ended 2014 with 95 aircraft, has 97 in Feb-2015 and plans to end 2015 with 108 aircraft. 14 deliveries will be offset by one retirement, as of Feb-2015. Two of Sichuan's deliveries will be A330s, bringing its widebody count to seven (some of which are used on short-haul routes). In Oct-2014 Sichuan Airlines said it could open Chongqing-Milan or Chongqing-Dubai services from 2015. Chongqing (CKG) is Sichuan's second-largest hub after Chengdu (CTU); see the graph below.
Sichuan Airlines Airlines top 10 hubs/bases/focus cities: 9-Feb-2015 to 15-Feb-2015
Sichuan Airlines chairman Li Haiying said in Oct-2014 that developing an international route network has always been a "very important direction of development" for the carrier and that "our international network expansion will focus on two main directions, one is Europe and the other is in North America". Mr Li said a direct Chengdu-Paris flight as well as US services, particularly to the US west coast, have been included in the carrier's network plans.
Commenting on Czech President Miloš Zeman's 2014 visit to China expressing hopes for a direct Chengdu-Prague service, Mr Li said a Prague route has been included in its plans, although it is "still in talks" regarding concrete proposals. This was perhaps a polite way to effectively decline.
As Xiamen and Sichuan Airlines really know – and contrary to public remarks – that now is premature for expansive long-haul dreams, although governments – and their subsidies – can assist in that direction. Honing domestic and regional international strengths is the foundation to having long-haul services, if merited. There are changes to be confronted in the domestic market, such as Sichuan's Chengdu competitor West Air becoming an LCC and the overall decline of premium domestic passengers.
The danger is that the distraction of new long-haul operations can divert attention from more pressing matters at home.