SAS Scandinavian Airlines vs Finnair: the original Europe-Asia Nordic leader tries to fight back
Analysis
Finnair is raising the competitive stakes in using its Helsinki hub to offer the quickest connections between Europe and Asia and in 2015 will have about 10 flights a day to North and Southeast Asia. Before Finnair arrived in Asia in 1976, there was SAS, which commenced Asian flights in 1949 and held the title for all sorts of records and unique operations. But Finnair started to catch up, and it – not SAS – was the first to fly non-stop from Europe to China. A decade ago, Finnair had only a slight edge over SAS in Asia but now Finnair has three times the number of flights and four times as many seats as SAS in Asia.
Strong and active unions and an unwieldy ownership structure, together with an inefficient fleet, have hobbled SAS, but it is hoping to make some inroads in Asia, although opportunities will be limited. A new Stockholm-Hong Kong service opens in Sep-2015 while a nascent partnership with Etihad lays the groundwork for closer cooperation in the future and when Etihad commences services to Scandinavia. Emirates and Qatar already serve the region. SAS' Asian network is largely out of Copenhagen, and the airline probably would hope the Stockholm departure for Hong Kong will limit Finnair's poaching of Swedish traffic.
Finnair long ago surpassed SAS in the Europe-Asia market
A decade ago in 2005, Finnair and SAS operated about the same number of daily flights to North and Southeast Asia: 3.8 for Finnair and 3.7 for SAS, according to OAG data. Finnair used larger aircraft and was larger than SAS on seats. Since then, SAS' flights from Europe to Asia have decreased 23% to less than three a day while Finnair has tripled to 10 flights a day and will have four times the number of Europe-Asia seats.
Finnair and SAS Europe-Asia seats (left axis) and frequency (right axis): 2005-2015F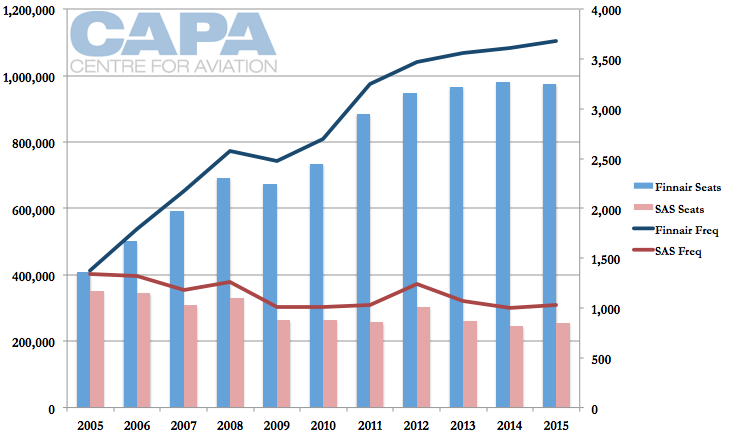 Finnair has its own profitability challenges. It has been able to reduce costs but these efforts have proven not enough. The situation at SAS has improved since 2012 but more work is needed. As CAPA previously wrote:
SAS fell back into net loss in FY2014 and its operating profit margin was only 1.0%. It is achieving its cost reduction targets and moving towards a more effcient operation. Moreover, product and network initiatives have helped to stimulate load factor improvements and growth in the number of frequent flyer members using the airline.

However, in a highly competitive market-place characterised by capacity growth and downward price pressure, unit cost did not fall enough to offset the drop in unit revenue. SAS has now announced further cost savings plans and is reorganising its regional flying activities.

SAS has achieved much over the past two years, streamlining the group and cutting costs. It has lowered its CASK by 10% since 2012, bringing it more in line with other European FSCs. The problem is that the main competitive threat comes from the LCCs and SAS' cost base is still much higher than theirs. It seems it must always work harder just to tread water.
See related reports:
North Asia is a small play for SAS, accounting for 6% of international ASKs in Mar-2015. Its other long-haul market, North America, accounts for about 18% with a total of 24% of ASKs being in long-haul markets. Finnair is far less reliant on competitive short-haul markets (giving it an advantage over SAS) and Finnair has over 60% of international ASKs in long-haul markets, including 34% in North Asia and 19% in Southeast Asia.
SAS international ASKs by region: 16-Mar-2015 to 22-Mar-2015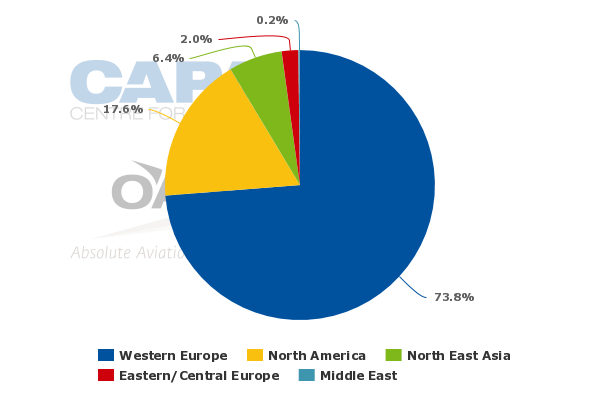 Finnair international ASKs by region: 16-Mar-2015 to 22-Mar-2015
Hong Kong is SAS' first new Asian destination in over a decade
SAS in Sep-2015 commences five weekly flights from Stockholm to Hong Kong on A330/A340s. This is SAS' first new destination in over a decade and only its fourth in Asia. For much of the last decade SAS only served Bangkok, Beijing, Shanghai Pudong and Tokyo Narita. The ending of Bangkok service in Mar-2014 was hugely symbolic: Bangkok was SAS' first destination in Asia, SAS served Bangkok for over 60 years, and SAS helped to establish Thai International, in which it held equity (later divested). While Bangkok is more popular than Hong Kong, that also makes it more competitive. Scandinavian carriers have a geographic advantage for North Asian destinations, reducing competition compared to Southeast Asia.
SAS' Asian routes had been served exclusively from Copenhagen since 2009. Between 2007 and 2009, Bangkok and Beijing were served from Stockholm as well as Copenhagen. Hong Kong will break from tradition and be served from Stockholm. Data from OAG Traffic Analyser shows Copenhagen-Hong Kong had 16% more passengers (42,000 bi-directional O&D) than Stockholm-Hong Kong (36,100) in 2014.
SAS' will be the first non-stop carrier in the market. The existing connecting traffic is mostly carried by Finnair with a 26% share in 2014, according to OAG.
Stockholm-Hong Kong traffic by marketing carrier: 2014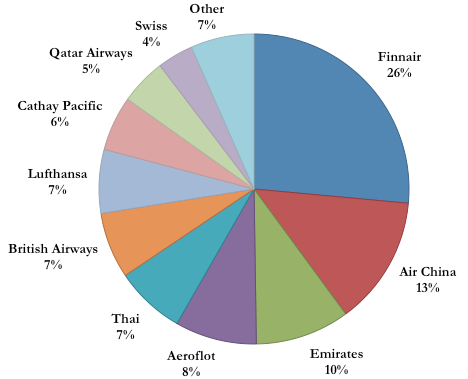 Offering the Hong Kong route from Stockholm potentially means a smaller O&D pool but SAS is perhaps interested in stopping leakage to Finnair. Sweden accounts for 9% of Finnair's source traffic on Asian markets whereas Denmark is only 4%, according to OAG.
Source market for Finnair's Asian flights: 2014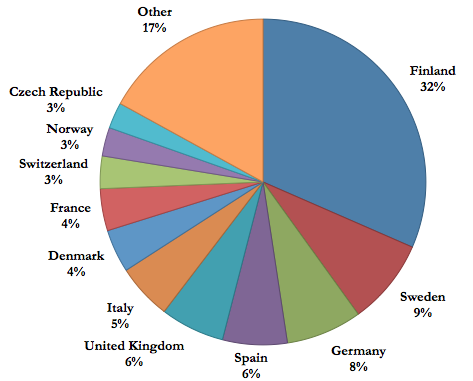 On Finnair's Hong Kong route, Sweden has a higher share at 13% of all traffic (the largest market after Finland) while Denmark is 8%. If SAS offered the Hong Kong service from Copenhagen, it would still compete with Finnair for the large Swedish market and in Denmark would compete with the much larger Lufthansa, which has a large reliance on Denmark.
Further, with SAS already serving Beijing and Shanghai from Copenhagen, serving Hong Kong from Stockholm allows SAS to diversify and reduce the chance of cannibalisation, although Copenhagen offers more flights (important for connections) than Stockholm.
SAS top hubs/bases/stations/focus cities ranked on available seats: 16-Mar-2015 to 22-Mar-2015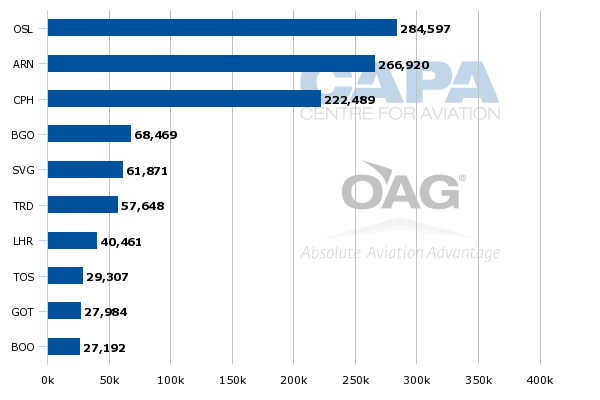 In comparison to Finnair, SAS in Hong Kong will not have beyond market opportunities. Finnair has local oneworld carrier Cathay Pacific in addition to Australia connections on Qantas. Finnair also uses an afternoon arrival in Hong Kong and late evening (early morning) departure whereas SAS will arrive at 07:10 and depart at 08:40, limiting two-way connectivity. Most European flights arrive into Hong Kong in the afternoon and depart at night or early in the morning.
SAS forms a nascent partnership with Etihad
In Nov-2014 SAS formed a codeshare agreement with Etihad. It is a curious alliance since SAS does not fly to a Gulf hub and Etihad does not serve Scandinavia. Qatar entered in 2007 and Emirates in 2011, unique for Emirates to follow another Gulf carrier in the market. Emirates has quickly spooled up and in 2015 is due to have a larger presence in the market than Qatar.
They each serve Copenhagen, Oslo and Stockholm.
Emirates and Etihad Middle East-Scandinavia seat capacity: 2007-2015F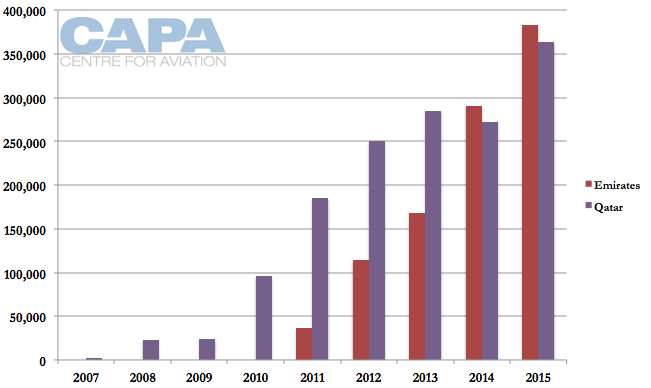 The partnership covers traffic between Scandinavia and Abu Dhabi. This is a small market for SAS but larger for Etihad since Etihad can connect its global network to Scandinavia. SAS has little to connect to Abu Dhabi and could find more value partnering beyond Abu Dhabi. The components of the partnership, as they were announced, are:
SAS place its SK code on Etihad Airways' flights between Abu Dhabi and Brussels, Düsseldorf, Frankfurt, Rome, Milan, Zurich, Geneva and London Heathrow
Etihad Airways plac

ing

its EY code on SAS-operated flights from

those

European destinations, excluding Brussels, onto SAS' hubs in Copenhagen, Oslo, and Stockholm
EY also being placed on flights beyond Copenhagen to Billund and Ålesund; beyond Oslo to Ålesund, Kristiansand, Trondheim, and Stavanger; and beyond Stockholm to Umeå, Sundsvall, and Östersund
Eventual Etihad service to Scandinavia will increase its proposition since it will not have to rely on two-stops. For destinations beyond gateway Scandinavian cities, a connecting flight will be shorter than if connecting to SAS at another European gateway.
Depending how the relationship evolves, SAS could look to partner beyond Abu Dhabi. Etihad is a logical partner in some ways as SAS explores opportunities (and perhaps ultimately awaits a new buyer, which may change partnerships). Emirates is a large competitor while Qatar is in oneworld (SAS is in Star). Etihad is not in an alliance and overall is smaller than Emirates and Qatar. This provides comfort to airlines weary of fast Gulf growth.
SAS, like Finnair, has a geographic advantage serving North Asia, but Scandinavia-Southeast Asia is a riper market for Gulf carriers given the lower circuity. SAS codeshares on Thai Airways between Scandinavia and Bangkok (and domestic Thai points) and has a JV with Singapore Airlines despite SAS not flying to Singapore (thereby reducing the importance of the JV).
SAS continues to tackle its cost base, but it will have to contend with low-cost Norwegian growing in Southeast Asia, which may ultimately preclude SAS' organic growth. Norwegian only serves Bangkok in Asia but wants to expand. In the near future however it is challenged by securing Russian over-flight rights. Southeast Asia is a smaller market than North Asia, but SAS could lead developments in Southeast Asia via partnership whereas Finnair for now is relying on organic growth.
Outlook: incremental opportunities in Asia for SAS. A suitor could accelerate growth
On its own, SAS will surely not be the size of Finnair in Asia, and certainly not while SAS addresses its cost base. The Hong Kong service and prospective partnership with Etihad are incremental opportunities.
The geography between SAS and Finnair is relatively similar, giving SAS the theoretical potential to have more growth in Asia, and likely North Asia, if unions allow it, although its cost base will remain considerably higher.
A new owner/investor could benefit SAS overall, and if this were to be an airline owner, could help SAS reduce costs and expand. Then again, Finland may divest itself of Finnair, allowing Finnair to participate in consolidation and have more efficient growth as well.
Besides ongoing union cost challenges, fleet has been an issue. Both Finnair and SAS are saddled with A340s but SAS feels the inefficiency more: SAS has eight A340s and only four A330s while Finnair has seven A340s and eight A330s.
Finnair's A330s were built around 2009 whereas SAS' A330s were built around 2000, meaning SAS has had more efficient aircraft for longer than Finnair but Finnair was faster to re-fleet.
Finnair will be third A350 operator and first in Europe from Oct-2015. SAS has four A330s and eight A350s on order while Finnair has 19 A350s on order. Finnair's growth projection is clearly higher.
Finnair average fleet age: Mar-2015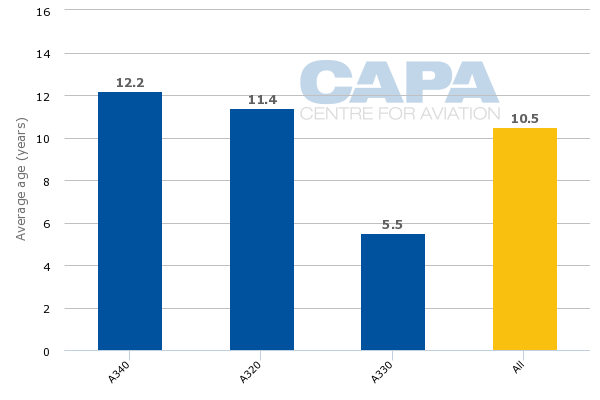 SAS average fleet age: Mar-2015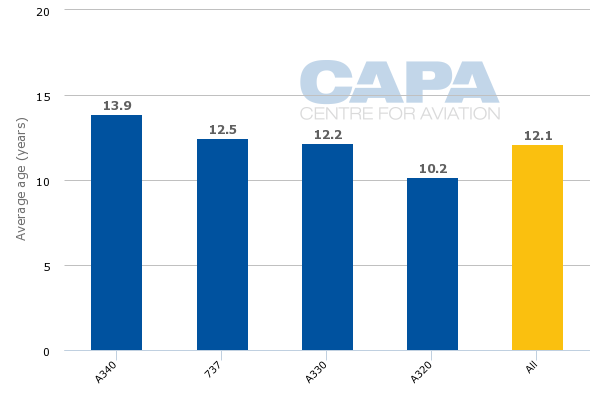 It seems certain SAS will for some time continue to play second-fiddle to Finnair and any gains against Finnair will be small. This should not preclude SAS from exploring new markets – or new ways of accessing markets. SAS is ripe for an innovative solution.