Finnair: 1Q loss narrows as its strategy review places a focus on customer and operations
Analysis
Finnair narrowed its operational loss in the seasonally weak 1Q2015. After capacity cuts and restructuring in 2014, it has returned to modest capacity growth. Revenue was stable as growth in passenger and ancillary revenue was offset by falling cargo and travel services sales. The narrower loss was thanks to decreased costs, with lower fuel prices playing a significant part. Ex fuel unit costs were up slightly, even after stripping out currency movements.
New labour agreements reached last year and the delivery in 2H2015 of Finnair's first four A350 aircraft should provide cost benefits in the future. In addition, Finnair has announced a new strategic focus placing the "customer experience" and "world-class operations" at its heart, presumably hoping this will bolster unit revenue. Finnair has also broadly reiterated its medium to long term financial goals, but remains a long way from achieving them.
One of Finnair's strategic focus areas is Northeast Asia, where it retains an ambitious growth target, but this does not square with last year's capacity cut and this year's slow growth in Asia. The A350 is expected to reinvigorate its Asia strategy.
Finnair's operational loss narrows by 17%
In 1Q2015, Finnair narrowed its net loss by 65% year on year to just under EUR10 million, although this result was flattered by positive non-recurring items (amounting to EUR27 million, mainly related to sale and leaseback agreements and the renewal of the long-haul fleet). The operational result, which gives a better indication of the underlying business performance, was a loss of EUR28 million, 17% less than the loss of EUR34 million in the same period a year earlier.
Revenues were just below flat year on year (-0.5%) at EUR540 million in 1Q21015. The operational margin was -5.2%, compared with -6.3% in 1Q2014. In the seasonally weak 1Q, Finnair's margin was better than that of Aer Lingus (-17.3%) and Air France-KLM (-7.4%), but worse than Lufthansa's (-2.2%) and IAG's (0.6%).
Finnair financial highlights 1Q2015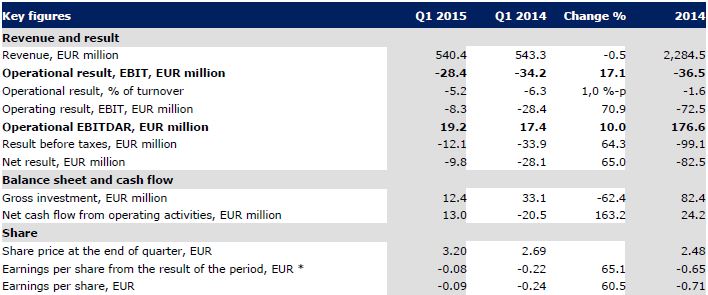 The modest improvement in Finnair's 1Q operational result reflects the balance between, on the one hand, traffic revenue improvement and reductions in fuel and a number of other costs and, on the other hand, a drop in cargo and other revenue and an increase in costs such as traffic charges in particular.
Finnair operational result 1Q2015 versus 1Q2014 (EUR million)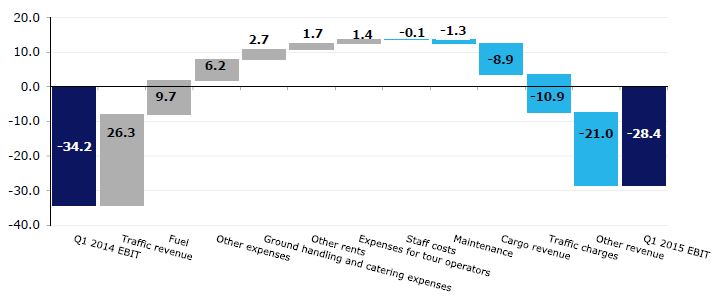 727" height="302" />
Capacity: Finnair's ASK grew 3.1%
Finnair increased its capacity, in ASK terms, by 3.1% in 1Q2015, returning to growth after a 0.9% cut in FY2014 and in line with its guidance for a 3% increase in FY2015. It did not quite fill the extra capacity and RPK growth was only 2.3%, with passenger load factor dipping by 0.6 ppts to 78.1%.
This was above the average 1Q2015 load factor for AEA airlines of 77.3%, but, since Finnair's FY2014 load factor of 80.2% was below the AEA average of 80.6%, it will be looking for gains over the rest of this year.
Finnair passenger traffic data, unit cost and unit revenue 1Q2015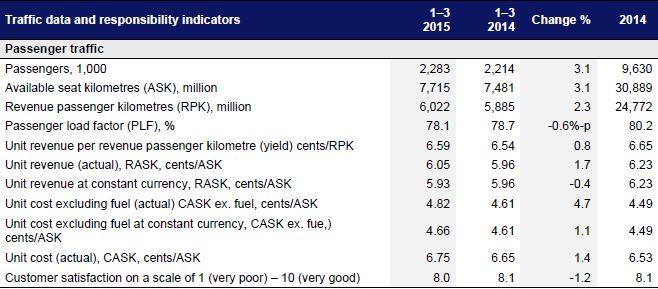 European routes: ASK growth of 5.8%; Flybe Nordic is now 100% owned by Finnair
On Finnair's Europe routes, which accounted for 41% of passenger revenue, ASK growth was 5.8% and passenger revenue growth almost matched this, in spite of a 1.9 ppt dip in load factor. According to Finnair, market capacity between Helsinki and its European destinations grew by 7.8% and its market share on these routes increased to 56.9% from 53.7%.
A significant proportion of Finnair's European feeder traffic is operated under contract arrangements by Flybe Finland, whose parent company Flybe Nordic is now 100% owned by Finnair after Flybe sold its 60% holding on 31-Mar-2015. Flybe Finland will be renamed Nordic Regional Airlines. All flights operated under the contract took on Finnair's AY code from 1-May-2015.
Finnair is in talks with Staffpoint and GWS over the future ownership of Flybe Nordic. However, CEO Pekka Vauramo told analysts on a conference call to discuss the 1Q2015 results that no decisions would be taken about the future of this unit until Finnair finalises its new long-haul bank structure at Helsinki. It is considering whether to grow its existing two banks, or to expand to four banks and the option chosen will have implications for the aircraft required to feed these banks.
Meanwhile, Finnair does not expect the consolidation of Flybe Nordic and the expansion of the contract flying agreement to have a significant impact on 2015 results.
Domestic capacity is cut; "weak signs of a recovery outside Finland". North America is fastest growing
In the domestic market, which generated 10% of passenger revenue, it cut ASKs by 6.0%, but achieved revenue growth of 2.3% and a load factor gain of 4.2 ppts. Finnair's 1Q2015 results statement referred to the "weakness of the Finnish economy", but also "weak signs of a recovery outside Finland".
Finnair increased its Asia capacity by only 1.1%, but it maintained load factor (+0.1 ppts) and grew passenger revenue at the slightly faster rate of 1.4% in the region. Finnair estimates that market capacity between its European and Asian destinations grew by 4.5% and its market share on these routes dipped to 4.9% from 5.1%.
Finnair plans at most 75 flights per week to Asia this summer, compared with 78 in winter 2014/2015. Asia accounted for 43% of Finnair's passenger revenue in 1Q2015, making it the biggest revenue region. Its long term aim remains to double Asian traffic by 2020 relative to 2010, but it cut capacity to the region by 2% in 2014 and has started 2015 with only very muted growth. While this makes sense given very competitive market conditions, there appears to be a disconnect between Finnair's long term aim and its current action in Asia.
Finnair grew most rapidly in North America, with ASKs up 11.3% in 1Q2015, although its load factor lost 2.8 ppts and its passenger revenue increased by only 3.9% (including the contribution from the joint business agreement with its oneworld partners on the North Atlantic).
Overall, Finnair's total passenger traffic revenue increased by 3.1%, in line with ASK growth. This was assisted by favourable currency movements. Finnair calculates that its Airline Business unit revenue increased by 1.7%, but fell slightly (-0.4%) at constant currency.
Finnair traffic and revenue by region 1Q2015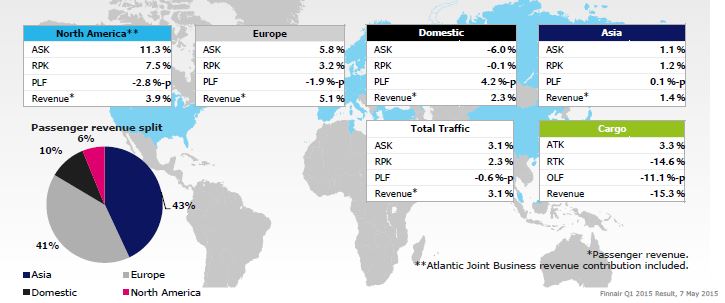 Operating costs were down 1.6%
Total operating costs fell by 1.6%, less than the 0.5% dip in total revenue and in spite of the increase in ASKs. Fuel costs helped this considerably, falling by 6.0%, while non-fuel costs were flat (+0.1% year on year).
Labour costs were level with last year, in spite of an 11.2% reduction in average headcount. Traffic charges jumped by 21.1%, mainly due to the stronger USD versus EUR.
Finnair year on year change in costs and cost breakdown by category 1Q2015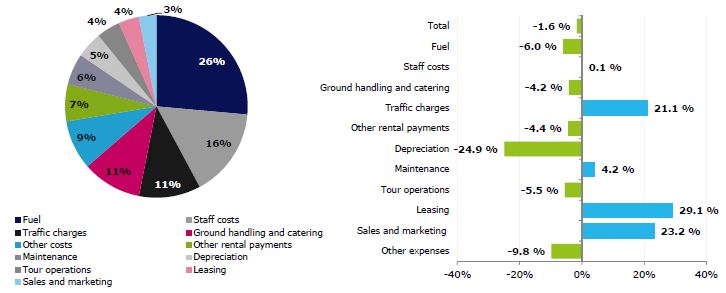 Airline Business segment loss narrows, but Travel Services segment falls into loss from breakeven
The Airline Business segment is by far the biggest of Finnair's two divisions, accounting for 95% of revenue in 1Q2015. Its revenue increased by 0.5% and so the overall dip in group revenue was due to the Travel Services segment, where sales were down by 17.5% as a result of falling demand for package holidays.
The increase in Airline Business revenue was driven by a 5.8% improvement in passenger revenue and a 14.0% jump in ancillary revenue, partly offset by falling cargo sales (due to the discontinuation of dedicated freighter operations at the end of 2014) and other sales. Ancillary revenue benefited from increased unbundling of product features.
The group's improved operational result can be attributed to a 30.1% narrowing of the loss in the Airline Business segment from EUR35 million to EUR24 million. By contrast, the Travel Services segment suffered a fall in its operational result from breakeven to a loss of EUR4 million, in spite of restructuring in its Suntours leisure business and a slight profit in its SMT business travel agency. Mr Vauramo told analysts, "We will clearly take action if we don't see an improvement in Suntours".
Finnair results by segment 1Q2015 and 1Q2014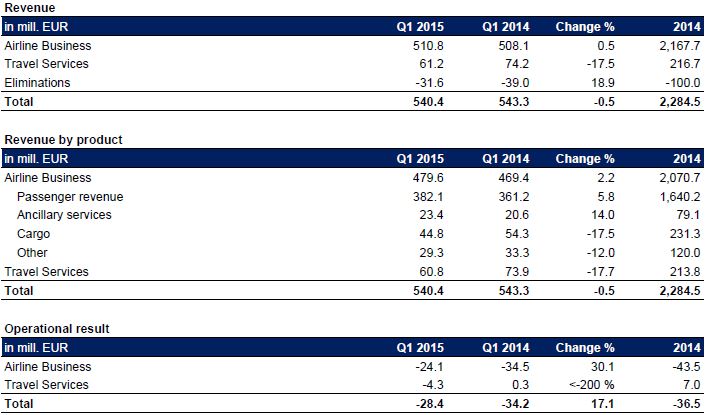 Outlook: 2015 will benefit from lower fuel prices; strategic review brings new vision, but financial targets remain a challenge
Looking ahead to FY2015, Finnair still plans ASK growth of around 3% and expects flat revenue. It targets ex fuel unit costs at constant currency down from last year and expects to benefit from lower fuel prices. Finnair calculates that ex fuel CASK at constant currency increased by 1.1% in 1Q2015, so will need to reverse this if its FY2015 target is to be met.
More broadly, as part of its annual strategy review, Finnair also reported a new vision to offer passengers a unique Nordic experience. This seems to revolve around quality, reliability, safety and "design inspired by Nordic pure nature". Finnair's mission is to offer the smoothest, fastest connections in the northern hemisphere via Helsinki and the best network to the world from its home markets.
As strategic objectives, it still plans to double Asian traffic by 2020 from 2010 and to create shareholder value, but has added to these a new objective to "deliver a unique customer experience and achieve world-class operations". Fine words and commendable as a statement of intent, but it remains difficult to differentiate and to be genuinely unique in the airline industry.
Its financial objectives are as before, with the exception of a higher gearing target. These are an EBIT margin of 6% over the cycle, EBITDAR margin of 17% over the cycle, adjusted gearing maximum of 175% (previously 140%) and a return on capital employed minimum of 7%.
As an indication of how far its is from these longer term financial objectives, in 2014, Finnair's EBIT margin was negative and its EBITDAR margin was 7.7%. It has not achieved an operating margin of 6% since 2007 (the only time in at least a decade). Only on adjusted gearing, which was 108% in 2014, is Finnair meeting its target. However, its decision to increase the ceiling on this measure suggests that it is not confident in its cash flow generating abilities and, therefore, in its profit targets.
As CAPA concluded in our analysis of Finnair's FY2014 results, "the achievement of sustainable profits through the cycle, independent of the fluctuations of fuel prices, will require continued unit cost reduction. Even then, it may be elusive for Finnair."