Sichuan Airlines becomes China's 7th airline to have 100 aircraft. Next 10 years: another 100
Analysis
Sichuan Airlines is due to take delivery of an Airbus A320 family aircraft on 22-May-2015, giving the Chengdu-based carrier 100 aircraft. Sichuan becomes the seventh airline in China to have a fleet of 100 or more aircraft. Globally Sichuan will be the world's 50th largest airline by fleet size. Sichuan intends to take another 100 aircraft over the next decade.
Sichuan's hinterland is mostly in China's west, from Xi'an and Kunming to Chengdu and Chonqging, although it also has a large presence along China's eastern seaboard. Sichuan carried just under 20 million passengers in 2014, almost all domestic.International flying, which accounts for 9% of Sichuan's seats in May-2015, is mostly around Northeast and Southeast Asia but limited long-haul links extend to Australia, Moscow and Vancouver.
All of China's Big Three airlines – Air China, China Eastern and China Southern – have a direct or indirect stake in Sichuan Airlines, creating competing interests in China's booming west.
Sichuan Airlines will receive its 100th aircraft on 22-May-2015
Sichuan Airlines on 22-May-2015 will receive an A320 family aircraft, bringing its fleet count to 100. Sichuan's in-service fleet comprises seven A330s with the balance A320 family aircraft (Sichuan operates the A319, A320 and A321). Sichuan has one MA-60 in storage and 20 C919s on order in addition to a few more Airbus narrowbodies expected for delivery.
Sichuan Airlines 100th aircraft marketing image: May-2015
Sichuan becomes the seventh airline in China to operate 100 or more aircraft. Xiamen Airlines and Hainan Airlines are in the 100-149 category, Shenzhen Airlines just above 150 while Air China, China Eastern and China Southern operate over 300 aircraft, including nearly 500 at China Southern. This is for the main airline and excludes other carriers in each airline's group.
Sichuan's fleet ranking – seventh in mainland China – makes it the 50th largest globally (see graph below), and bigger in aircraft numbers than airlines including KLM, AirAsia (Malaysia), Thai Airways, Austrian Airlines and Malaysia Airlines. The largest Chinese airline on fleet ranking, China Southern, is fifth largest in the world. China Eastern and Air China are also in the top globally with China Eastern being seventh largest and Air China eighth largest. Shenzhen Airlines, with over 150 aircraft, is 25th largest globally. China's 10th largest airline by fleet, Shanghai Airlines, is 70th largest in the world while China's 15th largest airline, Okay Airways, is 171st in the world.
As CAPA previously wrote, 13 Chinese airlines are planning to have over 100 aircraft by 2020. There are likely more that have not announced plans. China's seven airlines with 100 or more aircraft compares to 13 in the United States, including airlines such as Envoy and Republic Airlines that operate regional aircraft.
See related report: 13 Chinese airlines could each have a fleet of over 100 aircraft by 2020
Ranking of 15 largest Chinese airlines by fleet size and table of local/global rank: 22-May-2015 forecast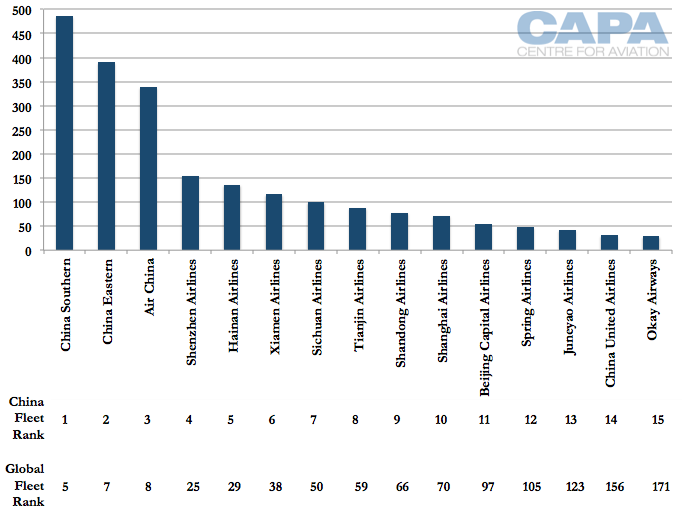 Sichuan Airlines expects to receive another 100 aircraft over the next decade, but did not state if this is net growth or includes aircraft that will be replacements.
Sichuan Airlines is only the second largest carrier at its Chengdu hub
Sichuan Airlines is based at Chengdu airport in the capital of Sichuan's namesake province. By the end of 2015 Chengdu expects to start construction on a new airport 52km away from the centre of town. The airport is planned initially to have three runways and handle 40-45m passengers upon its opening in 2025. A later development will see the addition of three more runways for a total of six, which will allow handling of 90m passengers.
The existing airport, with capacity of 40m, is expected to remain in operation, giving the city a capacity of 130m passengers annually. (Beijing will also keep in operation its current main airport, Beijing Capital, after an entirely new airport opens.)
Chengdu saw passenger throughput of just under 38m in 2014, below its design capacity. But growth is difficult due to a tight slot situation. Chengdu's 12.8% passenger growth in 2014 was its highest since 2010's 14% growth. Chengdu is the fifth largest airport in China.
Chengdu airport annual passenger numbers: 2008-2014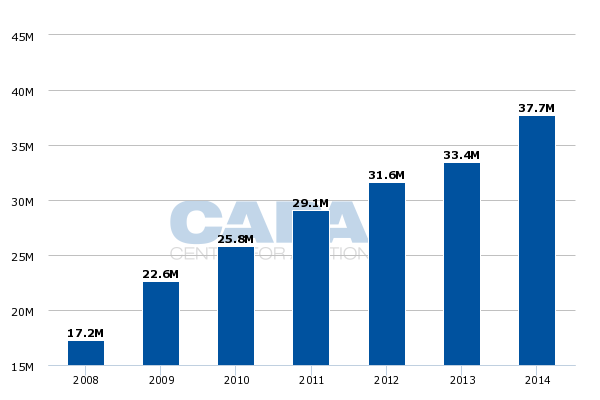 Chengdu airport annual passenger growth: 2008-2014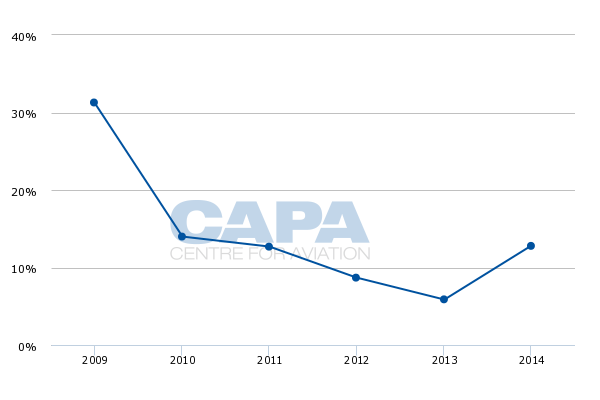 Despite being the home carrier at Chengdu, Sichuan Airlines has only a 21% total market share compared to 29% at Air China, which has a base at Chengdu. Air China is one of the (indirect) minority investors in Sichuan Airlines.
Chengdu airport system seat capacity by carrier: 18-May-2015 to 24-May-2015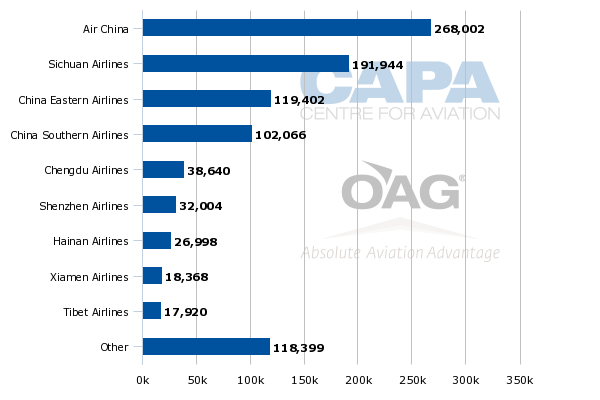 Domestic services account for 91% of Chengdu's available seats in May-2015, and 95% of Sichuan's seats are within the domestic market. In the small international segment, Sichuan Airlines has a lead in market share (18%) over Air China (14%).
Chengdu airport international seat capacity by carrier: 18-May-2015 to 24-May-2015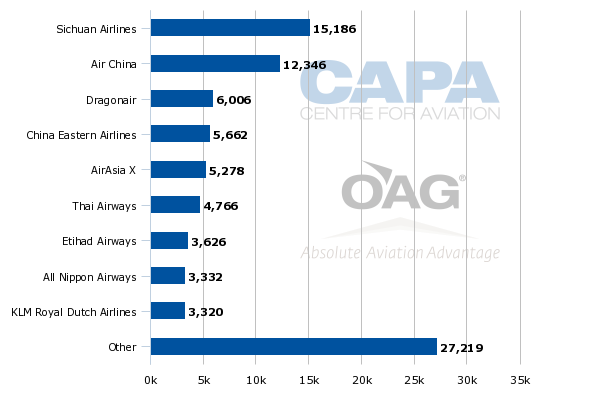 Sichuan Airlines carried just under 20m passengers in 2014, and its growth has been higher than that of Chengdu airport. Sichuan has other bases it can use for growth.
Sichuan Airlines annual traffic volume: 2008-2014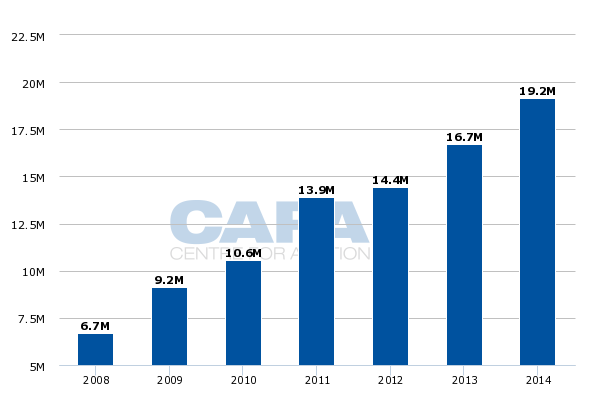 Sichuan Airlines annual traffic growth: 2008-2014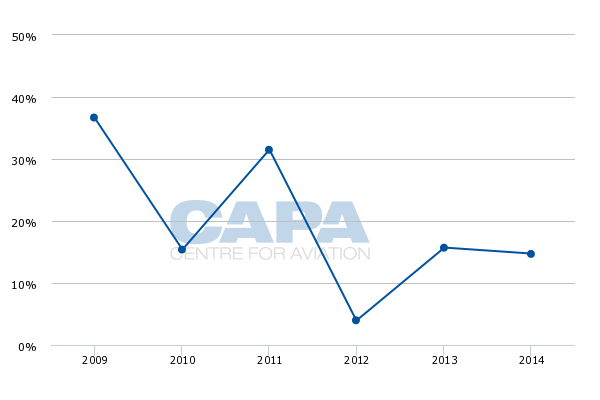 Sichuan Airlines' major presence extends to points well outside its namesake province
Sichuan Airlines has hubs in nearby Chongqing as well as Kunming and Xi'an in China's more western regions. Beijing, Hangzhou, Harbin and Xi'an are also some of its largest focus points, as reflected in its top 10 network points.
At Chongqing Sichuan Airlines has a 15% market share, behind Air China's leading 17% share. At Kunming, Sichuan is fourth largest with a 7% share.
Sichuan Airlines top 10 hubs/bases/stations/focus cities ranked on available seat capacity: 18-May-2015 to 24-May-2015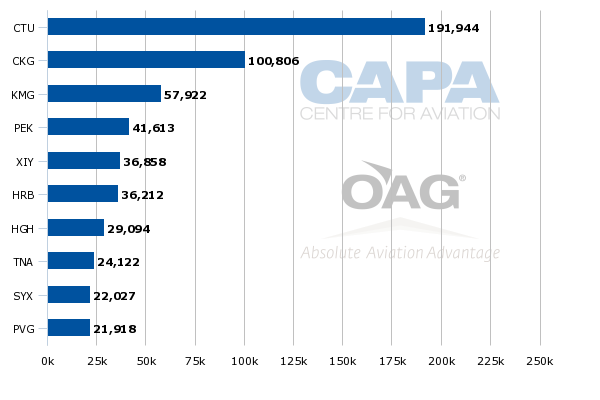 More than half of Sichuan's routes are served daily or more. 85 routes have frequencies of once a day but only 33 have service more than once a day. Of those 33 routes, 17 have service more than twice a day but less than three times a day while nine routes have service at least three times a day.
Sichuan Airlines domestic routes served by frequency/week: 18-May-2015 to 24-May-2015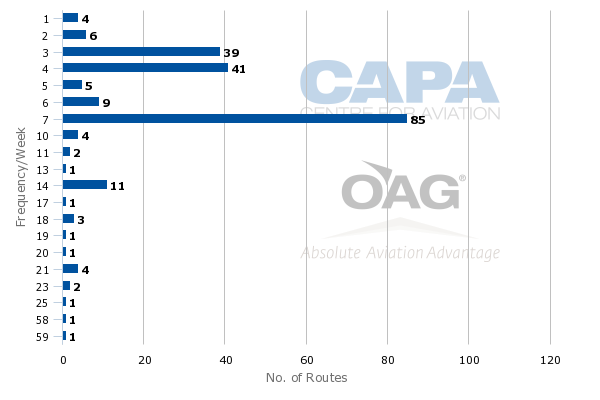 Sichuan Airlines' international network mostly originates from Chengdu
Sichuan's international network is mostly from Chengdu with some services from Chongqing as well. Sichuan has limited international service from Lhasa, Guangzhou, Zhangjiajie, Shanghai, Shenyang and Harbin. Northeast Asia is Sichuan's largest international market by available seats, and it serves Taipei as well as multiple points in Korea.
Sichuan Airlines international seat capacity by region: 18-May-2015 to 24-May-2015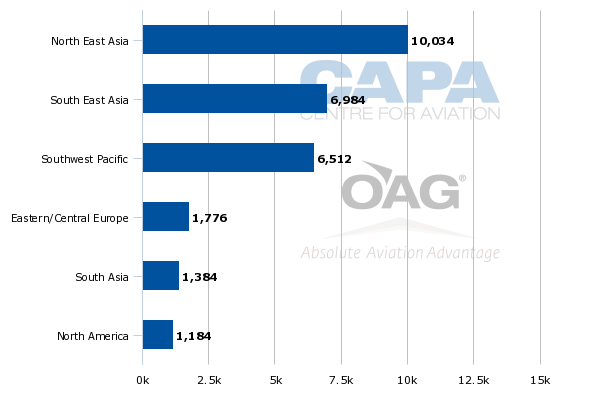 Thailand is Sichuan's single largest international country and it serves two points (Krabi and Phuket). Overall Southeast Asia, with service to Vietnam's Nha Trang, is Sichuan's second-largest international market. Australia is slightly smaller than Southeast Asia for Sichuan.
Sichuan Airlines international seat capacity by country: 18-May-2015 to 24-May-2015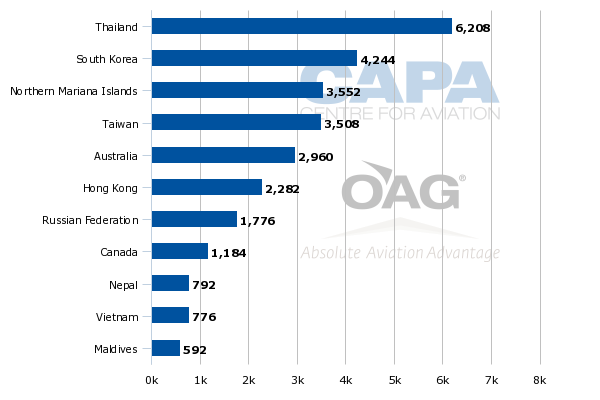 Sichuan Airlines international routes served by frequency/week: 18-May-2015 to 24-May-2015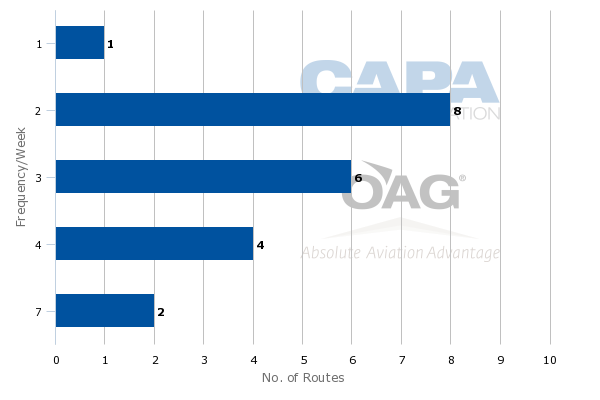 Sichuan's international network is characterised by smaller points; it serves Krabi and Phuket but not Bangkok (both China Eastern and Spring Airlines serve Bangkok from Chengdu) while Vietnam sees service to Nha Trang but not Hanoi or Ho Chi Minh. Although Guangzhou and Shanghai are major hubs, it only serves Saipan from those points. The nature of thinner routes means only two of Sichuan's international services are offered daily.
67% of Sichuan's international seats and 40% of international ASKs are in short-haul markets. North America was Sichuan's first long-haul point, with Chengdu-Shenyang-Vancouver service. North America is Sichuan's smallest long-haul market by ASKs after Eastern Europe, where Sichuan launched service to Moscow in May-2015.
See related report: Xiamen Airlines and Sichuan Airlines are China's latest airlines to fly long-haul; risks abound
Sichuan's largest international market by ASKs is Australia, where it has flights to Melbourne and Sydney from Chengdu and Chongqing respectively. The services are understood to have been pushed by the government and are not sustainable without being underwritten. Sichuan's Sydney service departs Chongqing due to successful lobbying from Chongqing. Sichuan's Australia network had a rocky start. Overall Sichuan is best focused on the domestic and short-haul international markets. Long-haul is likely still premature, and Sichuan's bolder statements of European and American expansion have not yet been realised. Sichuan has no further long-haul aircraft on order, and its all-A330 widebody fleet limits the range of cities it can serve in North America.
See related report: Sichuan Airlines grows with Chongqing-Sydney service, but European and American expansion awaits
Outlook: A complex ownership structure hinders growth – and partner selection
Where next for Sichuan? Growth is not easy in general for Chinese airlines given slot restrictions and lobbying from other carriers. This is magnified at airlines that are not the big three (Air China, China Eastern and China Southern).
Sichuan Airlines has a unique challenge: it is owned by all of the big three. China Southern has a direct stake of 39%, and Shandong Airlines (in turn owned by Air China) has a 10% stake, while Shanghai Airlines (wholly-owned by China Eastern) also has a 10% stake. Despite indirect and small shareholdings, the big three are effectively able to jostle over Sichuan. Competing against them is the Sichuan government, which has a stake in Sichuan Airlines and wants to reap benefits.
Air China for example would not want to see Sichuan Airlines to expand to Europe: Air China is the largest Chinese carrier in Europe and has launched Chengdu-Frankfurt services. And China Southern is probably not happy with Sichuan's Australia presence. Although Sichuan's flights contribute to China Southern's group market share, Sichuan's catchment area could be connected to Australia via China Southern's Guangzhou hub, and China Southern would like to improve its Australian performance.
As Sichuan Airlines grows internationally, and more foreign carriers serve its hubs at Chengdu and Chongqing, partnerships will become more important. Sichuan Airlines is not a member of a global alliance - the world's 15th largest airline not aligned to an alliance, but most of the others are LCCs.
Sichuan is the fourth largest full-service airline not a member of a global alliance. First is Emirates (unlikely to join), then Alaska Airlines (seemingly reaping the benefits of being an independent carrier), third is Hainan Airlines and fourth is Sichuan.
China Southern's large ownership makes SkyTeam an obvious pick; Xiamen Airlines, in which China Southern has a majority stake, joined SkyTeam. But Air China will not want to see Sichuan becoming too close to SkyTeam.
Meanwhile Sichuan might ask itself what its realistic international growth could be. It may be advantageous to remain independent, particularly given its complex parentage.
15 largest airlines not a member of a global alliance: 18-May-2015 to 24-May-2015
| | | | | |
| --- | --- | --- | --- | --- |
| Unaligned Rank | Total Rank | Airline | Seats | LCC? |
| 1 | 2 | Southwest Airlines | 3,527,194 | LCC |
| 2 | 5 | Ryanair | 2,341,332 | LCC |
| 3 | 10 | easyJet | 1,634,544 | LCC |
| 4 | 14 | Emirates | 1,311,109 | - |
| 5 | 17 | Gol | 1,045,832 | LCC |
| 6 | 20 | Lion Air | 878,277 | LCC |
| 7 | 24 | JetBlue | 808,870 | LCC |
| 8 | 25 | IndiGo | 789,660 | LCC |
| 9 | 26 | Alaska Airlines | 751,659 | - |
| 10 | 31 | Norwegian Air Shuttle | 687,414 | LCC |
| 11 | 35 | Vueling | 652,176 | LCC |
| 12 | 39 | Hainan Airlines | 624,800 | - |
| 13 | 42 | AirAsia | 571,320 | LCC |
| 14 | 44 | Pegasus | 546,507 | LCC |
| 15 | 47 | Sichuan Airlines | 527,485 | - |
Sichuan Airlines has reached a 100 aircraft fleet just as its hinterland of Chengdu and Chongqing begin attracting long-haul services, in sync with China's western region boom. Over the ensuing period in which Sichuan will take its next 100 aircraft, there will be much growth and changes, in particular from encroaching LCCs, which the government believes to be a growth engine for the west.
There is considerable opportunity for Sichuan Airlines, but it will continue to struggle with the complex and competing interests of its shareholders. The risk is other carriers pick up the scraps, large and small.