Australia is most popular long-haul market for Chinese airlines while USA is the largest
Analysis
The decision by Hainan Airlines to re-enter the Australian market means it will be the sixth Chinese airline to serve Australia. China has seven long-haul carriers as of Sep-2015, and Australia is their most frequent destination. They serve Australia from nine points in China compared to linking Western Europe with 14 Chinese cities.
After Australia are Canada and Russia, which each receive service from five Chinese airlines. Four airlines serve or intend to shortly open service to each of France, Germany, Italy, the UAE and USA. An abnomaly may be found in the UK, which has service from only three Chinese carriers. London is the prized destination for Southeast Asia's growing airlines: Garuda, PAL and Vietnam Airlines. But challenges with visas, in addition to Heathrow slots and high departure taxes, limit opportunities. Despite a record number of outbound Chinese tourists in 2014, the UK saw a decrease in Chinese visitors.
2015 sees China gain its sixth and seventh long-haul operators: Xiamen and Beijing Capital
China has more long-haul airlines than any other country. It easily dwarfs North America's five (Air Canada, American, Delta, Hawaiian and United) and begins to approach the nine airlines from Europe's main airline groups (Aer Lingus, Air France, Austrian, British Airways, Brussels, Iberia, KLM, Lufthansa and Swiss; excluding Eurowings).
The larger Asian market, with long-haul franchises (AirAsia X, Scoot) has considerably more long-haul carriers. Growth in number of long-haul operators outside of China is mostly in the low-cost space although AirAsia X and Scoot do not plan additional franchises (perhaps besides an India AirAsia X). Cebu Pacific has gone long-haul in recent years while Jin Air, associated with Korean Air, plans long-haul service to Honolulu by the end of 2015. Potential full-service long-haul additions are from Hong Kong Airlines and, maybe, Taiwan's TransAsia.
See related reports:
It will not be long until Chinese long-haul AOCs surpass this; already Tianjin Airlines plans to go long-haul in 2016 (and possibly on a low-cost basis, potentially making it China's first long-haul LCC) while most other Chinese carriers have long-haul service as their long-term objective. Later there will be consolidation but for now, there is a growing amount of diversified Chinese heavy metal.
China's newest airline to go long-haul will be Beijing Capital Airlines with limited service to Copenhagen that effectively makes the flights charters. Xiamen Airlines launched inaugural long-haul service in Aug-2015 with a Xiamen-Amsterdam service. Sydney will follow later in 2015.
See related reports:
Xiamen will be the fifth Chinese airline in Australia while Hainan will be sixth. Hainan served the Australian earlier this decade with a short-lived Shenzhen-Sydney service. Hainan was unable to use its sizeable feed at Shenzhen, where it is now the third-largest carrier.
At the same, Hainan was challenged by competition from China Southern in nearby Guangzhou and even closer by Cathay Pacific in Hong Kong, which has extensive air and sea links to Shenzhen. Hainan plans to re-enter with service from Xi'an and Changsha, neither of which have current Australian service, making it likely Hainan is receiving handsome subsidies for the routes.
Shenzhen system seat capacity by carrier: 14-Sep-2015 to 20-Sep-2015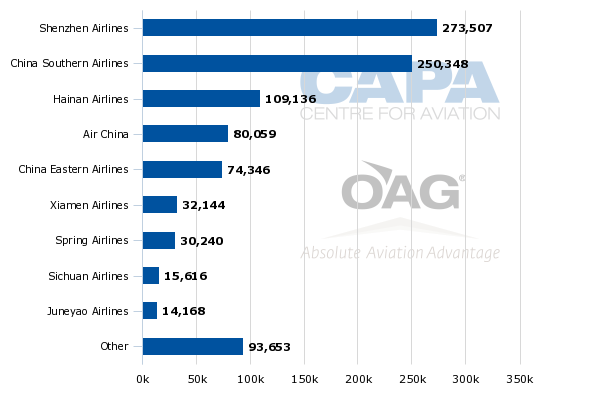 Six of China's seven long-haul airlines will serve Australia
Australia is the most popular market for Chinese airlines based on the number of operators (including planned). The holdout is Beijing Capital Airlines, which so far is only serving Denmark as a long-haul point. Australia could be attractive to it since the market is highly leisure, but the existing capacity may make the market too competitive for a new entrant.
Chinese airline service to most popular long-haul countries: as of 17-Sep-2015
| | | | | | | | |
| --- | --- | --- | --- | --- | --- | --- | --- |
| | | | | | Hainan | Sichuan | |
| | X | - | X | X | X | X | - |
| | X | - | X | X | X | - | - |
| | X | - | X | X | X | - | - |
| | X | - | X | soon | X | - | - |
| | - | - | - | X | - | - | X |
| | X | - | X | X | - | - | - |
| | X | - | X | X | - | X | - |
| | X | - | X | X | X | X | - |
| | X | - | X | X | X | - | - |
| | X | - | X | X | soon | X | X |
| | X | - | X | X | - | - | - |
Provided Hainan launches service from Changsha and Xi'an while Xiamen links Australia with Fuzhou and Xiamen, Australia will see service from 10 Chinese cities. This is more than any other country (or continent) by far.
All of Western Europe sees service from 14 Chinese cities. It is probably not long before other cities – Hangzhou, Wuhan – are linked to Australia while new points see service to Australia, Europe and other markets. The services are challenging and often loss-making, although with subsidies. Chinese airlines worry if they do not serve a route, another airline will and will be able to bring the market to profitability one day.
Chinese cities with service (scheduled or planned) to Australia: as of 17-Sep-2015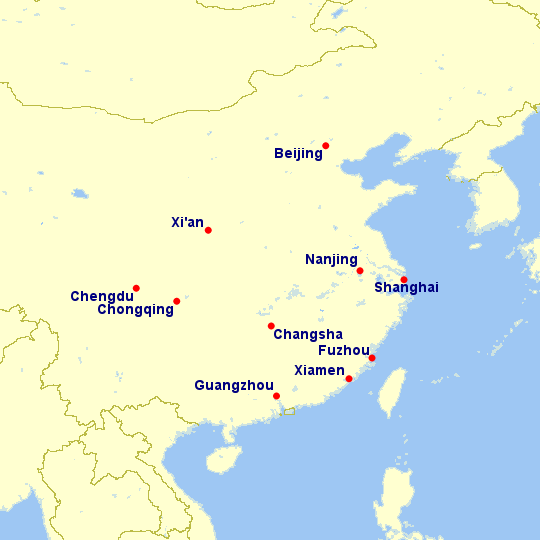 Chinese airlines' Europe focus is on Germany and Russia, not the UK
After Australia, Russia and Canada are the most popular long-haul markets for Chinese airlines with five of China's seven long-haul carriers serving the markets. There is considerable trade and tourism between Russia and China. Canada is popular for bi-directional VFR flows, with Vancouver capturing substantial Chinese traffic: even after Air China launches Beijing-Montreal service, over two-thirds of Chinese carrier capacity into China will be to Vancouver.
Vancouver's closer proximity to China compared to the US to China makes it an easier market for new Chinese long-haul operators, which often launch with medium-sized widebodies like the A330 or 787-8. Sichuan Airlines, whose only widebody type is the A330, flies only to Vancouver in North America.
Share of Chinese carrier capacity to Canada: 26-Oct-2015 to 01-Nov-2015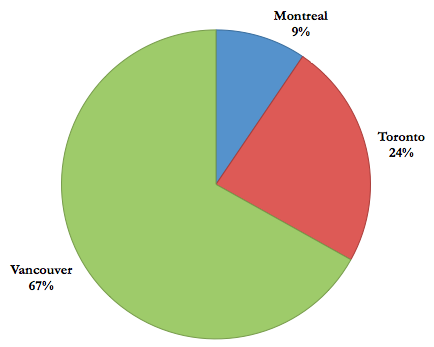 France, Germany, Italy, the UAE and USA each see service from four Chinese airlines. France and Italy have only recently gained so many operators: Hainan commenced Paris services in Sep-2014 while Italy gained Hainan in Apr-2015 and by the end of the year is expected to see service from China Southern.
Since 2008, the US market has had service from four Chinese airlines while Germany is important due to economic links: Germany is China's largest trading partner in Europe.
Chinese airline service to most popular long-haul countries: as of 17-Sep-2015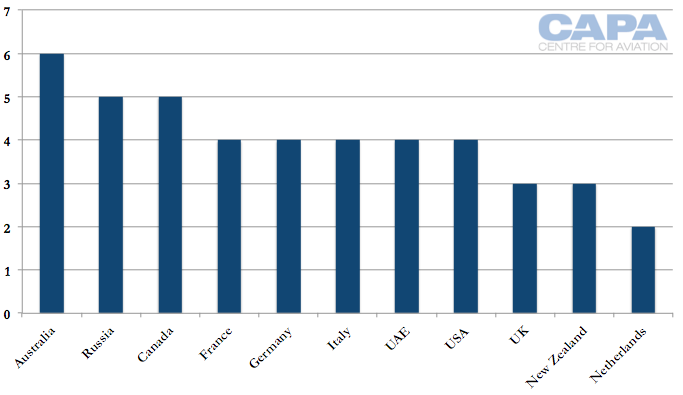 What might appear to be missing is a significant Chinese carrier presence in the UK. Only three Chinese airlines – all state-owned: Air China, China Eastern and China Southern – serve the UK, although Hainan has contemplated UK services. In comparison, airlines in Southeast Asia embarking on new long-haul expansion see a London service as strategically necessary despite significant financial challenges in serving the city. Garuda, PAL and Vietnam Airlines have all recently launched London services.
The UK holds potential interest to Chinese visitors with its history, royal family and being perceived as the ultimate (and aspirational) middle class lifestyle (poshness sells). Aside from the usual factors of APD and Heathrow slots, the UK's abstention from the Schengen visa is a mark against it since Chinese visitors like to visit a number of countries on (often whirlwind) European trips.
Acquiring a second visa for just the UK is cumbersome and expensive.
This has been to the great frustration of British Airways, which wants to grow in China: in Sep-2013 it launched service to Chengdu, only its third point in China (less than European peers), and has earmarked future widebodies for opening more China services.
Chinese visitors (000s) to the UK: 2005-2014
An unwelcome sign of just how poorly the UK is performing with Chinese visitors is that the number of Chinese visitors to the UK decreased in 2014 by 7.6% compared to 2013. This is despite the tremendous growth in outbound visitors. Normally decreases in Chinese tourists are associated with politically-linked reasons (Japan in 2012), local unrest (Thailand in 2013) or public health concerns (Korea in 2015). None of these are applicable to the UK.
See related report: Airlines feel the impact as Chinese tourism preferences shift from Southeast Asia to Northeast Asia
Chinese outbound visitors: 2004-2014
Australia largest for number of Chinese airlines, but USA biggest for capacity
While Australia may see the largest number of Chinese airlines, it is the United States that has the largest amount of seat capacity from Chinese carriers. In Sep-2015 Chinese carriers will operate approximately 41,000 weekly seats to the US compared to 20,000 to Australia.
(Looking at ASKs would further distance the US from Australia given the longer stage lengths to the US compared to Australia.) Aside from this, there is symmetry because the number of Chinese operators to a country and the number of seats they deploy.
Seat capacity from China to 10 largest long-haul markets operated by Chinese airlines: 14-Sep-2015 to 20-Sep-2015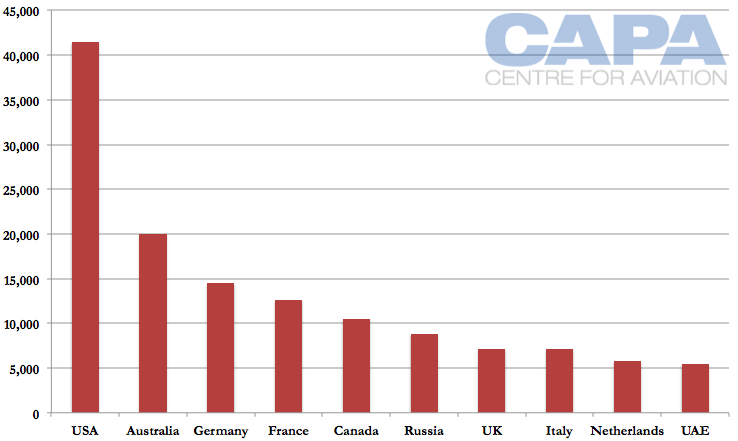 Although China may have more long-haul operators than any other country - with more on their way - it is of course the short-haul international market that dominates. The largest long-haul market from China, the US, has a third as many seats as the largest market overall from China, Japan. Of the 15 largest international markets from China, only six are long-haul.
Chinese airlines have more seats to Singapore than Australia, and more to Cambodia than the UK.
Seat capacity from China to 15 largest international markets operated by Chinese airlines: 14-Sep-2015 to 20-Sep-2015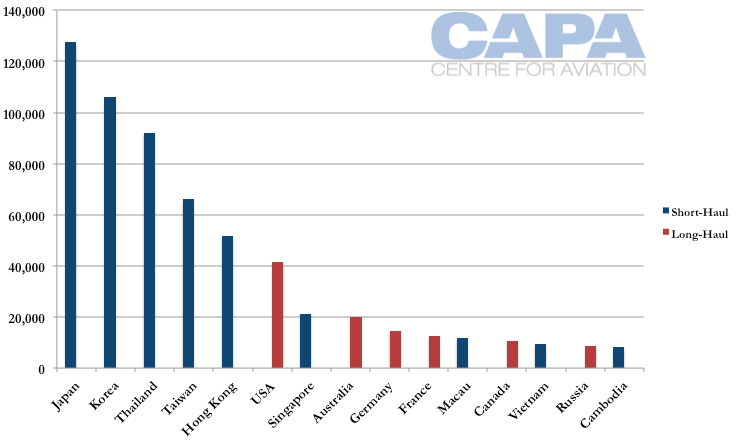 Long-haul operations remains a matter of pride for Chinese airlines - and a bigger talking point for the governments often affiliated or owning the airlines. Quietly, however, airlines bemoan the tremendous challenges they face - including issues like needing to establish brand presence internationally, availability of skills, nature of product, deep partnerships, along with the usual risks in long haul operations.
Their entry is in some cases too early, but, among other reasons, there are concerns that if they do not grow another airline will. This is validated by China gaining two long-haul operators this year, one more in 2016, and with many others expressing the aspiration.