Lower-weight A330 targeted at China, with its high dependence on widebody aircraft for trunk routes
Analysis
The tremendous growth of the domestic Chinese aviation market over the last decade is strongly tied to the increasing use of widebody aircraft. The country's largest route, Beijing Capital to Shanghai Hongqiao, has grown 53% in frequencies from 2003 to 2013. And widebody aircraft have grown disproportionately higher: in 2003 widebodies flew 47% of Beijing-Shanghai frequencies; in 2013 they fly 76% of frequencies between the country's two main cities.
While carriers operate a number of widebodies on domestic routes, it is the A330 that captures attention. The twin-engined aircraft was not even in service in China in 2003 but in 2013 the A330 flies 53% of all Beijing-Shanghai frequencies. So it is not surprising Airbus chose a Chinese event to announce its lower-weight A330, pitched for regional and domestic operations. Widebody aircraft on trunk routes deliver not just cost efficiencies but permit capacity growth in restricted airspace. Widebodies are so key that some domestic Chinese route authorities are awarded only if an airline plans to use a widebody.
Airbus to offer regional/domestic A330-300 with cabin, not structural, changes
At the Aviation Expo China (Beijing Airshow) 2013, Airbus announced a lower-weight variant of the A330-300 that it is pitching for regional and domestic markets where there are large populations and traffic flow. The aircraft will seat up to 400 passengers on flights up to 3,000nm. Airbus expects the operating weight to be about 200 tonnes, a reduction of the baseline A330-300's 235 tonne operating weight. Airbus recently introduced a 242 tonne variant. The weight savings will be made through cabin changes, such as reducing galleys. Airbus says the lower-weight A330 will reduce operating costs by up to 15%. This includes reductions on landing fees, typically based on aircraft weight, and associated charges, like de-rated engines.
There is a history for domestic or regional versions of widebody aircraft. In the 1990s Boeing manufactured a domestic version of its 747-400 for key customers All Nippon Airways and Japan Airlines. JAL has since retired all of its 747s while ANA has a handful of domestic 747s due for imminent retirement. But Boeing's domestic 747 had structural changes and not just the cabin ones Airbus is promoting. Boeing's changes included strengthening the undercarriage to support the higher number of cycles the 747 domestics would accumulate, and removing the winglets. Boeing also removed the upper deck galley to provide room for additional seats. The 747-400 domestic could be converted to a regular 747, just as Airbus plans for the lower-weight A330 to be converted for long-haul use. (The conversion will theoretically be easier than on the 747, although no domestic 747s were ever converted.)
De-rating engines is common. Examples include Singapore Airlines de-rating the engines on its 777-200 used on regional routes while Qantas has de-rated the engines on A330s used domestically.
China's domestic carriers have already reduced galley space on their domestic A330s while long-haul low-cost carriers have also reduced galley space to save weight. Scoot, which uses 777-200s formerly used by SIA, estimates it saved two tonnes on its 777-200s by reducing galleys, using lighter seats and removing embedded IFE.
China operates 119 A330s, but most of them -200s
Airbus announced the lower-weight A330 in China, home to the largest number of A330s. There are 119 passenger A330s in service in China as of Oct-2013, according to CAPA's Fleet Database. Air China has the most with 39 followed by China Eastern (33), China Southern (26), Hainan Airlines (15) and Sichuan Airlines (5). The majority – 62% – of A330s in China are the -200 variant, and typically used on long-haul flights to Europe and even North America. All Chinese A330 operators have more -200 variants than -300s.
Summary of A330s with Chinese airlines: 02-Oct-2013
The 45 A330-300s still represents a substantial market that could grow or be replaced, and this excludes other markets like Singapore and Hong Kong where there are sizeable regional fleets. By not making structural changes to the A330, Airbus' lower-weight A330-300 is a low-cost variant that Airbus can expect to quickly become profitable.
China Southern was the first A330 operator, taking A330s in 2005. (In the chart below, one of Sichuan Airlines' A330s was manufactured in 2002 but for a non-Chinese carrier. Sichuan acquired the aircraft only in recent years.) Since 2006 Chinese carriers have collectively taken about 16 A330s a year, except in 2009, which was incidentally after a disastrous financial performance across the board. The peak was in 2007 with 19 A330s manufactured that year for Chinese carriers.
Manufacture year of passenger A330s operated by Chinese airlines: 2002 to Oct-2013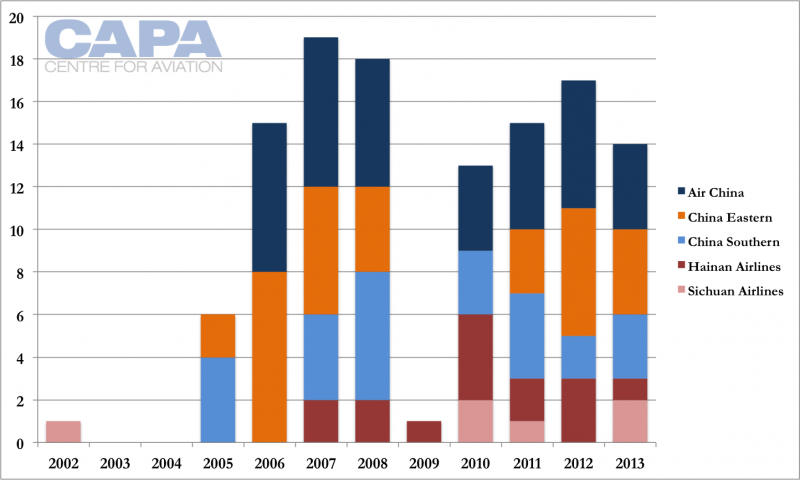 Widebody aircraft are gaining market share
Widebody aircraft are gaining marketshare on China's top five domestic routes as of Oct-2013.
Notably these routes all involve airports with constrained slots, Beijing Capital and Shanghai Hongqiao especially. The top route is Beijing-Shanghai, with another three top routes from Beijing and one from Shanghai.
Top five domestic routes in China ranked on seat capacity: 30-Sep-2013 to 6-Oct-2013
The importance of widebodies is most apparent on the Beijing-Shanghai route, the largest by far. It is the route between the country's two largest cities – and also its most constrained airports. Widebody aircraft fly 76% of frequencies.
Widebodies have gained share in other markets, except Shanghai Hongqiao-Shenzhen, but these figures are distorted as most Shenzhen-bound flights departed from Shanghai Pudong until the middle of the last decade.
Widebody and narrowbody aircraft share of China's top five domestic routes: 2003 compared to 2013
The increasing share of widebodies on frequencies is especially notable given the overall rise in frequencies. Shanghai Hongqiao-Shenzhen figures are distorted as most Shenzhen-bound flights departed from Shanghai Pudong until the middle of the last decade.
Widebody and narrowbody frequencies on China's top five domestic routes: 2003 compared to 2013
A330 is the key widebody in the domestic market
Within widebody frequencies, it is the A330 that has come to dominate. The A330 alone operates more than half (53%) of all Beijing-Shanghai Hongqiao frequencies. The A330 has the largest widebody share in all of the top five markets except Shanghai Hongqiao-Shenzhen, where China Eastern uses its old A300s.
With Shenzhen being a lower-yielding market compared to Shanghai-Beijing, it is logical for China Eastern to deploy its less desirable fleet on that market. A330s could be expected to take over the A300 sectors once the A300 is retired.
Distribution of aircraft type frequencies on top five domestic Chinese routes (as of Oct-2013): 2003-2013
The up-gauging trend is also apparent within the narrowbody sector. It is also notable that where the A320 family is present, it is typically the A321 variant (the largest in the family) that is most prolific. The A321 operates 69% of all A320 family frequencies on Beijing-Chengdu, 59% on Shanghai Hongqiao-Shenzhen, 66% on Beijing-Shanghai Hongqiao, and 99% on both Beijing-Guangzhou and Beijing-Hongqiao.
The trend is also apparent on the Boeing side, where the 737-900 (the largest variant of the 737 in China) operates 52% of Beijing-Shenzhen services.
Lower-weight A330-300 could find a home in other markets too
It is not just mainland China where the lower-weight A330-300 can have a future. Cathay Pacific and Dragonair are the world's largest operators of the A330 with 56 in service (all -300s), according to CAPA's Fleet Database. Some are used on long-haul flights to Australia (which would be out of the lower-weight A330's range) but many are on regional sectors.
Likewise at Singapore Airlines, which has 24 A330-300s that are used regionally but also on some Australia services. Thai Airways has 26 A330-300s. Another notable short/medium-haul operator is China Airlines with 22 A330-300s. Qantas operates a sizeable number of A330s domestically, but these are the -200 variant.
A separate short-haul version of the A330-300 could reduce operational flexibility at SIA, for example. SIA has a single configuration for its A330-300s whereas Cathay and Dragonair have different long-haul and short-haul configurations. So there it would be easier to slot in the lower-weight A330-300 as the fleet is already segregated. But at SIA and others the challenge is not insurmountable, especially considering the cost savings.
From Hong Kong and Singapore the lower-weight A330-300 would reach most of Asia, based on Airbus' range estimate.
Lower-weight A330-300 range from Hong Kong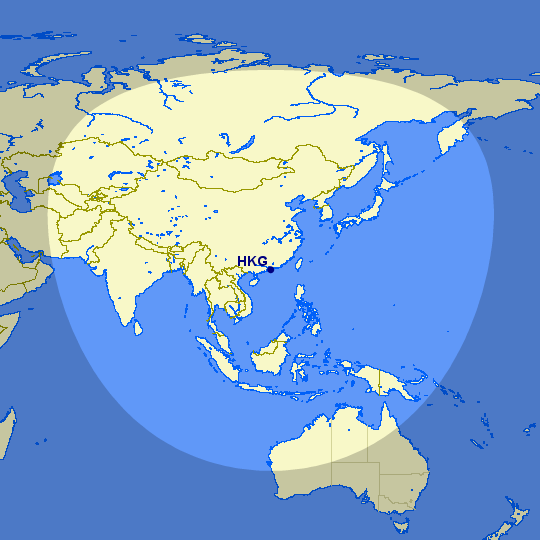 Lower-weight A330-300 range from Singapore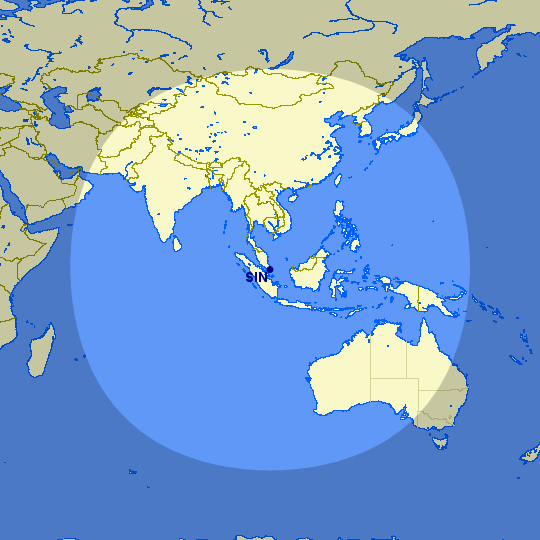 Outlook: powering growth in absence of airport slots
The lower-weight A330-300 should be especially popular in Asia.
Here the rapid growth rates are typically outstripping the ability of infrastructure providers to keep up. The problem is made worse in many areas because much of the growth has been on narrowbody equipment, as LCCs permeate the market (accounting for nearly 60% of all seats in southeast Asia - up from zero a decade ago). Airport capacity is constrained to such an extent in some cases that additional slots may not be available until the end of the decade or into next decade.
For mainland China, the rise of suitable widebodies - and the lower weight A330 is a positive step - promises the potential to expand, despite these infrastructure limits.