Azul faces challenges in funding growth as investors shy away from Brazilian companies
Analysis
Brazil's third largest airline Azul opted to pursue an ambitious expansion to the US with Airbus widebodies during a time of economic unrest in the country and a rapid devaluation of the BRL against the USD. Those conditions drove Azul to drop plans for an initial public offering in early 2015 – the third time the airline has opted to cancel an IPO during the last couple of years.

Azul's new flights from its Campinas headquarters to Fort Lauderdale and Orlando appear to be performing solidly, with average load factors near 90% for the first two months of 2015. But the airline could be trading yields for loads to ensure a strong showing for the start of its long-haul expansion.

Azul is also no doubt feeling pressure in its domestic performance, which still represents the bulk of its operations. High inflation and general weak conditions could continue to pressure yields for the foreseeable future, which could force Azul to push back its plans to access the public markets until 2016.
Brazil's domestic airlines face tough conditions in the domestic market place
As previously reported by CAPA, Brazil's inflation rate for the 12M ending mid-Mar-2015 was 7.9%, and the country's GDP growth for 2015 is forecast at roughly 1.4% after creeping up 0.3% in 2014.

Brazil's weak economy and a 13% depreciation in the BRL in 2014 and a continued drop in 2015 are pressuring yields in the domestic aviation market. The country's two largest airlines TAM and Gol have both reported significant declines in corporate demand. Gol's yields grew 1.4% in 2014, but plummeted 9% in 4Q2014. TAM, part of the LATAM airlines group, recorded a 13.5% decline in Brazilian unit revenues during 4Q2014.

See related reports:

Both Gol and TAM are keeping their capacity flat within the Brazilian market place in 2015 after decreasing their supply during the last couple of years to ensure a rational supply-demand balance. Brazil's other larger airlines – Azul and Avianca Brazil – have continued growing rapidly with 34% and 24% growth, respectively, in 2014 (based on data from ANAC).

For the first two months of 2015 Azul's expansion in the domestic market was 5.9% and its traffic increased 7.4%. Avianca Brazil's traffic increased 17% on nearly 20% traffic growth. Azul's load factor increased from 79.3% to 80.4% and Avianca Brazil's loads dipped 87.3% to 85.4%. Both airlines still recorded healthy loads, and given the market conditions in Brazil, are opting to sacrifice yields in order to maintain their market share to ensure they are firmly entrenched once the Brazilian market rebounds. Azul's market share stayed flat at 16.8% year-on-year for the first two months of 2015 and Avianca Brazil's increased from 7.8% to 8.5%.

Overall traffic increased 7% in Brazil's domestic market for Jan and Feb-2015 (which includes the high demand season) and capacity increased 4.3%. TAM's capacity increased 1.3% and its traffic grew 3.4% and Gol increased its capacity nearly 4% and posted 8% traffic growth.
Azul records strong loads in the early days of new US flights
Azul in 2014 declared its ambitions to acquire Airbus A330 widebodies and placed an order for five A350-900s. CAPA's fleet database shows that Azul has taken delivery of five of six A330-200s it committed to in 2014. The airline also has 63 Airbus narrowbodies on order.
Azul Fleet Summary as of 12-Apr-2015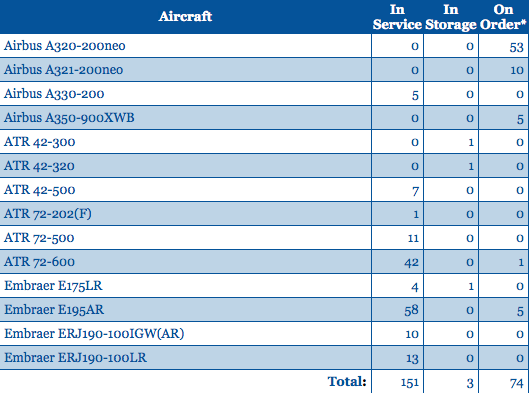 In Dec-2014 Azul launched flights from Campinas (100km from Sao Paulo) to Fort Lauderdale and Orlando, and data from CAPA and OAG show that for the week of 6-Apr-2015 to 12-Apr-2015 the airline operates roughly 2,500 one-way seats to Fort Lauderdale and 1,750 seats to Orlando.

No airline operates direct flights to Fort Lauderdale from Campinas, but American in late 2014 launched service from its Miami hub to Campinas, and offers roughly 1.526 one-way seats in the market. Both American and TAM operate flights from Sao Paulo Guarulhos to Miami, and total seats in that market are down 4.5% year-on-year for the week of 6-Apr-2014.
TAM's seats are up 13% and American's have decreased 8%. TAM represents 51% of the approximately 11,271 seats on offer and American represents the remaining 49%. TAM also operates from Guarulhos to Orlando, but has kept its seats flat year-on-year at roughly 2,800.

Although Fort Lauderdale is 45km from Miami, there is ample demand from both airports to Brazil, and Orlando is a huge tourist destination for South American travellers. Data from ANAC show that Azul's load factor on its flights to the US for Jan and Feb-2015 was 88%, which is a strong showing for new service. But as Azul management recently pointed out to Bloomberg, Jan is the high season in Brazil.

Azul has a significant domestic network, flying ATR turboprops and Embraer jets to 100 Brazilian destinations. Data from CAPA and OAG show that for the week of 13-Apr-2015 to19-Apr-2015 that roughly 87% of its ASKs are deployed into domestic markets
Azul international vs domestic capacity (% of ASKs): 13-Apr-2015 to 19-Apr-2015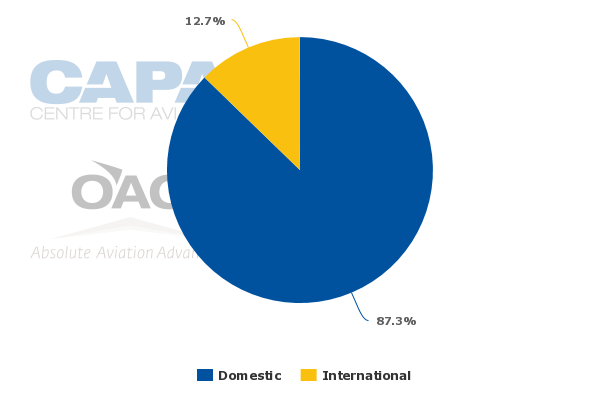 Azul has a significant domestic network, flying ATR turboprops and Embraer jets to 100 Brazilian destinations. Data from CAPA and OAG show that for the week of 6-Apr-2015 to 12-Apr-2015 that nearly 87% of its ASKs are deployed into domestic markets.

It is no doubt relying on domestic feed to propel some of its international flights. But at the same time Azul is likely offering steep discounts to stimulate traffic on the new routes, sacrificing yields for loads. Given the exchange rate, the prospects for travel by Brazilians to the US are slim, and while it is a bargain for Americans to visit Brazil, it is not clear how strong Azul's point of sale strength is in South Florida.
Being founded by and chaired by former JetBlue founder and CEO David Neeleman lends much credence to the airline, but Azul's competitors in Miami and Orlando have likely dropped their prices for the moment to retain their customers. A codeshare with JetBlue, Fort Lauderdale's largest airline by seats, could help Azul build up its US based passengers, but so far no partnership has materialised.

Azul has opted to push back planned service from Campinas to New York in Jul-2015 and will instead increase frequencies to Fort Lauderdale and Orlando. "This postponement was made because we believe that it is important to take advantage of the US summer and July holidays," the company stated, which could indicate some heavy discounting by Azul on the new US routes throughout 2015.

See related report: Azul starts to position itself as an attractive potential partner for JetBlue – and perhaps even United
Azul faces depressed domestic pricing and fallout from currency devaluation
One of the challenges Azul faces during the next few years will be funding its growth, which is more of a challenge now that the IPO has been shelved. Deliveries of its Airbus narrowbodies are scheduled to begin in 2016 at a time when it will still be maturing its long haul routes. Deliveries of its A350 widebodies are scheduled to begin in 2017.

Brazil's economic conditions are not likely to improve drastically by 2016. In Jan-2015 the IMF cut its projected growth for Brazil to 0.3%, rising to 1.5% in 2016. Thus, if Azul proceeds with the introduction of narrowbodies into the domestic market, there could be oversupply. Azul has the ability to deploy the Airbus jets elsewhere in Latin America, but many economies in the region are on shaky ground, evidenced by 1.3% GDP growth forecast for the region overall in 2015.

Azul is also not shielded from the sting of the BRL devaluation. In early 2015 the New York Times highlighted that roughly 55% of Azul's expenses were aligned with foreign currencies while little of its revenue is derived from international operations. Azul's rival Gol, which has nearly 87% of its ASKs deployed into the Brazilian domestic market, faces similar challenges.
Azul needs funding at a time when there is scant interest to invest in Brazilian firms
Azul has done a remarkable job of launching and building up a strong presence in the Brazilian domestic market place during the last seven years that includes acquiring regional operator trip, to become the third largest airline in Brazil.

The airline will be in a strong position to leverage a rebound in the Brazilian market once the country's economy starts to make significant improvements.
But in the short term Azul faces the challenge of funding its growth at a time when investors have little appetite to take risks on Brazilian companies. At some point Azul may need to think about refining its growth targets and short-term ambitions.