Azul starts to position as an attractive potential partner for JetBlue - and perhaps even United
Analysis
Brazilian LCC Azul is hardly catching its breath as its merger integration with smaller domestic carrier TRIP winds down. After a rapid rise to achieve 17% domesitc market share, Azul now has ambitious plans to acquire Airbus widebodies and launch international service to the US.

Azul plans to introduce flights from its largest base Campinas, near Sao Paulo, to Fort Lauderdale and Orlando in Dec-2014 followed by Campinas-JFK in Jul-2015. No formal tie-up has been announced, but those are three of JetBlue's largest bases, particularly Fort Lauderdale where JetBlue has a stated goal of reaching 150 daily departures. Azul was founded by JetBlue's creator and founder David Neeleman, so there is a significant nexus between the two airlines, even if all was not sweetness and light when Mr Neeleman parted company with the US LCC.

There are meanwhile inherent risks in Azul's decision to add long-haul international service after growing at break-neck speed domestically since startup. It also unclear how Azul is supporting the costly expansion after shelving plans for an initial public offering in 2013.
Azul aims to add more markets in Florida after Gol introduces one-stop flights to Miami
Just weeks after revealing plans to introduce service to the US in late 2014, Azul has reportedly taken delivery of two of six Airbus A330-200s to support its long-haul expansion. ILFC is leasing three of the A330s to Azul as well as all five of the A350-900s scheduled to join the airline's fleet beginning in 2017.

See related report: Azul shakes up Brazil market with A330s & US routes, becoming first long-haul LCC from the Americas

Azul is seeking regulatory approval to launch seven weekly flights from Campinas to both Fort Lauderdale and Orlando starting in Dec-2014, followed by New York JFK about six months later.

Campinas is Azul's headquarters and largest base by a wide margin. It is also strategically located in Sao Paulo state, whose largest international airport is Guarulhos, located roughly 100km from Campinas. As previously stated by CAPA, the Sao Paulo metropolitan area is the largest source market in Brazil, and the area's other airport Congonhas only handles domestic flights.
That dynamic, coupled with Azul's service to roughly 50 domestic markets from Campinas (it is the leading airline at the airport), should allow the airline to capture a mix of both connecting and O&D passengers for its new US flights.
Azul global top 10 hubs/bases/stations by seats: 23-Jun-2014 to 29-Jun-2014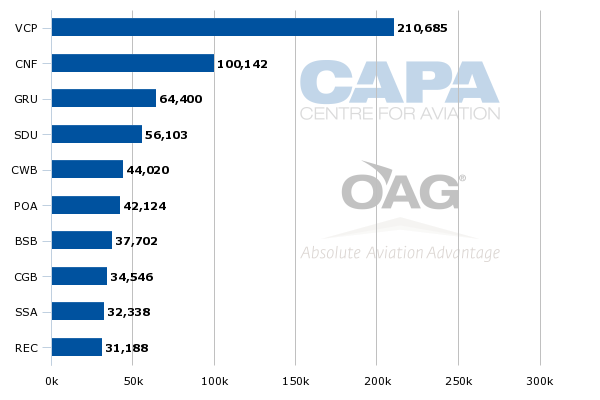 Campinas Viracopos Airport capacity by carrier (% of seats): 23-Jun-2014 to 29-Jun-2014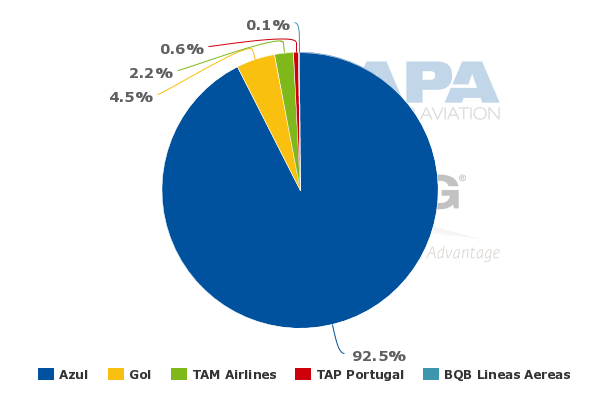 Presently, TAP Portugal is the only airline offering international flights from Campinas with service to Lisbon. Azul's domestic rival Gol is gearing up during Jul-2014 to introduce service from Campinas to Miami via a stop-over in Santo Domingo. Gol presently offers service from Sao Paulo Guarulhos and Rio de Janeiro to Miami and Orlando via Santo Domingo.

See related report: Gol presses forward with international expansion as it records losses for 1Q2014
Azul can offer South Florida passengers a (presumably) cheaper nonstop service to Brazil
In some ways Gol is giving Campinas passengers a taste of the US international market before Azul launches its direct service to South Florida. Fort Lauderdale is approximately 45km north of Miami, a market dominated by oneworld members TAM and American on service to Brazil.

Once Azul launches direct flights to Fort Lauderdale, passengers will no doubt find the non-stop flights with more spacious aircraft attractive. Azul is also likely to offer a price point similar to Gol, which will create pressure for Gol as it works to add international service to ensure some protection against the still tenuous Brazilian domestic market.

Not surprisingly, Fort Lauderdale is throwing its support behind Azul's proposed US service. The Broward County Aviation department recently told the US Department of Transportation (DoT) that more than 20,000 citizens with Brazilian ancestry reside in the county, and roughly 50% of the Brazilian population of Miami-Dade, Broward and Palm Beach counties lives in Broward (Broward is home to Fort Lauderdale).

Broward county officials concluded that in CY2013 Brazil ranked as the second largest international country of origin for the state of Florida, and Portuguese is the third most common foreign language in the county.

Generally operating costs for airlines serving Fort Lauderdale are cheaper than Miami, and given that combined TAM and American will offer nearly 13,000 weekly one-way seats between Guarulhos and Miami at the time of Azul's proposed launch, Azul has an opportunity to stimulate traffic in the South Florida-Brazil market.
Azul could leverage JetBlue's strength in Fort Lauderdale, if a partnership blossoms
Perhaps the biggest advantage Fort Lauderdale holds for Azul is JetBlue's standing at the airport. JetBlue is Fort Lauderdale's largest airline measured in seat deployment, and the airport is JetBlue's fourth largest base behind JFK, Boston, Orlando (based on CAPA and OAG data for the week of 23-Jun-2014 to 29-Jun-2014).
Fort Lauderdale-Hollywood International Airport capacity by carrier (% of seats): 23-Jun-2014 to 29-Jun-2014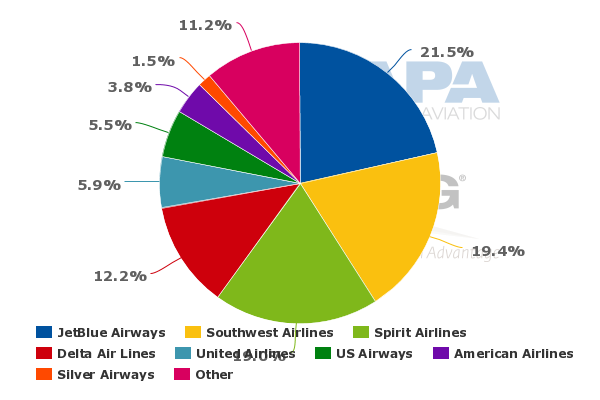 JetBlue Airways global top 10 hubs/bases/stations by seats: 23-Jun-2014 to 29-Jun-2014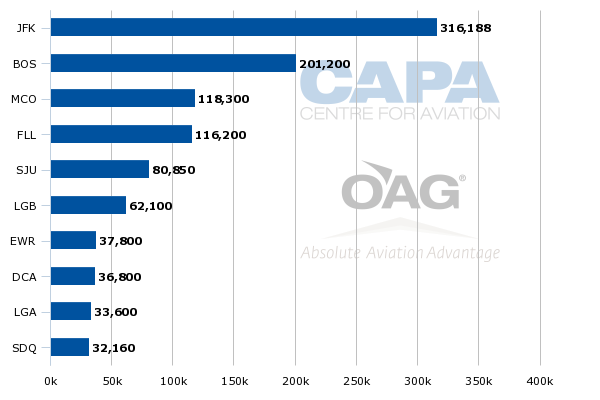 Fort Lauderdale is a strategic market for JetBlue as it leverages the airport as a connecting point for markets in the Caribbean and Latin America that meet the range requirements of its Airbus narrowbody fleet. But JetBlue also operates service to numerous domestic markets from Fort Lauderdale – Austin, Boston, LaGuardia, JFK, Westchester County, Hartford, Washington National, Raleigh-Durham, Newburgh, Providence T.F. Green, Los Angeles and San Francisco – offering Azul's passengers numerous connections should Azul and JetBlue opt to forge a partnership.

By partnering with Azul, JetBlue would gain access to Latin America's largest aviation market. Azul's extensive route network throughout Brazil would allow JetBlue near instant access to numerous destinations within Brazil, significantly expanding its international footprint without draining JetBlue's resources to make inroads deeper into South America (namely widebody aircraft.)

See related report: JetBlue Airways builds its network strength as cost headwinds strengthen
Azul's new Orlando service could threaten Gol's one-stop flights
Azul's proposed service from Campinas to Orlando would break TAM's monopoly on nonstop service to Orlando from the Sao Paulo region. Schedules in CAPA and OAG show that around the time of Azul's proposed launch TAM is projected to offer roughly 2,400 one-way weekly seats from Guarulhos to Orlando. Gol, which serves Orlando from Sao Paulo via Santo Domingo is slated to offer nearly 1,300 one-way seats at the time Azul aims to introduce Campinas-Orlando service.

TAM and Gol's service to Orlando reflects demand on the route, and with Azul's nonstop service offered at a lower price point than TAM, there could be a traffic stimulation opportunity for Azul. Similar to Fort Lauderdale, Azul's position in Campinas allows it to leverage opportunities for connecting passengers from its domestic network onwards to the US.
Given those dynamics, Azul's service from Campinas to Orlando may not pose as huge a threat to TAM; but Gol could see some pressure from Azul's direct service. Especially if connecting passengers on Gol and Azul's competing routes to the Sao Paulo region prefer only one-stop through Campinas for US travel rather than two stops in Sao Paulo and Santo Domingo.

JetBlue is also Orlando's second largest carrier measured by seat deployment, and serves many of the same domestic markets as it does from Fort Lauderdale. So all the benefits Azul and JetBlue would enjoy by partnering in Fort Lauderdale would apply to Orlando.
Orlando International Airport capacity by carrier (% of seats): 23-Jun-2014 to 29-Jun-2014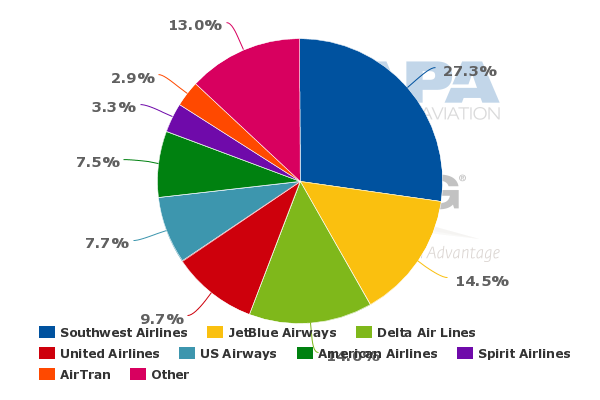 Both Azul and JetBlue could drive revenue from a partnership connecting the US-Brazil
A JetBlue-Azul tie-up makes sense in JFK (JetBlue's largest base and headquarters) as well given that American, Delta and TAM all serve the market. At YE2014 oneworld partners American and TAM combined are projected to represent 73% of the seats between Guarulhos and JFK. Azul stands to inject some low-cost competition on the route, and if JetBlue and Azul strike a partnership it could create aggressively competitive dynamics in the Sao Paulo-New York market.
The oneworld partners American and TAM would still have more network breadth, but for passengers looking for lower cost alternatives to Brazil's domestic market, JetBlue and Azul do offer a strong alternative.

Of course Azul and JetBlue have disclosed no plans to create a partnership, and it is far from a certainty given that speculation is growing that JetBlue CEO Dave Barger may leave the carrier when his contract expires in Feb-2015. But Brazil's Folha de S.Paulo newspaper last year reported a rumour that Mr Neeleman was putting together an investment fund to buy not only JetBlue but also TAP; the rumour was never confirmed but it does suggest Mr Neeleman has broader strategic aspirations.
Azul's eventual 246-seat configuration on the A330s it is operating to the US is less dense than aircraft operated by other global long-haul LCCs; but it would be optimal to bolster the mix of connecting traffic and, more importantly, revenue from a strong US partner.

Azul also has an interline and reciprocal frequent flyer agreement with United, which needs a partner in Brazil now that TAM has transitioned from Star to oneworld as part of the LATAM merger.
But United serves Brazil from Chicago, Houston and Washington Dulles, which does not provide any connectivity for Azul's flights from Florida and New York. However, if a partnership with JetBlue were to become successful, enhanced links with United could position Azul very nicely to achieve coverage of markets beyond the eastern seaboard. As its position in the Brazilian market strengthens, so Azul's attractiveness to US airlines increases, in a nicely virtuous spiral.
Azul faces challenges in achieving success with its ambitious US expansion
Azul is bypassing entering into regional international markets within Latin America – where LATAM often dominates – and instead is targeting the US, Brazil's largest international market in terms of seat deployment. Azul becomes the second Brazilian carrier offering nonstop flights to the US, and, in theory, offering a low-cost alternative to TAM.
Brazil international capacity by country (measure by seats): 23-Jun-2014 to 29-Jun-2014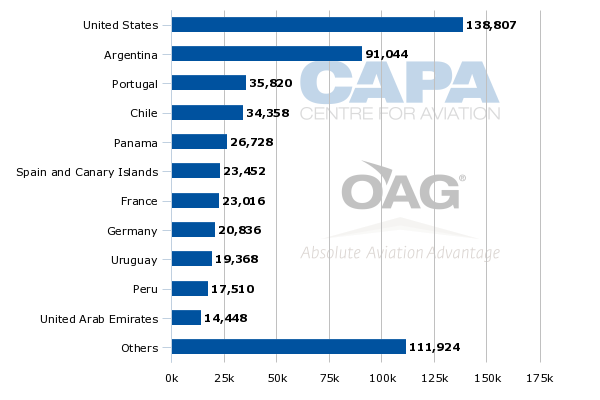 But there are risks to Azul's plans. One is funding its expansion. The privately-held carrier shelved plans for an IPO in 2013 in order to wait for market conditions to improve.
Azul recorded losses from 2010 through 2012, and given Brazil's domestic conditions in 2013 it is not likely its fortunes improved during that year. Its USD138 million cash on hand at YE2012 was roughly 10% of that year's revenue.
Azul's financial performance: FY2010 to FY2013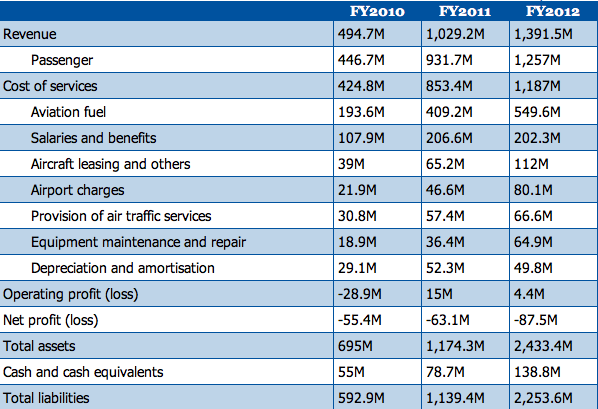 Azul's chances of success in the US market are hard to predict
Arguably, Azul is still digesting its own rapid growth, which coupled with the TRIP merger has allowed the airline to become Brazil's third largest carrier with a 17% market share for the first four months of 2014. Jumping from a fleet of ATR turboprops and Embraer 175s/190s/195s to widebodies will increase the complexity of Azul's operations, and the launch of international service overall will require significant investment.

Azul obviously believes there is enough demand between Brazil and the US to absorb the capacity it plans to introduce into the market.
This may well be the case for a product pitched at the right level and – presumably – with lower prices than the competition. Establishing a partnership with JetBlue, in whatever form, could certainly offer the enhancement of opportunities for operations with traffic feed at either end of the US-Brazil routes. There is plenty of scope for both airlines to generate synergies.
And, as an unattached airline, Azul is even well-positioned in due course to pursue a deeper relationship with its longer-standing interline and FFP status with United, without undermining a JetBlue partnership.
Going long-haul to the US is a high-stakes gamble for a still relatively young company – and one whose success is far from guaranteed. Azul's seed investors (who include JetBlue chairman, Joel Peterson) have waited three years for a return on their investment, a near-lifetime for private equity. But the tension is between short and medium term returns as Azul finds itself in an increasingly valuable niche, with airline consolidation in Latin America steeply diminishing the options for foreign airline partnerships.
At the same time Azul's long-haul move is a relatively calculated gamble, but one that could very quickly propel Azul to a much more powerful position across the Americas.
It would not be the first time David Neeleman has carved out a major new niche in the aviation industry.