Gol presses forward with international expansion as it records losses in 1Q2014
Analysis
Brazil's Gol is continuing to expand into international markets as demand in the country's domestic market remains tenuous, driven by uncertain economic conditions.

GOL Linhas Aéreas Inteligentes (Gols') international diversification began a little over a year ago as it opted to return to the US market through stop-over flights in Santo Domingo, and the airline continues evaluations of establishing an official hub at the airport. In the meantime Gol is adding new flights from rival Azul's base at Campinas Viracopos to Miami in Jul-2014. Gol is expanding its one-stop offerings to the US ahead of ambitious plans by Azul to introduce new service to the US in 2015 with Airbus widebodies.

International expansion and other measures Gol has taken to improve its financial performance resulted in some progress during 1Q2014, but the airline still posted an overall loss, driven by currency fluctuations and financing expense.
Gol plans international service from Azul's main base in Campinas
After introducing flights from Sao Paulo Guarulhos and Rio de Janeiro to Miami and Orlando via Santo Domingo, Gol plans to offer flights from Campinas Viracopos to Miami via Santo Domingo in Jul-2014. Located in Sao Paulo state, Campinas Viracopos is roughly 100km from the region's larger airports Congonhas (which only handles domestic traffic) and Guarulhos. Passengers travelling on Gol's flights from Campinas to Miami can also connect to the carrier's route to Orlando from Santo Domingo.

During a recent earnings discussion Gol executives were queried about officially declaring Santo Domingo a hub, which seems a formality at this point given the airport's strategic role as a stop through for US service. The carrier's management highlighted Santo Domingo's potential as a hub, but explained Gol has yet to make firm decision on the airport's status.

Azul's recent declaration that it intends to acquire Airbus widebody aircraft (six used A330-200s and five new A350-900s) triggered questions regarding the viability of Gol's strategy of using Santo Domingo for one-stop service to the US when a fellow Brazilian carrier and rival would begin offering direct flights to Brazil. Azul will join TAM, Brazil's largest carrier in operating widebody jets to the US. TAM operates service from Sao Paulo to New York JFK, Orlando and Miami. Additionally, TAM offers flights to Miami from Belem, Belo Horizonte, Brasilia, Rio de Janeiro and Sao Paulo.

Gol's niche strategy of offering a one-stop option to the US could be weakened by Azul's plans to operate direct flights to the country. As previously reported by CAPA, Azul's low cost offering coupled with the attractive option of direct flights, could force Gol to readjust is US strategy – either through acquiring widebody aircraft or withdrawing from the US market.
See related report: Azul shakes up Brazilian market with A330s & US routes, becoming first long-haul LCC from the Americas

Gol's ability to acquire widebodies is questionable as its long term debt, excluding financial leases and non-maturing debt, had a five year maturity time period with interest rates of 10.9% for the BRL and 9.2% in USD denominated debt. Acquiring widebodies and the associated expense of an additional fleet type could prove to be a risky move for both Gol and Azul, but Azul seems ready to take the gamble.
Gol targets 17% of its revenues from international flights
Publicly Gol is declaring zero anxiety about Azul's moves, opting instead to tout the performance of its existing international routes. Carrier CEO Paulo Kakinoff told analysts that during 2013 international service represented about 8% of Gol's revenues, and the carrier set a target of 17% in three years. He estimated that presently approximately 12% of Gol's revenues are derived from international flights.

During 1Q2014 Gol increased international capacity by 1.4% while traffic jumped 18%, resulting in a 10.2ppt increase in load factor to 71%.
Gol system, domestic and international capacity, traffic and load factor: 1Q2014 vs 1Q2013

Citing the strong performance of Gol's international markets, Mr Kakinoff declared the airline was not considering the movements of its competitors "too much", and highlighted that Gol also operates to numerous international destinations outside the US. Gol offers service from Sao Paulo Guarulhos to Bridgetown, Barbados; Santa Cruz, Bolivia; Asuncion, Paraguay; and the Argentinean markets of Cordoba, Rosario, and Buenos Aires (Aeroparque and Ezeiza). Additionally, Gol operates service to Punta Cana and Aruba through an extension of its Sao Paulo-Caracas flights.

Gol cemented its codeshare with Aerolineas Argentinas in Mar-2014, and the partnership is allowing the carriers to establish an air bridge between Sao Paulo and Buenos Aires. Brazil is Argentina's top market with respect to seat deployment, so the ability of Gol and Aerolineas to offer a broader network between the two countries is key to competition with the powerful LATAM Airlines Group.

See related report: Gol to start codesharing with Aerolineas Argentinas. Are TAP Portugal and Etihad next?

Based on CAPA and OAG data for the week of 18-May-2014 to 24-May-2014, Gol and Aerolineas represent a combined total of 25% of the seats deployed between Sao Paulo Guarulhos and Buenos Aires Ezeiza. Between Guarulhos and Aeroparque (closer to the city centre of Buenos Aires), Gol and Aerolineas hold a 67% seat share and TAM has a 35% share.

In addition to new service from Campinas to the US, Gol plans to resume flights between Guarulhos and Santiago in Jul-2014, a route where LAN holds a 44% seat share and TAM accounts for 56% of the seats on offer. Gol should be able to lower fares in the market as well as leverage its partnerships to make Guarulhos-Santiago viable. In addition to 78 interline agreements, Gol has codeshare agreements with Delta, Air France-KLM (both of whom have equity stakes in Gol), Qatar, Iberia, TAP and Alitalia.
Gol's 1Q2014 losses widen despite gains in yields and unit revenues
Even with a solid performance in international markets and a nearly 18% increase in passenger unit revenues, Gol still widened its losses during 1Q2014 from BRL75 million (USD34 million) to BRL96 million (USD43 million) year-on-year. Its top line expenses grew 18.5% and unit costs excluding fuel jumped 22.5%.
Gol's unit revenue, unit cost and yield performance: 1Q2014 vs 1Q2013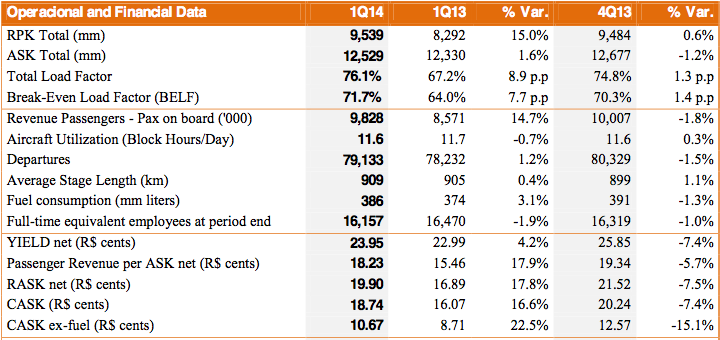 Gol's financial performance: 1Q2014 vs 1Q2013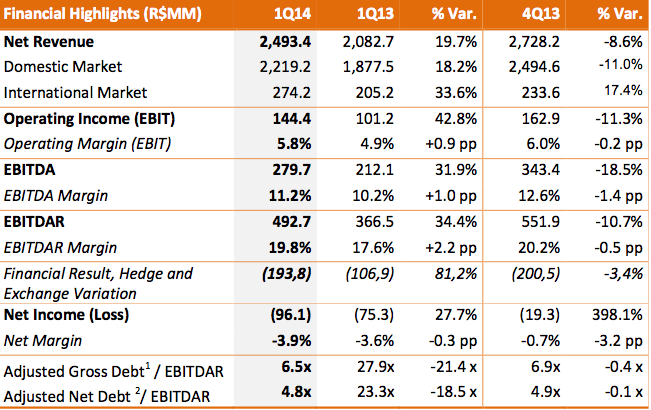 Gol's quarterly loss was driven by an increase in Gol's interest expense, hedging an 18% devaluation of the BRL against the USD. Fuel costs and a hike in sales and marketing expense contributed to Gol's cost headwinds.
The airline explained that the 79% hike in sales and marketing costs occurred as a result of using different distribution channels to increase sales and certain credit card agreements. Gol executives assured cost pressure in that particular category would not be as severe for the remainder of 2014 as in 1Q2014.
Gol's interest expense and hedge results: 1Q2014 vs 1Q2013

Gol does not foresee huge benefits from the World Cup. Braces for more currency flux
As the FIFA World Cup soccer tournament hosted by Brazil quickly approaches in Jun-2014 and Jul-2014, Gol states the outlook for demand during the tournament remains uncertain. But similar to rival LATAM Airlines Group, Gol's projections account for a decline in corporate demand.

See related report: LATAM Airlines Group's merger pains are aggravated by currency woes across multiple markets

Gol feels confident in its projections of a 3% to 6% operating margin for 2014 even as currency fluctuations remain volatile. For the moment the carrier expects an exchange rate of BRL2.40 to BRL2.50 to the USD even though for a few weeks prior to the end of 1Q2014 the rate was BRL2.30 to the USD. Gol declared it was too early to declare rates would remain at those levels as its management foresees currency volatility in 2H2014.
Gol unit revenue, unit cost and capacity projections: 2014

Same story, different year for Gol as profitability remains elusive
During the past two years Gol has taken necessary steps to reverse its fortunes in the once fast growing domestic Brazilian market place where demand quickly waned as the country's economy slowed drastically.
Gol's domestic capacity has contracted 12% during the past two years and the carrier has worked to expand internationally through its own growth and leveraging agreement with key partners including Delta and Air France-KLM.

But Gol has not turned a profit for the last three years, and the loss for 1Q2014 does not bode well for a carrier that expects to lose some corporate traffic during the World Cup, and is bracing for higher costs and unpredictable currency fluctuations. Unfortunately for Gol 2014 only promises more of the same – underlying progress but continued top-line losses.

See related report: Profitability eludes Brazil's Gol for a third consecutive year and a turnaround still looks distant