AirAsia X, accelerating growth in response to Scoot, looks to capture Asian market once and for all
Analysis
Low-cost long-haul leader AirAsia X was relatively quiet throughout the announcement of low-cost long-haul operations from Singapore Airlines (in the form of Scoot) and Cebu Pacific but has delivered a sharp competitive response by unveiling plans to nearly double its growth over the next two years. AirAsia X plans to add seven Airbus A330-300s in 2013 and another seven A330-300s in 2014, allowing the carrier each year to potentially add 10 daily roundtrip services and more than double its current A330 fleet of nine. Some AirAsia X A330s for the first time will be based outside of its present Kuala Lumpur hub.
This growth is not merely one-upping but an opportunity for the larger AirAsia Group to permanently set itself on a different level from competitors as it fully realises the long-aspired dream of a pan-Asian network. The Asian budget market could be re-defined, with future competition only over who gets second place. While the spotlight may be on new competitor Scoot, the greatest implications are on the Jetstar Group, whose parent company Qantas is fighting an aggressive domestic battle in Australia, a casualty of which could be Jetstar's growth potential.
AirAsia X's Azran Osman-Rani, speaking to CAPA in Tokyo in Aug-2012, says his carrier's aim is to ensure its share of the Asian long-haul market is not decreased as competition increases. "We want to take advantage of growing much faster than some of the new entrants, to make sure we're still the undisputed number one in the market," Mr Osman-Rani said.
The past six months have been dynamic times for the once questioned long-haul LCC market, with Scoot launching in Jun-2012, the Philippines' Cebu Pacific announcing its intention to acquire an A330 fleet from 2013 and Thailand's Nok considering replicating the SIA-Scoot strategy by taking 777-200s from part-owner Thai Airways to use on long-haul budget flights.
See related articles:
AirAsia X will take seven A330-300s in each of 2013 and 2014, a mix of existing orders and a recently finalised agreement with ILFC for six A330-300s on 10-year leases. Mr Osman-Rani says the new aircraft will all be for growth, with no returns of existing A330-300s. (The carrier has moved away from its pair of Airbus A340-300s following a withdrawal from Europe, as well as plans to acquire A330-200s that would have replaced the A340s.)
The new growth comes after large expansion in 2008, 2009 and 2010 but relatively flat growth in 2011 and 2012.
The 14 A330s, combined with its present nine, will give it a fleet of 23 A330s by the end of 2014, delivery schedules permitting. That will make AirAsia X about a quarter of the size (in terms of aircraft numbers) of today's Singapore Airlines, which projects a passenger fleet of 102 aircraft by 31-Mar-2013, and Cathay Pacific, which had 111 aircraft as of 30-Jun-2012.
While those comparisons show the long-haul LCC model's viability, AirAsia X's greater competition will be with fellow long-haul LCCs, which AirAsia X is poised to dwarf. Combined with short-haul AirAsia subsidiaries providing critical feed, the AirAsia Group will become a formidable force. While some LCCs may be stronger in certain countries (Cebu Pacific in the Philippines, Jetstar in Japan), AirAsia is set to become the pre-eminent pan-Asian carrier.
Projected Asian long-haul LCC fleet plans: 2012 to 2016
| Year end | (as of Aug-2012) | (as of Feb-2012) | (as of Nov-2011) | (as of Aug-2011) |
| --- | --- | --- | --- | --- |
| 2012 | 9 | 0 | 11 | 4 |
| 2013 | 16 | <1 | 11 | 6 |
| 2014 | 23 | 4 | <11 | 8 |
| 2015 | 27 | <4 | <11 | 11 |
| 2016 | 30 | 8 | <11 | 14 |
| Unspecified | n/a | n/a | 25 | n/a |
Fleet counts beyond 2014 become less clear. Cebu Pacific is likely to take additional aircraft beyond the eight A330s it has announced, Scoot will likely evaluate additional aircraft as well as smaller types. Jetstar has been vague on its long-haul fleet plans but it is clear the carrier will get a significant number of the 50 Boeing 787s that have been ordered by its parent the Qantas Group. Qantas initially planned to split the aircraft between the two brands but in recent months has suggested the 787 will not find a home in Qantas mainline's international fleet until the international division meets its cost of capital.
AirAsia X has orders for 10 A350s for delivery from 2017, but first is expected to grow its A330 fleet more in 2015 and 2016 than currently stated as a planned IPO increases its equity base, providing for further acquisition and expansion.
Frequency increases will drive AirAsia X growth in Australia
In 2013 and 2014 AirAsia X could add approximately 10 daily round-trip flights per year based on the carrier's current utilisation pattern. Growth will primarily occur in North Asia while bolstering will occur in its other major market, Australia.
Australia was home to AirAsia X's first destination – Gold Coast – and was quickly the source of a significant share of capacity deployment. Following the Apr-2012 addition of Sydney to its route network, prospective new cities are dwindling, with perhaps only Adelaide the most viable. In the carrier's early days it spoke of serving five Australian cities with its A330 fleet; it currently serves four. The carrier plans to boost, subject to bilateral air service agreement revisions, its daily Melbourne, Perth and Sydney services to double daily while Gold Coast could be increased beyond the current five weekly services.
AirAsia X top 10 routes based on capacity (seats per week): 20-Aug-2012 to 26-Aug-2012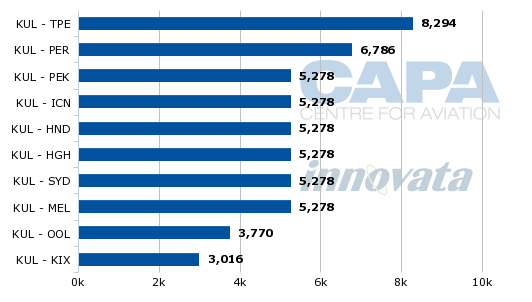 AirAsia X during peak seasons has served Melbourne and Perth with double daily services but cut back to single daily flights as it shifted its limited fleet around the network to take advantage of different peaks, Mr Osman-Rani said. Additional fleet would permit year-round double daily services, which Mr Osman-Rani is confident the carrier can sustain.
While Scoot's presence in Australia is young – less than three months – AirAsia X has the significant advantage of a connecting network across short-haul AirAsia subsidiaries as well as other AirAsia X long-haul flights, which Scoot now lacks but will seek to address. The larger AirAsia network could alleviate yield pressure from Scoot, which is limited in the destinations it can sell. Mr Osman-Rani says it is too soon to judge yield pressure from Scoot. "The real test is Christmas and post-Christmas and whether the yields will still stay or not."
Additional capacity into Australia could account for just under half of AirAsia X's 2013 or 2014 growth.
AirAsia X planned and actual A330 route strategy: 2008 to 2012
Growth in Asia will primarily be with new destinations
While AirAsia X would like to bolster frequencies in North Asia, slot restrictions impede, forcing AirAsia X to look at new cities. The carrier in Jun-2012 moved from Tianjin to Beijing Capital. While it had to forgo convenient times at Tianjin for middle of the night slots at Beijing Capital, the carrier is pleased with the larger market at Beijing, as Tianjin was merely an alternative airport with no notable local demand or interest for tourists. The limited time window at Beijing Capital for new flights would mean an additional service would have to arrive and depart within hours of AirAsia X's existing service, which Mr Osman-Rani thinks would be too compressed to be sustainable.
See related article: As AirAsia X switches from Tianjin to Beijing, Asian alternative airports face uncertain future
Tokyo Haneda likewise faces limitations until a slot expansion period in 2014, but Mr Osman-Rani tells CAPA the carrier is evaluating a Tokyo Narita service to supplement Haneda. The Haneda service has late evening timings due to slot restrictions but a potential daylight service to Narita would offer an alternative as well as opportunity to tap into AirAsia Japan's short-haul network based at Narita. AirAsia X and AirAsia Japan do not offer connecting services (branded as "Fly-Thru") as the carriers do not serve common ports; AirAsia X's only other Japanese destination, Osaka Kansai, is not presently served by AirAsia Japan (but CAPA expects it will be served be from 2013).
Mr Osman-Rani says even with a Narita service he would want to keep the Haneda flight given Haneda's catchment area that includes Yokohoma, Japan's second-largest city after Tokyo (Osaka is third). Narita is a significant distance from Yokohoma. Also a factor is that Haneda "slots are precious and have done well for us and we'd like to keep that," Mr Osman-Rani says. In further evidence of AirAsia X's increasing stance as formidable force to both LCCs and full service carriers, Mr Osman-Rani notes "all the major carriers are operating out of both airports" and AirAsia X can do the same too.
AirAsia X capacity share by region (% of seats): 20-Aug-2012 to 26-Aug-2012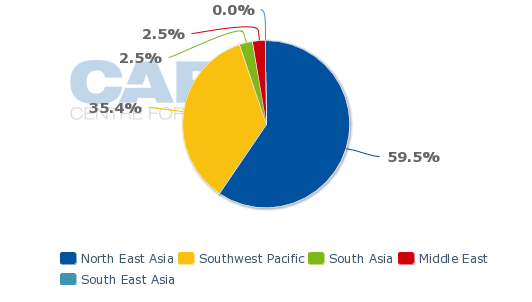 The other North Asian airport greatly impacted by slot restrictions is Shanghai Pudong. A prospective AirAsia X service – likely in the medium-term – would have late night timings and, like Beijing, be limited to one daily flight until other slot timings are available. Unlike the Tianjin-Beijing move, a Shanghai service could be supplementary to Hangzhou, which has its own market as a tourist hub.
Jetstar also serves Hangzhou but with its Airbus A320 fleet. Jetstar last year told CAPA it had secured Shanghai Pudong slots but it has not yet secured final approvals for a possible Shanghai service. Hangzhou is also a possible destination for Scoot, which wants to, as much as possible, open new destinations to the SIA network (neither SIA nor SilkAir serve Hangzhou). Any one of the three carriers launching to Shanghai (or Hangzhou for Scoot) would likely spur the others into the market.
Although further AirAsia X expansion could be into airports with limited windows for services, Mr Osman-Rani believes that as long as the carrier has slot flexibility at enough other airports it will not have to sacrifice its high utilisation rate in order to accomodate an airport's inflexibility. AirAsia X's utilisation rate of 19 hours for its A330s is one of the highest in the world and a significant driver to cost reduction.
Frequency increases could occur in Taiwan and South Korea, where AirAsia X benefits from the Malaysia-South Korea open skies agreement whereas capacity is capped between Singapore and South Korea. With SIA utilising almost all of the available capacity to South Korea, the country is effectively off the radar for Scoot and Jetstar's Singapore-based operations.
Short-haul AirAsia could provide entrance to additional Chinese destinations for AirAsia X
China of course is AirAsia X's target, as it will be for Scoot and Jetstar. But the prospect is daunting: the country today has over 100 cities with a population exceeding one million, a figure that will only rise – and potentially to 240 next decade, according to McKinsey.
Mr Osman-Rani sees opportunity for short-haul AirAsia divisions to precede AirAsia X's entrance in new cities, China or elsewhere. Thai AirAsia can reach more of mainland China with A320s than AirAsia Berhard (Malaysia) owing to its further north geography. AirAsia Japan could also access parts of China that Thai AirAsia and AirAsia Berhard cannot.
The opportunity for AirAsia X is to reduce risk, have a stronger launch and attain larger scale. "A city where there's already an AirAsia presence makes a lot more sense than a new city," Mr Osman-Rani said. "We're coming into a market that already has a track record."
By already having an AirAsia affiliate in a city, the AirAsia brand can establish itself, allowing AirAsia X to see how cities are responding to short-haul services. With the AirAsia Group operating on a uniformed platform, the infrastructure cost of adding an additional flight – such as an AirAsia X service – is incremental.
Thai AirAsia is already testing the waters, being the first AirAsia brand to serve Chongqing and, from Oct-2012, Wuhan. Both of those destinations, if to be served from Malaysia, would be on AirAsia X. The approach is not limited to China. Mr Osman-Rani, speaking in Tokyo and referring to the 01-Aug-2012 launch of AirAsia Japan, says of the new carrier: "If these guys fly to Fukuoka and the brand takes root, it's a lot easier for me to have a direct flight to Fukuoka."
See related article: AirAsia considers serving Kunming, Wuhan or Xi'an, a new group of Chinese cities for Asian LCCs
New A330 bases will be considered as pan-Asian network comes into focus
Since its early days, AirAsia X has discussed the possibility of basing A330s with other AirAsia affiliates and the group is now readying to action this move in the near future. Mr Osman-Rani says the additional A330s will be "primarily based in KL", although he does not specify how many A330s could be based outside of Kuala Lumpur. Any thought now would be preliminary, with market dynamics likely to sway the strategy.
Mr Osman-Rani cites as examples the possibility of Australian A330 services from Bangkok, the Philippines or Denpasar (Bali). There could also be flights to North Asia from the potential bases in Indonesia and Thailand.
The changing market factors include Cebu Pacific's planned long-haul operation, which will initially focus on the Middle East and Australia, and a possible long-haul operation from Nok, affiliated with Thai Airways. AirAsia Indonesia has services from Denpasar to Perth, but flights to Australia's East Coast would be out of range for the group's preference to keep narrowbodies flying under four hours. These markets are gaining attraction from competitors, with Jetstar in Aug-2012 announcing increased services to Denpasar and Phuket.
Non-Asian destinations are a theoretical possibility (such as Hawaii from Japan or Europe from Bangkok) but Mr Osman-Rani says his preference is to keep growth within Asia, and specifically Southeast Asia, where AirAsia benefits from home bases in three countries. Still to be decided is how the A330 aircraft would be placed if based outside of Malaysia: AirAsia X is on a separate AOC from AirAsia Berhard and with different investors. The group could theoretically look to have AirAsia X divisions in other countries or work out an arrangement that sees an existing short-haul AirAsia subsidiary use the A330 but with benefits flowing to AirAsia X, ensuring that its investors – soon to grow with a planned IPO – still reap rewards.
Similar to having AirAsia X enter destinations already served by short-haul AirAsia affiliates, AirAsia X services to existing destinations from origins new to AirAsia X, but already served by short-haul AirAsia affiliates, reduces incremental infrastructure costs and increases scale. "You could triple your fleet and basically triple your routes without actually opening up a new city," Mr Osman-Rani said.
The larger picture is of a pan-Asian network, long talked about and sought by numerous LCC groups, coming into focus. The individual AOCs become mere regulatory requirements while it is the AirAsia brand that is presented as a unified entity to consumers, furthering scale achievements and cost reductions, replicating what easyJet and Ryanair have achieved in Europe, albeit with looser regulatory frameworks.
The concept is already playing out in Singapore, where the AirAsia Group, despite lacking a local AOC, is roughly the same size as the Jetstar and Tiger groups. AirAsia Berhard, Indonesia AirAsia and Thai AirAsia each currently operate into Singapore.
AirAsia Group routes from Singapore: 20-Aug-2012 to 26-Aug-2012
Elsewhere, dots need to be connected, but the AirAsia Group is positioning to do so, with AirAsia X linking the more far-flung points. "Every city becomes a hub or a de facto virtual hub the way Singapore is today," Mr Osman-Rani said, although conceding Singapore's large size – with 12 different AirAsia routes – would be an exception rather than the norm. "You can certainly find any major city within Asia-Pacific having six or seven AirAsia routes."
Jetstar is not behind in the ideology of brand planting leading to scale and a city becoming a hub, physical or virtual. In a Jun-2012 submission to Australia's competition regulator asking permission for Jetstar to align its business units, it notes that coordinating different Jetstars "will have the benefit of accessing increased 'home market' (or complementary) traffic for their international services at a broader range of origin and destination locations." While Jetstar may not be behind in ideology, it appears to be falling short in action.
Qantas Group faces moment of reckoning with Jetstar's future
The force that AirAsia is seeking is that of a multiplier, with short-haul affiliates growing the market and supporting AirAsia X services, which in turn pull feed from either end and bolster short-haul networks, permitting the cycle to repeat itself but grow each time. The strategy is perhaps straight-forward but supported by the complicated matter of finding local partners, establishing JVs and then connecting the dots. As existing LCCs grow and new LCCs emerge, AirAsia will stand apart for the success of its multiple bases, both short-haul and in the medium-term long-haul too. That allows it to be the size and gain the scale of LCCs that benefit from a large domestic market, such as in India or China.
At risk of stagnating is Jetstar. By many metrics it is behind the AirAsia Group. The next few years are looking to be pivotal, with AirAsia X wanting to leapfrog the market. On the short-haul side, AirAsia over the past year has given mixed outlooks on new bases versus consolidation, but the latest from founder and CEO Tony Fernandes is bullish growth. South Korea is of particular interest. Yet the short-term could see Jetstar sit out as its strategy takes the backseat following a CEO change from entrepreneurial Bruce Buchanan to the focused Jayne Hrdlicka and as parent company Qantas contends with an aggressive Virgin Australia eating into Qantas' business and high-yielding markets.
One outcome is the long-running plan for new 787s to enter the Jetstar fleet and replace A330s, which get sent back to Qantas to replace Boeing 767s. With the first 787 not due until mid or late 2013, and 11 Jetstar A330s to be replaced, Jetstar may not see sizeable growth until well into 2014, by which time AirAsia X could have twice the fleet and Scoot, depending on additional aircraft acquisition, could rival or exceed Jetstar – taking with them the key markets associated with asset growth. But there could be hints of changing thought. An interim in-flight entertainment solution for Qantas' 767s – at times over-criticised as being out of date, especially compared to the innovations Virgin Australia is pushing – could allow the aircraft to be kept in the fleet for longer, enabling Jetstar to grow with early 787s rather than have to hand its A330s to Qantas.
See related article: Qantas and Jetstar change 787 strategy to support Asian growth and unit cost improvement
Market events in Australia do not have to deliver all-or-nothing outcomes to Jetstar's Asian potential. Qantas domestic may be the soul of the group and its profits, but long-term growth prospects are higher in Asia even if they are met with higher competition. A balance could be found between supporting Qantas domestic and seizing Asian growth. Yet also weighing in is investors' typical drive for positive outcomes in the short-term. That distances the farsightedness that would enable Jetstar to further grow, rather than take third place behind AirAsia X and embryonic Scoot, which has a mandate from and the backing of the SIA Group to achieve success, and to do so quickly. The Qantas Group's mandate has shifted out of Asia to Qantas domestic.
A new chapter begins for Asia's long-haul LCCs
And so the long-haul LCCs, once questioned as viable, enter a new phase of potential greater scale aided by short-haul affiliates. AirAsia X is poised to realise that while Scoot looks to make up for lost time. The variable is Jetstar and if it will be positioned to take up Asian growth or seemingly continue on a path that will deliver it a presence but no bragging rights.