AirAsia considers serving Kunming, Wuhan or Xi'an, a new group of Chinese cities for Asian LCCs
Analysis
AirAsia has announced on Sina Weibo, China's popular microblogging site, that it intends to start service to Kunming, Wuhan or Xi'an and is soliciting feedback for which city to select. The AirAsia Group serves mainland China primarily from Kuala Lumpur via AirAsia Berhard (AirAsia Malaysia) and AirAsia X, although in Mar-2012 Thai AirAsia opened a Bangkok-Chongqing route, the subsidiary's fourth mainland route after Guangzhou, Hangzhou and Shenzhen.
Chongqing was a new destination for the AirAsia Group and the only mainland China destination currently only served from Bangkok. Guangzhou, Hangzhou and Shenzhen are served from both Bangkok and Kuala Lumpur. The group typically opens new cities first from its Malaysian operations. It did not specify where the potential new service would originate from.
Kunming, Wuhan and Xi'an are well within Thai AirAsia's ideal four-hour operating envelope from Bangkok while only Kunming would be within four-hour range on A320s from Kuala Lumpur but Wuhan and Xi'an are well within the ideal eight-hour range of Kuala Lumpur-based A330 subsidiary AirAsia X.
AirAsia X had originally envisioned serving four to five cities in China during its first growth phase (with A330s). It currently serves three cities in the mainland (Beijing, Chengdu and Hangzhou) as well as Taipei. If Wuhan or Xi'an are selected it would allow AirAsia X to achieve its initial goal, although it could revise its strategy if opportunities such as slots at Shanghai are presented. Both AirAsia X and Jetstar have been considering Shanghai but securing slots is challenging.
The AirAsia and Jetstar groups serve the same number of mainland destinations, with some overlap, although AirAsia is more split between short- and medium/long-haul destinations whereas all but one of Jetstar's points are short-haul. All of Jetstar's points in China are served from Singapore. The SIA Group, through wholly-owned subsidiary Scoot and partially-owned subsidiary Tiger Airways, serves the fewest mainland destinations of the LCC groups.
Mainland Chinese destinations for Asia's major LCC groups: 16-Jul-2012
AirAsia would encounter no LCC competition from around Southeast Asia to any of its three proposed cities, and would see little direct competition from full service carriers. Malaysia Airlines and Thai Airways serve Kunming from their respective hubs of Kuala Lumpur and Bangkok while Business Air serves Xi'an from Bangkok.
International carriers' routes to Kunming, Wuhan and Xi'an: 16-Jul-2012 to 22-Jul-2012
There is very little Chinese competition to Bangkok and Kuala Lumpur from AirAsia's proposed cities. The only overlap is China Eastern's five weekly flights from Kunming to Bangkok, further strengthening AirAsia's potential in those markets and demonstrating how LCCs are driving growth and opening new city-pairs in the region.
Chinese carriers' routes from Kunming, Wuhan and Xi'an to Bangkok and Kuala Lumpur: 16-Jul-2012 to 22-Jul-2012
Wuhan and Xi'an see only a minority of their international capacity reach Southeast Asia whereas Kunming is more exposed to the region.
Wuhan Airport international capacity (seats) by region: 16-Jul-2012 to 22-Jul-2012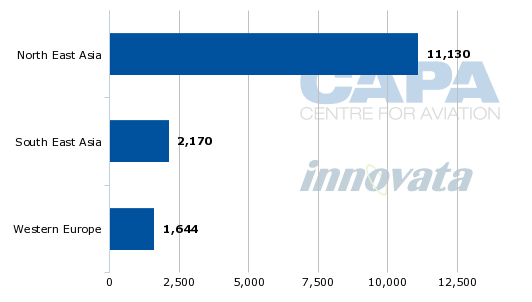 Xi'an Airport international capacity (seats) by region: 16-Jul-2012 to 22-Jul-2012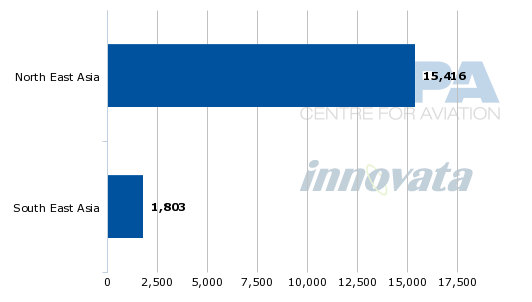 Kunming Airport international capacity (seats) by region: 16-Jul-2012 to 22-Jul-2012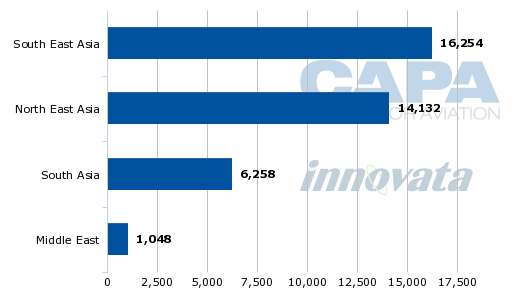 Kunming, Xi'an and Wuhan are large but under-served cities
Kunming, Xi'an and Wuhan fit AirAsia's typical Chinese destination pairing for being large cities offering tourism potential to visitors as well as having a local market AirAsia can tap into to bring across its network. Kunming and Xi'an in particular are known for tourist offerings, with Kunming serving as the base for many visitors of Yunnan province.
Wuhan is the largest city in central China with a population of about 10 million while Kunming has a population of about six million and Xi'an about eight million. Given China's long-term potential, eventual services to some of these and several other cities is inevitable. AirAsia and especially AirAsia X given its larger capacity have mainly focused so far on larger cities like Chengdu (population: 14 million) or those with closer tourist surrounds like Hangzhou (Kunming's tourist sites spread across the province).
Kunming in Jun-2012 opened a new airport boasting 66 gates with jetways and the country's largest terminal building after Beijing Capital's Terminal Three. The airport has twice as many international seats as Wuhan or Xi'an, reflecting the prominence of tourism.
International seats and share of total capacity at Kunming, Wuhan and Xi'an: 16-Jul-2012 to 22-Jul-2012
International seats

International seat share

of total capacity

Kunming
38,000
6%
Wuhan
15,000
4%
Xi'an
17,000
3%
Compared to the other second-tier mainland cities served by the AirAsia and Jetstar Groups as well as Tiger Airways, the proposed cities have comparable international seat capacities and comparable or lower share of international seats.
International seats and share of total capacity at second-tier mainland Chinese airports served by AirAsia, Jetstar and Tiger Airways: 16-Jul-2012 to 22-Jul-2012
Scoot is unlikely to serve Kunming and Wuhan as its strategy, especially for China, is to open new destinations for the SIA Group rather than replace any existing service. SilkAir serves Kunming and Wuhan but not Xi'an. China offers Scoot numerous potential airports. Local reports state the carrier is interested in Dalian in northern China.
As AirAsia expands, Jetstar appears to be taking stock and waiting for the 787
Jetstar, which competes closest with AirAsia in the region, last year spoke of high expansion to North Asia, and China in particular. In Oct-2011 it announced Guangzhou as a Jetstar Asia destination, but since then its expansion has taken a back seat.
See related articles:
Jetstar late last year was aiming to also launch services to Shanghai and Shenzhen from Singapore but services have yet to be launched or announced. Shenzhen would likely have been operated by Jetstar Asia's short-haul A320 operation from Singapore, but that network late last year was under pressure as Tiger Airways pumped large amounts of capacity into the market as a result of having limited growth options across its other subsidiaires. Shanghai would have most likely been operated by Jetstar's long-haul A330 fleet, but the carrier has shown a lack of interest over the past half year in expanding its Singapore-based A330 fleet.
Jetstar took delivery of an additional A330 in late 2011 which was originally earmarked for the Singapore base. But it has so far remained in Australia and the group has yet to open a market for it. An A330 due for delivery in late 2012 was also originally pegged to go to Jetstar but for some time now has been earmarked instead for the Qantas domestic fleet.
Jetstar is holding off on further long-haul expansion until mid-2013 when Boeing 787-8 deliveries will commence. The aircraft will initially replace Jetstar's A330-200s, allowing them to in turn to replace Qantas' 767s, and further 787 deliveries will open new routes.
Jetstar has also undergone a management change, with Bruce Buchanan having left the CEO office but remaining as an advisor after taking up the post in 2008. He is replaced by Jayne Hrdlicka, who oversaw strategy and IT at Qantas. In addition to allowing time for Ms Hrdlicka to settle in to Jetstar, the group wants to consolidate its position, having undergone in recent years large (high double digit) and diverse (subsidiaries in Hong Kong and Japan) growth under the entrepreneurial leadership of Mr Buchanan.
See related article: Qantas and Jetstar change 787 strategy to support Asian growth and unit cost improvement
But this is no time to rest in the Chinese market
While growth in the Chinese market is slowing, it is still positive and Chinese carriers are taking a long-term view towards capacity, putting in flights now when they can to secure a foothold rather than wait for what may be more profit optimal time. AirAsia and Jetstar must also contend with Scoot, which is looking to make up for lost time in the SIA Group's strategy and is pursuing aggressive growth.
See related article: SIA's new long-haul LCC to start with 400-seat B777s, plans 16-aircraft fleet within four years
While Tiger may have a small footprint and Scoot is the newcomer, the greatest challenge for Asia's strongest LCC groups may fall to Jetstar. Ms Hrdlicka's replacement of Mr Buchanan as CEO was part of a series of management changes at the Qantas Group that included creating, for the first time, CEOs of Qantas' domestic and international operations in an effort to focus the group as it contends with an unprofitable international network and a domestic network under heavy pressure from a resurgent Virgin Australia. The concern is that amidst this focus on Qantas-branded airlines, Jetstar's strategy will be a lesser priority, intentionally or not.
Jetstar may be limited in terms of aircraft to expand to northern points in China, giving the AirAsia Group and Scoot wide growth opportunities for at least the next 12 months. But Jetstar must ensure that it does not unnecessarily limit itself.
Background information
Kunming Airport international capacity (seats): 16-Jul-2012 to 22-Jul-2012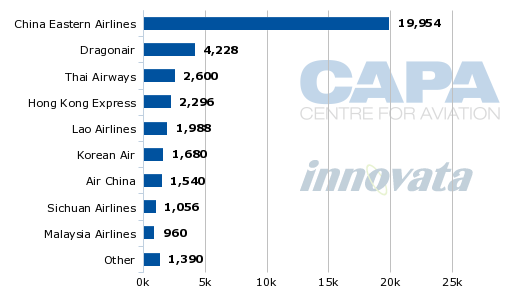 Wuhan Airport international capacity (seats): 16-Jul-2012 to 22-Jul-2012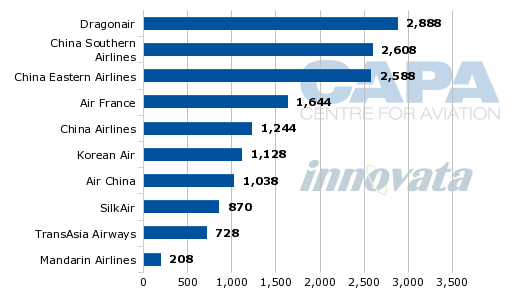 Xi'an Airport international capacity (seats): 16-Jul-2012 to 22-Jul-2012