Jetstar's new North Asia focus leaves room for Qantas Singapore expansion to Europe and India
Analysis
Jetstar is planning to expand its Singapore-based fleet by 50% over the next six months as the low-cost carrier group looks to North Asia for the next phase of its dramatic expansion. As the largest low-cost airline group in the Asia-Pacific region continues to expand at a rate of about 20% per annum, additional capacity will not be directed west towards South Asia, the Middle East or Europe but primarily to North Asia, where Jetstar sees the most opportunities given North Asia's very low LCC penetration rate. This strategy could signal growth for the Qantas brand in South Asia and Europe as the group looks at potentially announcing next month the launch of a new Singapore-based full-service carrier.
The Jetstar Group announced at a press conference in Singapore on 15-Jul-2011 plans to add five A320s and two A330s to its Singapore Changi-based fleet in 2H2011. As a result, the Singapore-based fleet at Jetstar Group will grow from 12 to 17 A320s and from two to four A330s by the end of 2011.
One of the additional A330s will be used to open in Nov-2011 the daily Singapore-Beijing service which was announced by Jetstar earlier this week. The fourth A330 will be used to launch a route not yet announced, which CAPA expects could be Shanghai.
The five additional A320s are to be used in part to expand capacity on six existing routes from Singapore - Denpasar Bali, Ho Chi Minh City, Hong Kong, Jakarta, Kuala Lumpur and Taipei (see background information for details). The additional Singapore-based A320s will also be used to launch services to Hanoi and Ningbo - both routes were recently announced - as well as at least two other new unannounced cities, which CAPA expects could be Shenzhen and Guangzhou.
Jetstar has secured slots and traffic rights for Singapore-Shanghai route
The already announced flights to Beijing and Ningbo will give Jetstar's Singapore hub six destinations in mainland China and nine destinations in greater China. Jetstar has indicated it plans to grow its greater China network to 12 destinations by year-end. Jetstar Group CEO Bruce Buchanan told CAPA that in addition to Beijing, Jetstar has already secured slots and traffic rights for Shanghai Pudong and Shenzhen. While it has not yet finalised arrangements or announced these services, CAPA expects Shanghai and Shenzhen are high on Jetstar's list and could be launched by the end of this year.
Singapore-Guangzhou would be another logical new route for Jetstar as Guangzhou is one of China's largest airports and fastest growing cities. If Jetstar adds Shanghai Pudong, Shenzhen and Guangzhou along with Beijing it will be serving four of China's five largest airports. The other top five Chinese airport is Shanghai Hongqiao, which is primarily a domestic airport that is not accessible by any carrier from Singapore.
Shanghai Pudong would represent another breakthrough for Jetstar as, like Beijjing, the airport currently only has international low-cost services to the Philippines. Cebu Pacific serves both Shanghai and Beijing while another Philippine low-cost carrier, Zest Air, also serves Shanghai. Other foreign low-cost carriers, including AirAsia X, have so far failed to gain access to Beijing and Shanghai.
Singapore-Shanghai and Singapore-Beijing are currently only served by only two carriers. With its new Beijing service, Jetstar will finally be breaking the Air China-Singapore Airlines duopoly while on the Singapore-Shanghai route it would break the China Eastern-Singapore Airlines duopoly. Shanghai is one of only two routes among Singapore Changi's largest 10 routes that currently does not have any low-cost competition. The other route is Singapore-London.
Singapore to Shanghai capacity (seats per week), 11-Jul-2011 to 17-Jul-2011
Note: SIA reduces its Singapore-Shanghai service from five to four daily flights every winter season, due to slot restrictions at Shanghai.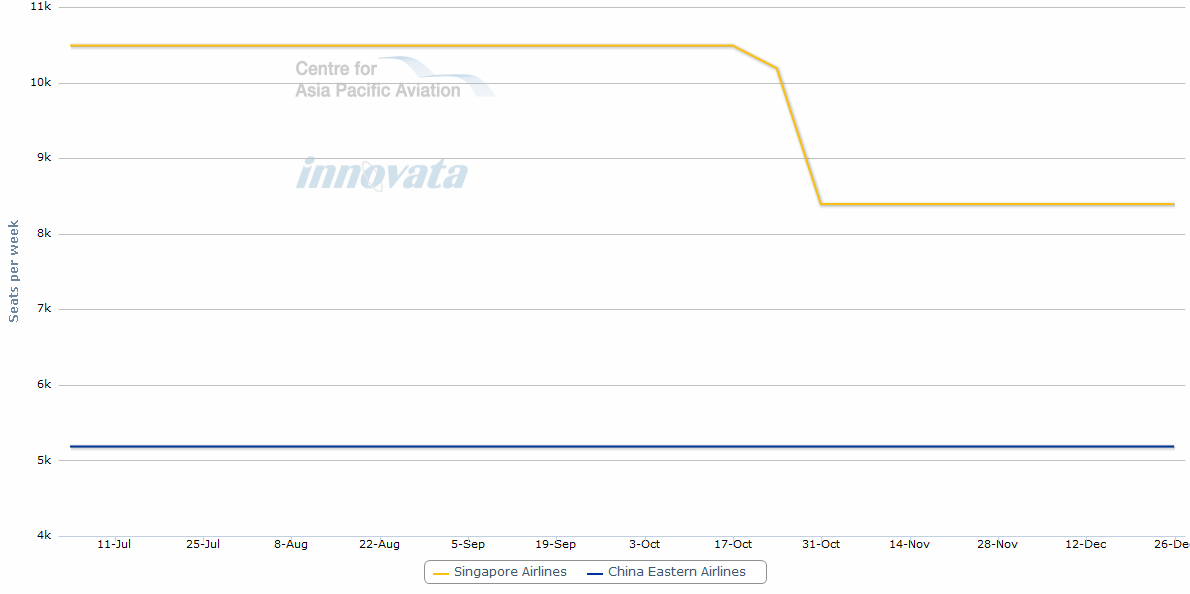 Singapore to Beijing capacity (seats per week), 11-Jul-2011 to 17-Jul-2011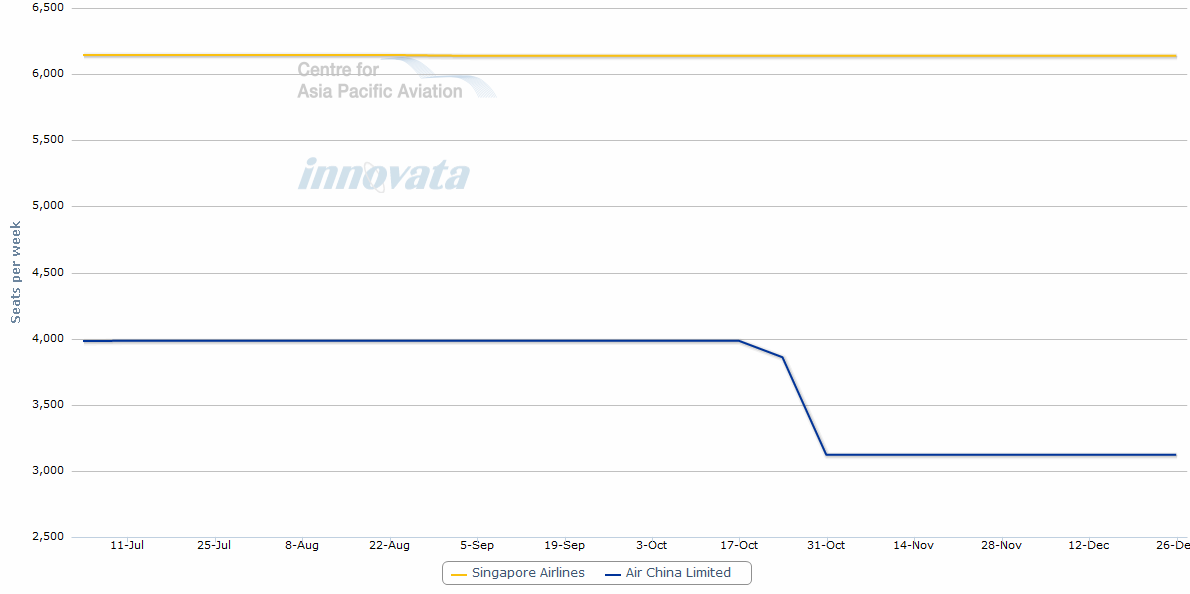 Singapore-Shenzhen is already served by Singapore-based low-cost carrier Tiger Airways as well as Singapore Airlines' (SIA) regional subsidiary SilkAir. Singapore-Guangzhou is currently a much bigger market served by SIA, China Southern and Tiger Airways. SIA announced this week it is doubling capacity to Guangzhou from 30-Oct-2011, when a second daily frequency will commence.
Until now Jetstar's destinations in mainland Chinese have been secondary cities, including Guilin, Haikou, Hangzhou and Shantou. Jetstar Asia is the only carrier serving all these destinations from Singapore except Haikou (which is also served by Tiger and from Sept-2011 by Hainan Airlines) and will be the only carrier in the Singapore-Ningbo market. As Jetstar grows its Chinese and Asian networks, Mr Buchanan sees the carrier entering a mix of secondary or alternative and major airports, similar to its strategy in other places such as Melbourne - where it serves both Tullamarine and Avalon.
With Hangzhou and Ningbo, Jetstar will serve two cities near Shanghai but that does not preclude it from also serving Shanghai. All three markets are large enough to support flights to Singapore. Ningbo has population of almost 6 million while Hangzhou has a population of about 9 million.
Several more Chinese routes expected
While major cities such Shanghai and Beijing offer potentially lucrative opportunities as they are currently underserved, there are now dozens of medium-size cities in China which are rapidly growing and have the base to support services to Singapore, in particular as outbound tourism in China expands rapidly. Singapore is a popular destination for Chinese tourists and as income levels in China grow and LCCs enter new markets, holidays to Singapore is becoming affordable to more Chinese. "We're very, very focused on building a China presence," Mr Buchanan said. "We think this decade is the decade China will bloom."
Jetstar Asia CEO Chong Phit Lian says Singapore-Hangzhou in particular has been a popular route for mainland Chinese, which account for about 50% of the traffic on the route. She expects a similar ratio for Ningbo and hopes the Beijing flight will also attract strong outbound Chinese traffic although she says for now Jetstar is only selling the flight in Singapore. Sales in China will begin after Jetstar receives regulatory approval.
Ms Chong says services to Shantou, Haikou and in particular Dalian mainly cater to Singaporeans as well as Indonesians and Malaysians. All three countries have large Chinese populations. The Indonesia and Malaysia passengers are connecting in Singapore from Jetstar's two Malaysian and four Indonesian destinations to China. Unlike most other LCCs, Jetstar offers a connection product with bags checked through to the final destination although Ms Chong says some Indonesian passengers choose to self-connect and have a stopover in Singapore, where many Chinese Indonesians have family and friends, before travelling onto China.
Jetstar's China flights are designed to connect with other Asian flights not Australian flights
Ms Chong expects the Beijing flight will also attract a lot of Indonesia originating passengers. In fact the Singapore-Beijing flight is scheduled to connect better with other Jetstar destinations in Asia rather than Qantas Group destinations in Australia. For example, the return flight from Beijing to Singapore does not connect with Qantas flights to Adelaide, Brisbane, Melbourne, Perth or Sydney. Even passengers continuing on the same Jetstar flight to Melbourne (there is one flight number for Beijing-Singapore-Melbourne) will have to endure a 12 hour stopover in Singapore before proceeding to Melbourne.
Mr Buchanan acknowledged the 1am landing slot and 3am takeoff slot secured for the new Beijing service is not ideal, explaining that is what was received to start with and Jetstar could potentially secure better slots later. But he said the slots work out well for Jetstar because they allow for connections in Singapore to other Asian destinations. The fact Jetstar has scheduled the flight to connect with flights within Asia rather than Australia shows where Jetstar's focus has turned.
While Australia is a mature market, Asia is growing fast with opportunities particularly plentiful for low-cost carriers. As Asia's economy expands rapidly and income levels increase, the number of people who can afford to fly is growing exponentially. Low-cost carriers are poised to capture most of this growth as the first time flier segment can typically only afford to fly if the fares are low. "It's all about a new market segment emerging for the first time," Mr Buchanan said.
Jetstar sees it uniquely positioned to cater to Asia's rapidly growing first time flier segment as it is already the largest low-cost airline group in the Asia-Pacific region. Mr Buchanan believes low-cost carriers that have the "first movers advantage" end up with leading market shares, as was proven in previous decades in the US and Europe (where Southwest and Ryanair have thrived while low-cost carriers which launched later had mixed success).
Group growth of 20% per annum expected
One of Mr Buchanan's main goals is for Jetstar to maintain or grow, and not cede, its share of the LCC market in Asia-Pacific. The Jetstar Group estimates it currently accounts for about 20% of the LCC market in Asia-Pacific and will need to grow at an annual clip of almost 20% to keep up with the overall growth in the LCC sector. With some capacity growth in Australia could be pursued as the Qantas Group aims to maintain its overall 65% share of the Australian market, a disproportionate amount of the capacity growth will be directed to Asia.
Mr Buchanan expects some further capacity expansion in Southeast Asia but sees an opportunity to expand even more rapidly over the next several years in North Asia. He points out that in Southeast Asia LCC penetration rates are already about 30%. While capacity expansion in Southeast can be supported as the overall market in Southeast Asia is growing rapidly, Mr Buchanan does not expect LCCs to significantly increase their share of the overall Southeast Asia market as they already have a relatively big chunk this market. In North Asia, however, the LCC penetration rate is still below 5%. As a result, in North Asia there is still a lot of market share for LCCs to take over from full-services carriers.
LCCs now account for almost 20% of capacity within the Asia-Pacific region, according to CAPA and OAG data. But this is an average figure that includes markets in South Asia, Southeast Asia and Austalasia - where LCC penetration rates are at or near the levels of Europe and North America - as well as markets in North Asia, where LCC penetration rates are some of the lowest in the world. For example the LCC penetration rate at Jetstar's largest hub, Melbourne, and AirAsia's largest hub, Kuala Lumpur, currently approach 50% while in Singapore it is already 23%. But the LCC penetration rate is almost zero at Beijing (there are currently only three weekly LCC flights at Beijing - the Cebu Pacific operation from Manila), is only 1% at Tokyo Narita and 4% at Seoul Incheon.
LCC capacity share (seats) within Asia (%), 2001 to 2011F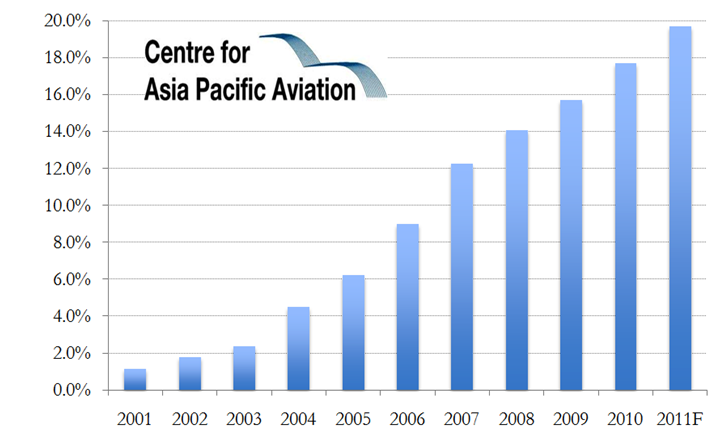 Melbourne Tullamarine Airport capacity share (seats per week) by carrier, 11-Jul-2011 to 17-Jul-2011
Kuala Lumpur International Airport capacity share (seats per week) by carrier, 11-Jul-2011 to 17-Jul-2011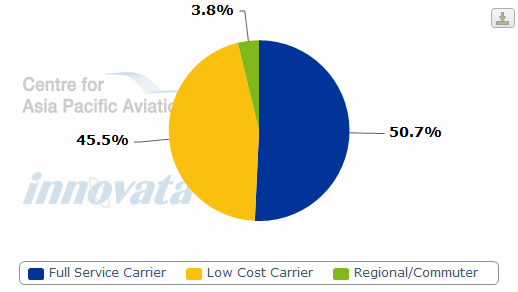 Singapore Changi Airport capacity share (seats per week) by carrier, 11-Jul-2011 to 17-Jul-2011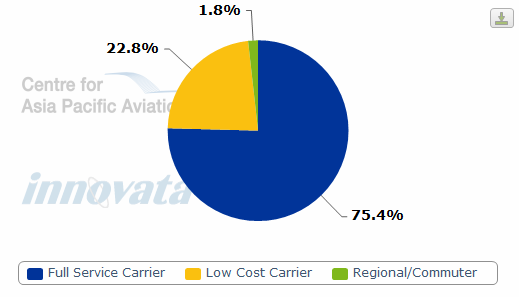 Beijing Airport capacity share (seats per week) by carrier, 11-Jul-2011 to 17-Jul-2011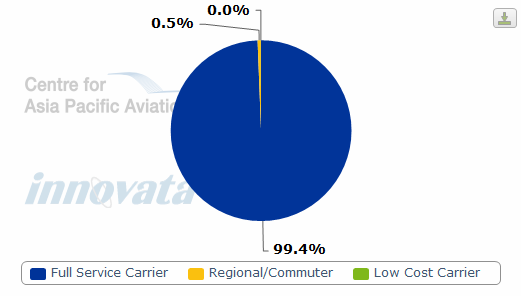 Tokyo Narita capacity share (seats per week) by carrier, 11-Jul-2011 to 17-Jul-2011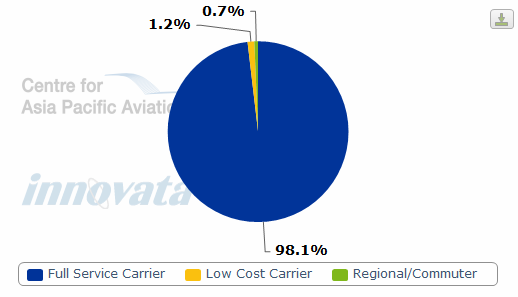 Seoul Incheon capacity share (seats per week) by carrier, 11-Jul-2011 to 17-Jul-2011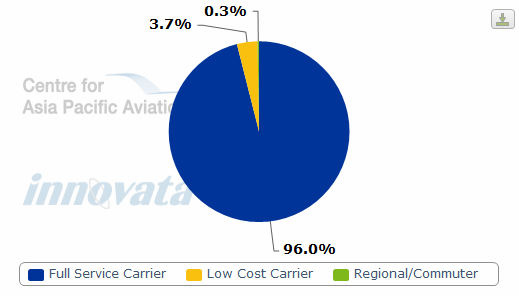 Mr Buchanan calls the previous decade the decade for LCCs in Southeast Asia as back in 2001 LCCs had almost zero market share in the region. But Mr Buchanan believes the current decade will become the decade for LCCs in North Asia. "In this decade, we believe North Asia will flourish," he said.
With Jetstar's expansion in China in 2H2011, Mr Buchanan is taking the first steps to ensure his prediction that 2011-2020 will be the decade for LCCs in North Asia will come true. With its order book for additional A320s and later B787s, Jetstar is ready to continue expanding its network in China in 2012 and beyond, assuming it can continue to secure the route authorities it needs – which appears increasingly likely as China gradually opens up. Mr Buchanan says "there are many, many cities" in China that Jetstar is prepared to serve.
Growth in Japan and Korea also expected
Jetstar is also ready to expand in other North Asia markets including Japan and South Korea. Jetstar now serves Tokyo but only from Australia and Osaka from both Australia and from Singapore via Taipei. It does not yet serve South Korea. Mr Buchanan is confident there will be "radical liberalisation" of traffic rights in North Asia, allowing Jetstar to rapidly expand this decade in China as well as Korea and Japan.
Mr Buchanan says Jetstar has not yet allocated its fleet for 2012 or future years as it likes to be flexible. With the fleet allocation for 2H2011, Jetstar only announced this week how many of the additional aircraft are to be based in Singapore compared to Australia or New Zealand. But if there are opportunities to further expand the North Asia network from Singapore, the Singapore base will likely again receive a large allocation of additional aircraft in 2012.
Over the last three years Jetstar's Singapore base has been growing at rate of 50% per annum. Jetstar will need to continue pursuing rapid capacity expansion in Singapore to keep up with rival low-cost airline groups Tiger and AirAsia, both of which have been adding capacity this year at similar clips. Based on Innovata capacity data, the Jetstar Group now has about 6% of the market in Singapore, compared to about 7% for Tiger and 7% for the AirAsia Group. Jetstar is the only low-cost carrier operating widebody aircraft in Singapore, although this will change next year when Singapore Airlines launches its new long-haul low fare carrier.
Some of the additional aircraft coming into the Jetstar Group in 2012 could also be allocated to its other Asian operation – Jetstar Pacific in Vietnam, which currently operates two A320s and five B737-400s. Jetstar Pacific currently only operates domestically but CAPA expects the carrier, which is 27% owned by Jetstar, will be used as part of Jetstar's big push into North Asia.
Jetstar particularly is interested in using Jetstar Pacific to launch flights from Vietnam to China, a fast-growing and underserved market. International flights by Jetstar Pacific would also help Jetstar Group in its "connect the dots" strategy – a reason Jetstar gave in deciding to launch Singapore-Hanoi from Dec-2011 (Hanoi is a domestic hub for Jetstar Pacific).
Changi-based A330s to move from Australian to Singaporean AOC next year
While the Singapore base will have four of the group's A330s by the end of this year, all the A330s will remain for now on Jetstar's Australian operating certificate. Mr Buchanan says Jetstar is now working with Singaporean authorities to revise the operating certificate held by Jetstar Asia to include A330s. He expects the Singapore-based A330s will be moved to Jetstar Asia's certificate around mid 2012.
While the A330s currently based in Singapore are on the Australian certificate, they are already flown using Singapore-based crews. The two existing Singapore-based A330s are now used on the Melbourne-Singapore and Melbourne-Christchurch routes. The Jetstar Group currently has nine A330s with another two on order, according to data from Ascend.
The 12 A320s currently based in Singapore are on the operating certificates of Jetstar Asia and Valuair. Jetstar Asia and Valuair merged in 2005 but the Jetstar Group elected to keep two certificates as Valuair held hard-to-get traffic rights to several Indonesian destinations. Mr Buchanan does not plan to transfer the four Indonesian routes and five A320s still operated by Valuair to the Jetstar Asia certificate, explaining "the Valuair AOC is still important for us".
Overall the Jetstar Group now operates 58 A320s and six A321s. The group has 46 A320s on order, according to Ascend. Mr Buchanan pointed out that Jetstar has the flexibility to accelerate fleet expansion by leasing in more aircraft and potentially taking aircraft from Qantas. He also confirmed that Jetstar is currently evaluating the A320neo.
Jetstar needs to order the A320neo; group fleet could reach 350 aircraft by 2020
Last month rival low-cost airline group AirAsia ordered 200 A320neos while Cebu Pacific ordered 30 A321neos. It is believed that Airbus is holding early A320neo slots for Jetstar. The A320neo, which will be 15% more fuel efficient than the current generation A320, will enter service in late 2015. Jetstar needs to order the new type to stay competitive with its peers in Asia and to ensure continued growth of its short/medium-haul network late this decade and early next decade.
In total the Jetstar Group now operates 78 aircraft, which based on Jetstar figures equates to 17% of the total LCC fleet in Asia-Pacific of 450 aircraft. Jetstar expects the total LCC fleet in the region to grow to about 2,000 aircraft by the end of 2020. This would mean Jetstar will need a fleet of about 350 aircraft by the end of 2020 to retain its current share of the market. AirAsia Group CEO Tony Fernandes previously indicated that he envisions a fleet of 320 to 510 aircraft at AirAsia Group by the end of 2020.
Jetstar currently serves 60 destinations. Its network does not go west of Southeast Asia (Yangon in Myanmar is the group's westernmost destination).
Jetstar Group's current network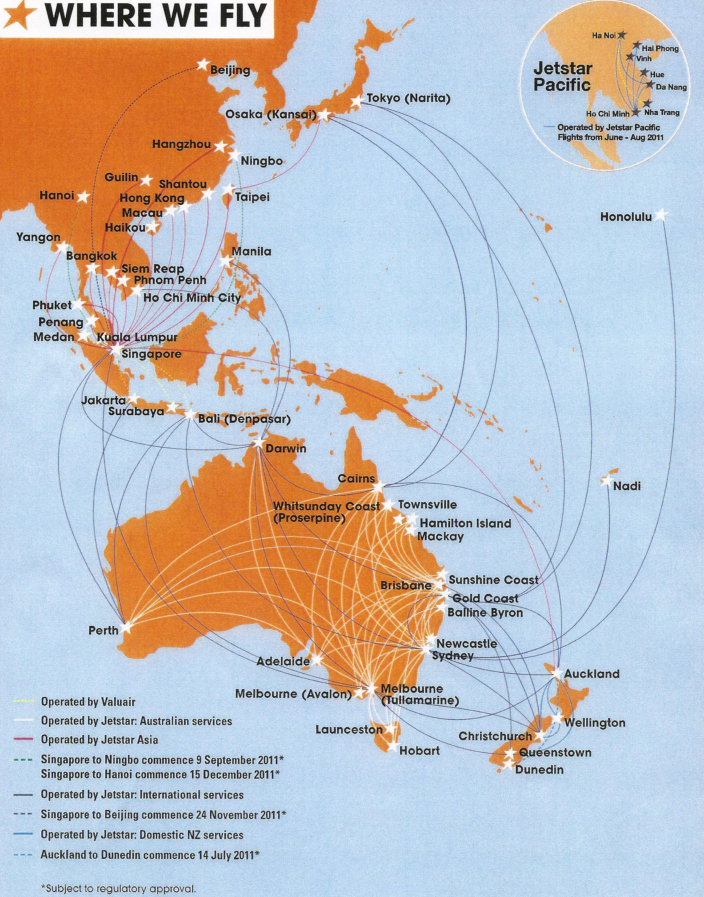 Jetstar previously served India and has been looking at launching services to Europe, in particular Athens. But CAPA believes with the new North Asia focus, Jetstar will not be venturing further west anytime soon. Mr Buchanan does not see a need to serve India or the Middle East as these regions are already well served by other carriers. This includes the AirAsia Group, Indian low-cost carriers and the fast-expanding Gulf carriers.
With Jetstar focusing on North Asia, India and Europe could instead become destinations for the potential new Singapore-based full-service carrier Qantas Group has been looking at launching next year. This would ensure less overlap or cannibalisation between Qantas and Jetstar in Singapore and highly complementary networks. Qantas plans to announce on 24-Aug-2011 its new international strategy, including the potential launch of a new Singapore-based full-service carrier.
Background Information
Additional capacity planned for existing Jetstar Asia-operated routes