Qantas and Jetstar change 787 strategy to support Asian growth and unit cost improvement
Analysis
The continuous high-growth in Asia as well as opportunities to achieve better unit costs are the drivers behind a broad change of strategy for how the Qantas Group will deploy the B787-8 and B787-9 across its Qantas and Jetstar brands. Rather than have B787-9s replace Jetstar's B787-8s, which would have been sent to Qantas for domestic use, Jetstar will keep the B787-8 and operate it alongside the B787-9. Qantas will further reap the B787's efficiency by deploying the aircraft almost entirely on international routes, leaving domestic routes to A330s and B737s.
Jetstar will be able to better match capacity with demand by operating the smaller 300-seat B787-8, whereas its low-cost long-haul pan-Asian competitors AirAsia X and Scoot will primarily operate 370-seat aircraft, equivalent to the B787-9. Keeping the B787-8 will allow Jetstar to fit out the aircraft to its specification rather than a common spec Qantas could operate with a simple change in seat covers. This has implications for seating density, type of seat and whether or not to install a bulky and expensive in-flight entertainment (IFE) system, which affects unit costs.
Dual Jetstar fleet type targeting frequency and unit costs
"With the alignment of the B787-8 and B787-9 deliveries and the -9s not too far off from the -8s, Qantas is going to take the B787-9s directly into their business. We're going to take 15 B787-8s," Jetstar CEO Bruce Buchanan told CAPA exclusively. The Qantas Group's previous B787 strategy was formed when the B787-8 was expected to be delivered to the group in mid-2012 and the B787-9 from 2014. The B787-8 is now expected in mid-2013 and the B787-9 from 2014.
Previously B787-9s would replace Jetstar's B787-8s, which in turn would be handed down to Qantas. That strategy would have allowed Jetstar to immediately gain the B787's economics and then achieve greater improvements when the longer-range and higher-capacity B787-9s became available. Jetstar would have likely operated a single-type wide-body fleet comprised of B787-9s for most of this decade. Now Jetstar sees value and opportunity from operating both B787 variants.
"There is advantage in having the ability to deploy both just like we do with the A320 and A321. There are markets where frequency will benefit from the -8s. There are markets where the economic unit cost advantages are better with the -9s," Mr Buchanan said. Jetstar's B787-8 will seat approximately 300 in a two-class configuration while the B787-9 will seat approximately 350 in Jetstar's two-class configuration. Boeing's official range figures give the B787-8 7650-8200nm and the B787-9 8000-8500nm.
Boeing has acknowledged the B787-8 is overweight and has performance shortfalls, but Mr Buchanan is not fazed about the B787-9 being more competitive than the B787-8. "It doesn't really matter. This aircraft provides a step change from everything else in the market today," he said. "It's going to be more competitive than what any of our competitors fly today. That's going to be a real game change to allow us to deploy capacity and go after market share in a much more aggressive way."
Boeing's proposed stretch -10 variant, which the airframer says is a matter of when not if, will give Jetstar another 40-50 seats of capacity than the -9 but with slightly less range, which Mr Buchanan said would provide "another step change in economics".
"You've got a family starting to emerge there, so see where it's going, use all those products, and it will be a very efficient suite of products for Jetstar to use," Mr Buchanan said, all but signing a contract for the -10.
Qantas and Jetstar still plan to evenly split the 50 B787s on order, but the breakdown of how many -8s and -9s each carrier will take remains in discussion and will likely be revised as delivery dates near. There are 15 -8s and 35 -9s on order.
Qantas CEO Alan Joyce (left) and Jetstar CEO Bruce Buchanan (right) received commemorative carbon fibre plaques from Boeing VP Mike Sinnett during the B787's visit to Australia earlier this month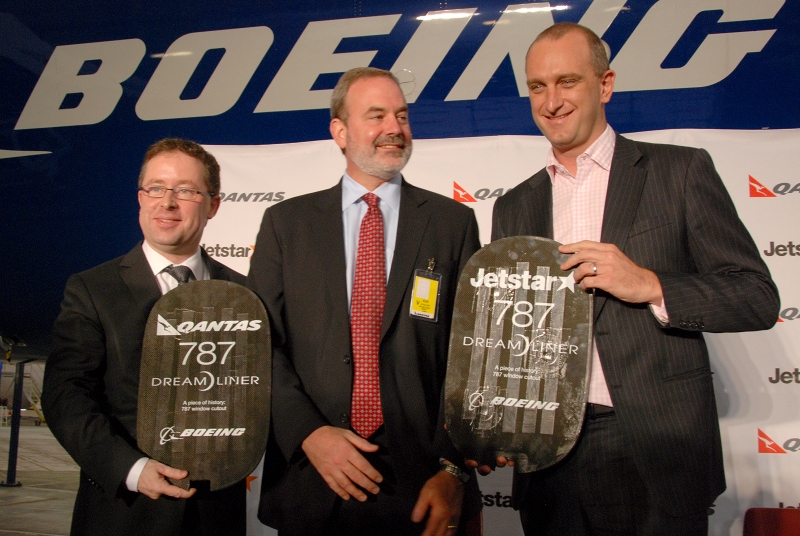 Asian, not European, focus for Jetstar
While the immediate years after Qantas' 2005 order for 65 B787s (later reduced to 50) saw the carrier wax and wane about how the B787 would enable Jetstar to return to cities like Athens and Rome from which Qantas withdrew, the more immediate focus for the B787s is Asia, not Europe.
"The initial B787s are just A330 replacements. All they'll do initially is give us a better cost base than the existing business platform. They won't give us opportunity for new network structures," Mr Buchanan said. "You'll see them go into Singapore, Melbourne, Sydney – all the existing routes." Mr Buchanan affirmed weight issues were not driving the decision to have B787s takeover existing routes rather than open new ones. "No, nothing to do with weight issues or performance issues. The A330s are going back to Qantas to retire B767s.... It's a fleet issue."
Once opportunities do come to open new routes, Jetstar will focus on Asia. "Europe and North America are really network extension opportunities for us. They're not core market or revenue sources for us as opposed to the core Asian market," Mr Buchanan said.
"We're in the main grabs of infrastructure in China at the moment… So that's where a lot of the capacity is going." Jetstar last week began service from Singapore to Beijing – Jetstar's 10th destination in China. The group is targeting two more Chinese destinations by the end of next year. In the next month Jetstar will take delivery of another A330 aircraft for its Singapore hub. While it has not announced a route for it, Jetstar has been trying to obtain slots at Shanghai.
The recent market changes in Europe have given Jetstar greater confidence to avoid Europe in the near future. "Asia is growing at 20% a year with low-cost carriers in the market. Europe is in the economic doldrums so there is no rush to get in there," Mr Buchanan said.
Since Jetstar's B787 order and talk of serving Europe, the Asia-Europe market has seen new entrants, including competitor AirAsia X, and will see new entrants, like competitor Scoot in a few years. But the competition does not make the market inaccessible for Jetstar. "Europe will still work but for us it's not a high priority. 99% of our revenue is going to come from Asia," Mr Buchanan said. When asked for a timeframe for Jetstar to enter Europe, he said it would be "at least a few years – not in the immediate future".
A token Jetstar logo was applied to the B787 for its Australian visit this month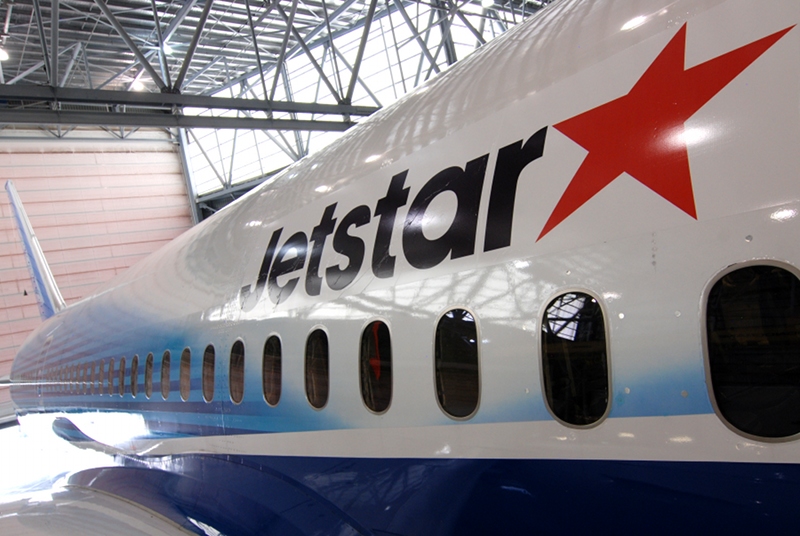 Dual type gives new flexibility
By operating the 300-seat B787-8 alongside the 350-seat B787-9, Jetstar gains the ability to target smaller markets without sacrificing yield than if it only operated the B787-9. Jetstar also gains the flexibility to better match capacity to demand, unlike its competitors. Scoot, the Singapore-based low-cost long-haul subsidiary of Singapore Airlines (SIA), plans to launch operations with B777-200s seating approximately 370. Its current fleet plan envisages only operating B777-200 through at least mid-2016. AirAsia X, based in Kuala Lumpur, primarily operates A330s seating 377. Its A350-900s, which will be delivered later this decade, are expected to seat over 400.
See related articles:
Interior configuration for low-cost long-haul carriers
By deploying aircraft with smaller capacity, Jetstar can more easily increase frequency from non-daily to daily or daily to double daily, which could give it wider appeal. The B787-8 could be better suited to Chinese, and one day Indian, routes that cannot support daily 350-plus-seat capacity but whose distances are too long to be operated to with narrowbody aircraft. The B787-8 could also be used as seasonal or year-round capacity boost, such as replacing a B787-9 with two B787-8s on Singapore-Australia routes during peak times, or supplementing a B787-9 service with a B787-8. Jetstar's Auckland-Singapore route is still working up load factors and Jetstar announced – days before a B787 demonstrator was to visit competitor Air New Zealand – that Auckland-Singapore will be one of its first B787 routes. It remains to be seen if Jetstar will keep the route, which has a smaller traffic pool than other markets, on a B787-8 once it receives larger B787-9s.
Multiple departure banks would give greater connecting options between long-haul flights or long-haul flights with short-haul flights. This could mean not having to wait overnight for a connecting flight or arriving into Changi at the morning and not having to wait until the evening for a connecting flight.
AirAsia X and Jetstar have large regional networks that help feed their long-haul flights; some studies say 70% of AirAsia X's passengers are not from its Kuala Lumpur hub or making KL their final destination. Jetstar and more recently AirAsia X have introduced connecting flights on a single itinerary for some routes, but passengers can self-connect from other flights or other airlines. Scoot does not have an immediate corresponding short-haul network to feed traffic from, although its owner SIA has a stake in Tiger Airways, also based at Changi.
While Scoot and AirAsia X could follow Jetstar into smaller markets and have lower load factors or yields, the baseline economics of the B777-200 and A330 are less appealing than the B787. But AirAsia X has a lower cost base than Jetstar at USD2.9 cents ex-fuel per kilometre to Jetstar's USD4.9 cents (this is the average across the Jetstar group and its long-haul operation would be less than this figure, the only one disclosed). Bringing a more efficient aircraft into Jetstar's fleet would narrow the gap between the carrier and AirAsia X – at least until AirAsia X receives its A350-900s, and then until Jetstar receives B787-10s, if launched and ordered. The cyclical nature of these efficiency improvements and variance in purchasing or leasing costs underscores how success should be measured by a healthy yield and not by having the lowest cost, which some LCCs have been fixated on in the past.
Commemorative plaques for Qantas and Jetstar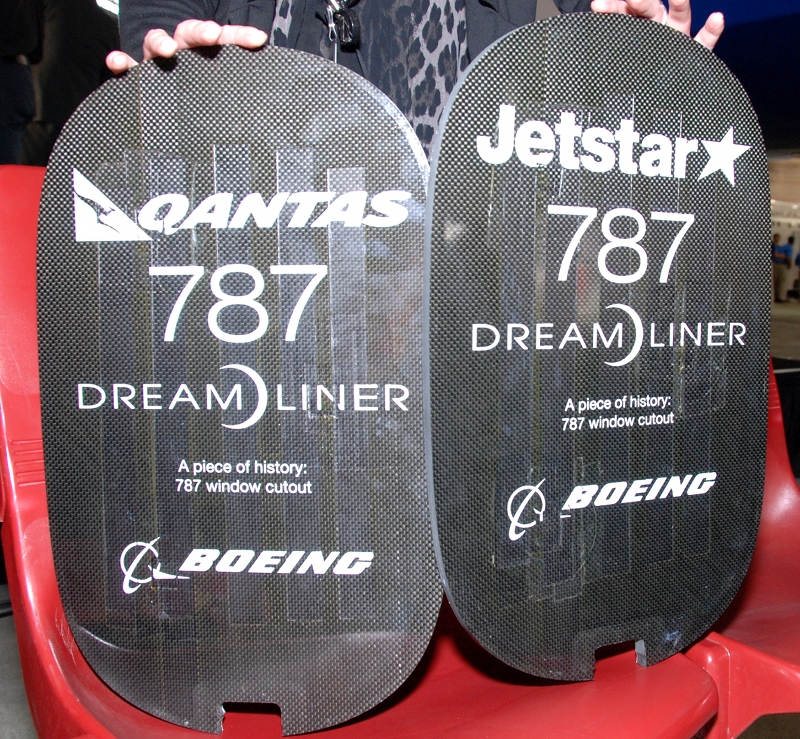 No 400-seat capacity for Jetstar, but not necessarily a bad move
It is easy to suggest Jetstar, with 300- and 350-seat aircraft, is missing out on the larger 370-plus seat capacity market for the near future. Scoot's B777s will seat approximately 370, but this is done out of necessity and is the result of operating a larger aircraft with a higher operating cost, although Scoot has the advantage of inheriting the aircraft from SIA. AirAsia X, with 377 seats, has favoured a more dense configuration than Jetstar, seating nine-abreast in economy versus Jetstar's eight-abreast. (AirAsia X also operates the longer A330-300 to Jetstar's shorter A330-200.)
Jetstar, to a degree, was limited by the need for interoperability of its A330s with Qantas, so Jetstar's configuration had to be compatible with Qantas' requirements, potentially hurting unit costs. This arrangement was to continue with Jetstar taking B787-8s and then transferring them to Qantas once B787-9s arrived. But with Jetstar now due to keep the B787-8, there is a review of the fit out, including seat density, type of seat and in-flight entertainment.
The B787-8 seats two to three fewer rows than the A330-200, which Jetstar operates in a configuration of 303. A configuration of "approximately 300" for the B787-8 could indicate seating eight-abreast at a 31" pitch (as Jetstar's A330s seat) or nine-abreast at a 32" pitch, as AirAsia X fits out its A330s. Research from Airbus found passengers overwhelmingly favour greater width over pitch, but airlines have not yet promoted their greater economy width over a competitor. (Decreased seat widths to drive down unit costs is not confined to LCCs. Many full service carriers, including Air New Zealand and Emirates, seat 10-abreast on the B777 to the more standard nine-abreast.) The B787-8 will more comfortably accommodate an extra seat per row than the A330.
Seating width for aircraft operated by low-cost long-haul carriers
Aircraft

Width

(normal config)

Width

(maximised config)

A330
18" (8-abreast)
16.5" (9-abreast)
A350
17.7" (9-abreast)
~16-16.5" (10-abreast)
B777
18" (9-abreast)
17" (10-abreast)
B787
18.5" (8-abreast)
17.2" (9-abreast)
Jetstar's B787-8s were due to receive the Panasonic eX2 system Qantas uses so there would be minimal change requirements when the B787-8s were transferred to Qantas. Jetstar may opt to forgo the embedded Panasonic system to instead use iPads rented to passengers or another solution. This would reduce capital costs and unit costs as an IFE system can be the single most expensive item on an aircraft after engines. A portable or wireless solution weighs one-third of an embedded system, reducing unit costs as well as maintenance.
Mr Buchanan indicated a B787-10 could seat just under 400 for Jetstar while AirAsia X's A350-900 will seat over 400 – possibly 425.
At Qantas, B787s to be deployed internationally
As Qantas is now planning for mainline B787s to primarily fly internationally, some if its international A330s will have to be brought into the domestic fleet as Jetstar's 11 A330s will not provide replacement for the 20-plus B767s in service. This A330 shuffle will add initial complexity and retrofit costs but better support Qantas' ailing international operation, which the carrier has only recently turned to getting back on track.
With Qantas at a cost disadvantage to Asian carriers, it needs all of the cost advantages it can gain, and deploying B787s instead of A330s will help. The B787 has a 10% operating cost reduction compared to the B767, and a smaller reduction compared to the A330.
Qantas CEO Alan Joyce said the B787-9, which will seat approximately 275, would be the variant of choice to open new routes, a vote of confidence for Qantas International's long-term network. "The -9 is really the aircraft that is really important for us. It gives us extra range to cover places like Dallas," he said. "Getting the B787-9 and opening up maybe more frequencies, more destinations, into Dallas, into the United States, into Asia, will make a big difference for Qantas."
Qantas' Sydney-Dallas route launch in May-2011 has become embattled within certain factions of the excitable Australian media due to diversions on the westbound sector to pick up more fuel as seasonal winds affect performance and Qantas' operations department is still being familiarised with the route's nuances. But Qantas is earning higher yields on its Dallas flight than those to Los Angeles, raising the scenario that if B747-400 operations can mature with infrequent diversions, Qantas could gain a unit cost advantage operating the B787-9 over the B747 but would have lower net revenue and yield. Mr Joyce's remarks about Dallas and the B787-9 could be just to placate the media and public.
Elsewhere in the route network Qantas and American Airlines said a joint business agreement (since approved) would facilitate opening new trans-Pacific routes. American Airlines has made clear it does not in the foreseeable future plan to enter the Australian market, leaving all new trans-Pacific routes to the Qantas Group.
Mr Joyce in 2009 raised the prospect that Australia-Chinese services, including resuming services to Beijing, would mesh well with the B787, which he said "opens up that range of routes that we wouldn't see to be economical today".
Qantas International's future growth depends on the B787, but Mr Joyce this month was reserved about the international division's downfall due to B787 delays. "I don't think the fleet on its own will be the silver bullet to turn Qantas International around," he said. "It certainly would have made a difference in the high fuel environment because what would have happened if B787s were in the fleet today is we would have retired the B767s, particularly the Rolls-Royce B767 fleet." There is no denying, however, that if the B787 was in service today Qantas' route network and balance sheet would be changed for the better.
A token Qantas logo was applied to the B787 this month for its Australian visit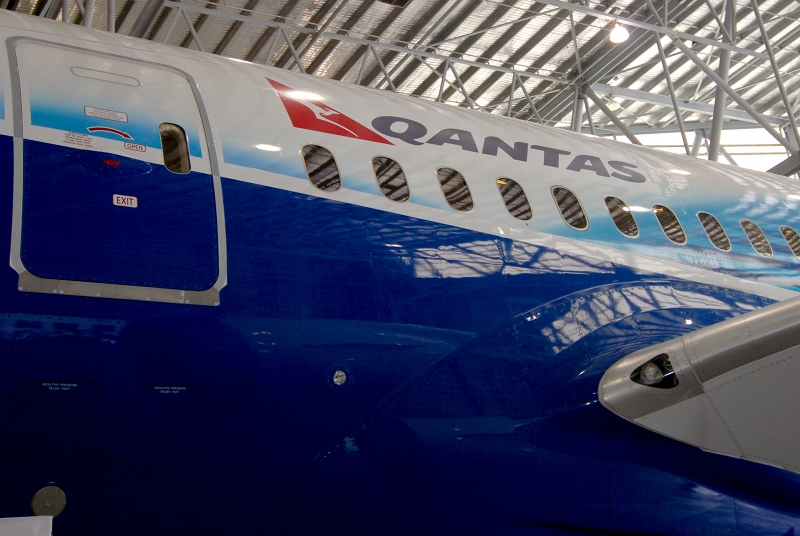 Latest evolution but continuing to respond to competition
The Qantas Group has changed its B787 strategy a few times since its Dec-2005 order. The group's first delivery was due to be a B787-8 to Jetstar in Aug-2008 with Qantas receiving its first aircraft in Jul-2009, which would allow Jetstar to optimise its network with the B787 and its step-change efficiencies. Then-group CEO Geoff Dixon said in Dec-2005 that Jetstar would "transition as quickly as possible to a fleet of 10 new Boeing 787 aircraft".
Qantas hit the brakes on that strategy in Jun-2009 when it announced it was deferring the initial B787-8s, which would then only operate for Qantas. The group's first aircraft would be a -9 variant to Jetstar in mid-2013, a few months after -9 launch customer Air New Zealand was to receive the first type. While the change came as the global financial crisis impacted markets, nixing the -8 for Jetstar and deferring the variant for Qantas until performance improvements were made, it was largely seen as affirmation the type was falling well below its specification, which Jetstar planned to push by operating the aircraft from its Asian base (later selected as Singapore) to Europe in a high-density configuration. The competitive advantage of the B787-9 over the -8 was too great to bother with early -8 versions when Jetstar already had young A330-200s.
A year later Qantas effectively reversed the reversal with a Jul-2010 agreement with Boeing to bring forward delivery by two years of eight of the 15 postponed B787-8s. Over the past year B787-9 delivery dates had slipped, causing doubt if the date could be met or if it would be better to have capacity earlier. Additionally, competitor AirAsia X was not slowing down and a market shift was occurring for Jetstar. Around 2009 the discourse about short/medium-term growth began to be about Asian and intra-Asian growth, reflecting the region's greater prominence, even surpassing Europe. With European routes taking a backseat in favour of medium-haul Asian routes, Jetstar was less pressed for the B787-9s since the -8s could operate around Asia – not with as great efficiency as the -9, but with more immediate availability.
As delivery dates loom with the need to finalise interior specifications, this latest B787 strategy should be the last, and to the Qantas Group's benefit. Jetstar will be able to fit its initial B787s out to its specification rather than to a common one, and Qantas will make more of the B787's efficiency by deploying it almost exclusively on long-haul routes. One facet remaining to be played out is how Jetstar will manage and utilise two types of long-haul aircraft. The low-cost, long-haul market is young and has so far replicated the general short-haul strategy of a single fleet type. An exception is AirAsia X, which has a sub-fleet of A340-300s for its European routes and which will soon be replaced by A330-200s, but its fleets have not served the same market whereas Jetstar's B787-8s and B787-9s will cover the same Asia-Pacific region. Two fleet types is not a disadvantage if there are greater gains than costs, which could also be said of the many evolutions from the standard LCC model, a strategy that increasingly exists only on paper as airlines hybridise to maximise returns.
See related articles: Boeing Dreamliner delivery to ANA begins 787's Asia-Pacific dominance