New Cebu Pacific long-haul operation could push out Philippine Airlines but may require hybrid model
Analysis
The new plan from leading low-cost Filipino carrier Cebu Pacific to offer long-haul services from 3Q2013 represents not just the fourth low-cost long-haul operation in Asia, but the first time such a carrier has potential to force a full-service rival – Philippine Airlines (PAL) – out of business.
Cebu Pacific will benefit from the Philippines' extremely price sensitive market that has seen LCCs achieve a staggering 80% share of the domestic market and a fast-growing share of the regional international market. Demand for low-cost long-haul services will come primarily from the large visiting friends and relative (VFR) and migrant worker market. But Cebu's new low-cost long-haul operation will also benefit from growing tourism and potentially the ability to transfer passengers over a geographically convenient hub if Cebu decides to stray from its original point-to-point model.
While PAL is the nation's sole long-haul carrier, its lack of global alliance membership, relatively small domestic operation and higher cost base create low barriers for entry. National sentiment for Asia's oldest airline may run high, but as seen in the Philippines' domestic market, passengers vote with wallets.
Publicly-traded Cebu Pacific plans to launch its new long-haul operation in 3Q2013 with leased A330-300 aircraft. Four A330s are expected by the end of 2014 and eight aircraft by 2016. Although Cebu has not yet mentioned a fleet beyond eight, additional aircraft are likely, including more efficient A350s.
The decision to offer long-haul services is a swift change from remarks as recent as last year that long-haul services were not being considered. Cebu's management team has previously insisted it wanted to stick with a very pure LCC model, ruling out a long-haul operation, a connection product and codeshares or interlines out of a fear that such distractions would add complexity and cost. The new long-haul division will have a different management team.
Cebu targets the 10 million Filipinos living outside Asia
Destinations, Cebu CEO Lance Gokongwei said, will focus on expatriate communities. There are about 11 million Filipinos living overseas, including about 3 million in the US and about 2.5 million in the Middle East. Only a little over one million expatriate Filipinos live in Asia, a market Cebu has targeted with its fast-growing regional international operation and has stimulated by offering low fares that allow these workers to return home much more frequently. The fact an overwhelming majority of the expatriate Filipino population lives outside Asia shows the huge potential of a low-cost long-haul operation in the Philippines.
Largest regions for overseas Filipinos: Dec-2009
| Region | Population |
| --- | --- |
| Africa | 64,736 |
| Americas | 3,582,879 |
| Middle East | 2,415,896 |
| North Asia and South Asia | 1,074,496 |
| Europe | 722,427 |
| Oceania | 388,520 |
| Africa | 64,736 |
The lower fares and in some cases better connections that will be generated by the new low-cost long-haul operation should lead to more frequent trips home for the 10 million Filipinos living outside Asia, as well as more trips by Philippines residents to visit their family and friends overseas. "We are exploring serving cities where large Filipino communities reside: Europe, Middle East, Oceania and the USA," Mr Gokongwei said.
Cebu will undoubtedly also attract tourism traffic and potentially some corporate traffic. Mr Gokongwei estimated Cebu's long-haul fares will be 35% cheaper on normal tickets and 80% cheaper during special promotions.
Even before considering passenger composition or fares, it is clear Cebu's long-haul division will be different from Asia's three other low-cost long-haul carriers: AirAsia X, Jetstar and Scoot, which will launch later this year. AirAsia X is based in Kuala Lumpur while Jetstar and Scoot have bases in Singapore (Jetstar also has a long-haul base in Australia). Those bases rule out narrowbody services to North Asia whereas Cebu's Philippines base enables it to serve north and southeast Asia with its existing A320 fleet.
Cebu now has a distinct advantage over Southeast Asia's other LCCs in this regards. Unlike most other Southeast Asian countries, from the Philippines all major Asian cities are within reach of A320s.
Four hour flying range from Asian hubs
The AirAsia and Jetstar groups now limit narrowbody flights to about four hours and let widebodies handle flights beyond that. Scoot does not have a short-haul division but owner Singapore Airlines (SIA) has a stake in Tiger Airways, which operates low-cost short-haul routes from Singapore. As a result once Scoot launches in mid-2012, SIA will be able to cover the short and long-haul spectrum with LCCs, although with separate brands and not nearly as integrated as AirAsia X and Jetstar.
Cebu says its long-haul division will serve points beyond the range of its existing narrowbody fleet, suggesting the new long-haul operation is not intended to have North Asian destinations, which would be the low-hanging fruit. This presents a challenge as it contradicts how the low-cost long-haul model has worked so far. AirAsia X last month unveiled major changes to its network which will see it drop its longest routes, to London and Paris, as they were highly unprofitable. AirAsia X will instead focus from Apr-2012 on shorter routes to North Asia and Australia/New Zealand.
See related article: AirAsia X route changes spotlight ownership complexity post MAS but also growth opportunities
Jetstar also has made a U-turn with its initial network strategy and has decided against expanding to Europe for at least the foreseeable future. The AirAsia X and Jetstar decisions to stay away from very long routes show that the benefits of the low-cost long-haul model diminish significantly on flights of more than about 10 hours. The cost gap between LCCs and FSCs closes significantly on such flights, making it difficult for the LCCs to compete, as the FSCs typically have the advantage of a bigger network, more partners and more demand from higher-yield corporate passengers.
Cebu has some options outside Asia that are still within a 10 hour flight of Manila, including Australia, the Middle East and Hawaii. These will likely be the carrier's three main initial long-haul markets, which combined have an Filipino expatriate population of about 3 million, and could potentially support an eight-aircraft fleet. But growth beyond that could be difficult to achieve without straying into longer flights because a majority of the Filipino expatriate population live in Europe, Canada or the mainland US.
Cebu could end up using A330s to compete against PAL on Asian routes
The relatively small number of markets within the five to 10 hour range of Manila makes it likely that Cebu will end up using at least some of its new A330 fleet on Asian routes. Rival PAL now operates its fleet of eight A330s within Asia, including on several routes where PAL now competes with Cebu's A320s. PAL is now able to close the cost gap with Cebu on Asian and domestic trunk routes by using widebodies - including A330s, Airbus A340s, Boeing 777-300ERs and even Boeing 747-400s.
Cebu will clearly be tempted to try to widen this cost gap by opting for higher gauge aircraft on its densest routes. Cebu last year ordered 30 A321neos to replace smaller and less fuel efficient A320 current generation aircraft on these routes. But A330s, and later potentially A350s, would offer Cebu another even bigger gauge option. The A321neo could provide lower seat economics than the A330, but Cebu will be taking its A330s at least two years prior to its A321neos, giving Cebu the enticing option of using the A330 on its most popular Asian routes as a bridge until the A321neos are delivered.
PAL now operates A330s on seven of Cebu's international routes - Bangkok, Hong Kong, Jakarta, Osaka, Seoul, Singapore and Shanghai - as well as on domestic flights to Cebu. Singapore, Hong Kong, Seoul and Bangkok are four of Cebu's five largest international destinations (the other is Kuala Lumpur, which is currently not served at all by PAL). Manila to Cebu and Davao are Cebu's two largest domestic routes (PAL does not serve Davao with A330s but does operate 747s on some flights to Davao).
Cebu in particular may be tempted to use its A330s at congested slot controlled airports such as Hong Kong, Shanghai and Beijing. It could also potentially use A330s to launch service to Tokyo. Manila-Beijing is now served by both PAL and Cebu with A320s while PAL is the only Filipino carrier serving Tokyo (PAL uses 777-300ERs on the route, which is also within narrowbody range).
Philippines' price-sensitive market perfect for Cebu
While Cebu will likely focus on relatively short long-haul routes such as Australia, the Middle East and Hawaii and will likely also end up using some of its A330s within Asia, the carrier will also have the opportunity to test the model out on longer routes and potentially prove its validity where AirAsia X has struggled.
Cebu will have an advantage over the other low-cost long-haul carriers in proving the model on ultra-long-haul flights. Filipinos already demand long-haul flights given its of large expatriate populations in the Americas and Europe. About 12% of Filipinos work abroad and remittances account for about 11% of the country's official GDP (unofficially remittances are expected to be significantly higher). Overseas workers typically return home at least once a year while some locals also visit overseas Filipinos, creating a large VFR market.
Price is more sensitive in the Philippines, with a GDP per capita of USD2255, compared to most other Asian countries. Low-cost flights to Europe and North America are particularly attractive given the huge Filipino expatriate populations in these regions.
The US state of California alone has about 1.5 million Filipinos according to US census figures from 2010 (the Filipino population in California is even larger if people of mixed descent are included). Los Angeles and San Francisco are two of PAL's largest markets and the carrier has been eyeing a third California destination, San Diego, which could be launched once the Philippines regains US FAA Category 1 status.
Hawaii has the second largest Filipino population in the US with about 200,000 expatriates. The New York/New Jersey area also has about 200,000 Filipinos while Nevada has the fastest growing Filipino population in the US. There are now over 100,000 Filipinos in Nevada and PAL serves Las Vegas via Vancouver. There are also over 600,000 Filipinos living in Canada, with the largest populations in Toronto and Vancouver.
The Filipino populations in Europe are relatively smaller but when factoring in the entire region account for a sizeable amount. Spain and the UK have the largest concentrations of Filipinos in Europe with over 200,000 in each country. There are smaller Filipino populations in several other European countries including Italy, Germany, Greece and France.
Ten largest countries with Filipino expats: Dec-2009
| Country | Filipino expats |
| --- | --- |
| United States | 2,877,666 |
| Saudi Arabia | 1,159,003 |
| Canada | 639,686 |
| UAE | 609,704 |
| Australia | 336,140 |
| Qatar | 263,980 |
| Malaysia | 243,877 |
| Japan | 210,617 |
| United Kingdom | 200,987 |
| Hong Kong | 168,550 |
Cebu faces huge challenges in potential European operation
While both the North American and European markets have huge potential for Filipino carriers, Cebu has three major challenges in tapping these markets.
Firstly, Filipino carriers are now prohibited from launching new flights to the US or EU. There is some hope the US restriction, which is also now blocking planned PAL expansion to the US, could be lifted later this year but this is not a certainty. There is also some hope the inclusion of Filipino carriers on the European Union blacklist, which entirely blocks Cebu from serving the region, may be lifted. But this also is far from a certainty.
The second major challenge is the very long length of flight involved with serving these markets. A third challenge is competition, in particular on European routes.
The Philippines-Europe market is now served mainly by the Gulf carriers, which have relatively low-cost structures and the advantage of operating geographically well positioned hubs that can connect a wide range of city pairs. PAL pulled out of Europe several years ago. KLM is now the only European carrier still serving Philippines but plans to drop its non-stop Amsterdam-Manila flight in late March in favour of a new Amsterdam-Taipei-Manila service.
Beating the economics of the Gulf carriers' one-stop product to Europe will prove to be a tough challenge even for a carrier with a very low cost base. The price difference between LCCs and FSCs is largest on short-haul flights where there is room to decrease costs while the costs that cannot be decreased – namely fuel – account for a smaller fraction of costs. In long-haul markets such as Philippines-Europe, the price difference is less apparent as non-controllable costs like fuel account for a significantly greater share of costs than on short-haul flights. This means long-haul fares on LCCs may only be 10-25% lower than on FSCs, whereas on short-haul routes LCC fares can be at least half as much compared to FSCs.
Middle East market could be challenging for Cebu due to Gulf carrier competition
Cebu will have a bigger cost advantage in the Philippines-Middle East market. But the Gulf carriers have the advantage of offering connections throughout the Middle East (the expatriate Filipino population in the Middle East is spread across several countries). Manila is now served by all four of the largest Middle Eastern carriers - Emirates, Etihad, Qatar and Saudi Arabian. PAL is now completely out of the Middle East market (with the exception of codeshares), having dropped Saudi Arabia last year, because it could not compete against the Gulf carriers. While this length of flight is very suitable for the long-haul low-cost model, the competition challenge will still be there.
In Saudi Arabia, Cebu will have to fend off Saudi Arabian Airlines, which now serves Manila with ten weekly frequencies and has the advantage of being able to offer domestic connections. With a Filipino expatriate of over one million, Saudi Arabia is probably a large enough market to also support a point-to-point carrier. But it is unlikely the other Middle Eastern markets, given their much smaller Filipino expatriate populations, will be able to support a Filipino carrier given the capacity already provided in this market by Emirates, Etihad and Qatar – capacity which is only sustained because of their network models.
Besides competition from Gulf carriers, looming is China Southern, which is quickly developing sixth-freedom traffic, including from Asia to the Middle East and Europe. China Southern serves Dubai and Jeddah and prices competitively from those points to the Philippines.
US market offers Cebu the most opportunities
If Cebu is allowed to launch US flights, the situation would be different as competition is not nearly as intense as it is on flights to the Middle East and Europe. PAL is the market leader and the only carrier operating non-stops to the mainland US (the Manila-Honolulu market is served by both PAL and Hawaiian Airlines). US and North Asian carriers also serve the lucrative California-Philippines with one-stop products but Cebu expects that Filipinos will choose to fly with a Filipino carrier if given the choice, especially if its fares are lower.
The challenge for Cebu is that the cost gap between PAL and Cebu on flights to California would not be very big given the long length of flight. With a smaller price proportion gap, passengers typically begin to question if giving up frequent flyer points and an all-inclusive service is worth the cost trade off. But unlike other Asian FSCs, PAL is not part of a global alliance (which reduces the appeal of its frequent flyer programme), its reliability has been hit by strikes and its product is not winning awards. So the PAL-Cebu debate has fewer trade-offs than pitting AirAsia X against Malaysia Airlines, Jetstar against Qantas or Scoot against SIA.
Assuming a 25% discount, and not the 35% Mr Gokongwei suggests, there could be savings of USD250 per long-haul ticket in the US-Philippines market. With a USD250 savings meaning more in the Philippines than in Malaysia, Singapore or Australia, the question could become not if a low-cost long-haul carrier can find room, but rather if a legacy carrier still has merit to operate. The consequences here are enormous as the US is PAL's biggest (by revenues) and most profitable international market and is now the flag carrier's key differentiator.
FAA Category 2 poses potential obstacle for Cebu and PAL
But before it can enter the lucrative US market, the Philippines has to upgrade its US FAA safety rating from Category 2 to Category 1. Under Category 2, no new Filipino carrier can launch services to the US and PAL is not able to add capacity or even change the gauge on existing flights. The Philippines hopes to have the ban lifted this year, but previous attempts have been unsuccessful.
The 2008 downgrade to Category 2 is already having a huge impact on PAL. Shortly before the downgrade PAL committed to ordering six 777-300ER aircraft to replace its ageing A340-300s and 747-400s. PAL has since taken delivery of two 777-300ERs but has been unable to deploy the type to the US, which accounts for two-thirds of weekly long-haul sectors. PAL is banking on the ban being lifted in time for its next two 777-300ER deliveries, which are late this year.
See related articles: Philippine Airlines looks for green flight from US regulators and PAL returns to profit but oulook murky due to US FAA restrictions
Ironically a return to Category 1 could be double edge sword for PAL. It would allow the carrier to finally use its 777-300ERs on US routes but would also pave the way for Cebu to enter the market. PAL actually is footing the bill for a consultant to help raise the standards at the Philippines aviation authority (Category 2 is not a reflection of a carrier's safety standards but the standards of local aviation infrastructure), which will ultimately benefit its rival.
Assuming an upgrade to Category 1, PAL will have an advantage in that its 777-300ERs will have the range to operate non-stop flights to and from California. PAL now often has to route its return flights from Los Angeles and San Francisco via Guam as its A340-300s and 747-400s lack the range to operate the route at full payload in headwind conditions. Cebu's A330-300s will also lack the range to operate to the US mainland or Europe non-stop. The carrier would have to serve California with a one-stop product, putting it at a potential disadvantage to PAL's planned 777-300ER operation.
Potential A350s could allow Cebu to eventually serve the mainland US and Europe with non-stop flights. But if opts to wait for A350s before serving the mainland US, PAL will enjoy several more years as the only Filipino carrier in this lucrative and fast-growing market. This alone could help PAL weather the storm, although it already faces stiff challenges from LCCs in the domestic and regional international markets and will almost certainly have new competition in the Australia market after Cebu takes its A330s.
Canada could become an option for Cebu
The FAA safety rating has also impacted Cebu in Japan, which follows FAA recommendations and has blocked Cebu's further expansion in the country. Canada, however, has not followed the FAA and PAL's operation to Vancouver has been unaffected. Cebu could launch to Canada if the US if off-limits initially and assumig there is space in the Philippines-Canada bilateral for a second Filipino carrier.
Canada has the fourth largest Filipino expatriate population. Cebu could only serve Canada with a one-stop product but could differentiate itself from PAL by offering a one-stop to Toronto. About half of Canada's 600,000 Filipinos live in Ontario, making it about twice as large as the Filipino community in British Columbia.
PAL is now deploying its 777-300ERs on some Vancouver flights, allowing the carrier to serve this market non-stop in both directions (some of its Vancouver flights continue to Las Vegas and have to be operated with A340-300s because of the Category 2 rating). PAL is also now using its 777s on regional routes, which they are not ideal for.
Cebu could also deploy the A330 to Australia, a market PAL serves with A340s. PAL tried to introduce the 777 in these markets but found too much capacity was created and reverted back to A330s.
Qantas also serves the Manila-Sydney market with A330s. Jetstar currently only serves Manila from Hong Kong and Singapore with A320s (with Osaka service to be added in March).
Jetstar currently does not operate its A330s to the Philippines but the prospects of Cebu launching to Sydney could persuade the Qantas Group to switch the existing Qantas mainline Sydney-Manila service to Jetstar. Jetstar could also launch Melbourne-Manila service with its A330s, providing new competition to PAL and potentially Cebu. Australia is the seventh largest source of overseas Filipinos but is also home to a savvy travelling population that has a high propensity for overseas travel and is receptive to new carriers; AirAsia X has done particularly well.
Cebu to buck trend and go with all-economy configuration
Cebu's A330-300s will seat "just over" 400 passengers in a single-class configuration, according to Airbus. This means Cebu will seat nine-abreast in the A330 compared to the more common eight-abreast. AirAsia X also fits nine-abreast in its A330-300s, but offers two rows of 2-2-2 configured lie-flat business seats for a total of 377 seats. Even by replacing the more spacious premium seats for economy seats, Cebu will have to reduce lavatories or galleys to exceed 400 seats. The A330-300 can hold a maximum of 440 passengers.
Cebu's apparent decision to forgo a premium seat goes against the decisions of AirAsia X, Jetstar and Scoot. It also signals that Cebu is potentially not interested in entirely replacing PAL. While Cebu's expansion into long-haul services complicates its model, the carrier seems to want to avoid straying into other elements of the full-service model such as business class and codeshares.
AirAsia and Jetstar have shown there is demand for a more spacious seat priced more competitively than other carriers' premium classes. AirAsia X has found the greatest success with its premium cabin, going as far as to offer lie-flat seats whereas Jetstar and Scoot offer recliner-style seats (the two may be restricted to not offering a more superior product that would cannibalise the premium product on their full-service parent companies).
Beyond demand, a premium cabin can be justified by making better use of space. With flights typically hovering at 80% load factors, a question emerges whether to let that remaining 20% of floor space go unused or put in a new product and attract a new type of passenger, as AirAsia X did. The potential for a premium cabin on Cebu is even greater since PAL does not have as comprehensive a premium product as other full-service Asian carriers. But the Philippines also has a relatively small premium market compared to other Asian countries, a factor which may persuade Cebu to stick with the intended all-economy configuration.
Cebu looks keen to stick to pure LCC model despite long-haul operation
It is unclear for now if Cebu's decision to launch a long-haul operation represents a broader model shift for the carrier. If the carrier opts against following AirAsia X and Jetstar in offering a business class, connection product and interlining/codesharing, it would shut itself out of a potential lucrative part of the market, leaving PAL as the only Filipino carrier in that space.
PAL itself has not developed Manila into a strong international transit hub and is not a member of a global alliance but it does have a large domestic-to-international transfer business and has several codeshare partners. While the Philippines is growing as a destination in its own right, the Philippines is geographically well positioned for potential international-to-international traffic flows. For example from Australia it is more convenient as a hub to East and North Asia than Southeast Asia, which is further inland and requires some backtracking. As Australian interests continue to grow outside of Southeast Asia, Cebu is potentially well positioned to capture some of that traffic.
Cebu could also potentially connect the US with other Southeast destinations such as Singapore, Indonesia and Malaysia. In all three cases these markets are only served with a one-stop product (with the exception of SIA's all-premium service) and Cebu's fares could be extremely attractive.
Management has previously remarked the necessity of a simple model. It is hard to imagine Cebu sticking with this approach once it launches long-haul flights, where the need for feed is typically essential. Not even offering domestic to international connections, an important PAL market, is almost unfathomable. Regardless of what Cebu decides in the end, many passengers will self-connect, as more than half of AirAsia X passengers do.
Cebu Pacific route map: Feb-2012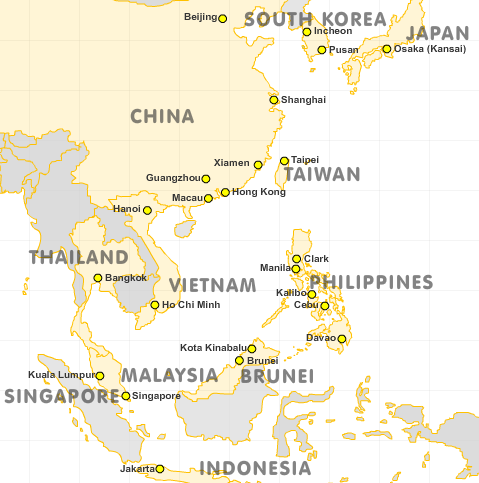 Cebu ready to exploit PAL, and its stagnated development
Cebu's targets of Australia and the US potentially place it on a collision course with PAL's long-haul network, which comprises service to only Australia and North America. Cebu will be more nimble, have a lower cost base, a larger domestic network and a growing regional international network. It also has a very powerful brand especially in the Philippines and expatriate Filipino community; though Cebu is a lesser known entity internationally than AirAsia or Jetstar.
These characteristics also apply to AirAsia X. Although AirAsia X caused significant dents in Malaysia Airlines' yields, MAS has a bigger corporate market, more partners and is in the process of joining a global alliance (oneworld). PAL has largely survived because it has been the country's only long-haul carrier.
Indications are Cebu will not have a premium product, but this could be quickly and easily reversed to help it win much of PAL's premium traffic. Cebu had a frequent flyer programme but ended it in favour of having customers earn loyalty through credit cards. Re-establishing a programme, if done correctly, can be its own profit centre.
How will PAL respond, and will it be enough?
If Filipino aviation had to be re-created from scratch, low-cost would be the model of choice, possibly with one carrier adopting a hybrid model. The case for Cebu long-haul services is clear-cut, but the medium-term opportunity for PAL less so. Reducing a cost base to be more competitive can be done, but when PAL outsourced certain divisions in 2011, strikes crippled the airline, nearly shutting it down for a number of days. No carrier has successfully stripped costs out to be competitive against LCCs. Half the solution is to cut costs while the other half is to improve positioning.
That is the path being pursued by Malaysia Airlines as part of its latest turnaround plan, unveiled in Dec-2011, but the outlook for PAL is less certain. Within three years it will need more partners to expand local feed in international ports while shoring up a robust domestic market, where it languishes as low-cost sister carrier AirPhil Express (with the same primary owner as PAL) battles the more successful Cebu Pacific. Joining a global alliance always brings additional passengers, but the question is if the revenue gains offset joining costs. Alliance membership could also preclude individual partnerships with more strategic airlines.
In Honolulu PAL and Hawaiian Airlines could consider whether joining forces to offer a daily schedule is effective to combat Cebu's likely launch of non-stop Honolulu services. PAL could also look to tie up with a US carrier in California to provide feed from other US states with large Filipino expatriate communities such as Florida, Texas, New York, New Jersey, Virignia and Maryland. Similarly, a partnership with a Canadian carrier would extend its virtual network across Canada, where there are sizeable Filipino communities in virtually every province.
Having a reach extending beyond main cities would lessen Cebu's damage on PAL, as would PAL offering a wider network, such as releasing its additional west coast US destinations of San Diego and Seattle, which are currently stymied by FAA restrictions. PAL is also unable to pursue a codeshare with a US carrier until Category 2 restrictions are lifted. Having those restrictions lifted ideally this year, or possibly next, would give PAL time to enhance its network and demonstrate, in what could become a global case study, if it is possible to fend off a serious long-haul low-cost threat.
PAL is already a weak carrier with a bleak outlook. But Asia's oldest airline has time to respond to the new threat Cebu's long-haul operation will bring and revise its strategy accordingly. The new fleet of 777-300ERs and US expansion, if allowed, could help PAL's viability. But it should seek out new airline partners, improve its premium product and look to join a global alliance (persuading an alliance to accept PAL however could prove to be a challenge). Elements of the new MAS strategy, although far from proven, could be worth replicating. To fend off the latest threat, PAL will need to work hard, make changes and hope that Cebu really sticks to the pure LCC model. A hybrid model for Cebu would create a far more challenging scenario for PAL.
See related story: Cebu Pacific and AirPhil are main beneficiaries as Phillipines domestic LCC penetration rate nears 80%