US immigration pre-clearance: Dublin Airport's rapid growth has been supported by enhanced US access
Analysis
As the IATA 2016 AGM and World Air Transport Summit is being held in Dublin, the role of US immigration pre-clearance is a pertinent issue. As an early adopter of pre-clearance firstly Shannon then Dublin airports have been significant beneficiaries. There is more to their growth than that, but pre-clearance has provided a welcome tailwind in optimising Ireland's convenient geography and user friendly tax regimes for example, for US connections.
The US immigration pre-clearance arrangement organised by the US Customs and Border Protection Department is in the process of being extended from its initial scope of 15 airports worldwide.
Ten airports in nine countries have been selected, out of 25 that applied, and are now negotiating with their governments concerning implementation.
CBP processing offers mutual advantages for the US and for foreign airports, with security an important feature
Towards the end of 2014 there was much media discussion about the prospect of more airports in Europe offering immigration pre-clearance for the United States, and that this had emerged through an initiative by the US Department of Homeland Security (DHS).
Pre-clearance arrangements, which were already in place for flights from Canada, the Caribbean, one city in the Gulf and (in Europe) two airports in Ireland, are designed to ease congestion at US airports and are not regarded as being representative of a 'security imperative'.
Nevertheless, in its document 'Preclearance Expansion' the US Customs and Border Protection Department states: "Preclearance allows for these inspection processes to occur on foreign soil prior to boarding a direct flight to the United States, without further CBP processing or security screening on arrival." Accordingly, this report continues on the assumption that security plays a major part in the expansion of the pre-clearance procedure.
Table of existing US immigration pre-clearance cities/airports
It is notable that in Mar-2016 US and Canadian officials announced that pre-clearance would become available at the Toronto Island Airport and Quebec City Jean Lesage International Airport, as well as Montreal Central Station. A new terminal building opened at Toronto Island Airport in 2010 already had provision for US border pre-clearance but it had been denied by Washington until then. There are other, existing, pre-clearance stations in use for marine transport and surface transport such as rail.
However, the fact that the initiative came from the Department whose job it is to keep the US secure from internal and external threats does suggest that counter-terrorism needs were driving the process at least as much queues at US airports. There are other equally pressing issues. While many airports favour these arrangements, there is evidence that passengers are not getting some of the benefits that they might have expected.
Indeed, the DHS's Secretary, Jeh Johnson, was quoted at the time as saying, "I regard it as a Homeland Security imperative to build more (pre-clearance stations). To use a football metaphor, I'd much rather defend our end-zone from the 50-yard line than from our one-yard line. I want to take every opportunity we have to expand Homeland Security beyond our borders".
Suggestions were made that the practice also helps the government keep the lid on asylum immigration and other (unwanted) individuals, though that was denied.
Subsequently, at the end of May-2015, 10 airports in nine countries were selected to introduce pre-clearance, with the US to enter negotiations with their countries' governments. The timeframe may not be short, in any case.
There are numerous hurdles and ultimately it depends on the response time of the Customs and Border Protection Department. All of the airports put through over 400,000 international passengers each year – the minimum requirement for this arrangement.
The countries and airports selected for pre-clearance are listed below:
This table shows the percentage of seats (of the weekly individual airport total) in the North American market in each case, along with the actual total of seats, as of the period 09-May-2016 to 15-May-2016.
North America includes Canada, but most of the seats are to and from the US in all cases.
Percentage and number of seats on North American routes, May-2016
Airport

% of seat capacity

on North American services

Weekly seats on North American services

2.8

29,450

64.5

78,713

22.8

177,416

10.9

162,032

Oslo

3.5

13,018

7.7

64,842

4.1

20,466

4.5

51,624

24.8

455,194

7.4

49,418
The table and chart throw up some wide variations. Though some of the selections are 'middling' in terms of both capacity percentage and actual number of seats there are statistical outliers. For example, Oslo with only 3.5% of capacity and 13,000 weekly seats at one end of the scale and London Heathrow Airport with 24.8% of capacity and 455,000 weekly seats at the other end.
At first glance the list may appear slightly anomalous: for example, what might be the reason that Denmark's Copenhagen Airport is not included. It is marginally the biggest of the three Scandinavian gateways by passenger numbers – slightly ahead of Oslo and Stockholm – and it grew slightly faster as well in 2015; it offers 30,000 North American seats a week. Furthermore, all three of these Scandinavian countries have quite high levels of immigration and émigrés.
Paris is absent, as is Italy, a country that has been targeted for elevated terrorist activity. Further, Germany is not represented; and there are only two airports in the UK when in fact there could be three, including Gatwick. The answer to these omissions may perhaps relate to security criteria.
The conflict between security and commercial considerations
There are two factors in play. Firstly, the overt security case. Most of the airports on the May-2015 list already have a security history.
In the UK there have been attacks on Heathrow Airport as well as attempts to launch attacks from it. Manchester was implicated in one of those attempts, the so-called 'liquids and gels' plot of 2006 that still influences airport design and infrastructure dollars as well as passengers' waiting times.
Amsterdam Schiphol was the European airport used by Umar Farouk Abdulmutallab in Dec-2009 when he tried to explode a device on a flight between there and Detroit, in transit from Ghana. Tokyo, Stockholm, Madrid, Oslo and Istanbul have all suffered from terrorist activity.
Brussels, as the location of the European Union, the Commission and the Headquarters of NATO, is always considered a top terrorist target, as illustrated in Mar-2016. On the other hand Paris, the site of multiple attacks by Carlos the Jackal in the 1970s (Orly airport) and obvious recent targets, are not included. Nor are the major cities of Frankfurt, Rome, Milan, Munich and Barcelona.
The second factor is what might be referred to as the commercial case. In other words – just how much the airports really want it. While it brings certain advantages, there can be disadvantages as well: it is expensive to introduce and there are space considerations. There is the operational practicality to consider and a cost-benefit equation to be weighed carefully on each occasion.
The airlines have strong opinions on it, too. US airlines are reported generally to be supportive of pre-clearance, not just for providing a better customer experience but also for their utilisation of US airport infrastructure, since it provides more flexibility.
Their pilots unions don't always see it the same way and some US airlines and their pilots are opposed because they believe it benefits the United Arab Emirates airline Etihad Airways, which is the only airline to fly nonstop to the United States from Abu Dhabi. The US Airline Pilots Association, ALPA, was especially critical, saying that it supports CBP pre-clearance sites but only when they benefit the US economy and US workers. The CBP facility at Abu Dhabi "does not pass this test."
It is now known that more than two dozen airports expressed an interest in opening pre-clearance facilities, from which less than half were chosen. Those selected were identified as having the "greatest potential to support security and travel facilitation".
The table below is of potential alternative airports at which this procedure could be applied, in Europe and elsewhere, using the same criteria as the earlier one, i.e. it shows the percentage of seats of the weekly individual airport total in the North American market in each case, along with the actual total of seats in that market, as of the period 09-May-2016 to 15-May-2016. It is a putative one as the US authorities did not release data on failed applications.
While the majority are from Europe (as is the case with the selected list), Incheon International Airport and Hong Kong International Airport are included as the possibility of those airports taking part is known to have been explored at some time in the past.
Percentage and number of seats on North American routes, May-2016
Airport

% of seat capacity on

North American services

Weekly seats on North American services

14.2

201,071

7.4

66,720

9.5

72,004

5.4

23,420

Barcelona

3.7

29,406

2.9

18,276

3.6

11,880

7.5

70,632

2.1

5,562

5.6

125,442

5.7

93,504
The interesting result here is that many of these airports have more North American seats weekly than most of the airports on the selected list. In every case, apart from Birmingham, they have more seats than are offered at Oslo.
Other airports that have high numbers of North American seats available each week include Cancún, Mexico; Paris Charles de Gaulle, France; Mexico City; and Beijing. Lower down the scale Sydney Airport has as many North American seats as Munich, Zurich, London Gatwick and Manchester airports. There appears to be no logic immediately visible as to how further selections might be made.
If negotiations are successful, pre-clearance could be completed before departure from these foreign airports rather than upon arrival in the US. The process provides aviation and Homeland Security with data, reducing waiting times upon arrival at the busiest US airports and helping the US grow its number of foreign tourist visitors: there is a target of 100 million (foreign) visitors annually by 2021. Overseas visitors spend an average of USD4300 per person, per trip, and the US government is finally getting to grips with their economic value.
Pre-clearance shifts the immigration burden offshore
Pre-clearance shifts US immigration and passport control to the country of departure so that passengers effectively arrive in America as if they were US domestic ones. US security officials (from the Customs and Border Protection Service or CBP) are actually based in the country where pre-clearance takes place: staffing is not outsourced to local third parties. Travellers pass through Immigration and Customs, Public Health, and Department of Agriculture inspections before boarding their aircraft.
Importantly, buildings and fixtures must be constructed to exact specifications, and the airport must pick up the bill for the facility. Airports are very cagey about the costs but it is believed they can run into tens of millions of dollars, so – ultimately it is a commercial decision; the DHS cannot force airports to take part. There might be some benefits in the DHS 'promoting' the arrangement but the commercial benefits that accrue to an airport through introducing it are the ones that matter and that can be a very fine cost-benefit analysis.
Pre-clearance applies to US citizens as well as citizens of most other countries who travel to the US. As United States and Canadian laws require that those in transit must pass through the relevant customs, pre-clearance also applies to transit passengers.
'Beneficial to those with connecting flights' in the US

The practice is particularly beneficial to those who have an ongoing connecting flight, as there is a much-reduced risk of border delays causing them to miss their connection and passengers with further connections have their baggage checked through to their destination. A delay in pre-clearance could cause the passenger simply to miss the outbound flight from his own country, but without pre-clearance the baggage would have to be collected prior to customs inspection and then rechecked onto the subsequent flight.
Pre-clearance also provides considerable flexibility to the airlines operating on those routes where such a programme is available. For example, major US airlines and their subsidiaries routinely operate many daily flights from locations like Toronto and Nassau to New York City. Thanks to the presence of pre-clearance facilities there the airlines can choose conveniently to direct their flights from these locations to land at LaGuardia instead of JFK or Newark Liberty airports. This allows them to save the valuable space at JFK and EWR for their other international arrivals.
Another argument is the possibility that next-generation narrow body aircraft can open trans-Atlantic services to US points that are not so major and do not have customs and immigration facilities – something that Norwegian and other airlines have discussed, and in some cases already activated. The Aer Lingus service to Hartford, Connecticut, for example, may not be physically possible without pre-clearance in Dublin.
Hartford Airport's (few) other international flights are to Canada. Norwegian could conceivably have added a service to Hartford from London Gatwick if that airport had been selected for pre-clearance. Perhaps it would now consider one instead from Manchester, which has been selected.
Pre-clearance exists at most major Canadian airports as per the table above, theoretically enabling more convenient travel from those cities to the US. However, the waiting times at some busy pre-clearance facilities – and notably Toronto Pearson – can also often exceed the waiting times of non-precleared flights at the destination, and can cause significant delays to departure schedules.
DHS testing has already occurred at European airports
For some time prior to the recent decision the Department of Homeland Security has had staff working at several European airports issuing advice on which passengers should not be allowed to travel to the US. Since flights carrying these passengers could be prevented from landing in the US, their recommendations have usually been followed up. This, together with the other evidence presented to date, suggests that DHS staff will also be involved at the new facilities even if those are not "formally" within their own discipline.
The DHS initiative and individual country responses have been shrouded in secrecy. A leaked German document claimed that the American authorities had approached five European countries over the possibility at two meetings of the European council's trans-Atlantic relations working party (Cotra) in Jul-2014.
However, only the UK had suggested that it would be willing to participate, since it could see the advantages. Heathrow is an airport the DHS was said to have been looking at in particular.
The German government was said to be very cautious over the proposals. Its concerns were with what it referred to as 'a reminder that the dystopian vision of a "trans-Atlantic security space" involving an exchange of financial records, fingerprints and personal data, was already a reality'. Its spokesman said, "We cannot accept US authorities obtaining quasi-operative competences at European airports" There are no German airports on the May-2015 list.
Holland and France had not ruled the possibility out, but would need legal or financial backing for it. (Ultimately Amsterdam's Schiphol Airport was included, but no airport from France, nor Germany). Sweden's first reaction was reported to be to express scepticism, calling for further analysis of the consequences on the Schengen agreement (the open borders agreement in Europe) and the European convention on human rights. It looks as if Sweden's concerns were assuaged.
How the pre-clearance procedure is impacting airports
The countries where the pre-clearance procedure is already in place, at selected airports are: Canada, Ireland, the UAE (specifically Abu Dhabi), the Caribbean (Aruba, the Bahamas) and the North Atlantic (Bermuda) as in the table above.
Dublin (and Shannon) airports are five-year veterans at pre-clearance. Dublin makes for an interesting case study.
Ireland is the only country in Europe to offer pre-clearance for travellers flying to the US, and has done so for over five years. The service is available for those departing from Dublin and Shannon airports.
At Dublin the Customs & Border Protection pre-clearance (CBP p/c) initiative, which was installed in 2010 as part of the Terminal 2 project, is described as having 'worked well.' In summer 2015 all US bound flights pre-cleared at Dublin. Since 1986 the two countries had previously had a pre-inspection agreement – allowing immigration inspections but not customs or agriculture inspections.
There has been a particular focus on growing trans-Atlantic traffic at Dublin in recent years. Not for the first time – Aer Lingus was active in this segment in the 1980s, attempting to build Dublin as a hub, but lost its way later. And this time around it is not just Aer Lingus, which has become a member of International Airlines Group (IAG) and could become a focus of transatlantic hub activity for that group. Trans-Atlantic airlines now include Air Canada Rouge; Air Transat; American; Delta; Ethiopian (to LAX); United; US Airways; ASL Airlines (previously Europe Airpost) and WestJet.
As a consequence, Dublin is the fifth largest airport in Europe for trans-Atlantic flights and it increased its trans-Atlantic passenger numbers by 17% in 2015. Transfer passenger numbers increased by 27% as Dublin Airport continued to become a significant hub for trans-Atlantic transfers.
In 1Q2016 the number of passengers connecting from the UK and mainland Europe and transferring onwards to the United States increased by 68%. The increase in the reverse direction was 72%.
That is not to claim that the CBP p/c is uniquely responsible for these results. As the airport's operator, daa (Dublin Airport Authority), points out, Dublin Airport is helped by its geographic position on the western edge of Europe and the strong route network to North America, Europe and the Middle East, as well as the availability of US CBP.
This means shorter flying times and less backtracking of connections. Not mentioned, but also important, is a comparatively passenger friendly tax regime, especially when contrasted with the UK's.
Nevertheless the influence of the CBP p/c can perhaps be gauged from this advertisement from Liverpool's John Lennon Airport, one of many (there are 21 in the UK) with 'feeder' flights that connect with Aer Lingus services to the US. The CBP p/c procedure is couched in such a way as to make it appear as if it has been arranged for the benefit of Liverpool Airport's own passengers, which in a way it has, conferring as it does a special status on them, one which they cannot get 'on a direct flight' (i.e. from a competing airport).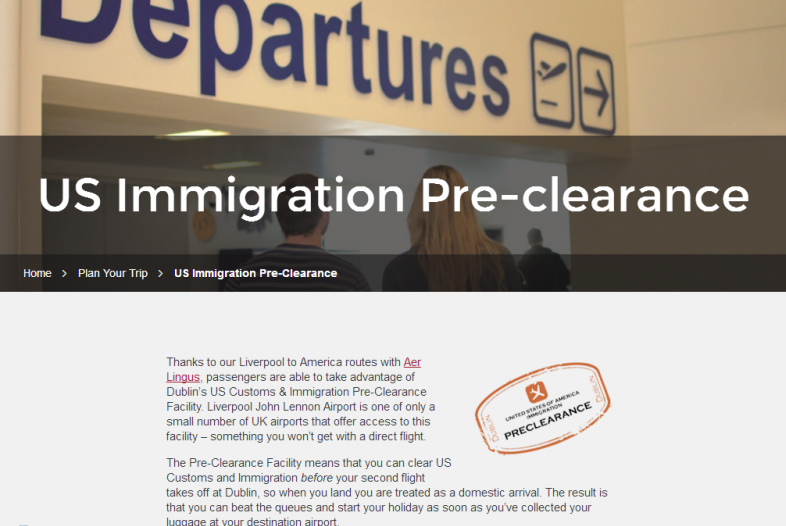 This very positive marketing for Dublin suggests it could become as important for westbound transit from the UK and vice versa as Amsterdam Schiphol Airport is, eastbound.
The procedure at Dublin is described in a US Embassy video:
CBP may not always be such a good option for US citizens
CBP p/c protects against the chance of being refused entry to the US having made a 7-10 hour flight, but on the downside it has been discovered that pre-clearance, while it might be good for Irish, British and other European citizens, is not necessarily good for US citizens. That is because there are two lines at most US gateway airports – one for US citizens and one for 'others.'
US passengers can usually go through their inspection quite quickly after a short queuing period. It is the non-US ones who can get caught up in interminable queues. As there is no way for US citizens to 'opt out' of pre-clearance it can therefore sometimes work against them, as earlier presentation at the departure airport is required. And it is even worse for a US citizen who is a member of a trusted traveller programme such as Global Entry and is therefore almost guaranteed rapid processing at the US gateway. Moreover, there is a growing number of reciprocal arrangements between Global Entry and other countries' schemes, such as Germany's Easy Pass.
CBP also limits the flexibility with which airports can assign departure gates.
All trans-Atlantic traffic at Dublin is concentrated in a terminal (2) that was designed specifically with this activity in mind. However, it comes at a cost. As mentioned earlier, setting up the process can run into eight figures and it has to be 'bought' from the US authorities. Moreover, the implementation of CBP p/c requires the signing of an individual bilateral treaty. There is no generic existing treaty that provides the framework.
Despite these treaties CBP does not have legal powers on foreign soil, so passengers can only be detained under local laws by local authorities. A passenger can choose to abandon their flight and refuse search, and unlike what their situation would be in the United States – officers cannot search them.
How Heathrow would cope, across several terminals

Of the 10 airports on the May-2015 list, London Heathrow may have issues implementing pre-clearance. Heathrow's long-term plan calls for the consolidation of terminals but in the short to mid-term trans-Atlantic flights are spread across all four functioning terminals.
The issue is how to clear many thousands of passengers a day through US immigration as well as security at one of the world's busiest international airports. With hour-long queues at US immigration commonplace, passengers could find themselves having to arrive several hours before their flight to clear the US border and security screening.
One option is CBP at all four terminals. In cost terms alone that would seem to be impractical. Alternatively CBP could be undertaken at fewer terminals. This is possible; after all, connecting traffic is not as strong at Heathrow, aside from oneworld, although it is the UK's main 'hub'. It is not an imperative for connections that airlines should be grouped, but that could mean that airlines and alliances have to move, having invested heavily already in facilities (and having largely supported the case for expanding with a third runway).
For the two UK airports on the list – Heathrow and Manchester – there must also be another nagging doubt, and one that has arisen quite recently. During his visit to the UK in May-2016 US President Obama hinted that if the UK's voters chose to leave the European Union in a referendum scheduled for 23-Jun-2016 (the so-called 'Brexit') then it could find itself pushed 'to the back of the line' in the negotiation of individual trade deals with the US. There is little clarity on the matter, and Brexit has not yet occurred, but it is possible that the pre-clearance programme would be affected.
A similar situation might apply at other listed airports. Tokyo Narita Airport, for example, has US flights out of terminals 1 and 2, which are not connected. JAL (and partners) are in T2 while ANA (and partners) are at T1. Presumably neither would want to move to one shared facility. Furthermore, connecting traffic is high at Narita. So even if, for example, JAL did move its US flights to ANA's T1, JAL's connecting Asia flights would still be at T2.
The theoretical 'ideal airport' scenario for CBP
There is a theoretical 'ideal airport' for CBP pre-clearance:
An airport without too many connecting passengers (subject to the minimum requirement as mentioned earlier). When there many connecting passengers the facility only gets more complicated, as delayed inbound aircraft mean many passengers will be running late;
An airport without highly concentrated spoke flight waves. Again too many customer arrivals at one time can overload the system. At Narita Airport, for example, most US flights depart within a 90 minute window in order to facilitate short connections. A large number of CBP officers would be needed for that surge;
As with most ideal scenarios, this may be difficult to achieve.
Manchester's application a defensive manoeuvre as much as a proactive one
It might, though, at least partly explain the interest at Manchester Airport – which satisfies all three criteria. Manchester currently has 49,000 North American seats each week, compared with 60,000 at Dublin and 450,000 at Heathrow. The reason for their interest put forward by the management there is that CBP p/c will "potentially make Manchester more attractive to airlines looking to start routes from the US into the UK." But there is surely more to it than that.
Firstly it would be a defensive manoeuvre. Without it Manchester would be pincered by three airports to the south, east and west – Heathrow, Amsterdam and Dublin respectively; all with CPB p/c. It could easily lose traffic on existing trans-Atlantic flights to services from competing UK airports that have connections to these airports.
The problem is particularly acute in the case of west-facing Dublin, which must be taking passengers away from Manchester already, from nearby airports such as Leeds Bradford and Liverpool. The IAG takeover of Aer Lingus and IAG's indications that it could make Dublin its second hub, which were referred to earlier, make the problem worse for Manchester.
Manchester's CBP p/c will be introduced along with a USD1 billion 10-year revamp
Additionally, Manchester's CBP p/c will be introduced along with a USD1 billion 10-year revamp which includes the expansion of Terminals 2 and 3, and self-service check-in. T2 will be doubled in size. The two terminals will be linked and T1 may eventually close down altogether, or parts kept as 'back-up.' The T2 expansion suggests that trans-Atlantic traffic could be contained there. It was originally envisaged as a long haul terminal. At present trans-Atlantic flights are spread between all three terminals.
No individual figure for the cost of a CBP p/c facility could be ascertained. It is one of 60 individual elements in the plan. Manchester Airports Group anticipates a sharp rise in long haul passenger numbers from the five million per annum now, as a result of the expansion and the CBP p/c facility.
Manchester is already making major infrastructure changes and so can add CBP in. This gives it an advantage. Other airports are not making such extensive changes and therefore get saddled with needing to make renovations just for CBP.
Manchester's acquiescence to the proposal could put some other airports at a disadvantage, such as Birmingham, Glasgow and Edinburgh, all of which have trans-Atlantic services that fall within its extended catchment area. Indeed, it would go some way to countering the fall in passenger numbers at English airports that is expected to arise from the reduction of Air Passenger Duty (APD) in Scotland.
DHS's initiative is in some ways a godsend for the British government, which is trying to find ways to assist English airports in combating the effect of an APD reduction in Scotland but as yet without producing any ideas. This CBP p/c arrangement only applies at Heathrow and Manchester in England, but the increase in CBP p/c options from other English airports via Dublin, together with the Manchester CBP p/c, could be promoted as a way in which the government is trying to help regional airports in northern England against the 'threat' from Scotland.
What happens if and when a Scottish airport signs up for CBP p/c is another matter. Edinburgh Airport is keeping a watch on developments and could be tempted to apply in the future. Edinburgh has United Airlines services to New York Newark and Chicago, and a recently introduced American Airlines flight to New York. While two of these services are seasonal, it is very close to the minimum annual passenger requirement. There are currently 7,000 seats a week on offer between Edinburgh and the US. If services operated year-round that would be 365,000 annually.
In the case of Birmingham CBP p/c would be considered in the future when trans-Atlantic passengers reach the required level. Birmingham is not quite as well served by trans-Atlantic flights as Edinburgh, but there are two offered – both to New York – and the recently extended runway there suggests there will be more. There are currently 5,500 seats each week between Birmingham and North America, equating to 286,000 annually.
Scandinavians eagerly anticipate successful negotiations
In Sweden CBP p/c is considered to be highly beneficial. Approximately 650,000 people travelled between Sweden and the United States in 2014. Currently seven direct routes are offered between the two countries, two of which started in the autumn of 2015.
Approximately half of the passengers between Sweden and the United States go via other European airports such as Amsterdam Schiphol, London Heathrow and Frankfurt, and the conditions for more direct flights will be strengthened. The application was supported by both the Swedish Government and businesses. According to studies carried out by the state airport operator, Swedavia, more than 70% of today's US passengers support the introduction of US pre-clearance. Above all, they welcome the opportunity to be able to change to connecting flights in the US more smoothly.
The construction process for the US pre-clearance facility, which will be implemented in the lower level of the F-pier in Terminal 5, is estimated at 1 - 1.5 years. Prior to this, a more detailed discussion is required between Swedavia and the US authorities regarding the design of the facility. The final introduction of US pre-clearance is subject to approval by Swedish and American authorities. The focus on US pre-clearance is part of Swedavia's adopted decision to invest SEK13 billion (USD1.59 billion) in order to develop Stockholm Arlanda Airport. That could include a fourth runway. The downtown Bromma Airport could close, but no decision has yet been made.
Swedavia claims that US pre-clearance strengthens Stockholm Arlanda Airport's role as the hub for aviation in Scandinavia. But it is not the only one able to head that way, of course. Oslo Airport, which is bigger in terms of total passengers, also qualifies and has been selected. There are almost 13,000 seats each week on offer between Oslo and North America, and 20,000 between Stockholm and North America.
It is evident that Oslo is equally pleased with its nomination and "eagerly awaits" acquiring pre-clearance status. It is currently not clear when the system could potentially be in place at Oslo Airport, and the management felt unable to comment further at this time.
There were some operational difficulties in the Gulf over the second tranche of pre-clearance agreements
While some airports that already have pre-clearance acknowledge its benefits (such as Dublin, with caveats) and others look forward to its implementation, it was not entirely without its issues and problems.
All Etihad Airways passengers flying from Abu Dhabi to the United States began to benefit from US immigration pre-clearance from 15-Jan-2015. Previously, pre-clearance was available only on selected mid-morning flights. Since its opening in Jan-2014 US pre-clearance had been extremely popular with air travellers, particularly those from the Indian subcontinent and Middle East region.
But there were teething problems, as so many passengers are processed during one departure 'envelope' of just two hours. In the early days of the pre-clearance service there was an average delay of almost an hour on arrival at various US airports, although that has since improved considerably. Abu Dhabi is rated as a very low delay airport overall, and flights to cities outside the US perform far better.
It is understood that Dubai Airport would like to introduce pre-clearance as well, but is under pressure from Emirates not to. In any case, according to Dubai Airport's CEO, Paul Griffiths, Dubai is unlikely to get US pre-clearance facilities for at least 10 years.
The difficulty with the US pre-clearance facility as he sees it is that, "from the forecourt right to the aeroplane is effectively US soil. So you have to segregate the passenger from the moment they arrive at the airport, right through the immigration process, security, through the departure gate, and on to the plane. Dubai Airport is designed to have common concourses and common terminals, so to get to the aircraft you have to put everyone through the same channels, which makes it very difficult to achieve that level of segregation".
However, that degree of separation is not always evident at other airports where pre-clearance is in place, including Abu Dhabi. One problem is that Emirates, because of the huge scale of its operations, needs to operate in a clockwork manner and pre-clearance works against that.
There is absolute clarity in the position of Qatar Airways' CEO, Akbar Al Baker, who said recently, "I will not have pre-clearance in Doha. If I start doing pre-clearance in Doha and my aircraft constantly arrives late into the US.....Quite simply, my job as an airline is to take passengers from point A to point B, on time, and what happens there in the immigration is not my problem".
So it would seem that while there is enthusiasm for pre-clearance at those airports that have been approved, and enthusiasm at Dublin, it is not the case that this mechanism will work everywhere, to everyone's satisfaction. There is still some refining to be done.
Summary & Conclusions
The US immigration pre-clearance arrangement organised by the US Customs and Border Protection Department is to be extended from its initial scope of 15 airports worldwide. There is a suggestion that security concerns underpin the expansion of the scheme first and foremost.
Ten airports in nine countries have been selected, out of 25 that applied, and are now negotiating with their governments concerning implementation.
The selection of some airports over others appears slightly unusual; it may be explained by the security imperative and/or by a negative response from other airports. That negative response could be on the grounds of cost, as the airports have to underwrite the installation of the necessary infrastructure to specifications that are not their own.
Analysis of a variety of potential alternative airports to adopt the procedure shows that many have more North American seat capacity each week than some of the selected airports.

That is also the case with a number of other airports globally which might not yet have been considered.

Pre-clearance applies to US citizens as well as citizens of most other countries who travel to the US and to transit passengers.
Pre-clearance opens the way to the operation of trans-Atlantic service to smaller US points that do not have customs and immigration facilities.
Several European governments were wary of agreeing to pre-clearance at their airports and some remain so. Concerns include the impact on the Schengen Agreement and the US authorities obtaining quasi-operative competences.
Ireland is the only country in Europe to offer pre-clearance. It was timed to coincide with the opening of a new terminal at Dublin Airport and is a good fit with a drive to increase trans-Atlantic traffic, including from connections. Pre-clearance has contributed to substantial growth in these passenger numbers.
Pre-clearance is not such a good option for US citizens, who can usually pass through lines quickly at a US airport, especially if they are members of a trusted traveller programme.
CBP does not have legal powers on foreign soil, so passengers can only be detained under local laws by local authorities.
It is not clear how pre-clearance will work at airports with multiple terminals, all or most of which have US services.
For some airports the adoption of pre-clearance can be viewed as mainly a defensive procedure as by not adopting it they could lose trans-Atlantic traffic.
As with Dublin Airport, some airports are combining their application with multi-million dollar infrastructure enhancements. That is notably the case at Stockholm Arlanda and Manchester airports;
There has been a mixed reaction to pre-clearance in the Gulf. There were some early problems at Abu Dhabi with frequent flight delays. Neither Dubai nor Qatar is convinced of its benefits - in Dubai because passenger segregation does not sit easily with the common concourses there; in Doha because the CEO does not consider immigration to be his responsibility.
The application of the pre-clearance programme can therefore be seen still to be a work in progress.