The failure of Italy's Wind Jet could prove to be a windfall for Alitalia
Analysis
The already extensive list of airlines that have folded in Europe this year has a new addition with Italy's Wind Jet ceasing operations on 12-Aug-2012 after negotiations with Alitalia on the acquisition of the Sicily-based LCC broke down. The country's Civil Aviation Authority, ENAC – Enta Nazionale Aviaziona Civile on 10-Aug-2012 threatened to revoke Wind Jet's Air Operator's Certificate (AOC) as of 13-Aug-2012 in the wake of escalating flight delays and cancellations. ENAC also had instructed the financially struggling airline to hold off ticket sales and pay all outstanding bills of ground handling companies and service providers.
Wind Jet's demise is occurring during Italy's peak summer holiday travel period, and it will provide Alitalia with an opportunity to enlarge its domestic market share organically and build its competitive muscle against the growing presence of no-frills operators. Wind Jet had an approximate 8% share of domestic seat capacity and carried 2.3 million passengers on domestic routes in 2011. Alitalia and Wind Jet signed a MoU in Jan-2012 to explore a merger, which the Alitalia board described as "coherent with the ongoing consolidation processes into the air transport, at national and international level".
Alitalia concluded a similar agreement with Blue Panorama Airlines, but talks did not progress and integration plans were quietly shelved.
European airline bankruptcies in 2012 include Malev in Hungary, Spanair and Mint Airways in Spain, Climber Sterling, City Airline, Skyways and Air Finland in Scandinavia, Cirrus Airlines in Germany, and Czech Connect and OLT Express in Central Europe. OLT Express' German operations received a new lifeline from Panta Holdings BV, the Dutch financial investment firm controlled by Jaap Rosen Jacobson, and will continue with its previously announced expansion plans across destinations in Germany and Europe, including launching new services to Stuttgart, Berlin and Vienna from its base in Bremen.
Panta Holdings is the former owner of VLM Airlines, which was sold to Air France-KLM Group. VLM now operates under the CityJet brand and has its main operating base at London City Airport.
See related articles:
Wind Jet launched commercial operations in Jun-2003. Based on schedules in Innovata filed prior to the its suspension of services, the carrier operated non-stop scheduled service to 23 destinations from 12 Italian gateways. It also operated charter flights. Wind Jet deployed 12 A320 family aircraft in Jan-2012, according to the Alitalia statement on its projected merger with the LCC.
Wind Jet was Italy's seventh largest carrier in terms of passenger numbers, based on ENAC data for 2011. It flew 2.7 million passengers last year, of which 2.3 million were on domestic routes. The carrier had a mere 2.5% share of Italy's system-wide seat capacity before suspending services but it had about an 8% share of weekly domestic seat capacity, according to Innovata.
Italy domestic capacity share by carrier (% of seats): 06-Aug-2012 to 12-Aug-2012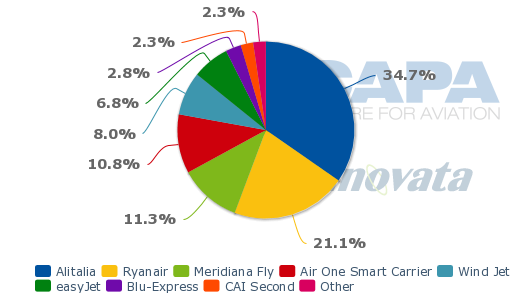 The Italian market is highly fragmented, with no single carrier accounting for more than a quarter of total seat capacity. There is a mix of full service and low-cost carriers controlling significant portions of the market. Alitalia itself currently accounts for only 17% of system-wide capacity, which makes it the second largest carrier in Italy following Irish LCC Ryanair, which has a near 21% capacity share. easyJet has a near 10% share. When factoring in Alitalia's LCC subsidiary Air One Smart Carrier, Alitalia is on par with Ryanair with a 21% seat capacity share.
However, Alitalia is the largest operator in the domestic market and it has been trying to regain a larger foothold since its relaunch under private ownership of CAI – Compagnia Aerea Italiana – in Jan-2009. Alitalia has an approximate 35% share of seat capacity, according to Innovata data. But the domestic capacity share of Alitalia Group expands to 50% when taking into account other group subsidiaries such as Air One Smart Carrier, CAI Second and Alitalia Express.
This share would have grown to about 60% when including Wind Jet's domestic seat capacity. Combined, Alitalia Group airlines and Wind Jet would offer domestic seat capacity of close to 500,000 on domestic routes per week out of a total seat offering of approximately 843,500. The combinations also would have strengthened Alitalia's position in the LCC segment.
LCCs have successfully heightened their grip on the Italian market and presently have a 46% share of seat capacity on international routes and a 48% share on domestic routes, according to OAG data. The average LCC penetration (in terms of seat capacity) in the European Union is 42%.
LCC capacity share in Italy (% of seats): 2001 to 2012*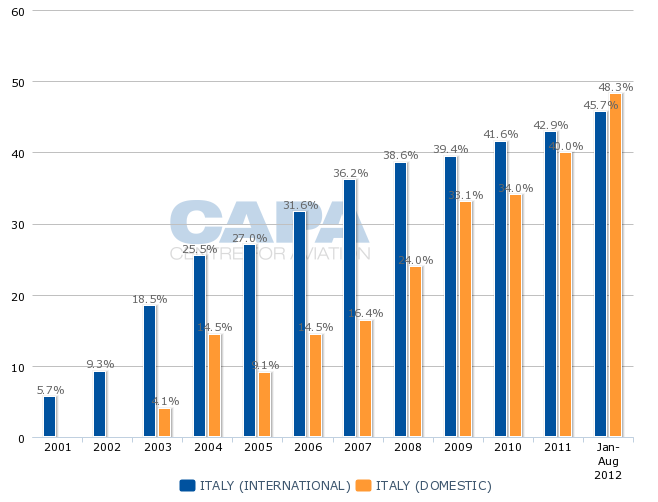 Demise of Wind Jet is less costly for Alitalia than acquisition
The proposed acquisition of Wind Jet was part of Alitalia's strategy to enlarge its lead in Italy's domestic market, but it would have come at a price. The group was reportedly willing to pay EUR20 million to EUR30 million for Wind Jet and integrating the LCC. Certainly that is costly and the integration would have been challenging given that Wind Jet was an airline with a lethargic growth and poor operating performance.
On top of this, Italy's competition authority Autorità Garante della Concorrenza e del Mercato in Jul-2012 had requested Alitalia to surrender up to five slot pairs in order to receive regulatory approval for the planned tie-up. The combined entity would have to give up two pairs of slots on the Catania-Milan Linate route, two slot pairs on the Catania-Rome Fiumicino route and a single slot pair on Palermo-Milan Linate.
The demise of Wind Jet is a cheaper and a more straightforward option for Alitalia. ENAC President Vito Riggio fell short of accusing Alitalia of using a tactic of deliberately stretching negotiations with the cash-strapped airline; however, he did remark that "Alitalia must take responsibility for a problem which was also created by them".
Alitalia promptly refuted the allegations and said that Mr Riggio's "affirmations are particularly surprising given that since April Alitalia has always informed all the competent authorities and kept them updated on a daily basis on the actual status of the negotiations. The authorities were also aware of the enormous difficulties in the operation, due to the inaction of Wind Jet".
Wind Jet claimed that Alitalia has changed the terms and conditions of the proposed acquisition whereas management of Alitalia contended that Wind Jet never handed over the required financial information of the company. "Wind Jet never complied with the dates and duties set forth under the agreements signed with Alitalia, thus making the transaction far too risky and unpredictable for a serious and responsible management," Alitalia said in a statement released on 10-Aug-2012.
Alitalia set to become the dominant carrier at Catania
Wind Jet had its main base at Catania Fontanarossa Airport with secondary hubs at Palermo Punta Raisi and Rimini Miramare Airport. It operated only a limited number of international scheduled routes (16% of its system seat capacity) across Western, Central and Eastern Europe.
Nine of Wind Jet's 10 largest domestic services touched Catania and six of its 10 largest international services departed or arrived at Rimini Airport. It served 12 routes from both airports and six routes from Palermo.
Wind Jet top 10 international routes (seats per week) prior to suspending services on 12-Aug-2012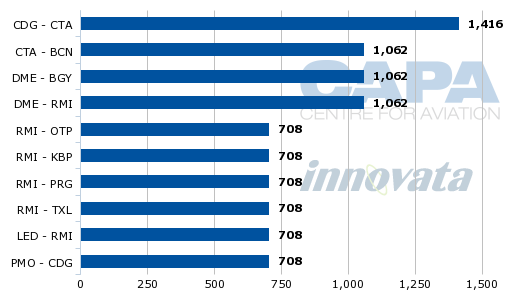 Wind Jet top 10 domestic routes (seats per week) prior to suspending services on 12-Aug-2012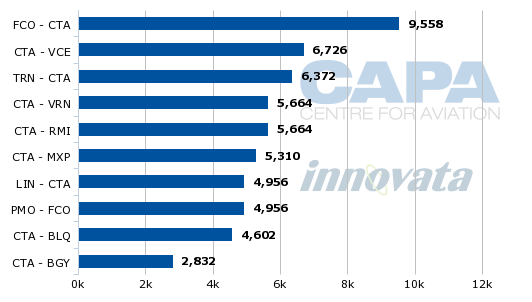 Wind Jet held a 29% share in terms of total weekly seat capacity at Catania Airport, which is the busiest airport on Sicily and the sixth busiest international airport in Italy handling around 6.7 million passengers during 2011. In terms of domestic traffic, it ranks in third place, after Rome Fiumicino Airport and Milan Linate Airport.
Some 33 airlines serve the airport and the vast majority (78%) of weekly scheduled seat capacity is deployed on domestic routes. Wind Jet held the leading share of domestic capacity at its main base before suspending services and Alitalia a 34% share. When factoring other Alitalia subsidiaries, the seat capacity share of Alitalia Group on domestic routes amounts to 46%. If Alitalia steps in and takes over all of Wind Jet's flights, its capacity share on domestic routes would grow to a dominant 82% share. This would virtually push Meridiana Fly out of the domestic market at Catania Airport.
Catania Airport domestic capacity share by carrier (% of seats) prior to Wind Jet suspending services on 12-Aug-2012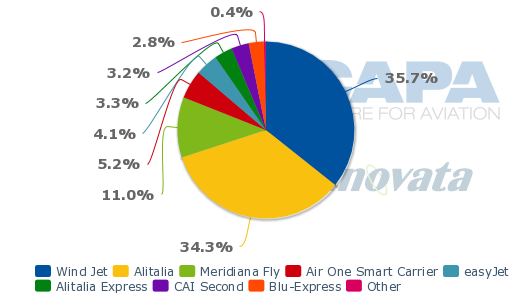 Wind Jet held the leading share at its Rimini base, accounting for almost 63% of the weekly seats deployed from the airport. Alitalia does not serve Rimini, which handled just 916,239 passengers in 2011 and is the country's 24th busiest airport.
The LCC was the sole operator on 10 of the 12 routes it operates to/from the airport, namely to Amsterdam, Berlin Tegel, Bucharest Otopeni, Catania, Copenhagen, Kiev Boryspil, Palermo, Prague and Saint Petersburg. Wind Jet faced competition on just two routes, with Transaero Airlines on the flights to Moscow Domododevo and with Yakutia on service to Rostov.
Wind Jet launched flights to Rostov in May-2012, not long before its demise. Transaero only operates seasonally to Rimini, but this could become year-round if Wind Jet's operations on this route were viable. It also could take over Wind Jet's route to Saint Petersburg.
Rimini Miramare Airport system capacity share by carrier (% of seats): prior to Wind Jet suspending services on 12-Aug-2012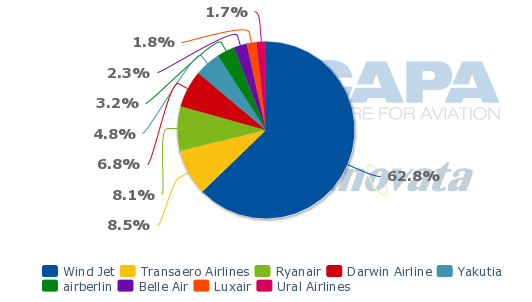 The gap left by Wind Jet's collapse at Rimini Airport is large and could be an opportunity for Alitalia Group to become a major player at the airport, providing it finds the necessary aircraft to opearate the new routes. Ryanair is the third largest carrier in terms of seat capacity at the airport, but it operates only two routes to London Stansted and Frankfurt Hahn.
airberlin serves Rimini from four German airports and Zurich and could step in on the Berlin route. Budapest is an opportunity for Wizz Air and Ryanair. Both carriers have a base at the Hungarian capital airport.
Palermo base is of interest to Alitalia to fence off LCCs
Wind Jet had an 11% share of total seat capacity as Sicily's main gateway, Palermo Punta Raisi Airport before it halted operations. Palermo is Italy's ninth busiest airport with a 2011 passenger throughput of five million of which 84% travelled on domestic routes, according to ENAC data.
Alitalia Group also has the leading market share on domestic routes from/to Palermo, but the budget airline presence is strong at the airport, underpinned by Europe's most aggressive LCC, Ryanair. Ryanair serves 12 international and domestic routes at Palermo (despite having a base at nearby Trapani Airport) and has almost a 22% capacity share. Europe's newest LCC, Volotea already operates on eight routes from the airport, five domestic and three international, according to Innovata schedules.
Palermo Punta Raisi Airport system capacity by seats per week: prior to Wind Jet suspending services on 12-Aug-2012
Wind Jet's collapse presents a nice opportunity for Europe's no-frills operators to snap up additional market share. It also could allow Alitalia to seize market share to increase its market power against LCCs. Ryanair is Italy's largest carrier on international routes. The Irish LCC transported 16 million passengers on international routes in Italy during 2011 (and a further six million on domestic routes). In comparison, Alitalia Group transported 15.9 million passengers in its home market (and 10 million on international routes).
Wind Jet's collapse presents a cost effective way for Alitalia to grow its market share. But it will have to prove that it has gained the ability to react quickly to market changes and that it is a privately held airline not only by equity but also by attitude and spirit.