As CityJet finalises restructuring it might escape Air France's short-haul overhaul
Analysis
Air France is undertaking a significant shake-up of its short and medium-haul operations as part of its Transform 2015 plan, but the Irish regional unit CityJet appears to be spared from the cost-cutting brooms after it initiated a profound restructuring in Jan-2011. CityJet, which comprises the Irish airline CityJet and the Belgian regional carrier VLM, trimmed its workforce, cut costs, increased productivity and streamlined its network and is now in better shape than some of its French peers in the Air France Group. Air France's short and medium-haul operations amassed EUR700 million losses in 2011. But its parent company Air France-KLM Group, which is looking to reduce its massive EUR6 billion debt, could also opt to divest the airline to generate cash.
While CityJet's bottom line has improved, it is not yet delivering strong profits and competition at its main hub in London City Airport is intensifying. British Airways has been growing strongly at the small airport in the London Docklands in recent years, expanding its range of routes to European destinations and adding an innovative service to New York JFK. And it could be planning to expand this.
Cost cutting and network restructuring
The VLM acquisition and the economic crisis prompted CityJet to reduce it operations under a new business plan initiated at the beginning of 2011 designed to achieve breakeven results. CityJet Ltd has posted losses in the past three fiscal years. It reported a EUR25.8 million operating loss in its fiscal year ended 31-Mar-2011, compared to a loss of EUR45.7 million in FY2010, on a 21% increase in revenue to EUR316 million and a 10.5% hike in passenger numbers to 2.3 million.
Headcount was reduced by 10% on a voluntary basis, a new procurement process was created, the fleet was downsized, a plan to increase productivity by 15% was launched, the crew bases were reorganised and adjustments were made to CityJet's network. Carrier CEO Christine Ourmières said the results of the restructuring plan are now clearly measurable and an update will be presented to the board on 15-Jun-2012. She hopes CityJet will be not be touched by Air France's planned restructuring of its money bleeding French operations. "We're in a different box because we are not a French company; out of sight, out of mind. In addition, we started our restructuring already last year and we're in the final stages," said Ms Ourmières.
Air France-KLM Group's Transform 2015 foresees a major shake up of Air France's short and medium-haul operations. Air France chairman and CEO Alexandre de Juniac in May-2012 said Air France Group's short and medium-haul activity will be restructured around three pillars. Air France mainline, and a regional division which will include the French regional airlines Regional, Britair and Airlinair. Transavia France will develop a network from Paris Orly and regional airports for leisure oriented and low fares traffic. By 2015/16, Transavia France should be operating between 20 and 22 aircraft, compared with eight today. Mr de Juniac's restructuring plan did not mention CityJet.
CityJet has two main business models
CityJet operates a dual business model and deploys its fleet of Avro RJ85s and Fokker 50s on two core networks: one is centred on London City Airport while the other set of routes mainly feed Air France's hub at Paris Charles de Gaulle Airport. The Paris CDG network is operated under a franchise contract with Air France, which accordingly takes care of the revenue management, sales and pricing, while the London City centric activity is operated under the CityJet brand with CityJet utilising its own revenue management. The franchise agreement with Air France also includes some non-Paris CDG routes, such as Nantes-Paris Orly. The structure appears complex but it reflects the company's history. All flights carry the AF code.
CityJet started operations in Jan-1994 with a scheduled flight from Dublin to London City Airport and Air France acquired full control of the airline in early 2000. In Dec-2007 CityJet purchased VLM Airlines, which was the text book example of how to implement the European Union's liberalised internal aviation market: at the time of the Air France takeover VLM was fully owned by a Dutch company, it was the largest operator at London City, a UK airport, and it had its headquarters at Antwerp Airport, Belgium, where it was launched in May-1993 with a scheduled service to London City.
CityJet and VLM Airlines fleet summary: 02-June-2012
The VLM brand has gradually been integrated in the CityJet brand and its aircraft carry the blue-grey-red CityJet livery. But the Fokker 50 fleet still flies under the Belgian VLM Airlines Air Operator's Certificate (AOC) while the RJ85 fleet operates under an Irish AOC. CEO Christine Ourmières told CAPA the company looked at bringing the two carriers under one AOC but decided against it owing to the complicated structure and regulation, specifically on taxation, of the European Union and its different member states. The company recently was fined by the French authorities for employing French-based crew under Irish contracts between 2006 and 2008. These contracts enabled CityJet to pay lower payroll taxes, which are significantly higher in France than in Ireland.
See related article: Brussels Airlines to benefit from changed EU law that levels playing field for airlines
Destinations that were eliminated from the CityJet/ VLM network during its 2011 restructuring include Liverpool, Southampton, Isle of Man, Brussels, Geneva and Frankfurt. High on-time performance (OTP) and reliability are essential for CityJet as it feeds the Air France hub in Paris CDG and operates a dense network at London City, where a large portion of passengers travel in and out the same day. OTP of CityJet's operations at London City averaged 90% in 2011.
The CityJet-VLM combination was the largest operator at London City but has handed over its supremacy to British Airways' CityFlyer, although the latter's market share is only 7% higher than CityJet's. BA CityFlyer currently operates a fleet of 13 aircraft comprising six 76-seat Embraer E170s and seven 98-seat E190SR jets, and it will be taking delivery of another Embraer 190 in the late summer, bringing its total fleet size to 14 aircraft.
BA CityFlyer carried over 1.1 million passengers during 2011, a 41% increase on 2010.
London City Airport capacity share by carrier (% seats): 04-Jun-2012 to 10-Jun-2012
This is surprising since British Airways is the de facto national carrier of the UK, and Europe's flag carriers typically do not share their dominant position at their home airports with a competing flag carrier. But London City is not a typical airport seeing its location close to the centre of London, its single 1500m (4900ft) long runway and the steep (5.5 degrees) approach requirement. BA for years focused on its operations at Heathrow, but now speaks more and more about its "networks of London airports" comprising Heathrow, London City and Gatwick.
CityJet currently operates a network spanning 22 destinations in Europe, mainly France, the UK, the Benelux and Ireland. It operates to 18 destinations from/to London City, where it is the second largest carrier in terms of seat capacity after BA CityFlyer and the largest frequencies in the week of 04-June-2012 to 10-June-2012. BA's CityFlyer and Air France's CityJet are by far the two largest operators at London City and account for more than two thirds of total seat capacity.
London City Airport capacity share by carrier (% weekly frequencies): 04-Jun-2012 to 10-Jun-2012
CityJet operates on six of the largest international routes (in seat capacity) and has a monopoly position on four of these, according to Innovata data: Dublin, Rotterdam, Paris Orly and Antwerp. It competes with BA on the route to Amsterdam and with Luxair on the route to Luxembourg. It also competes with BA on the largest domestic route from London City to Edinburgh. CityJet recently has set up a base at the Scottish airport.
London City Airport 10 largest international routes (seats per week): 04-Jun-2012 to 10-Jun-2012
Cosy monopoly offset by high operating cost
London City Airport has a very high number of monopoly routes. The Docklands airport presently offers flights to 43 destinations of which only eight are served by two carriers, leaving 35 routes on the playing field of just one airline – in most cases British Airways or Air France.
This limited competitive landscape allows for higher yields but these are offset by the high costs of operating at London City; according to Ms Ourmières London City is one of the most expensive airports in the world to operate to/from. Additional constraints are the weather related delays (London City is surrounded by water and thus suffers from fog) and the limited opening hours. The airport has a strict night curfew (operations are permitted between 06:30 and 22:00 hours on weekdays) and an even stricter weekend regime: flights are only permitted between 06:30 and 12:30 on Saturdays and between 12:30 and 22:00 on Sundays. This has a negative effect on the productivity of the aircraft and CityJet has addressed this by basing most of its London City aircraft at outstations (also, the airport has physically no place to overnight all BA and Air France aircraft).
Business-related traffic represents most of CityJet's morning inbound peak flights and outbound evening peak flights, while the midday and weekend low peak are to leisure destinations. The carrier, for instance, operates a seasonal weekly London City to Pau Pyrenees Airport, outbound Friday and returning on Monday.
In recent years CityJet has pushed the growth of charter operations as to increase utilisation of its RJ85 and Fokker 50 fleet. Ms Ourmières said that the company is seeing increased demand, mainly from the Benelux, for charter bookings during this summer's Olympic Games in London. July and August are typically weak periods for business traffic and the Olympics related traffic will balance this out and improve the carrier's bottom line.
See related blog: Olympic Games, despite conventional wisdom, present no large benefit to airlines
No LCC approach for CityJet, at least not yet
Overall CityJet operates about 1000 weekly flights, of which half are under its own brand and half flown under its franchise agreement or on wet lease operations for Air France. It has an agreement with Loganair, which operates some routes (e.g. Dundee-London City) for CityJet aboard 30-seat Dornier 328 aircraft. Loganair also steps in on certain CityJet routes when traffic flows are low and require aircraft with fewer seats; for example, on Edinburgh-Dublin.
The carrier's second largest operating base is at Dublin, home of Aer Lingus and Ryanair, where if offers just 2.5% of total weekly seat capacity.
Dublin Airport capacity share by carrier (% seats per week): 04-Jun-2012 to 10-Jun-2012
CityJet has remained loyal to its full service approach and offers complementary drinks and snacks, it guarantees no credit card fees and no bag fees (passengers can check in a bag up to 23kg free, cabin baggage is allowed up to 12kg). It has two booking and travel classes, City Plus and City Value, and the difference is mainly on the travel flexibility and not set pitch; like most regional airlines there is no curtain dividing business and economy class.
CityJet's main competitor at London City, British Airways, broke with the airport's exclusive use for short-haul flights and launched a service to New York JFK in late 2009, utilising two A318s in an all-premium 2-2 configuration with 32 6ft lie-flat beds. Owing to runway length limitations at London City, this route includes a westbound fuel stop at Shannon Airport in western Ireland where passengers make use of the US Customs and Immigration pre-clearance facilities, allowing them to forgo formalities upon arriving in the US. This somewhat compensates for the hassle and time-loss of the Shannon fuel stop.
The introduction of the A318 at London City in 2009 marked the airport's first long-haul route and BA's first all-business class service from the UK. The route was seen to make up for the loss of premium service from Concorde, retried in 2003; the London City-New York flights even carry Concorde's old flight numbers. Many doubted the success of the venture but so far the carrier has not pulled the service, dubbed the Bankers Shuttle. British Airways commercial director Drew Crawley remarked late last year that the route is "pretty good barometer" of the business market to and from London. Last year BA reported revenue was up 22% from 2010 (at undisclosed levels) and load factors has increased 10%. (BA decreases capacity in April and August owing to holidays.)
London City-New York JFK route performance: 2011-2010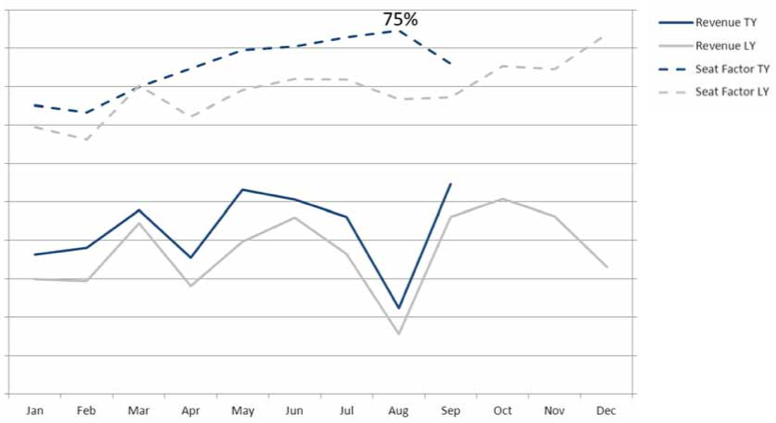 Yet BA has not expanded the long-haul range of destinations offered from London City. London City Airport's runway length limitations and STOL (Short Take Off and Landing) requirements do limit the options of long-haul destinations (the A318 is the largest commercial aircraft certified to operate from London City) but the A318 range does offer possibilities. When the London City-New York JFK service was launched, BA reportedly considered Boston, Washington and Chicago.
But now something is budding. International Airlines Group (IAG), BA's parent company, asked the US permission for BA Plc to move its two A318s to a new company called BA Ltd, which is currently in the process of receiving its own AOC. Shifting operations to a separate subsidiary and AOC is frequently motivated by labour-related issues or financial matters, such as a potential sale of the new subsidiary or a partnership. IAG remains tight lipped on the reasons for the new legal set-up of its two A318s flying from London City to New York JFK and told CAPA it is "in the process of exploring a variety of options related to potential new sources of finance".
See related article: British Airways' London City-JFK service could be just the niche Walsh wants
Future of CityJet remains uncertain despite success as it restructures
CityJet was one step ahead of its parent company and initiated a restructuring more than a year before Air France recognised the need to shake-up its short-haul operations in France. This might secure the Irish carrier's future in the group, but Mr de Juniac could also opt to divest the Irish unit. CityJet has an attractive network at London City, and BA would want to gobble some of those routes up, certainly if it plans to expand long-haul at the airport with connectivity to its growing European network there.