Revitalised Air Seychelles looks to use Hong Kong as Asian hub and proxy service for Etihad
Analysis
Air Seychelles has secured all regulatory approvals for the service but is waiting on final clearance for its operating permit, CEO Cramer Ball said in a briefing in Hong Kong. Mr Ball expects the permit to be secured within a few weeks, after which it will load schedules into GDS'. If timing aligns, Air Seychelles will commence operations on 01-Feb-2013 in time for the busy Chinese New Year travelling period. The flight will initially operate three times a week with A330-200s.
The Abu Dhabi-Hong Kong service replaces the non-stop Beijing service Air Seychelles had previously announced. Air Seychelles had been bullish on its ability to use its Beijing service to offer connecting services between Beijing and Johannesburg. Air Seychelles' hub at Mahe is extremely well positioned as a mid-point, a mere four kilometres off the Greater Circle non-stop service between Beijing and Johannesburg. Air Seychelles viewed the market as favourable to South African Airways, the only non-stop operator, with room for competition.
But Air Seychelles has revised its thinking. A few elements are in play. There is faint talk Air China will enter the Beijing-Johannesburg market, and China Southern is exploring options for serving Africa – possibly Johannesburg. Air Seychelles also questioned if Beijing was ready for the Seychelles. While Air Seychelles will not pinpoint the overriding reason for the switch, a significant factor would likely have been that part-owner Etihad does not serve Hong Kong (but in the mainland it does serve Beijing, Chengdu and Shanghai).
Etihad competitors Emirates and Qatar Airways are strong in Hong Kong, with Qatar offering double daily A330 services while Emirates has a daily A380 service via Bangkok, a daily 777-300ER and a daily service alternating between 777-300ER and A380. Loads and yields are consistently high and Hong Kong is in each carrier's top destinations (when ranked on ASKs). While it is understood Etihad has had plans to eventually serve Hong Kong, its presence and strategy is being accelerated by the opportunity for Air Seychelles to enter Hong Kong. Profitability forecasts are higher, undoubtedly due to Hong Kong not yet being an online Etihad point (whereas Beijing is) as well as greater connecting opportunities from Hong Kong (well-positioned) than Beijing (more limited being in North Asia).
Mahe Island Seychelles International Airport capacity seats per week: 19-Nov-2012 to 25-Nov-2012
Mahe Island Seychelles International Airport capacity ASKs per week: 19-Nov-2012 to 25-Nov-2012
While Air Seychelles has not loaded schedules for its Abu Dhabi-Hong Kong service, it has secured slots at Hong Kong and intends to have an 08:00 arrival time and 18:00 departure time in Hong Kong. While this is an extensive layover, Mr Ball says it opens a full bank of connecting opportunities, including ferries from Hong Kong airport, and regional flights. Air Seychelles has begun discussions with Cathay Pacific to form a partnership, likely initially with a special prorate agreement, which are progressing well. Air Seychelles would eventually like a deeper partnership, but the carrier notes Cathay's conservative approach to partnerships and alliances; Air New Zealand recently secured a rare partnership from Cathay.
See related article: Air New Zealand-Cathay Pacific partnership has implications across Asia and for SIA & China Southern
Cathay Pacific and its wholly-owned subsidiary Dragonair offer a range of connecting opportunities across Asia, and in particular, mainland China, where Dragonair is the largest foreign carrier. Air Seychelles is also interested in connecting services to Japan, whose population is not only adventurous-minded (unlike Hong Kongers, who can be reticent – in part because of the government's nannying) but also always looking for a new destination. It would have been unlikely for Air Seychelles to serve Japan on its own. The discussions build on the limited partnership Air Seychelles had with Cathay Pacific when Air Seychelles served Singapore, but flight times did not sync, limiting opportunities for Air Seychelles and Cathay to see much transfer of traffic.
Cathay does not serve the Seychelles, so Air Seychelles reckons it can provide transfer traffic to Cathay that does not compete with Cathay's own services. Plus Air Seychelles believes Cathay can use the Seychelles as another destination for it, and its holiday division, to sell. The Maldives, competing somewhat with the Seychelles, has attracted scores of Chinese visitors looking for an escape from their typically heavily polluted and monolithic cities.
A carrier, Mega Maldives, was even formed to cater to the Chinese market; it operates charters from the Maldives to a number of mainland cities as well as Hong Kong. Singapore Airlines – a staunch competitor of Cathay – has done exceptionally well cleaning up demand by routing traffic from its wide China network to the Maldives via its Singapore Changi hub. SIA's 13 weekly A330 services have made it the fourth largest carrier in the Maldives based on seats and the second largest based on ASKs. Cathay has casually spoken of interest to enter the Maldives to capture traffic SIA is getting, but these services have not eventuated at the legacy carrier.
Male (Maldives) International Airport capacity seats per week: 19-Nov-2012 to 25-Nov-2012
Male (Maldives) International Airport capacity ASKs per week: 19-Nov-2012 to 25-Nov-2012
Air Seychelles envisions the partnership with Cathay deepening to cover Abu Dhabi-Hong Kong sectors. Air Seychelles will operate three times a week, on different days from Cathay's three weekly services to Abu Dhabi (two direct, one via Riyadh). From Abu Dhabi, Cathay could transfer passengers to the Seychelles on Air Seychelles or potentially Etihad too. But schedules will need changing, as flights from Abu Dhabi to Male depart at 08:25 and 09:00, but Cathay arrives in Abu Dhabi at 21:25 and 01:15, which create long layovers. On the return, Cathay departs Abu Dhabi at 02:25 twice a week and 22:35 once a week, which bodes well for the 20:10, 01:00 and 01:10 arrival times into Abu Dhabi from the Seychelles. Air Seychelles and Etihad may need to look at offering flights during different banks while Cathay would need to consider its timings – perhaps seemingly simple but a big step for a carrier that is highly independent.
That is long-term, but the possible corollary to a more strategic position from Cathay in Abu Dhabi and with a carrier part-owned by Etihad is for Cathay and Etihad to partner. Etihad would see much to gain, although it would need to finely balance its existing relationships with mainland Chinese carriers China Eastern and Hainan Airlines – but those are embryonic, and while there are potentially large synergies to be realised, which the Chinese carriers realise, they have a long list of strategic initiatives. But they do have the ability to offer direct codeshares; owing to China's general prohibition on third-country codeshares, Etihad would be unable to code on Cathay and Dragonair services into the mainland.
There is still opportunity for Cathay to steal the Chinese thunder, but Cathay is deeply conservative. Cathay could consider starting small by consolidating its presence in the Middle East; Bahrain, Jeddah and Riyadh are served via intermediary points and could be more efficiently served by working with Etihad in Abu Dhabi. Cathay has seen the world change around it as Emirates and Qatar enter, Emirates work with Cathay's oneworld peer but competitor Qantas while Qatar joins oneworld. The question is if, or when, Cathay will join European peers (sans Lufthansa) in breaking out of its legacy shell and forming its own strategic partnerships.
See related article: Etihad-China Eastern codeshare starts small but with enormous potential
Hong Kong service facilitated by second A330 – which will open another destination, too
Air Seychelles' Hong Kong service will be facilitated by the delivery in Jan-2013 of Air Seychelles' second A330-200, a sister ship to its first A330-200, previously with Jet Airways. The first A330-200 is used on services to Johannesburg and Abu Dhabi. The second A330 will open Hong Kong, bring Johannesburg from twice-weekly to thrice-weekly, and Abu Dhabi from four times weekly to daily. That will help close the gap of the city and Gulf hub with the largest number of seats to the Seychelles, a title currently held by Dubai due to its flag carrier Emirates.
Mahe Island Seychelles International Airport top international routes by seats: 19-Nov-2012 to 25-Nov-2012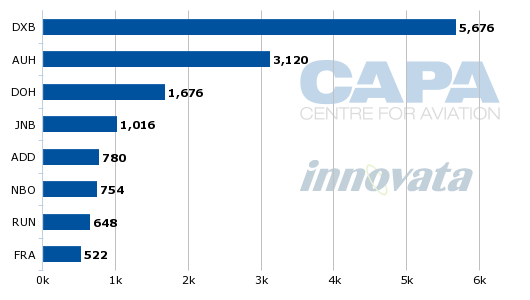 There is also capacity for Air Seychelles to introduce a new medium/long-haul destination (its third after Johannesburg and Hong Kong), which it intends to do and may announce before the end of 2012. The service will likely be within five to six hours of the Seychelles, which largely confines the carrier to, in the west, west Africa, and in the east, Southeast Asia.
Europe would be outside of that range, and while Mr Ball takes the approach of "never say never" to serving Europe, odds are against it. Europe was once the staple of Air Seychelles' network as it targeted European holidaymakers, but unprofitably: Mr Ball says Air Seychelles would have had to double its fares to be profitable. Air Seychelles faced challenges across its long-haul network by offering limited frequency to each European port and having limited connecting opportunities (except in France, where it partnered with Air France). Air Seychelles, before Etihad's stake, began a deep pull-down as fuel prices went up and the European economy went down.
Air Seychelles can reach Europe via Abu Dhabi on Etihad and services operated by Etihad's extensive list of partners (numbering over 40 now). Critically, Air Seychelles has access to more ports and greater frequency without the risk it previously had when it operated its own services. If Air Seychelles were to return to Europe with its own metal, it would be in partnership with Etihad.
Air Seychelles' future expansion will, of course, be tied to profitability, whether that entails operating direct services or routing via Abu Dhabi. For now, odds are stacked in favour of services via Abu Dhabi. Another Etihad partner, airberlin (which Etihad has a stake in too) also operates fifth freedom flights from Abu Dhabi to Phuket, after arriving from Germany. Virgin Australia (which Etihad also has a stake in) toyed with extending its Sydney-Abu Dhabi service to points in Europe. Etihad's newest partner, Garuda Indonesia, will shift its Jakarta-Dubai-Amsterdam service to transfer in Abu Dhabi.
See related articles:
The carrier is coy about growth beyond this. While it could potentially tap into Etihad's aircraft order book, Mr Ball notes Etihad already has a strategy for those aircraft.
Air Seychelles' international route map: 2011
Air Seychelles' international route map: Jul-2012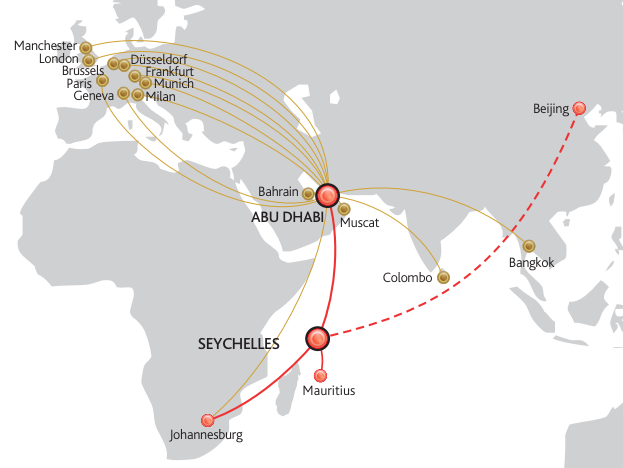 Etihad, when investing in another carrier or forming a partnership, seeks strategic developments and synergies wherever possible. But Etihad also takes a clear view it must let its partners follow their own strategy, and here Air Seychelles is looking to bring some strategic thinking to the Indian Ocean carriers serving countries sometimes referred to as the Vanilla Islands (comprising Madagascar, Mauritius, La Reunion and the Seychelles).
The region has been profoundly affected by the combination of high fuel prices and downturn in Europe, cutting off their once-staple source of traffic. Added to this was new and deeply strategic carriers from the Middle East being able to serve the islands far more efficiently (in terms of network and price) than the home carriers could. Air Seychelles went through four CEOs in as many years; Air Austral of La Reunion deeply consolidated its network and is looking to cancel its order for A380s; and Air Mauritius conducted its own amputations.
See related articles:
Air Seychelles and Air Austral are showing large turnarounds following shrinkage, but the carriers recognise they can have strength in numbers. Prior to Etihad's stake in Air Seychelles, Air Austral and Air Seychelles agreed to a partnership under which Air Austral would operate Seychelles-Paris services.
Now Air Seychelles is looking to revisit partnerships. It is hoping to work with the region's carriers, and especially Air Austral – as well as South African Airways, which is struggling under its own legacy platform and end-of-line status (it is cutting once-staple routes like London to focus on Africa and new markets). Seychelles tourism, for one, acknowledges the islands cannot compete with each other but rather must work together; the Seychelles holds a carnival event celebrating the culture of Madagascar, La Reunion, the Seychelles and Zimbabwe. The broad vision is to turn the region – for some visitors – into an area to experience multiple cultures and environments; the Seychelles is mainly idyllic beaches and islands while La Reunion is mountainous and continental Africa offers a safari experience.
See related articles:
The thought is young and Air Seychelles is not putting an exact scope on potential, but codeshares will be likely while equity stakes will certainly not be. Also of interest will be alignment of frequent flyer programmes, a cornerstone of Etihad's partnership platform.
Despite the previous excitement about connecting Johannesburg and Beijing via the Seychelles (and competing with SAA), Mr Ball says even if Air Seychelles pursued that strategy, its affect on SAA would have been limited.
Air Seychelles' services to Johannesburg and Mauritius see no competition while Air Austral is the sole operator between Saint Denis (La Reunion) and Mahe. While there could be anti-competitive concerns about effective or actual monopolies, it is unlikely any carrier on its own would be able to sustainably provide high-frequency service on these thin routes.
Short-haul also being given attention at Air Seychelles
Mr Ball's transformation of Air Seychelles is far-reaching. While long-haul international services are being developed, attention is being paid closer to home at the carrier's domestic island-hopping fleet comprising one Shorts 360 and four DHC 6 (three -300s and one -400). The Shorts 360 is a loner and may exit the fleet while the DHC 6s will likely be re-lifed by effectively taking the aircraft apart and put back together. The -300s are ideal, Mr Ball said, and replacement opportunities are very limited, while the -400 provides more capability beyond what Air Seychelles needs. The exercise will likely be completed by the end of 2013.
Air Seychelles also wet-leases an Etihad A320 to perform Abu Dhabi-Mahe-Mauritius services. That operation for now will continue and Air Seychelles does not envision further Airbus narrowbody usage.
Financial turnaround accompanies Etihad's role
Etihad's and Mr Ball's strategic changes are notable, and so too, critically, is financial performance. Air Seychelles reported losses of EUR12.5 million for FY2010/2011 and prior to Etihad's involvement received three government loans of amounts ranging between SCR30 million (USD2.4 million) to SCR150 million (USD12.1 million) since 2007.
See related article: Etihad Airways stake in Air Seychelles gives 'realistic way forward' to the island carrier's future
Air Seychelles reported 3Q2012 revenues of USD13.8 million, up 23% on the second quarter. The carrier expects to be profitable in 2012. Driving this are network synergies with Etihad – onward destinations have increased from 57 to 375 per week – as well as cost savings. Air Seychelles has the benefit of Etihad's contracts, ranging from the large, such as MRO, to smaller, such as printer cartridges, which Air Seychelles now gets for a third of the price.
Etihad's relationship with Air Seychelles is less than a year old but it is clear to see the synergies that exist and those that will bear fruit soon. Air Seychelles' turnaround, and potential to work with other Indian Ocean carriers, is an upbeat note for a region previously ignored and with high-stakes risks, like Air Austral's plans to operate two lone A380s in an all-economy configuration. Etihad and Air Seychelles may also achieve what many have dreamed of: a carrier or series of partnerships serving a region; Air Pacific tried in the South Pacific, and of course Gulf Air's grasp fell apart in the Middle East but gave rise to a number of carriers that are both, in a rare combination, smart and financially healthy. In turn, one of those carriers is passing on its acumen to Air Seychelles.