airberlin prepares to drop Bangkok in order to boost Middle East, Africa and US services
Analysis
airberlin plans to cancel service to Bangkok from both Dusseldorf and Berlin Tegel in late Mar-2012 as part of a network re-alignment with new shareholder Eithad Airways. The capacity changes will allow airberlin to upgrade its Mombasa service to year-round and allow for the introduction or increase of previously announced Abu Dhabi, Las Vegas, Los Angeles and New York services. airberlin will also shift its Germany-Phuket flights to originate in Abu Dhabi, the hub of Etihad.
The moves culminate airberlin's recent hybridisation push in an effort to be Germany's second business airline. The market has not yet responded as the carrier's costs are high but revenue low, reflective of an under-performing short-haul business. The Etihad agreement, and recent capacity changes to increase profitable long-haul services, will better position airberlin to move upmarket.
Etihad in Dec-2011 increased in stake in airberlin from 2.99% to 29.9%. The investment followed continued losses in 2011, the CEO resigning and initial network changes.
See related articles:
Bangkok withdrawal facilitates network restructure
airberlin in global distribution systems has zeroed out availability from 26-Mar-2012 on its three-weekly Berlin-Bangkok and three-weekly Dusseldorf-Bangkok services, a standard precursor to cancelling flights outright. The available capacity will immediately be used to bring airberlin's four-weekly Berlin-Abu Dhabi service to a daily offering and introduce a daily Dusseldorf-Abu Dhabi service.
While airberlin will also gradually withdraw direct flights between Germany and Phuket (ending in Mar-2012 twice-weekly Berlin-Phuket services and in Apr-2012 twice-weekly Dusseldorf-Phuket services), airberlin has previously announced it would commence a daily Abu Dhabi-Phuket service in Mar-2012. Phuket can be a more popular holiday destination that Bangkok, which Etihad already deploys significant capacity to and which airberlin codeshares on, explaining why airberlin would keep its own services to Phuket but not Bangkok.
Summary of airberlin long-haul route changes: Mar-2012 through Jun-2012
| Route | Effective | Capacity Change | New Capacity |
| --- | --- | --- | --- |
| Berlin-Bangkok | 26-Mar-2012 | Three-weekly services end | Withdrawal |
| Dusseldorf-Bangkok | 27-Mar-2012 | Three-weekly services end | Withdrawal |
| Berlin-Phuket | 24-Mar-2012 | Twice-weekly services end | Daily service via Abu Dhabi |
| Munich-Phuket | Apr-2012 | Twice-weekly services end | Daily service via Abu Dhabi |
| Abu Dhabi-Phuket | 25-Mar-2012 | Daily service introduced | Daily |
| Berlin-Abu Dhabi | 25-Mar-2012 | Three additional weekly flights added | Daily |
| Dusseldorf-Abu Dhabi | 25-Mar-2012 | Daily service introduced | Daily |
| Berlin-New York JFK | 04-May-2012 | Three additional weekly flights added | Daily |
| Berlin-Los Angeles | 11-May-2012 | Three weekly flights introduced | Three weekly |
| Dusseldorf-Las Vegas | 10-May-2012 | Two weekly flights introduced for summer schedule only | Twice weekly |
| Munich/Dusseldorf-Mombasa | Jun-2012 | Weekly service from each Munich and Dusseldorf made year-round | Weekly from Munich, weekly from Dusseldorf |
The combined effect is that airberlin will be less exposed to the Thai market as it will have no direct flights. Rather, services will be split from Germany to Abu Dhabi and then Abu Dhabi to Phuket (as well as codeshares on Etihad's flights to Bangkok). Travelling from Berlin to Phuket via Abu Dhabi is 7.6% longer in distance than flying direct, but the new arrangement will offer daily flights rather than four-weekly services.
Whereas previously airberlin had to sell Phuket or Bangkok as the end destination, airberlin can now sell multiple points across Etihad's network and bring the passengers from Germany to Abu Dhabi for onward connections. By having Etihad's network and not having to rely on selling just two destinations, airberlin can increase revenue as it substitutes low-yield Bangkok and Phuket passengers for high-yield passengers travelling elsewhere on Etihad codeshares.
Etihad and Air Berlin to both gain from codeshare partnership
Etihad also gains from codesharing on airberlin's new Germany-Abu Dhabi services. Germany is a lucrative market as Germans are often credited as travelling the most in the world. But Germany now has restricted air services from Gulf carriers.
Neither Emirates nor Etihad serve now Berlin with their own aircraft, but Etihad will be able to sell Berlin by codesharing on airberlin's Berlin flights. Etihad from 15-Apr-2012 will also increase its Dusseldorf service to a daily offering, with airberlin and Etihad collectively providing double daily services between Abu Dhabi and Dusseldorf. This scheduling approach will maximise connections and accessibility for the corporate market, a similar objective Etihad achieved by codesharing with Virgin Australia to Sydney, giving the two carriers a combined double daily service. Emirates already provides a double service between Dusseldorf and its hub in Dubai.
airberlin will codeshare on Etihad's services to Bangkok, which it is increasing to three times per day. Bangkok is Etihad's largest route by available seats while it is second for Emirates (London Heathrow is first).
airberlin and Etihad's schedules optimise connections at Abu Dhabi. Etihad will codeshare on a number of airberlin's German services as well as to countries near Germany (including Denmark, Finland, Italy and Switzerland). airberlin's initial codeshares on Etihad include Abu Dhabi-Frankfurt and Abu Dhabi-Munich, giving airberlin virtual access to Germany's traditional long-haul markets.
airberlin will also codeshare on Etihad flights to Mahe, Male and Singapore and additional codeshares are promised as the airberlin-Etihad relationship beds down. In particular airberlin may be interested in Etihad's subcontinent destinations; Lufthansa is the largest European carrier in India, although partially due to sixth-freedom connecting traffic.
Scheduling and connectivity options for airberlin and Etihad flights from to and from Abu Dhabi: May-2012
The additional capacity will also be used to North America, where airberlin will launch thrice-weekly Berlin-Los Angeles service and seasonal twice-weekly Berlin-Las Vegas service in May-2012. At the same time airberlin will bring its four-weekly Berlin-New York service to a daily offering.
airberlin will also bring its seasonal Mombasa, Kenya services to a year-round offering with two flights a week from 22-Jun-2012. (The service will be briefly suspended between 13-Apr-2012 and 22-Jun-2012.)
airberlin will join fellow German carriers Condor Flugdienst and Jetairfly in offering a year-round service to Mombasa, the centre of coastal tourism in Kenya. Germany accounts for approximately 5% of tourism arrivals to Kenya.
Mombasa Moi International Airport capacity (seats per week) by carrier: 05-Mar-2012 to 11-Mar-2012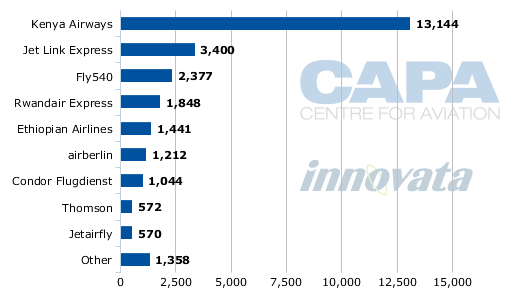 Restructure prepares airberlin to battle for larger slice of German market
With airberlin also shifting in May-2012 its Windhoek, Namibia service from Munich to Berlin, airberlin is planning to fortify its presence in Berlin, which will receive a huge flourish when the new Berlin Brandenburg airport opens on 03-Jun-2012. airberlin and competitor Lufthansa are waging different strategies for Berlin ahead of the Brandenburg airport, which will consolidate the city's two airports – Schonefeld and Tegel – and for the first time make Berlin a serious air services contender.
Despite Berlin being the country's capital and largest city, Frankfurt (and to a lesser extent Munich) has taken the title of the country's gateway airport, largely reflective of Frankfurt being Germany's financial hub. Berlin's fragmented airports, small, have limited hub opportunities, a problem that will go away with the Brandenburg airport, to the advantage of airberlin.
Germany's top four airports passenger traffic (in millions) and share of German traffic (%) (RHS): Jan-2011 to Sep-2011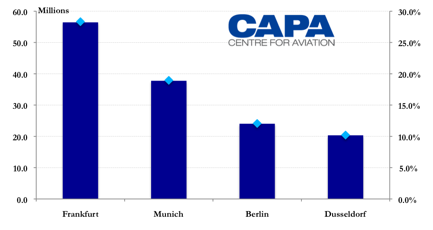 Lufthansa controls 44% of the German market but is under-represented in Berlin, where it has primarily offered short-haul services, especially to connect to its major hubs. Lufthansa plans significant expansion at Berlin, growing above the average rate and increasing destinations from eight points in three countries to 38 destinations in 16 countries, but all in Europe – intercontinental services will remain the domain of airberlin, and potential linchpin that sees airberlin raise its profile and revenue in under-served Berlin.
See related article: Lufthansa responds to Air Berlin at new Berlin airport, but success far from guaranteed