Lufthansa responds to Air Berlin at new Berlin airport, but success far from guaranteed
Analysis
As Berlin's airport fragmentation ends with a new airport to open in Jun-2012, Germany's two biggest carriers are pursuing different strategies for the long-awaited airport, yet the strategies are forcing each other to respond. Air Berlin dominates short-haul traffic from the capital yet has high costs and low yields, indicating its transformation from LCC to hybrid carrier has not been followed by the market, whose premium passengers remain with Lufthansa, who has long been under-represented in Berlin, Germany's largest city.
Air Berlin is banking on traffic feed, in particular from its oneworld members, to boost profitability, an outcome that may prove to be elusive as carriers continue to favour Frankfurt with its financial centre and accompanying premium traffic. Lufthansa will defend its market share from Air Berlin's chance of success with an equally ambitious measure: slashing costs by a third to better compete on short-haul traffic while continuing to ignore Berlin's long-haul traffic opportunities that Air Berlin has seized on. Each carrier wants the success the other has achieved, but neither are on a firm path to realise their ambitions.
Guten Tag Brandenburg
The opening of Berlin Brandenburg International Airport (BBI; IATA code: BER) in Jun-2012 will bring to an end Berlin's fragmented airport system, which until 2008 comprised Tegel, Schönefeld and Tempelhof with only the former two still in operation. Tegel, the larger airport in former West Berlin, will be closed following BBI's opening.
Berlin has been among the fastest-growing airport systems in Germany in 2011 (driven entirely by growth at Tegel, as LCC-exposed Schönefeld has shrunk), with passenger traffic up 7.9% to over 20 million in the Jan-Oct period, outpacing the 6% system growth rate, placing it firmly on course for setting a new record in 2011. This growth has occurred while the system is limited only to point-to-point traffic; the small capacity of the individual airports has been inadequate to allow hubbing.
Berlin Airports, the operator of Berlin's airport system, has ambitious plans for its new airport, seeking to take advantage of BBI's hubbing ability and capacity to expand short-haul services and most importantly, expand the city's long-haul connections. Germany's long-haul services almost exclusively focus on Frankfurt and Munich, which are, unsurprisingly, Lufthansa's dual hubs. Frankfurt and Munich are the country's largest and second-largest airports by traffic, followed by the Berlin airport system (Tegel and Schönefeld combined) and Düsseldorf.
Germany's top four airports passenger traffic (in millions) and share of German traffic (%) (RHS): Jan-2011 to Sep-2011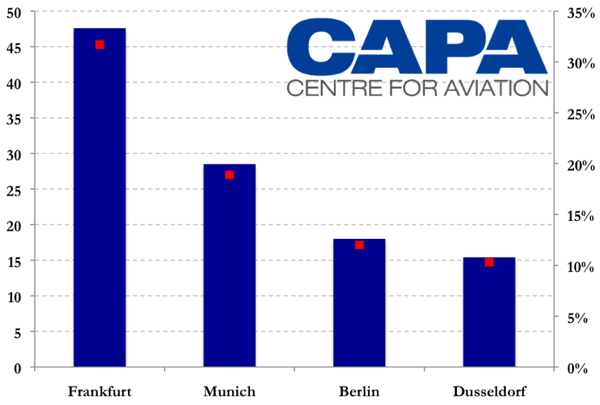 The capital's dominant carrier, Air Berlin, has responded to BBI's development with an ambitious agenda. The hybrid airline, currently based at Tegel but eager to move into BBI, plans to expand its Berlin network to 70 destinations, including New York JFK, Miami, Los Angeles, Dubai and Bangkok.
Berlin (Tegel and Schönefeld) market share: Nov-2011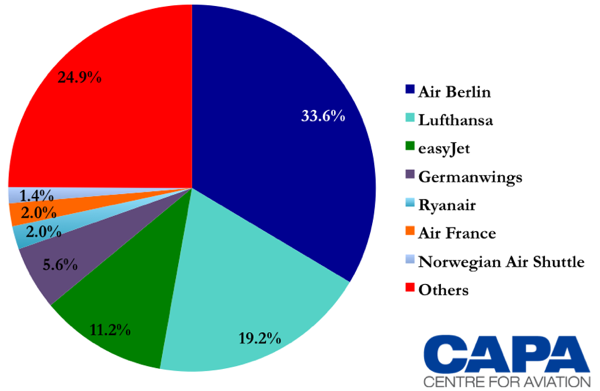 Air Berlin, which is joining the oneworld alliance in 2012, is working to persuade oneworld carriers American Airlines, Qantas, Cathay Pacific and Japan Airlines to transfer their German services from Frankfurt to Berlin. Berlin Airports, which wants to make use of its 27 million annual passenger capacity, is keen to see expansion in Berlin on long-haul services: a market that has never been tapped in Berlin.
There is potential for oneworld to establish an inland European continent hub at Berlin. The geographic positioning would be to the advantage of oneworld's Asia-Pacific carriers who could route passengers to Berlin and then to onward destinations without having passengers backtrack through oneworld's current major hub at London Heathrow. (Smaller oneworld hubs are at Spain's Madrid and Barcelona, but neither see services from oneworld's Asia-Pacific members.)
As Air Berlin has gravitated away from being a low-cost carrier, service inconsistency is no longer a limiting factor to transfer passengers. But oneworld's carriers will need to determine if Berlin holds enough traffic, premium especially, in its own right for them to leave Frankfurt, the country's traditional business heart with traffic to support flights. Oneworld's long-haul/ultra-long-haul carriers are unlikely to have flights to both Berlin and Frankfurt. Medium/long-haul carrier American Airlines could potentially serve both cities, but so far has favoured serving Frankfurt with its own metal and codesharing on Air Berlin's trans-Atlantic flights. Carriers must consider what disadvantage they would incur if Frankfurt flights were moved to Berlin, forcing passengers to take a connecting flight – or switch to a carrier with direct flights to Frankfurt.
A Berlin hub with supporting network traffic is a make it or break it situation for Air Berlin, whose LCC model has evolved to almost full-service but without the market catching up. Its costs are those of a full-service carrier but with revenue and yields of a LCC.
Lufthansa to 'expand like never before'
Lufthansa, on the other hand, is taking a different direction in Berlin, at least initially. BBI is a dilemma for Lufthansa. The airline controls 44% of the German market, but it is under-represented in Berlin. Following the opening of BBI, Lufthansa's market share in Berlin and the wider German market could slip, particularly in the long-haul space, because long-haul passengers heading to Berlin who currently transit in Frankfurt or Munich, will have less reason to travel with the German national carrier as rivals open up direct services from Berlin. Lufthansa's current strategy for Berlin focusses purely on domestic and short-haul services. This is unlikely to change in the short-term.
Allowing an Air Berlin and oneworld monopoly at Berlin was not an option for Lufthansa. Equally so, further fragmenting its operations, which are already split between Frankfurt and Munich, by establishing a third hub would be too costly. Lufthansa's response to BBI and Air Berlin's growth plans at the facility slides in nicely in between these aims: Air Berlin (and oneworld) containment and avoiding further hub fragmentation.
In the words of Lufthansa's passenger CEO Carsten Spohr, Lufthansa plans to "expand [its] presence in a manner that we've never done before". Mr Spohr said the airline is "banking on Berlin and [is] committed to growing at an above average rate" at the new airport. The airline's plan includes expanding the Berlin network to 38 destinations in 16 countries (all in Europe), which is a sharp increase from the current eight in three. Seat capacity will be expanded by 40% and the Berlin-based fleet will be expanded from nine to 15 aircraft. "We are investing in Berlin," Mr Spohr said, "and are determined to seize a disproportionate share of capacity growth at Berlin in future."
Lufthansa employs LCC tactics
The most interesting aspect of Lufthansa's Berlin strategy is undoubtedly the way in which the group plans to adapt its business to the relatively new market. In a clear recognition of the different competitive dynamic in the capital, compared to its familiar Frankfurt and Munich markets, part of the strategy includes employing tactics used by low-cost rivals.
Berlin's LCC penetration rate of 58% is enormously higher than that in either Frankfurt or Munich, where LCCs claim just 2.7% and 14.7%, respectively. Moving into Berlin without changing the model was never an option.
Lufthansa will offer one-way fares across its Berlin network from EUR49, throwing down the gauntlet to the LCCs that dominate the city. There is wide acceptance that the LCC model trumps its full-service counterpart in Europe's short-haul space. But implicit in this move is a clear recognition from Lufthansa that Berlin will remain a low-yield market relative to Lufthansa's Frankfurt and Munich hubs. This is due, in part, to the capital's light business traffic and its role in the Lufthansa network as a point-to-point, rather than a transfer, market.
Importantly, Lufthansa expects its Berlin expansion to assist in making its LCC-exposed short-haul network profitable once again. In order to earn a positive return on "all-inclusive" EUR49 fares, Lufthansa is being forced to take a hard look at its cost structure.
The airline expects to cut unit costs by an astounding one-third through a raft of measures aimed at boosting efficiency and cutting costs. Lufthansa's new 15-strong fleet will comprise a single aircraft type – the A320 – all of which will be under the age of two years. The standardised fleet, Lufthansa says, will allow the airline to rationalise maintenance costs, optimising schedules to improve connections and increase attractiveness to customers and bolster productivity per aircraft.
Further cost reductions are expected to come through the new, expanded network and customer-friendly schedules (out in the morning, back in the evening). Maintenance costs will be brought down due to the younger aircraft in operation and local maintenance by the new Lufthansa Technik MRO base at BBI.
New rosters and locally based cockpit and cabin crews will help cut unit costs "substantially", Lufthansa says, with a new crew base to be launched at BBI for staff. A new recruitment drive will be launched, with the airline seeking to add 200 new flight attendants and 130 pilots. The airline also said it "will cooperate with an external provider in order to remain sustainably competitive in Berlin", which can reasonably be understood to mean there will be an increased use of outsourcing, most likely for ground handling operations.
"With this set-up we will show that Lufthansa can be profitable with competitive cost structures on German and European routes," Mr Spohr said, "and need have no fear of competing head-on with no-frills airlines." The German flag is confident of success in Berlin, due to "the combination of the strong Lufthansa brand, reduced unit costs and considerably better quality than our low-cost competitors."
Berlin (Tegel and Schönefeld) LCC market share: Nov-2011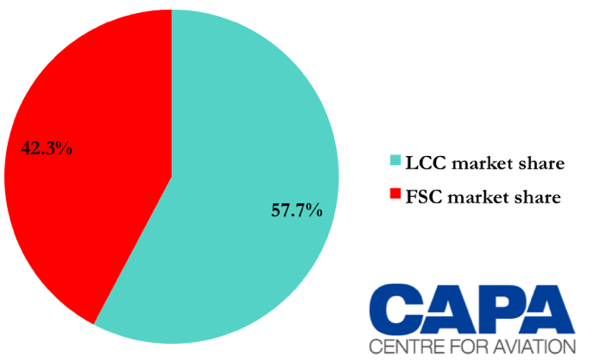 Frankfurt Airport LCC market share: Nov-2011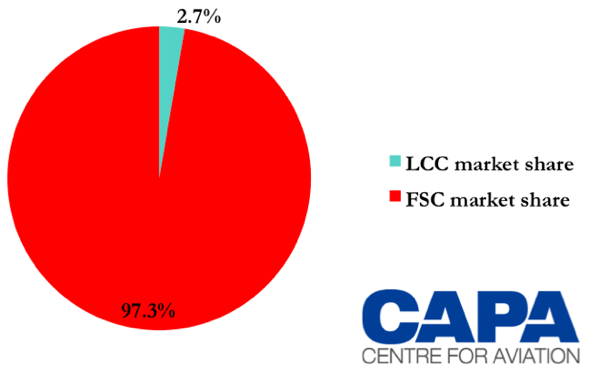 Munich Airport LCC market share: Nov-2011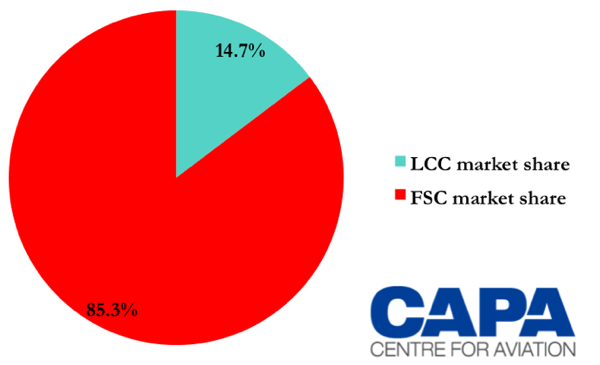 Lufthansa's Berlin strategy, while new for the airline, should sound familiar. The German carrier's plans for Berlin is the exactly the same as that described by rival Air France in Jul-2011 when the French flag carrier announced its regional "offensive" on the provincial cities of Marseille, Nice, Toulouse and Bordeaux. These four cities, like Berlin, had largely been marginalised by the country's national carrier in favour of growth at major hubs and as a result saw strong LCC growth, which ate into the flag carrier's national market share.
See related article: Air France looks to regional points to counter LCC, TGV threat
Indeed Lufthansa's plans, announced on 11-Nov-2011, can be read as a duplicate of Air France's, initially announced four months earlier on 11-Jul-2011, and again on 28-Sep-2011. All statements contain the same information: expanded route networks and sharp capacity increases from the new bases, but most significantly, plans for the regional operations to be transformed into quasi-LCC bases. The new short-haul networks are intended by both Air France and Lufthansa to help restore profitability to its short-haul networks. The two carriers are advertising the same "all-inclusive" fares for the same price (EUR49 at Lufthansa and EUR50 at Air France), and in order to earn positive returns on such low fares, costs will be brought down by optimised and enhanced schedules, single aircraft types, cabin and crewed located locally at the new bases and optimal use of resources on the ground. Air France claims to be able to reduce unit costs by 15%, with Lufthansa to more than double that figure, planning to bring unit costs down by "up to a third".
The striking similarity between the strategies from Europe's two largest airlines demonstrates the ongoing structural change in intra-European markets and importantly, the business model that is required in the current and future competitive landscape to make money.
As was the case with Air France's regional expansion, LCCs are unlikely to be concerned about Lufthansa's sharp capacity increase. Air France and Lufthansa have hubs in major financial and commercial centres that generate significant O&D traffic and with extensive long-haul networks. At these hubs, their competitive positioning is strong and they are well placed to support short-haul services and compete against LCCs when needed – much traffic is premium in nature. Regional French cities and Berlin do not fit the mould.
See related article: easyJet pushes further into France, throwing down the gauntlet to Air France
Given the rapid and irreversible rise of LCCs in Europe, the question of whether full service carriers can survive in intra-European markets has arisen. Lufthansa is joining Air France in attempting to answer this, sensibly by making major adjustments to its operations and networks. While Air France has claimed early success in Marseille, time will tell whether they find sustainable success.
Lufthansa not yet giving Berlin what it wants
Lufthansa plans to name its next A380, its ninth, "Berlin", although this honour touches on an important part of the strategy: Berlin will have no long-haul connections. With the exception of a one-off inauguration flight at BBI in Jun-2012, the aircraft will have nothing to do with its namesake city.
In its recognition that further hub fragmentation is too costly, Lufthansa is not yet giving Berlin what it has long sought: intercontinental services. In this sense, it is clear from its Berlin strategy that gaining (low-yield) traffic gains from Berlin takes second place to defending its German market share, or at least mitigating Air Berlin's potential market share gains. While Lufthansa has made clear mention of "new market opportunities" at Berlin, the carrier is not taking advantage of the genuine new market opportunities. The city is well-served in the short-haul space but Berlin's long-haul market has hardly ever existed.
Emirates has a public and controversial interest in launching long-haul services from Berlin. The Dubai-based airline's applications for slots in Berlin have repeatedly been knocked back by German authorities following fierce opposition and lobbying by the German national carrier, despite the fact it has shown no interest in launching long-haul services from the capital.
Importantly, Air Berlin, in both the short- and long-haul markets, will still dwarf Lufthansa at BBI. The hybrid carrier will offer service to 70 destinations from BBI, including New York, Miami, Los Angeles, Dubai and Bangkok. Air Berlin's long-haul networks are likely to benefit from an extensive short-haul network, boosting less price sensitive transfer passengers.
Lufthansa's cost reduction efforts in Berlin must allow the lower fares required to stimulate new traffic flows and secure higher loads while still allowing for profitability – requirements that mean Lufthansa has to achieve the momentous task of shedding costs by a third. As the airline's on-board product will not change, presumably needing the same seat configuration and hot galleys, Lufthansa is likely to look for new areas to drive down costs, like reducing employee headcount, greater use of outsourcing and cutting distribution costs by focussing on direct sales – all methods employed by Europe's most efficient players, but generally unavailable to the network carriers. Key in the strategy will be bringing down unit labour costs, which may be achieved by increasing staff productivity, expanding job responsibilities, cutting headcount, or ideally, a combination of the three.
While the Berlin strategy is a major step forward for Lufthansa, the strategy can be understood to be more about defending national market share than chasing new, low-yielding traffic flows.