easyJet pushes further into France, throwing down the gauntlet to Air France
Analysis
easyJet has announced plans to open two new and permanent bases in France, at Nice and Toulouse, which the LCC says will be operational by summer 2012. The carrier will base two A319 aircraft each at the airports, which will be the carrier's 21st and 22nd network bases, as part of efforts to strengthen its French domestic and pan-European network.
easyJet's moves into provincial France mirrors those being made by national carrier Air France, which is desperately seeking to turnaround its loss-making short-haul business by pushing short-haul capacity out of Paris. easyJet's plan could be a major headache for the French flag carrier as it aims to cement its dominance in regional France. As easyJet noted, with such a low LCC penetration, relative to neighbouring countries, the LCC onslaught is unlikely to ease anytime soon.
"France is a strategic market for easyJet where the airline – already the country's second largest – clearly has room to grow," Catherine Lynn, easyJet's customer and revenue director said. "Low cost penetration is only 24% – half the European average. This strategic investment will allow us to strengthen our position in one of Europe's key markets...easyJet's commercial performance continues to be robust across our network, with particular strength on city routes used by business and short break leisure travellers."
The expansion will bring to five the number of easyJet bases in France, in addition to Paris Orly, Paris CDG and Lyon, with a total fleet of 24 aircraft based in the country. Following the opening of the two new bases, easyJet expects to increase by 10 its regional and European routes (from 27 to 37) on top of its existing operations.
easyJet is already the second largest airline by market share in France, and the second largest carrier at both Nice and Toulouse airports. easyJet handled 12 million passengers to/from France in 2011.
Nice Airport capacity (seats per week) by carrier (10-Oct to 16-Oct-2011)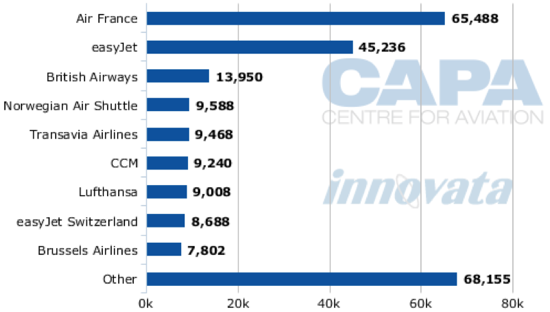 Toulouse Airport capacity (seats per week) by carrier (10-Oct to 16-Oct-2011)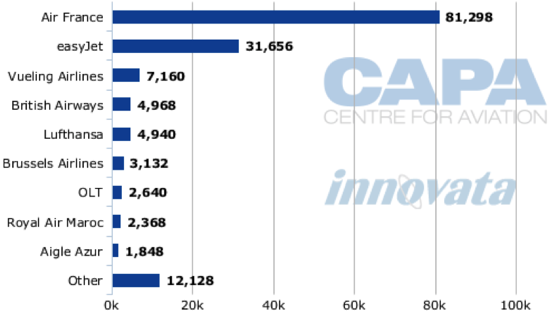 From Nice, which is France's largest airport outside the Paris region, easyJet will add five new routes to its existing portfolio of 16 routes, including domestic routes to Toulouse, Nantes and Bordeaux. Following the capacity increase, easyJet will operate to 21 destinations and operate up to 215 weekly services. The LCC has not yet announced the other two planned destinations from its new Nice base.
On the Nice-Toulouse route easyJet will face competition from Air France and Vueling.
Capacity (seats per week, one-way) between Nice and Toulouse 19-Sep-2011 to 01-Apr-2011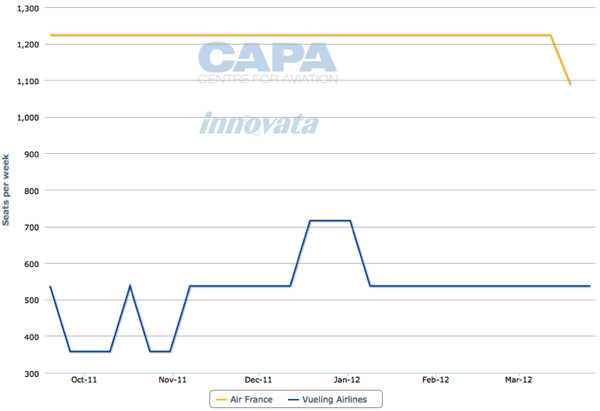 Air France, however, is the only operator on the route from Nice to Nantes and Toulouse. Air France will lose its monopoly power, and the associated pricing power, once easyJet commences service in summer 2012.
Toulouse will also receive five new routes, which will increase easyJet's network from the airport to 16 destinations. easyJet has confirmed plans to launch Basel and Brussels service, but has not yet named the three other planned routes. After the increase, the LCC will operate up to 140 weekly services.
There is currently no nonstop service between Toulouse and Basel. easyJet's only competitor on the Brussels route will be Brussels Airlines.
Air France stands out in Europe as the final frontier for LCCs to compete head-on with. As Ms Lynn noted, France's LCC penetration is way below levels seen in other European countries, particularly in Western Europe, which means there is far greater growth upside that elsewhere. Similarly, this strong growth potential means there is far greater damage to do to the incumbent major, something Air France has cottoned on to and is scrambling to counter. The French government, nudged on by Air France, has worked to protect Air France at the expense of limiting LCC growth.
easyJet's decision to ramp up its services in Nice and Toulouse, two cities that are part of Air France's "commercial offensive", a turnaround strategy aimed at bringing its short-haul operations back in the black and countering the growing threats of LCCs and the TGV, is not good news for the French carrier. A key part of Air France's regional strategy is transforming Air France into a quasi-LCC by employing various initiatives at its regional bases to allow it to reduce its cost base by 15%.
easyJet, however, is a much nimbler, more flexible and a more far efficient operator than Air France. While an increasing LCC presence in France was never good news for Air France, compounding the French carrier's problem is easyJet's new corporate market strategy, which means the two airlines now broadly pursue the same travel segments, leisure and corporate. easyJet's further push into France will intensify competition for the higher yielding corporate sector, Air France's bread and butter, in addition to the leisure segment. The key point of differentiation is that easyJet boasts a far lower cost base that Air France and will therefore be able to price far more aggressively.
It remains to be seen whether Air France can successfully pass through cost savings – something that is notoriously difficult to do in France – that will lower its cost base by 15%. Even if Air France achieves the stated level of cost savings, it is still not nearly sufficient to allow it to compete effectively against LCCs. easyJet enjoys a 58% short-haul cost-per-seat advantage over the French carrier, according to Deutsche Bank.
The LCC has been busy rolling out a whole new corporate sales force across Europe, designed to infiltrate the corporate travel machines and to make its business traveller product more appealing. Air France currently has a lock on France's short-haul corporate travel market, in both the point-to-point and feeder markets. It is the former corporate travel category that easyJet will be eyeing keenly. Corporate traffic has been a standout revenue generator for easyJet with the numbers of its passengers travelling on business increasing 20% in the quarter ended 30-Jun-2011.
Outlook: Air France can try to counter easyJet, but will never be a LCC
Given the inexorable rise of LCCs across Europe, it was only a matter of time before France, a full-service enclave in a sea of low-cost carriers, would start to loosen regulatory laws and allow further LCC penetration. France's comparatively low level of low-cost services, which offers far more scope for LCC growth, and massive tourist market ensures France will remain highly fertile grounds for the sector.
Air France, whose market share has hitherto been protected by the French government, has been given sufficient time to create a plan of how to cope with the inevitable increase in LCC competition. And if there were any clue as what is required to prosper in intra-European short-haul markets, Air France's decision to transform its regional operations into a business that more or less mirrors the low-cost model, is a telling sign.
Air France will seek to avoid what has happened to Iberia. The Spanish flag is another traditional, full-service operator, but is one whose short-haul operations have fallen spectacularly due to ever-expanding low-cost competition. Iberia's response has been haphazard, with an LCC subsidiary (which ultimately folded into Vueling, giving Iberia a 46% stake in the Barcelona-based LCC), an attempt to outsource short-haul capacity to Vueling, which has also failed. Now, Iberia is once again launching an LCC offshoot to take over its short-haul network, this time with the support of parent IAG and hopefully, a clearer, more defined strategy.
Read more: IAG to establish new LCC subsidiary Iberia Express
easyJet's move to bolster its regional French operations, despite Air France's restructure of its own, is not good news for the French flag. Despite Air France's admirable determination to restructure its business to allow it to better compete in a new reality, it appears that reality might arrive sooner than the Air France anticipated. easyJet is just one of the more efficient operators looking at taking a slice of Air France's dominance of the French market. Ryanair, ever hungry for growth, will have similar ambitions, although is unlikely to target the corporate sector with the same vigour easyJet will. Vueling is diversifying away from the Spanish market and at the top of its list is expansion in France, where it already has a base at Toulouse and a growing presence at Paris Orly. The LCC's are unlikely to be deterred by Air France's plan to compete against them at their own game, as easyJet has noted, "it's very difficult, if not impossible, for a legacy carrier to reinvent itself as a low-cost carrier".