IAG to establish new LCC subsidiary Iberia Express
Analysis
International Airlines Group (IAG), the parent company of British Airways and Iberia, will launch a new subsidiary called Iberia Express from summer 2012 in a bid to boost margins on Spanish short- and medium-haul services. Iberia Express is being established to provide a more competitive offering in the Spanish domestic and European market amid rising challenges from the high-speed rail network and LCCs, notably Ryanair and easyJet, which both have bases at Madrid Barajas and Barcelona El Prat.
Ryanair and easyJet operate large and growing domestic and European networks, and have overtaken Iberia as the two largest operators of services between Europe and Spain. Iberia has found it a challenge to compete with these carriers in light of its high flight crew costs and lower productivity.
The LCC strategy is also part of efforts by IAG to reduce the carrier's cost base and return Iberia to profitability.
Top 10 airlines on Europe-Spain and Canary Islands international, domestic and system services (seats):
week ended 09-Sep-2011
Rank

Airline

Spain
domestic seats

1

322,812

2

130,533

3

108,706

274,139

382,845

4

85,851

88,413

5

70,168

248,989

6

56,144

0

7

43,752

46,452

8

43,533

0

9

41,685

0

41,685

10

35,832

0

35,832
LCCs control around 36% of the domestic Spanish market and 55% of international routes to have one of the world's highest levels of LCC penetration, according to OAG data.
Select European country domestic and international LCC penetration: 10 months to Oct-2011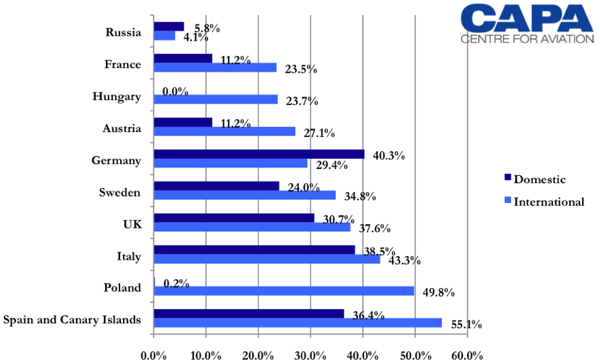 Iberia Express to feed into Iberia long-haul network; to operate two-class A320s with reduced unit costs
Creating a new LCC is the right strategic move for Iberia, despite the union unrest it will spark. While the carrier states its existing relationship with Vueling and regional carrier Air Nostrum will be maintained, it does raise some questions about the future of IAG's investment in Vueling. Iberia CEO, Rafael Sánchez-Lozano insisted Iberia would still have a relationship with Vueling. "For us Vueling is a strategic investment, not a financial one," he said. Vueling CEO Alex Cruz told CAPA in Apr-2011 that "we have a very successful relationship with Iberia and we draw substantial (and remunerated) benefit from some of the commercial agreements, like the IB sales channel and the frequent flyer programme. I am sure that we will continue to look for ways to strengthen our win-win relationships, both with Iberia and its partners".
The new Iberia Express division will operate as part of Iberia's short- and medium-haul network from its base at Madrid Barajas, an airport which has 24% of its system capacity (ASKs) served by LCCs. Iberia Express will use a fleet of A320s in a two-class, business/economy configuration. It will serve point-to-point markets, as well as providing transfer feed onto Iberia's long-haul network. Maintaining the feeder traffic from the loss-making short-haul operations is vital to Iberia's profitable long-haul business.
Madrid Barajas Airport capacity share (system seats) by carrier type: 03-Oct-2011 to 09-Oct-2011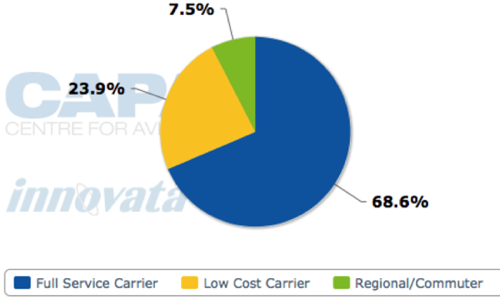 The subsidiary will have four aircraft initially, increasing to 13 by the end of 2012, supported by a workforce of around 500. All aircraft will be sourced from Iberia's existing fleet. The new LCC will support a workforce of 500 people by the end of next year, Mr Sánchez-Lozano said. Over time, the carrier will develop new markets and destinations, strengthening the Madrid Barajas hub. It is expected that Iberia will rapidly transfer routes to the lower cost Iberia Express from its mainline operations to improve the financial state of its domestic operations.
Savings will be achieved by recruiting staff at "market rates" (at present, Iberia's short-haul pilots on average earn more than British Airways' long-haul pilots) and by boosting aircraft utilisation rates. Maintenance and ground handling will initially be provided by Iberia.
Mr Sánchez-Lozano stated the new airline is expected to break even from the outset. He noted the necessity of the carrier's development, stating: "We have to adapt to the world we live in".
Outlook: Uncertain times for Iberia and Vueling
At the end of Jul-2011, IAG CEO Willie Walsh warned that Iberia's Spanish domestic network was facing increasing and intense competition from high-speed rail services and LCCs. Driving some capacity through Vueling was only part of the solution to Iberia's short-haul structural issues, "but not the whole solution," Mr Walsh said, due to its no-frills strategy and generally limited transfer and premium traffic.
Iberia has been using Vueling, in which it has a 46% stake, to operate its short-haul feeder network, but the move has reportedly been met with mixed responses from Iberia passengers and staff. Sepla, which represents the carrier's pilots, believes Iberia is attempting to outsource all short-haul operations and warned its members are considering strike action. "The creation of the new company is illegal, violating the agreements signed with Iberia in connection with the merger," Sepla has stated. Cabin crew at British Airways, also owned by IAG, took strike action last year after the company proposed cutting staffing on long-haul flights, with the bitter dispute only resolved in June.
Responding to the potential strike threat, Mr Sánchez-Lozano noted that no Iberia employee would lose their jobs following the creation of Iberia Express. "Now they've heard our plans, I believe they have no reason to call a strike because the project has no effect on agreements we already have with the Iberia workforce and no Iberia worker will lose their jobs," he said. He also stated that attorneys from two high-profile law firms have studied the agreement and assured him Iberia can move forward with its plan.
There is no doubt IAG and Iberia needed to react to improve the carrier's financial profile, which has been dragged down by unprofitable and unsustainable domestic operations. The establishment of a new LCC, with lower costs and a more streamlined operations, will enable the carrier to better compete with Ryanair and easyJet, while also maintaining the all-important feed into the long-haul network of Iberia. While union concern could cause a few short-term hurdles, the long-term outlook for Iberia is dependent on these more efficient, short-haul operations. Meanwhile, the longer-term outlook for Vueling remains uncertain.
Appendix
Ryanair currently operates more international seats to/from Spain than Iberia and Vueling combined, with easyJet the third largest operator to/from Spain in terms of seat capacity. Iberia is still the largest operator in the domestic market, followed by Vueling and Ryanair. This pressure from these larger LCCs has weighed heavily on Iberia's results, with the carrier reporting a EUR78 million operating loss in the six months to 30-Jun-2011. British Airways reported a EUR210 million operating profit in the same six-month period. Iberia launched LCC Clickair in 2006, but the airline suffered heavy losses and was absorbed by Vueling in 2009, giving Iberia its current shareholding in Vueling.
Iberia initially disclosed its LCC plans in Oct-2009 as part of its Strategic Plan 2012. The plan, outlined by group president and CEO Antonio Vasquez, addressed a situation that he described as "unsustainable" and required a "paradigm shift" in the way Iberia operated its short- and medium-haul segments. The aim, as announced two years ago, was to have the new carrier operating in 2011. The launch of the new carrier was however deferred due to the merger of Iberia and British Airways into IAG.
Spain and Canary Islands capacity (international seats per week) by carrier: 03-Oct-2011 to 09-Oct-2011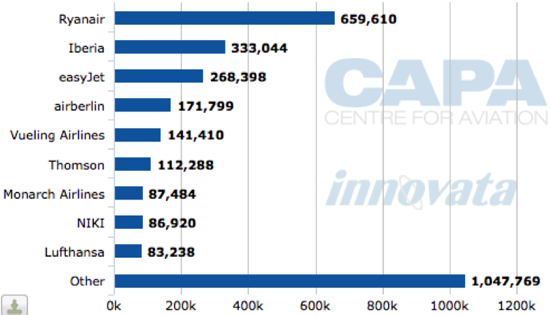 Spain and Canary Islands capacity (system seats per week) by carrier: 03-Oct-2011 to 09-Oct-2011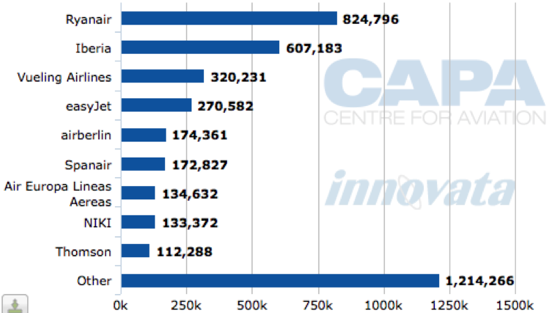 Spain and Canary Islands capacity (domestic seats per week) by carrier: 03-Oct-2011 to 09-Oct-2011