Etihad and Emirates continue cross-alliance moves: each to expand in Indonesia in its own way
Analysis
Indonesia's short-haul airline market has quietly been booming for the past decade, as carriers seek to meet demand from a 240 million strong population spread over islands and difficult terrain, making aviation an ideal transport. Not to be forgotten however are long-haul markets, critical for a country with a rising middle class as well as the world's largest Muslim population.
That once meant seasonal religious charters but now it also means growing trade with the Middle East and north Africa – and Indonesia becoming a safe and democratic destination for Middle East markets to visit. So it comes naturally that Middle East carriers are advancing strategic developments in Indonesia. But they are doing it in their typically contrasting styles: Etihad will partner with flag carrier Garuda Indonesia, while Emirates plots its own capacity expansion with a third daily 777-300ER service to Jakarta, making the Indonesian capital Emirates' third largest non-stop destination by ASKs.
Indonesia is particularly attractive for the carriers given the high end to end flows to/from the Middle East, supplementing their standard long-haul to long-haul connections.
Etihad Airways and Garuda Indonesia will codeshare as part of an extensive partnership announced on 18-Oct-2012, although elements of it appeared in advance on GDS. Garuda will shift its four weekly Jakarta-Dubai-Amsterdam services to a stopover in Abu Dhabi, the hub of Etihad and from where it will codeshare to a number of Etihad destinations on four continents. Garuda will also codeshare on Etihad's service to Abu Dhabi from Jakarta as well as Kuala Lumpur. Etihad will code on Garuda's service from Kuala Lumpur to Jakarta, as well as Jakarta to Bali, the popular island destination served daily by Qatar Airways (via Singapore).
Garuda codeshare on Etihad services to/from Abu Dhabi: Oct-2012
Garuda is expected to join SkyTeam in 2014, but the marketing alliance is now no stranger to member partnerships with Middle East network carriers following the Oct-2012 partnership between Etihad and Air France-KLM.
What is notable though is the addition in SkyTeam of Saudia and the potential, on paper, for network synergies. But the two compete heavily on pilgrimage traffic and Saudia is insular with few relations with other SkyTeam carriers.
See related articles:
The Etihad deal arrives at something of an inflexion point for Garuda. Capacity from powerful network carriers like Qatar Airways and Turkish Airlines has been increasing over the past two years, with Qatar increasing direct Doha-Jakarta capacity while introducing service to Denpasar (Bali) via Singapore; and Emirates was bound to put in more capacity of its own, which it did in early Oct-2012 when filing for a third daily Dubai-Jakarta service from Mar-2013.
Indonesia international seats by region: 15-Oct-2012 to 21-Oct-2012
Yet Garuda has not been looking to increase its own long-haul capacity until 2014. While the carrier will receive its first batch of Boeing 777-300ERs in 2013, CEO Emirsyah Satar told CAPA earlier in 2012 that the aircraft will be used primarily to replace its two remaining 747-400s, used to operate Jakarta-Jeddah service. The aircraft had been planned to operate non-stop Amsterdam service, replacing the current one-stop service via Dubai (terminator Dubai service would be offered), but this plan is now uncertain in light of the Etihad partnership.
KLM operates to Jakarta but via Kuala Lumpur. A non-stop offering from Garuda could be advantageous, but keeping a stop in Abu Dhabi could allow it to pick up traffic from Etihad and make the service less reliant on Indonesia-Amsterdam passengers, although a sizeable market. Garuda has a limited codeshare with KLM from Amsterdam covering Frankfurt, London, Munich and Zurich, according to Innovata schedules. Garuda will codeshare with Etihad to those destinations too, except Zurich, which Etihad does not serve.
Some of those codeshare destinations could see Garuda's own capacity. As CAPA wrote earlier in 2012:
Garuda has 10 777-300ERs on order. Mr Satar says currently the carrier is slated to take three in 2013 (although it would like to take four "if we can") and the remaining seven in 2014 and 2015. Mr Satar says Garuda is also now working on a new widebody fleet plan which would include additional growth of its widebody fleet in 2015 to 2025. The Garuda group expects to end 2012 with 105 aircraft but only 17 will be widebodies, giving Garuda the lowest widebody to narrowbody ratio among Asia's major carriers, some of which like Cathay Pacific and Singapore Airlines only operate widebodies.

Mr Satar still envisions expansion of Garuda's long-haul network, particularly in Europe, but does not see it happening until at least 2014. He says the carrier envisions launching several new European destinations with 777-300ERs including London, Paris, Frankfurt and Rome or Milan. The expansion will be done in stages in 2014, 2015 and beyond. Mr Satar also expects the 777-300ERs will be used on some high demand routes within Asia, particularly Japan.

For now Garuda is not looking at using the 777-300ER to resume flights to the US and will instead look to work with US SkyTeam member Delta Air Lines via Tokyo.
See related article: Garuda Indonesia to focus on rapid domestic expansion before turning attention to international
Garuda's codeshare with Etihad to North America is notable given Garuda's interest in working with Delta, but Garuda currently cannot codeshare on Delta because of Indonesia's Category 2 safety rating. (Indonesian regulators are hoping a Category 1 rating can be restored in 2013 and are due to meet soon with the FAA to discuss remaining shortcomings, but significant work is likely still required.) Codesharing on Etihad offers a work-around solution, albeit with fewer North American destinations. Distances to the East Coast of North America are slightly longer via Abu Dhabi than Tokyo (6% to New York), although more efficient hubs connections could be possible via Abu Dhabi.
About 21% of Garuda's seat capacity is deployed internationally. Of that share, 72% is within Asia while 16% is to Australia and New Zealand, 11% to the Middle East and 1% to Europe.
Garuda Indonesia international seat capacity by region: 15-Oct-2012 to 21-Oct-2012
Garuda's emphasis on Asia is reflected in total capacity into Indonesia, with Asia-Pacific carriers being the country's nine largest carriers.
Indonesia international seats by carriers: 15-Oct-2012 to 21-Oct-2012
Emirates from 01-Mar-2013 will introduce a third daily Dubai-Jakarta service, giving it more year-round capacity between the Middle East and Indonesia than Garuda, whose traffic has sharp peaks and troughs. Emirates will also outpace Qatar Airways, which from mid-2012 has had slightly more capacity into Indonesia (although about half is via Singapore), and other competitors like Etihad and Turkish. Although Turkish is not strictly in the Middle East region, its strategy is effectively the same and shares similar geographic advantages.
The three Middle East network carriers started services around 2005 with gradual increases until Turkish entered in 2009 and Emirates and Qatar both significantly increased capacity.
Emirates, Etihad, Garuda, Turkish and Qatar monthly seat capacity into Indonesia: Jan-2002 to Mar-2013
Saudia's capacity has increased from about 5,000 seats a month in 2002 (predating regional competitors) to around 13,000 in 2012, giving it a larger presence than Turkish or Qatar but half that of Emirates from Mar-2013. Other carriers between Indonesia and the Middle East include Indonesia's Batavia Air and Lion Air as well as Yemen Airways. Notable historical operators include Gulf Air and the now-defunct Indonesian Airlines.
Indonesia takes larger role in global aviation – and alliance debates, too
A survey this year from Ernst & Young found that Indonesian companies believe their strongest growth in the medium-term will come from the Middle East and north Africa, although this comes from a low base.
Indonesia's top 20 major trading partners: 2010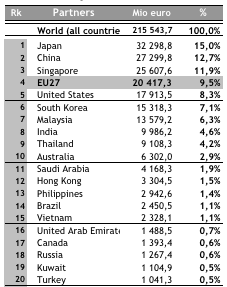 That trade of course will follow, and be made possible by, air services, so the Etihad-Garuda partnership is a timely development.
It reinforces current themes in the industry: working with a partner for long-haul services can be far better than trying to do everything independently, and that marketing alliances are becoming as common as Middle East network carrier partnerships. This has become Etihad's trademark strategy and it has worked well for it, allowing it a strong competitive position alongside much larger Emirates and an expanding Qatar Airways (as well as nearby Turkish Airlines).
In Apr-2013 Air France, a member of the SkyTeam alliance Garuda is due to join, will launch services to Kuala Lumpur which, it takes care to mention, will connect with KLM's Kuala Lumpur-Jakarta service.
This plan may yet change, following Air Fance's new partnership with Etihad, now likely to provoke a major strategic re-direction. Garuda seems set to have a deeper partnership with Etihad than Air France-KLM.
As Etihad surges to the front in the global competitive stakes, this will increasingly make rising carriers from other burgeoning markets question whether their future is with a "traditional" marketing alliance or to be anchored with a Middle East network carrier. For the Middle East and Europe, Garuda has apparently made its decision. Further dominoes will fall, it seems certain.